Congratulations! Bradford Academy U15's are crowned Rugby League Champions of Bradford Schools
Page content transcription
If your browser does not render page correctly, please read the page content below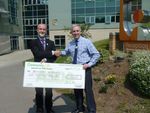 July 2013

The Newsletter is published by:
Bradford Academy, Teasdale St,
           Bradford,
           BD4 7QJ
     Tel: 01274 256 789

                                                      Congratulations! Bradford Academy
                                                      U15's are crowned Rugby League
                                                      Champions of Bradford Schools
                                                  After four years of trying the Bradford Academy
                                                  U15's were crowned champions of the Bradford
                                                  Schools Rugby League Competition. The boys
                                                  stormed to victory with an emphatic 16-8 win
                                                  over rivals Thornton Grammar School.
                                                  The team is made up of Year 9 and 10 students
                                                  who have been playing together for three years.
                                                  The majority of the team also play locally for
                                                  Dudley Hill RLFC. We always knew this team had
                                                  the potential to be successful especially with last
year's team reaching the quarter finals of the National Cup. However, the Bradford Schools
Competition has always been the Achilles heel and we have bowed out at the semi-final stage year
after year. Last year, the Year 8 team (which contained a number of this year's finalists) reached the
final but lost out to Thornton Grammar, making this year's triumph all the sweeter.
This year's finalists almost had an earlier taste of success back in November 2012 where they
competed in the Bradford Champion Schools Tournament but lost in the final to Appleton
Academy.
The Bradford School's Competition is run like the Super League where each team plays two fixtures
every week and the top four teams are entered into a penultimate draw before reaching the
final. Bradford Academy finished third behind Thornton Grammar (1st) and Oakbank (2nd). This
meant for an interesting semi-final against Oakbank and after taking a comfortable lead Oakbank
fought back making it an uneasy win in the latter stages, the game finishing 24-12.
The stage and opponents were set for the final with Thornton Grammar ready in waiting and the
home of the Bradford Bulls, Provident Stadium the back drop. Thornton had beaten us twice in the
league stages of the competition so we began the game as underdogs. This was certainly not the
case in a fanatic first half Bradford Academy performance. The game began in a tense fashion with
both teams defending their lines well. Lee Johnson broke the deadlock after a great run and offload
from Danny Lee. Johnson missed the conversion attempt but made amends shortly after when his
huge bombed kick was chased and fantastically caught by team mate Danny Lee who touched down
under the posts. Johnson converted the kick this time around. Bradford Academy's defence proved
impenetrable with some tough tackling in particularly from Juneid Razaq. and Saif Gillani. The boys
continued to drive the ball forward with forwards Brad Maclean and Cameron Parry to the fore.
Johnson added his second after again combing with Lee to be put through a gap and score under
the posts once more. Johnson converted to make it 18-0 at half time.
Thornton were rocked by the Academy's astounding first half performance and came out in the
second half as a much tighter unit with a determined attitude. A change of tactics from Thornton
boss Richard Coulsen had their boys clawing back two unconverted tries . Bradford
Academy's Harrison Birkinshaw had a try ruled out for a debateable offside decision and Thornton's
late efforts were stamped out by the Academy's resilient defensive line and overwhelming support
from the traveling supporters.

The presentation followed in the Coral stand, where Cameron Parry was awarded man of the match
and the team lifted the trophy aloft to the eruption of cheers from supporters which included, staff,
students and parents of Bradford Academy. A truly memorable evening was had by all and we hope
this is a sign of future success in sport at our school.

                                          www.bradfordacademy.co.uk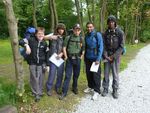 Primary Phase News

                Army Fitness Day

                On Wednesday 3rd July Nursery had
                an army fitness day as part of their
                keeping healthy topic. They ate
                porridge to get some energy from
                food, worked their bodies very hard
                during exercises and drank lots of
                water! Thanks to Conner Daly, Liam
                Farndale, Elliot Hall and Daniel Lee for
                their help.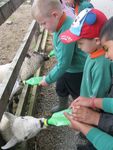 Primary Phase News

Eureka Trip
On Wednesday 3rd July, Year 2 went to investigate and explore Eureka in Halifax. We had
a great day spending time in 'All about me' bandaging up arms and listening to babies
heart beats. In 'Sound Space' we listened to different rhythms and music. In 'Global
Garden' we learnt about insects and other creepy crawlies and their habitats. After lunch
in the café and at playtime outside, we spent some time being shop keepers, bank
managers and garage workers in the 'Living and Working Together Area'. A fun day was
had by all!

French Market Day
On Monday 8th July, Year 2 and Year 7 hosted a French market event. The Year 7 buddies
had been teaching the Year 2 learners French songs and other vocabulary. They
showcased this to parents, inviting them in to share their learning. There was a gallery,
market stall, French food and a tricky French quiz! All the children enjoyed their day and
especially liked having their buddies being part of the event. Thank you to all who
supported us!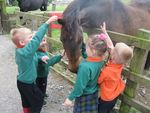 Primary Phase News

Visit to Hesketh Farm
Spaceships and Rockets went to Hesketh farm on Tuesday 26th June.
Children were given the opportunity to feed the animals, have a ride on
Farmer Chris's tractor, make milk and feed it to the sheep, hold some animals
and collect eggs. All children enjoyed the experience and had a lovely day.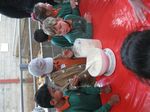 Primary Phase News

                                Wedding
In primary on the morning of the 11th of July we celebrated the weddings of
                                      ….
                             Shayaan Nazir to Saffaa
                                  Ahmed and
                           Taran Singh to Emily Avery.

                              Jamie Boyle to Rosey
                                    Woodger
                                       and
                          Poppy Johnson to Adam Gott

There were tears, smiles, big hats, posh frocks and dancing, and a bride felt
ill before the ceremony. We truly had a fantastic
celebration!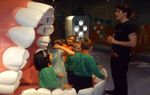 ASDA present cheque to Academy
Last October one of our young students, Bilal Khisar was tragically killed
outside ASDA on Rooley Lane. We were contacted by the store to ask
us if they could do anything to support the family or create a
memorial. Earlier this year a group of Bilal's friends and home team
went to ASDA to carry out a bag pack. They raised over £600 and
ASDA promised to make that up to £1000.
On Friday 5th July the Store Manager Simon Fowler and Bernadette
Smith the Community Life Champion came to the Academy and
presented Rob Taylor with a cheque. We now have £1000 to put
towards a memorial garden that will remember Bilal and the other young
people we have lost since we opened in 2007. The project is being
designed by Lindsay Bantock from Full Circle who will work with our
learners to finalise the final garden design in September.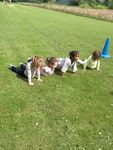 Yorkshire Water support our expedition to India
On Friday 28th June a group of learners went to Yorkshire Water
headquarters to sell cakes and buns to raise money for their expedition to
India in July next year. They raised over £160 in total and wish to pass on
their thanks to all at Yorkshire Water who supported them.

Duke of Edinburgh Award - Practice Expedition -
June 2013
On Saturday and Sunday 29/30th June a group of four learners and two staff
walked from Harewood House to Ben Rhydding, camping overnight at Bramhope
Scout Camp. I think you could say it was an experience of a life time for all
involved. Ben Robinson showed great expertise at the campsite, putting up his
tent and cooking a meal for him and Callum McMahon. Callum learned how to
cook a camp breakfast. Ozair Afsar and Ronald Naika both said it was great and
are thinking of doing the Silver Award next year. The photo shows them leaving
the campsite on the Sunday morning. All found it a physical challenge but felt
very satisfied at the end when they reached the minibus at the end of the walk.

         To sum it up in the words of the lads - they "Boxed It"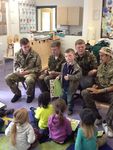 Beavers at Bradford Academy

A Beaver Scout Colony will run in the Academy from
September. Beaver Scouts for 6-8 year olds is the youngest
section of the Scouts, the world's largest uniformed youth
organisation.

The Colony will meet on Mondays from 3:15pm-4:14pm and is
open to boys and girls, it's not necessary to be a learner at the
Academy to join.

Beavers is all about fun, friends and adventure. Our adventures
will include: climbing, craft, cooking, sleep-overs, exploring the
outdoors and taking part in adventures with Beavers from all
over Bradford.

Interested? Call into Primary Reception or talk to Mr Liburd or
Mr Mosby on d.mosby@bradfordacademy.co.uk. More about
Beavers and Scouting is online at www.scouts.org.uk.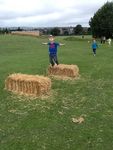 Euro Disney
It has always been our ambition to give our students opportunities that will enable them to
experience life away from their current surroundings within inner city Bradford.

We took another 42 students to experience Parisian culture and Euro Disney. The majority
of the funding has been raised through local business sponsorship and donations. We
have managed to raise £6000 so far and continue to raise further funds though
charity events and fund raisers. Our experience of this has really empowered our belief of
this school having a real community spirit and has succeeded in in its ethos of being an
outward facing institution and its on-going commitment to ensure this continues on an
annual basis. We would like to thank the following businesses who have contributed
towards the trip:

   Douglas Taxis
   Rafiq's Catering
   MAPA Youth Club
   Al Khair Foundation
   Regal Bakeries
   Euro Cars
   TK Technician
   Money Made Simple – PPI claims and insurance

In 2011 we took 42 students, 2012 we took 62 and this year we are taking 42 students.
It is our ambition to take 1000 Academy students as it is an ideal opportunity to engage
with learners.

Thank you to all the staff and students who contributed and made this trip happen, Euro
Disney 2014 here we come!!!!!!!
Dear Parent/Carer
Firstly, let me thank you once again for your continued support of the Academy this academic year.
It has been a very successful and exciting year for us with our first year in the new Primary
building.
I would like to close this year by communicating to you some key pieces of information in relation
to the end of term arrangements and the start of our next academic year.
End of term arrangements
The final day of term for all students (primary and secondary) is Friday July 19th 2013. This will
be a non-uniform day for all students, costing £1 (funds raised will be donated to local charities).
The Academy will close at 12.10pm for all students.
Nursery
School will close for nursery children at 11.20am on Friday July 19 th. There will be no afternoon
session of nursery on that day.
Examination results
Post 16 Level 3 A/S, A2 & BTEC results are on             Thursday 15th August 2013 at 10.00am
Year 11 and Post 16 Level 2 results are on                Thursday 22nd August 2013 at 10.00am
Any other students who have taken public examinations this summer are welcome to attend on
22nd August to pick up their results.
Start of term arrangements
Wednesday 28th August 2013
Staff Training Day – school closed for all primary and secondary students
Thursday, 29th August 2013
Primary Phase children
Year 1, 2 and 3 children will start at 8.25am (doors open as usual at 8.15am)
Reception and nursery children begin their induction into the Academy.
Secondary Phase children
Year 7      Year 7 students will start at 8.25am
Years 8-11 All students in Years 8 - 11 to arrive at 12.05pm
Post 16 students
 Group                             Date                            Time
 External students                 Thursday 29th August            9am – 11am
 Access course students            Thursday 29th August            12.30pm – 2pm
 Year 12 Level 3 internal          Friday 30 August
                                             th
                                                                   9am – 11.30pm
 students Induction
 (with externals from 9.30am)
 Year 13 Level 3 induction         Friday 30th August              12.30pm – 2pm
More details about the arrangements for next academic year can be found on the website
www.bradfordacademy.co.uk.

Finally, can I take this opportunity to thank you for your continued support and wish you a restful
break.

Gareth Dawkins
Executive Principal
Ma
Star Learner                                                                         y

Year 7
  Kaleem Shazad                Aisha Khan                       Adam Paterson

Year 8
 Katie Hird                   Andre Tavernier                   Jay-Paul Totty

Year 9
Ifrah Malik                    Jake Manning                         Kyra Rowe

                                                Megan Tillett

Year 10                       Preeya Kaur                           Lewis Farrar
Bowman Holly

Year 11
 Michael Todd                 Gemma Brock                       Lorna Zurek

                                                Ellie-May Connell

Post 16
 Waqar Hussain                Sian Thompson                         Toni Mullins

                  Samadur Choudhury                Sabrina Yeadon
Ju
Star Learner                                                                                                 ly

Year 7
        Jack Bailey                       Brooke Meah                         Abigail Mitchell

                      Lungelwa Mthombeni                 Raheem Rehman

Year 8
      Shane Brumfitt                   Seren Robb                         Heather Williams

Year 9
    Aira Armanaviciute                   Natalie Blake                      Saif Gilani

Adila Khan                    Amber Jackson                  George Hiley                          Paris Kaur

                                                 Dean Urch                         Daniaal Mahmood

Year 10                                             Becky Jeffreys                           Natalia Malik
             Chloe Graham

 Ramsha Mughis                                                            Mahmud Pandor
                                      Naymatullah Rasoul

                                                           Melissa Troy

Post 16
  Tuntufye Mphande                    Hasnain Mughal                        Matthew Parsons

                      Grant Rothery                       Faeeza Yasin

 Jordana Kerridge                         Ammar Rehmat
Ju
Star Learner                                                                                                       ne

Year 7Jotham Adams                        Rohail Idrees                    Louise Irvine

                    Jasminder Kaur-Sheena                      Humaira Khan                       Callum McGarry

Year 8                             Hannah Ross                                Abigail Shaw

    Emily Armatage                    Keira Connell                    Katie Hird                     Alfred Martin

                       Jordan North                    Daryl Redgrift                  Ibrahim Shah

Year 9                                                                  Kylie Wigglesworth

Hayley Darbey                     Scarletta Dotkova                           Jamie Faulkner                    Kiel Finnegan

                  Saif Gilani                          Christopher Hainsworth                     Ifrah Malik

Valerija Sama                          Laura Read                              Wajhat Tamoor               Shona McMahon

Year 10
                                                       Christina Wenham

                                   Steven Birik                    Jade Flowers                   Macaully Hanley
Charlie Arnold

          Karamveer Jawanda                           Becky Jeffreys                Ramsha Mughis               Dominic Naylor

Year 11
Sophie Kennaway                       Andrew Smith
                                                                   Liam Nicholson

                                                                   Michael Todd

Post 16
  Aasim Akhtar                  Courteney Appleyard                          Jessica Hardcastle            Joshua Harrison

                  Noor Hussain                            Mohammed Islam                       Adam Khalil

  Conor O'Neill                       Rajvir Purewal                       Ammar Rehmat                   Grant Rothery