DEPARTMENT OF TRANSPORT - Interim National Passenger Rail Plan
If your browser does not support JavaScript, please read the page content below:
DEPARTMENT OF TRANSPORT - Interim National Passenger Rail Plan
DEPARTMENT OF TRANSPORT Interim National Passenger Rail Plan 'Towards a National Passenger Rail Strategy' June 2005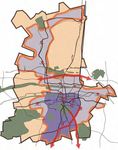 Department of Transport Interim National Passenger Rail Plan Phase 1 Report CONTENTS Page PART 1: INTRODUCTION, PURPOSE AND ORIENTATION 1 Introduction 1 Purpose 1 Background and Orientation 1 PART 2: SURVEY – BUSINESS AND MARKET REVIEW 4 A. POLICY 4 1. PASSENGER TRANSPORT POLICY REVIEW 4 1.1 Introduction 4 1.2 Rail Policy Issues Internationally 4 1.3 Broad National Policy Framework 4 1.4 Transport Vision And Goals 4 1.5 Overview Of Policy Related To Passenger Rail Transport 5 B.
INDUSTRY 7 2. PASSENGER RAIL FUNDING ANALYSIS 7 2.1 Introduction 7 2.2 Background To Public Transport Funding Generally 7 2.3 Trends In Rail Passenger Subsidies 8 2.4 The Current Funding Process 10 2.5 Subsidies And The Analysis Of Revenues And Costs 11 2.6 Summary And Conclusions 19 3. REVIEW OF COMMUTER TRAVEL DEMAND GENERALLY 20 3.1 Summary And Introduction 20 3.2 Main Findings 21 4. ANALYSIS OF COMMUTER RAIL USAGE AND USER ATTITUDES 25 4.1 Introduction 25 4.2 Rail Usage Based On Census Data 25 4.3 The Rationale For Improving Service Quality 25 4.4 Rail Customer Profile And Needs 25 4.5 Improving The Quality Of Rail Service 26
Department of Transport Interim National Passenger Rail Plan Phase 1 Report 5. THE ROLE OF SARCC IN RAIL PASSENGER TRANSPORT 30 5.1 Introduction 30 5.2 Strategic Planning 30 5.3 Asset Management – Rolling Stock And Infrastructure 31 5.4 Compliance/Performance Monitoring 31 5.5 Marketing And Communication 32 5.6 Property Management – Intersite 32 6. REVIEW OF EXISTING COMMUTER RAIL BUSINESS PERFORMANCE 34 6.1 Introduction 34 6.2 Metrorail Operating Performance 34 6.3 Infrastructure Performance 36 6.4 Rolling Stock Performance 41 7. REVIEW OF COMMUTER RAIL ASSET DEPLOYMENT, CONDITION AND PERFORMANCE 45 7.1 Introduction 45 7.2 Rolling Stock 45 7.3 Permanent Way 45 7.4 Electrical Systems 46 7.5 Signals 46 7.6 Telecommunications 46 7.7 Station And Station-Related Facilities 47 8.
REVIEW OF LONG DISTANCE PASSENGER RAIL BUSINESS 49 8.1 Introduction 49 8.2 Business Focus Of Shosholoza Meyl 49 8.3 Market Share 49 8.4 Delivery Structure 50 8.5 Operational Performance 51 8.6 Financial 52 8.7 Capital Requirement 53 PART 3: ANALYSIS OF BUSINESS PROSPECTS 55 9. ANALYSIS OF THE ROLE OF RAIL IN MEETING NATIONAL AND REGIONAL PASSENGER MOVEMENT REQUIREMENTS 55 9.1 Introduction 55 9.2 Multi-criteria Matrix Method Of Analysis 55 9.3 Results Of Analysis – Priority Corridors Identified 60 9.4 Implications Of The Analysis For The Railplan 61 10. THE CASE FOR RAIL – A PROPOSED STRATEGY 61 10.1 Introduction – Strengths And Weaknesses Of Rail 66 10.2 Criteria For Developing Strategy Options 66 10.3 Defining The Options 68 10.4 'Full Recovery' - restore the whole network to full efficiency 68 10.5 'Limited System' – retain only near-commercial services 69 10.6 'Priority Rail Corridors' – focus resources where rail performs best 70 10.7 Recommended Strategy 73 10.8 Key Decisions/Interventions To Secure The Priority Rail Corridors Strategy 73
Department of Transport Interim National Passenger Rail Plan Phase 1 Report PART 4: THE PASSENGER RAIL BUSINESS PLAN 75 A. COMMUTER (URBAN) RAIL BUSINESS 75 11. OVERALL FRAMEWORK OF THE PASSENGER RAIL BUSINESS PLAN 75 11.1 Structure 75 12. STABILISATION PLAN – ACTIONS TO SECURE FEASIBLE SHORT TERM GOALS, BY REGION AND CORRIDOR 78 12.1 Introduction And Context 78 12.2 Structure Of The Stabilisation Plan 78 12.3 Operational Issues 79 12.4 Financial Issues: 79 13. SUSTAINING THE BUSINESS – ACTIONS TO CONSOLIDATE FEASIBLE BUSINESSES, BY REGION AND CORRIDOR 81 14. GROWING THE BUSINESS – ACTIONS WHERE FUTURE DEVELOPMENT MAY BE BUILT UPON A STABILISED AND SECURED RAIL BUSINESS 82 14.1 Introduction 82 14.2 The use Of PPP's 82 B.
LONG DISTANCE PASSENGER RAIL BUSINESS 84 15. SHORT, MEDIUM AND LONG TERM PROPOSALS FOR THE LONG DISTANCE PASSENGER RAIL BUSINESS 84 15.1 Introduction 84 15.2 Short Term Issues 84 15.3 Sustaining The Business 84 15.4 Growing The Business 84 PART 5: INDUSTRY STRUCTURE PROPOSALS 86 16. IMPLICATIONS FOR INDUSTRY STRUCTURE 86 16.1 Business Consolidation And Industry Structure 86 16.2 Institutional/Regulatory Structure 87 16.3 Relationship Between A New Rail Entity And Transport Authorities 87 16.4 Long Term Sustainability Of The Railplan 88
Department of Transport Interim National Passenger Rail Plan Phase 1 Report PART 1: INTRODUCTION, PURPOSE AND ORIENTATION Introduction In November 2004, the South African Rail Commuter Corporation (SARCC) appointed consultants to develop an Interim National Rail Passenger Plan, (referred to throughout this report as the 'Railplan'). Arup SA (Pty) Ltd, the Project Coordinator, has prepared this compendium report, drawing together its own technical work and that of the other members of the consultancy team: Arcus Gibb, Khuthele Projects, and Stewart Scott International. Parts 1 and 2 of the report cover the principal findings of the Survey stage of the work.
Part 3 reports the Analysis of the collected information, and Parts 4 and 5 are the Interim Railplan proposals and implications for industry structure, respectively.
The report represents the collective efforts and findings of the entire consultancy team although Arup has exercised the principal editorial responsibility. Purpose The original purpose of the assignment was to prepare a comprehensive internal business plan for the SARCC. In the event the scope has been extended and refocused because the Department of Transport (DOT) needed to align the Railplan process with the proposed merger between SARCC and the commuter rail operator, Metrorail. A review of the long distance rail business, currently offered through Spoornet's Shosholoza Meyl service was also brought into the scope of the Railplan work by DOT.
The project is divided into two phases. The present document reports on Phase 1. This phase was required to provide as much technical analysis as possible within the time available in support of a recommended strategic direction for the passenger rail industry. Although this Phase 1 report is the 'Interim National Rail Passenger Plan', its findings at the strategic level, dealing with the general direction to be taken by the passenger rail industry in South Africa, should be regarded as robust. The findings of the report will nevertheless be subjected to a comprehensive consultation process with all stakeholders in Phase 2.
The detailed implications of these conclusions for different operating regions and their emerging Transport Authorities will be consulted and further developed in Phase 2 of the Railplan between June 2005 and December 2005. Details of capital and operating budgets by corridors, routes and lines will also be developed in detail in Phase 2. Background and Orientation The following factors are part of the background to the Railplan: x Long term trends in land uses are resulting in travel patterns that in many circumstances cannot be effectively met by the rail mode; x Insufficient funding for the recapitalisation of ageing rolling stock and signalling systems has recently necessitated a substantial reduction in passenger rail service levels x To improve service delivery in these circumstances SARCC requires strategic direction from government.
The Railplan aims to provide the basis for this direction. Page 1
Department of Transport Interim National Passenger Rail Plan Phase 1 Report Long term travel trends South Africa has particularly low-density patterns of residential and commercial development. This is testimony in part to its geographical endowment of an abundance of space, and also to the socio-political heritage of separate development. Whilst rail can be, and still is, an effective mode of passenger transport between dense population nodes, less dense patterns of development are less suitable for service by a fixed track mode of transport. The intrinsic flexibility of road-based modes of transport present makes it very difficult for the relatively fixed network rail mode to compete effectively.
Most cities accept the need for densification and restructuring of their land-use developments if public transport is to become more viable. The form-giving characteristics of rail transport can contribute substantially to this. However, low-density land use patterns cannot be easily changed by transport planning policy. If these benefits are to be achieved the rail industry may need focus all its attention in those areas where it has an advantage over other modes. The Analysis section of this report outlines a method of identifying such areas of advantage. Funding uncertainties South Africa is not unique in experiencing a funding crisis in its rail industry.
While there is almost always a degree of managerial and structural inefficiency in public utility services, the funding crisis in the railway industry worldwide is partly a result of its technological complexity compared to the more flexible for road-based public transport modes. Rail transport can play a socio-economic role in providing accessibility to work and other services for lower income population groups and others who do not have access to other modes of transport. This needs to be considered in any assessment of the value of rail. It is nevertheless a simple public financing reality that road transport generally realises more than sufficient in tax revenues to governments to cover the cost of its infrastructure.
Whether governments re-allocate all such revenues to the providing tax constituency is separate issue not addressed here. Rail passenger transport systems rarely if ever generate tax revenues and their operating revenues are often insufficient to cover as much as half of their operating costs let alone major maintenance and development costs. While this fact cannot constitute an excuse for inefficient financial management, it is an important element in any attempt to understand what is an endemic funding problem in the rail industry worldwide. Need for strategic direction There are examples in other countries where this endemic funding and efficiency problem has been overcome.
This generally occurs where a passenger railway has been able: ƒ To demonstrate its value to a broad spectrum of the population of an urban area; ƒ To be visibly efficient in the delivery of its services ƒ To thus entrench support for the railway in the political expression of the voters, and hence create the political commitment to the necessary public funding. In summary, a strategic balance is created between the consumers, politicians and railway management in an equilibrium that ensures appropriateness, efficiency and funding. This document reviews the context, the technical state and the funding situation of the passenger rail industry in South Africa in order to map out a future strategy.
It recognises that in order to bring greater funding certainty to the industry it will be essential to identify those circumstance in which the rail mode performs best. Resources may then be concentrated on making these parts of the network as successful as possible.
Page 2
Department of Transport Interim National Passenger Rail Plan Phase 1 Report DIVIDER PAGE Page 3
Department of Transport Interim National Passenger Rail Plan Phase 1 Report PART 2: SURVEY – BUSINESS AND MARKET REVIEW A. POLICY 1. PASSENGER TRANSPORT POLICY REVIEW 1.1 Introduction Rail passenger transport in South Africa is facing major challenges, necessitating a total new approach towards the way it is managed and the manner in which it conducts its business. The need is particularly relevant in the light of the proposed merger of SARCC, Metrorail and Shosholoza-Meyl, and also the establishment of the metropolitan Transport Authorities.
This chapter reviews national and other level policies relevant to the passenger rail industry, commenting on their adequacy in the face of current circumstances. In the context of this report, this review is linked to the survey of rail transport usage and user attitudes covered in Chapter 4. Some implications of these reviews for rail transport policy and for the structuring of a future passenger rail industry are then addressed in Part 5 (Chapter 16) of the report. As with many parts of this report, this chapter is a condensed version of a more detailed analysis of current policy, which is contained in a separate workstream report.
1.2 Rail Policy Issues Internationally A broad scan of international policy topics dealing with rail passenger transport revealed that similar generic issues are addressed in most instances. Rail passenger transport is generally not financially sustainable without government assistance. Rail transport is, therefore, often viewed as an essential social service and economic enabler that is to the good of society as a whole. This is supported by the lower environmental impact, larger capacities and the spatial form-giving characteristics of an effective and efficient passenger rail transport system.
Government intervention is often motivated by control of the fare levels for political and social purposes. This results in an acceptance that rail services need to be subsidised. Various models of government involvement and intervention are found internationally, and these tend to change over time. In the 1980's and 1990's, a great drive to increase private sector involvement was found in many countries in the world.
1.3 Broad National Policy Framework The national government's broad economic and social policy context for transport is contained in policy documents such as the Reconstruction and Development Programme, and the ANC Election Manifesto. More recent Government policy advocates job creation, poverty alleviation and economic development and – to some extent - the notion of the involvement of the private sector in what was previously typically the domain of Government. The concept of user charging and the promotion of public transport above private transport also remains an objective in most of the relevant policy documents.
1.4 Transport Vision And Goals The transport vision and goals for the country are contained in the Department of Transport's 1996 White Paper on National Transport Policy and also the National Land Transport Transition Act (NLTTA) of year 2000. The earlier White Paper remains as valid today as when the it was drafted. Its main features have been worked out in more detail in a working Page 4
Department of Transport Interim National Passenger Rail Plan Phase 1 Report document/policy process entitled 'Moving South Africa', (MSA) which was published in 1999. The general policy vision is repeated below, and provides the link between the broad national policy framework and specific transport policy as discussed later. Provincial and municipal policy guidelines indicate general support of the national vision. The stated national vision for transport in South Africa is to: "Provide safe, reliable, effective, efficient, and fully integrated transport operations and infrastructure which will best meet the needs of freight and passenger customers at improving levels of service and cost in a fashion which supports government strategies for economic and social development whilst being environmentally and economically sustainable." 1.5 Overview Of Policy Related To Passenger Rail Transport 1.5.1 Promotion of Public Transport The promotion of public transport is considered to be of much greater importance than in the past by all levels of government.
This is reflected in current transport policies and legislation. However, not much has changed over the last decade in terms of the upgrading of services or facilities. A number of public transport projects in the Western Cape and Gauteng seem to indicate that, at least at provincial and municipal levels, government are becoming committed to improve and invest in public transport operations and infrastructure / facilities. 1.5.2 The role of rail All policy sources acknowledge a role for passenger rail within a hierarchy of transport modes. The National White Paper in its transport vision, states that: "Rail is seen as an essential long-term component of the network for both freight and passenger transport".
At the provincial level, it is especially those provinces with large urban areas where rail is seen to play an important role and therefore requiring a special provincial initiative. Metropolitan municipalities, on the other hand, differ in their acknowledgement of the role of rail. This is mainly due to the fact that the rail function still resides with national government. Ekurhuleni, as an example, in its first phase rail commuter plan, refers to rail as the "backbone of its transport system". In contrast, the City of Johannesburg has little reference to the rail passenger system in its Integrated Transport Plan (ITP).
1.5.3 Planning for passenger rail services Current official policy is for rail passenger planning to be done at the municipal level as part of their ITP. This national requirement has, however, been given varied levels of attention in the ITPs prepared to date. Most ITP's or other planning documents regard rail as an important part of their integrated public transport system. Concerns are expressed that municipalities do not have effective powers in connection with planning of rail. Some municipalities such as Cape Town, Ethekwini and Ekurhuleni have indeed formulated rail strategies for their areas, while Tshwane's ITP expresses the need to develop a Rail Master Plan.
The question can be asked whether it is a practical arrangement to require a municipal authority to do the planning for a service over which it has no control,. Effective integration of rail planning is an issue that needs to be addressed in Phase 2 of the Project. Part 5 gives a strategic framework for such integrated planning.
1.5.4 Land-use developments at stations There is a growing realisation that poor town planning is one of the most important reasons for ineffective and unsustainable public transport, resulting in high public transport costs. This is also very difficult to turn around. The NLTTA encapsulated the White Paper policy into the legislative framework and is equally strong on land use and transport integration. The answer Page 5
Department of Transport Interim National Passenger Rail Plan Phase 1 Report to this problem is seen by the MSA: Action Agenda as the densification of transport corridors.
It suggests that: "the densities created by corridor enhancement lower system cost, not just for transport but also for other infrastructure." 1.5.5 Formalisation, regulation and control The NLTTA covers the formalisation, regulation and control of public transport. The White Paper and NLTTA allow for competition for a route through tendered contracts, in order to ensure that unnecessary competition is eliminated. For this reason minibus-taxi can be included to compete for the awarding of contracts for public transport services, provided that all tender requirements are met. Many planning authorities are not clear how rail transport is to be treated in this regard.
1.5.6 Funding The section on funding in the NLTTA is in many quarters considered to be disappointing as there are no specific provisions for the generation of additional moneys over and above the "normal" allowance for the transfer of funds appropriated by Parliament or an applicable provincial legislature. The NLTTA also did not establish a dedicated fund similar to the Urban Transport Fund established by the Urban Transport Act. Despite the fact that the NLTTA does not bring much financial relief to local government for improving their transport systems, substantial amounts of subsidy money is being appropriated by Parliament for state subsidised bus services and for commuter rail.
A more thorough comparison of the relative costs of rail and road-based public transport modes of transport is needed to give government a rational basis for future funding. This issue is addressed to some extent in Phase 1 (see for example Chapter 2 below and the separate Funding Analysis report). Phase 2 will address the question of financial values and external economic benefits in much greater detail.
1.5.7 Private sector involvement Private sector involvement in urban transport has been widely used in an international context to enhance the quality of service and the efficiency by which it is provided. MSA as a result made a strong case for greater levels of private sector involvement in many parts of the transport sector and specifically in commuter rail. MSA did not specify exactly what the institutional arrangement for this should be, but emphasized the role of Government in overseeing, planning and co-ordinating private sector involvement, such as through franchises or concessions.
The Business Plan proposals in Chapters 11-14 make some suggestions along these lines.
1.5.8 Public transport subsidies Currently, public transport subsidies funded from the national budget are paid to support commuter rail and bus services, for the benefit of commuters travelling within or between urban areas. The rationale for payment of such subsidies is mainly equity reasons, i.e. the relief of the distance burden to commuters from dislocated communities. However, it could be argued that commuter rail subsidies to some extent also contribute toward poverty alleviation and the promotion of more efficient transport in urban areas. In terms of the current policy in the White Paper a large number of potential beneficiaries in South Africa are currently not benefiting from the subsidy system.
The basic mobility needs of many of these beneficiary groups that often do not travel every day, such as the pensioners, the unemployed, work-seekers or subsistence farmers in rural areas, who have extremely limited financial means to pay for transport, are not met. By implication, this raises a number of issues about the scope and targeting of transport subsidies.
Page 6