New World ERP 2018.1 INSTALLATION GUIDE - Tyler Technologies
Page content transcription
If your browser does not render page correctly, please read the page content below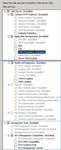 New World ERP 2018.1
INSTALLATION GUIDE
June 22, 2018

Review important information for installing this release:

 Install Tyler Identity before installing New World ERP. Click here for guide.
 SSL is required for the New World ERP software. IIS needs to be configured to have
    the Default Web Site setup to have https binding enabled using port 443.
 Take a daily/hourly backup of the LogosRuntimeServices and HRReporting data-
    bases.
 "Additional Requirements" on page 2 (Microsoft .NET Framework 4.6 installed on
    application server).
 All user machines need .NET Framework 4 installed on them. (See "Additional
    Requirements" on page 2.)
 "IE ESC Settings on the Application Server" on page 2.
 "Installation Matrix" on page 3 shows where each piece of the software is to be
    installed.
 "Installing Community Development myCommunity" on page 34.
 "Managed Internet Update (MIU)" on page 39.
 "Appendix B: Product Registration" on page 42.
 Review hardware specs on Check.TylerTech.com.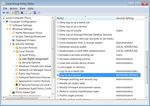 Important requirements before and after applying this update to your production environment

Before applying this update to your production environment

•   Apply the update to a test environment first. In terms of server configuration, the test environment
    should mirror the production environment as closely as possible.

•   Refer to the application specific testing checklists to test key pieces of functionality and interfaces. Each
    time a new release or service pack is readied for deployment, New World thoroughly tests all parts of the
    software; however, due to the configurability of the applications and each customer's unique deployment
    environment, we strongly recommend that you use the testing checklists each time you apply a hardware
    or software update. Testing checklists may be found on Help Central (https://nwerphelp.tylertech.com/
    nwerp_help_2018.1/Content/Home.htm). From the home page, type "Testing Checklist" in the search
    field.

•   Report to New World all problems that occur in the test environment so corrections can be made and con-
    firmed in the test environment.

After applying this update to your production environment

•   Revisit and re-execute the processes listed on the testing checklists, especially if there are significant dif-
    ferences between your production and test environments.

•   Register the product on your application server.

© 2018 Tyler Technologies. All Rights Reserved.

All rights reserved. Information within this document is the sole property of Tyler Technologies and is
protected by copyright and or trade secret regulations. Unauthorized copying or dissemination of this
information without the written permission of New World Systems is strictly prohibited. Information
within this document is subject to change without notice.

Printed in the United States of America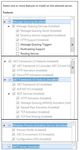 N EW WORLD ERP 2018.1 I NSTALLATION G UIDE
               This document provides details for installing the New World ERP 2018.1 Release. Please review
               the complete chapter before beginning the installation.

                           NOTE:
                       If this is your first installation at this release level, we recommend that you go to Help Central
                       (https://nwerphelp.tylertech.com/nwerp_help_2018.1/Content/Home.htm) to review the Release
                       Notes and What's New pages, which will include more details about available features.

               Esri Support
               New World ERP now supports Esri releases 10.2 through 10.5.1.

               Release Requirements
               Operating Systems
                       •      Windows Server 2008 R2 (last supported release)
                       •      Windows Server 2008 x64 with Service Pack 2 or later (last supported release)
                       •      Windows Server 2012
                       •      Windows Server 2012 R2
                       •      Windows Server 2016

               Databases
                       •      SQL Server 2012 (last supported release)
                       •      SQL Server 2014 (Database in 2012 Compatibility Level)
                       •      SQL Server 2016 (Database in 2012 Compatibility Level)
                       •      SQL Server 2017 (Database in 2012 Compatibility Level)

               Client Machines (Please see the Technical Currency Matrix for more details on sup-
               ported client operating systems)
                       •      Windows 7
                       •      Windows 8 and Windows 8.1
                       •      Windows 10
                       •      4.14 macOS 10.12 Sierra
                       •      4.15 macOS 10.13 High Sierra

Last Revised: June 22, 2018                                        1                                           New World ERP Release 2018.1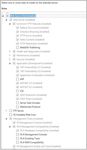 New World ERP 2018.1 Installation Guide

                   Browsers (Please see the Technical Currency Matrix for more details on supported cli-
                   ent browsers)
                          •     IE 11
                          •     Edge
                          •     Chrome
                          •     Firefox
                          •     Safari on Mac

                   New World ERP Releases
                          •     2017.1

                              NOTE:
                          Make sure year-end processing patch 2017.1.3 is applied to release 2017.1 before you
                          upgrade to 2018.1.

                   Additional Requirements
                          •     Microsoft .NET 3.5 and 4.6 on database and website hosting machine (Download site:
                                http://www.microsoft.com/en-us/download/details.aspx?id=48137)
                          •     Microsoft .NET 4.0 is required on client machines that make use of auto-printing to
                                local laser printers in the following areas of the software:
                                --Inventory Transaction-Issues
                                --Revenue Collection Receipts
                                --Collection Station Setup
                                Please note that this is only supported on Windows PCs and not Mac.
                          •     Windows 2016 users may use Microsoft .NET 4.6, 4.6.1 and 4.6.2.
                          •     JAVA JRE 8.X (64-bit) that is included with the Elasticsearch installer

                   IE ESC Settings on the Application Server
                                On the Application Server, IE ESC needs to be turned off for Administrator users
                                according to the instructions provided on the following website:
                                http://blogs.technet.com/b/chenley/archive/2011/03/10/how-to-turn-off-ie-esc.aspx
                                This configuration may be done at any time, and the machine should be rebooted
                                afterwards, if the configuration has not been done previously.

 New World ERP Release 2018.1                                    2                                            Last Revised: June 22, 2018
New World ERP 2018.1 Installation Guide

               Installation Matrix
               The chart below shows you where each piece of the software is to be installed, in the preferred
               install order:

               Time Required to Install the Update
               While the installation should go more quickly at most locations, please allow up to four hours of
               downtime for the update to be applied.

               Before You Install
               Before beginning the actual installation of the New World ERP update, it is important to perform
               the following steps:

                        NOTE:
                       You must install Tyler Identity before installing New World ERP. To view the Tyler
                       Identity Installation Guide, click here.

Last Revised: June 22, 2018                                   3                                        New World ERP Release 2018.1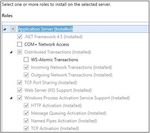 New World ERP 2018.1 Installation Guide

                           NOTE:
                          Please back up any custom DLL files (imports/exports) you may have before applying the
                          release. These files are typically found in {InstallDirectory}\Logos.Net\Custom. They may
                          need to be reapplied after the update.

                           NOTE:
                          For the steps in this section, if C:\ is not the drive on the application server where New World
                          ERP is installed, use the letter that corresponds to the correct drive.

                          1     Request a new license key from New World ERP Product Support. Upon receipt, unzip
                                the file and drag and drop it onto the licensing screen on the Management Console.
                                You should see a message like the following:

                          2     Create a backup of your most recent database.
                          3     Create a copy of the File Storage folder in C:\Program Files\New World Systems\
                                Logos.NET (or wherever New World ERP is installed). Place this copy outside of the New
                                World Systems directory.
                          4     Have all users sign off of the system.
                          5     Stop the New World ERP Management Console on the application server.
                          6     Exit the console.
                          7     Stop the Caching Console.
                          8     Exit the console.
                          9     If your organization licenses eSuite, stop the eSuite website on the eSuite server, as it
                                also points to the New World ERP database:
                                Open Internet Information Services (IIS) Manager.
                                In the Connections pane, open the Sites folder.
                                Right-click Default Web Site to open drop-down menu.
                                Point to Manage Web Site.
                                Click Stop.

 New World ERP Release 2018.1                                    4                                               Last Revised: June 22, 2018
New World ERP 2018.1 Installation Guide

               Hardware Recommendations
               To review hardware recommendations for this release, please navigate to https://
               check.tylertech.com. Use your personal email address and a password of Tyler to log in. Clicking
               on New World ERP will get you to the hardware recommendations.

               Windows Server 2008/2008 R2 Server Setup
               Application Server Role
                       1      Run Server Manager.
                       2      In Server Manager, verify the Application Server Role has the following services
                              installed (note that Windows Server 2008 does not have the .NET Framework 3.5.1
                              option):

               Web Server (IIS) Role
                       1      Run Server Manager.
                       2      In Server Manager, verify the Web Server Role has the following services installed:

Last Revised: June 22, 2018                                        5                                       New World ERP Release 2018.1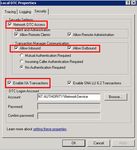 New World ERP 2018.1 Installation Guide

                   Installing Message Queuing (MSMQ) and Other Features
                           NOTE:
                          Install message queuing if you are installing 8.X for the first time.

                          1     Run Server Manager:

                          2     In Server Manager, click Features.
                          3     In the right-hand pane under Features Summary, click Add Features.
                          4     In the resulting window, expand Message Queuing.
                          5     Expand Message Queuing Services.
                          6     Click Directory Services Integration (for computers joined to a Domain), then click
                                HTTP Support.

 New World ERP Release 2018.1                                    6                                         Last Revised: June 22, 2018
New World ERP 2018.1 Installation Guide

               Windows Server 2012 Server Setup
               Application Server Role
                       1      Run Server Manager.
                       2      In Server Manager, verify the Application Server Role has the following roles installed:

Last Revised: June 22, 2018                                        7                                        New World ERP Release 2018.1
New World ERP 2018.1 Installation Guide

                   Web Server (IIS) Role
                          1     Run Server Manager.
                          2     In Server Manager, verify the Web Server Role has the following roles installed:

 New World ERP Release 2018.1                                   8                                             Last Revised: June 22, 2018
New World ERP 2018.1 Installation Guide

               Installing Message Queuing (MSMQ) and Other Features
                       1      Run Server Manager.
                       2      In Server Manager, verify the following features are installed:

               Windows Server 2016 Server Setup
                       1      Run Server Manager.
                       2      Select Manage > Add Roles and Features.

Last Revised: June 22, 2018                                        9                                   New World ERP Release 2018.1
New World ERP 2018.1 Installation Guide

                          3     Under Server Roles, verify the Web Server (IIS) role has the following installed:

                          4     Under Features, verify the following features are installed:

 New World ERP Release 2018.1                                   10                                            Last Revised: June 22, 2018
New World ERP 2018.1 Installation Guide

               Setting up Account to Run Application Service
               Create User (on a new application server; a domain user can be used if it is
               explicitly part of the administrator's group on the server)

                              a Open Computer Management.
                              b Expand the tree to: Computer Management\System Tools\Local Users and Groups\
                                Users
                              c On the Action menu, click New User.
                              d Type the appropriate information in the dialog box.
                              e Clear the check box for User must change password at next logon.
                              f Check Password never expires.

                        NOTE:
                       The user who will run the application service should be set up as someone other than
                       "Administrator," or whatever name typically is used to log into the system.

               Add to Administrator's Group (on a new application server)
                              a   Open Computer Management.
                              b   Expand the tree to: Computer Management\System Tools\Local Users and Groups\
                                  Groups
                              c   Right-click on the Administrators group and select Add to Group.
                              d   Click Add.
                              e   Type the name of the user you just created or one that already existed.
                              f   Click Check Names.
                              g   Once valid, click OK.
                              h   Click OK again.

               Set up Account to Run Windows Service (on a new application server)
                       1      Click Start, then run.
                       2      Type gpedit.msc.
                       3      Press .

Last Revised: June 22, 2018                                     11                                       New World ERP Release 2018.1
New World ERP 2018.1 Installation Guide

                          4     Select Computer Configuration > Windows Settings > Security Settings > Local Poli-
                                cies > User Rights Assignment:

                          5     Double-click Log on as a service policy.
                          6     Click Add User or Group.
                          7     Enter the account that will be running the service.
                          8     Click OK.

                           NOTE:
                          The user needs to log into this account at least once.

                   Setting up Microsoft Distributed Transaction Coordinator
                   To have network access enabled, Microsoft Distributed Transaction Coordinator (MS DTC) must be
                   set up. Follow the below steps to enable network access:
                          1     Click Start, then Run.
                          2     Type dcomcnfg.

 New World ERP Release 2018.1                                   12                                         Last Revised: June 22, 2018
New World ERP 2018.1 Installation Guide

                       3      Expand the console tree to locate Local DTC (e.g. Component Services > Computers >
                              My Computer > Distributed Transaction Coordinator > Local DTC).

                       4      On the Action menu, click Properties.
                       5      Click the Security tab and verify that the following options are enabled:
                              Network DTC Access
                              Allow Inbound
                              Allow Outbound
                              Enable XA Transactions

                       6      Ensure the database server has had steps 1-5 applied as well.

               Windows Firewall Settings
                       1      On the App/Web and DB Server, browse to Control Panel > Administrative Tools > Win-
                              dows Firewall with Advanced Security, or navigate through Server Manager > Tools.

Last Revised: June 22, 2018                                       13                                       New World ERP Release 2018.1
New World ERP 2018.1 Installation Guide

                          2     Inbound Rules: All three components beginning with "Distributed Transaction Coordi-
                                nator Inbound Rules" must be enabled. Right-click on each component and select
                                Enable Rule.
                          3     Outbound Rules: Enable Distributed Transaction Coordinator Outbound Rule.

                   Installation Scenarios
                   Your organization's setup will determine how you will need to install the update. There are three
                   possibilities:
                          •     Application Server, Web Server and Database Server on the same machine. In
                                this scenario, the entire installation will be performed on only one box. Please note:
                                This scenario is not recommended.
                          •     Application Server and Web Server on the same machine. Database Server on
                                a different machine. In this scenario, the installation will be performed on one box.
                                Auditing SSRS would be the only piece installed on the database server.
                          •     Application Server and Web Server on separate machines. In this scenario, the
                                update will need to be run on each box. The prompts you receive will be different on
                                each box. NOTE: This scenario is possible but typically not used.

                              NOTE:
                          For instructions on downloading the update, refer to Appendix A.

                   Auditing and SSRS
                   Before the update is installed, a script needs to be run that will install auditing for Financial
                   Management and Human Resources and a .dll file that is used for styling and formatting when
                   SSRS reports are deployed. The installer is located in an AuditingSSRS folder that is included
                   with the installation.

                              NOTE:
                          The new Auditing and SSRS installer handles updating multiple databases with auditing
                          triggers.

                   The installer needs to be run on the machine that houses the SQL database and on the machine
                   that houses the report server. If these are on the same machine, the installer needs to be run
                   only once.

                   Two versions of the installer are available. If the server is running with a 32-bit version of SQL
                   Server Reporting Services, select the LOGOSAuditingSSRS_x86.msi file. If the server is running
                   with the 64-bit version of SQL Server Reporting Services, select the LOGOSAuditingSSRS_x64.msi
                   file.

 New World ERP Release 2018.1                                   14                                            Last Revised: June 22, 2018
New World ERP 2018.1 Installation Guide

                       1      Double click the LOGOSAuditing SSRS executable to select it. You will see the following
                              introductory screen:

                       2      Click Next. You will see the following screen:

                       3      If your SQL database and report server are on the same machine, select the Auditing
                              and SSRS Styling features. If interested in configuring SSRS to send email reports,
                              select the SSRS Email Delivery feature to be installed (please note that this feature is
                              not necessary if email settings have already been configured in the Reporting Services
                              Configuration Manager). Refer to the SSRS documentation for steps needed to create
                              subscriptions that send reports through email.
                       4      If your SQL database and your report server are on separate machines, select the cor-
                              rect process for the machine you are on: Auditing for the machine with the SQL data-

Last Revised: June 22, 2018                                        15                                       New World ERP Release 2018.1
New World ERP 2018.1 Installation Guide

                                base or SSRS Styling for the machine with the report server. Expand the option by
                                clicking the arrow to the left of the label:

                                If interested in configuring the SSRS server to send email reports, select the SSRS
                                Email Delivery feature to be installed (please note that this feature is not necessary if
                                email settings have already been configured in the Reporting Services Configuration
                                Manager). Refer to the SSRS documentation for steps needed to create subscriptions
                                that send reports through email.

                          5     The Will be installed on the local hard drive option is the default. Use the default
                                if you plan to install the selected item. For the item you are not installing, expand the
                                list and select the Entire feature will be unavailable option. Click Next to go to the
                                following screen:

 New World ERP Release 2018.1                                    16                                              Last Revised: June 22, 2018
New World ERP 2018.1 Installation Guide

                       6      Click Next to go to the following screen if the SSRS Email Delivery feature was
                              selected:

                       7      Select the appropriate SSRS INSTANCE ID and enter the SMTP Server and Sender Address.
                              Click Next to go to the following screen:

Last Revised: June 22, 2018                                       17                                      New World ERP Release 2018.1
New World ERP 2018.1 Installation Guide

                          8     Click the Install button. You will see the following screen while the install progresses:

                          9     When the installation is complete, you will see the following screen:

                          10    Click Finish to complete the installation.

 New World ERP Release 2018.1                                    18                                             Last Revised: June 22, 2018
New World ERP 2018.1 Installation Guide

                              If the auditing feature was installed, the SQL Configuration Tool will be launched. This
                              tool will be used for tasks such as enabling auditing. The tool also may be found under
                              All Programs > Tyler Technologies > SQL > SQL Configuration Tool:

                       11     Click the Add Button. A dialog will display, requesting the New World ERP Server:

                       12     Enter the ERP server and click the Next button. The ERP Database Connection dialog
                              will display:

Last Revised: June 22, 2018                                        19                                       New World ERP Release 2018.1
New World ERP 2018.1 Installation Guide

                          13    Fill in the information requested for the ERP database and click the OK button. A new
                                instance will be created that will modify the ERP database (e.g. enable auditing):

                          14    Additional instances can be added to target other ERP databases (e.g. training and
                                live) by following the above steps. If a newer version of the software has been
                                installed, the current instance(s) may be upgraded. As shown below, all instances that
                                are not at the latest version will be highlighted in red:

                          15    Select the instance that will upgraded and click the Upgrade button. A confirmation
                                dialog will display.
                          16    Click the Yes button and the instance will be upgraded.
                                To delete an instance, select it and click the Delete button. Click the Yes button and
                                the instance will be deleted.

                           NOTE:
                          The SQL Agent will now be started and have the start mode set to automatic.

 New World ERP Release 2018.1                                   20                                             Last Revised: June 22, 2018
New World ERP 2018.1 Installation Guide

               Reporting
               Human Resources/Payroll customers without a previous install of the New World ERP Reporting
               Installer will need to install the New World ERP Reporting Installer before running the update.
               Please see the New World ERP Reporting Installer Guide for additional information. The New
               World ERP Reporting Installer first appeared in release 9.0 SP2.

               Elasticsearch
               Installing Java:
                       1      Under the Elasticsearch-REL_XX folder, open the Prereqs > Java folder.
                       2      Double-click the jre--windows-x64.exe file.
                       3      Click the Install button.
                       4      Click the Close button after the Java software has been installed.
                       5      Open the Java Control Panel.
                       6      Click the Update tab.
                       7      Deselect the Check for Updates Automatically check box. A Java Update - Warning dia-
                              log will appear:

                       8      Click the Do Not Check button to prevent Java from updating without consent.
                       9      Click Apply.

Last Revised: June 22, 2018                                        21                                     New World ERP Release 2018.1
New World ERP 2018.1 Installation Guide

                          10    Click OK to close the control panel:

                          11    Any time the Java software is upgraded, please run the ERP Java Updater Tool, ERP-
                                JavaUpdater.exe, to reconfigure the New World ERP software to work with the latest
                                version of Java. The tool can be found in the ERPJavaUpdater folder that is included
                                with the Java installer. Click the Start button to start reconfiguring the ERP software.

                   Installing Elasticsearch
                           NOTE:
                          The Elasticsearch installer should not be installed under a path that includes the closing
                          parenthesis character )--for example, C:\Program Files(x86)\Elasticsearch.

                          1     Return to the Elasticsearch-REL_XX folder and double click the setup.exe file. You
                                will see the following screen:

 New World ERP Release 2018.1                                    22                                             Last Revised: June 22, 2018
New World ERP 2018.1 Installation Guide

                       2      Click Next. The Destination Folder dialog will open:

                       3      If you do not want to accept the default location, click the Change button to select
                              another location.
                       4      Click Next. The dialog to begin the installation will open:

                       5      Click Install to begin the installation.
                       6      Once the installation is complete, click the Finish button.

                        NOTE:
                       The Elasticsearch installer will uninstall the CD installer.

Last Revised: June 22, 2018                                         23                                     New World ERP Release 2018.1
New World ERP 2018.1 Installation Guide

                   Installing the Update
                   Once the software has been downloaded, it must then be installed on the application server.

                   Installing Tyler Identity
                           NOTE:
                          You must install Tyler Identity before installing New World ERP. To view the Tyler
                          Identity Installation Guide, click here.

                   Installing Prerequisite Software
                           NOTE:
                          Install the prerequisite software only if it is not already installed. The software, if installed,
                          will be listed under Programs and Features as Erlang OTP 17 (6.0), RabbitMQ Server and
                          Microsoft SQL Server 2012 Native Client.

                          1     Open the Main > Prereqs > Erlang folder.
                          2     Double-click the otp_win64_17.0.exe file if running on a 64-bit operating system;
                                otherwise, run otp_win32_17.0.exe.
                          3     Keep the default selected components and install.
                          4     Open the Main > Prereqs > RabbitMQ folder.
                          5     Double-click the rabbitmq-server-3.3.0.exe file.
                          6     Select all components to be installed and install.
                          7     Open the MAIN > Prereqs > SQL Server 2012 Native Client folder.
                          8     Double-click the sqlncli_x64.msi file.
                          9     Keep the default selected components and install.

                           NOTE:
                          If you are using AppAssure version 5.4, the AppAssure Agent Service should be stopped prior
                          to the upgrade.

 New World ERP Release 2018.1                                    24                                                Last Revised: June 22, 2018
New World ERP 2018.1 Installation Guide

               Installing ERP
                       1      Open the Main folder.
                       2      Double-click the setup.exe file to start the installer. (Please note the user running
                              the installer must have admin rights.) You will see the following screen:

                       3      Click Next. The Destination Folder dialog will open:

                       4      If you prefer, you may use this dialog to change the install location of the software.

Last Revised: June 22, 2018                                        25                                        New World ERP Release 2018.1
New World ERP 2018.1 Installation Guide

                          5     Click Next. You will see the following screen:

                          6     Select the desired software features. A typical installation on an application server
                                would have all features except Faxing Service and Esri ArcGIS API selected.

                           NOTE:
                          The Human Resources feature should only be selected if you are a Human Resources/Payroll
                          customer.

                          WARNING:
                          If you are not sure which components should be selected for this installation, contact
                          Customer Support at 877-734-3315 before continuing.

                          7     Click Next. You will see the following screen:

 New World ERP Release 2018.1                                   26                                              Last Revised: June 22, 2018
New World ERP 2018.1 Installation Guide

                        NOTE:
                       If you switch from the default SQL Server Authentication to Windows Authentication, clear
                       any values in the SQL Server field; otherwise, database errors will result. Most sites will use
                       SQL Server Authentication.

                        NOTE:
                       If you are unsure about the verification of your database backup, contact Customer Support
                       at 877-734-3315 before continuing. As the message above indicates, the changes made to
                       the database as a result of the installation cannot be rolled back without a database backup.

                        NOTE:
                       Releases in 2018.1 will require SQL 2012, 2014, 2016 or 2017.

                              a    In the SQL Server field, enter or select the name of the database server.
                              b Select SQL server authentication and enter the User Name and Password of the
                                   user that has administrator rights over the ERP database.
                              c In the ERP Database Name field, enter or select the name of the database that you
                                   are updating.
                       8      Click Next. You will see the following screen:

                              a   In the SQL Server field, enter or select the name of the database server.

                        NOTE:
                       The SQL user must have rights to create a database.

                              b   Select SQL server authentication using credentials below and enter the User Name
                                  and Password of the user who has administrator rights over the ERP Runtime Ser-
                                  vices database.

Last Revised: June 22, 2018                                        27                                         New World ERP Release 2018.1
New World ERP 2018.1 Installation Guide

                                c    The ERP Runtime Services database will be created during the install if it does not
                                     already exist. The default name of the database is LogosRuntimeServices.
                          9     Click Next. You will see the following screen if you selected the Application Server fea-
                                ture in Step 6:

                                The user the application server is running as needs to be an administrator;
                                consequently, a local Administrator account can be created and logged into at least
                                once. Domain users can also be used; however, it is not recommended to use the
                                domain/administrator account:
                                a In the Account name field, enter the account that will run the Application service
                                    (e.g., Domain\User). The account must have rights to run a Windows service.
                                    Please refer to "Set up Account to Run Windows Service (on a new application
                                    server)" on page 1-19 for steps on how to add rights to an account to run a Win-
                                    dows service.

                           NOTE:
                          For the domain, use a logical name rather than an IP address. Do not use localhost.

                                b   In the Password field, enter the password of the account.

                           NOTE:
                          The double quotation mark character (") cannot be used in the account password. The dash
                          character (-) is also not supported in passwords due to issues in SQL's DTUtil utility.

 New World ERP Release 2018.1                                    28                                             Last Revised: June 22, 2018
New World ERP 2018.1 Installation Guide

                       10     Click Next to continue. You will see the following screen if the SQL Reporting Services
                              Reports feature was selected:

                              a   The SQL Services Server URL is the URL to the SSRS server's ReportService2005 web
                                  service. The full URL will be filled in for you by typing in just the name of a server
                                  (e.g., DBServer) and clicking Next (URL should be http:///ReportServer/ReportService2005.asmx). The "2005" in the name is
                                  correct and should not be changed.

                        NOTE:
                       If the SSRS server is configured to use SSL, update the SSRS URL to be in the following format:
                       https:///ReportServer/
                       ReportService2005.asmx.

                              b The Deployment Folder field holds the name of a folder on the SSRS server to pub-
                                lish the reports to. The folder does not have to currently exist. By publishing
                                reports to a specific folder, the same SSRS server can be used by multiple ERP
                                installations. Give this folder the name of the application server you are installing
                                it on (e.g., City of New World ERP - Test). This will keep your live and test environ-
                                ments separate.
                              c The Deployment User Authentication Type field is used to select the authentication
                                method to use against the SSRS server when deploying the reports. Choose Win-
                                dows Authentication only if the currently logged on user has Publisher rights on
                                the SSRS server. Otherwise, choose Specify User.
                              d If you have selected Specify User as the authentication type, enter values in the
                                Domain And User and Password fields under the section, User to Deploy Reports.
                                Enter the Domain and User value as domain\user.
                              e Enter values in the Domain And User and Password fields under the section User to
                                Run Reports. Enter the Domain and User value as domain\user. This should be the
                                same as the previous Domain and User and Password values entered.

Last Revised: June 22, 2018                                         29                                        New World ERP Release 2018.1
New World ERP 2018.1 Installation Guide

                          11    Click Next. If you are installing the website feature, the following dialog will be dis-
                                played during the UI sequence:

                                Select the default FQDN or enter a custom hostname.

                           NOTE:
                          IIS needs to be configured to have the Default Web Site setup to have https binding enabled
                          using the certificate on port 443.

                          12    Click Next. If you are installing the website feature, the following dialog will be dis-
                                played:

                                Type the name of a user who has rights to the SSRS and ERP Website servers. The
                                purpose of this user is to be able to deploy any scheduled report to an ERP user's
                                myReports, which will happen when a user schedules a report and provides a
                                distribution group. The SSRS server will drop the report files into a shared location on
                                the web site server using the account credentials entered.

 New World ERP Release 2018.1                                    30                                              Last Revised: June 22, 2018
New World ERP 2018.1 Installation Guide

                       13     Click Next. If Esri ArcGIS API was selected for installation, you will see the following
                              screen:

                        NOTE:
                       New World ERP now supports Esri releases 10.2 through 10.5.1. As a result of the upgraded
                       support, the original ArcGIS Service location no longer is valid. Please use the new RESTful
                       service location.

                       14     Click Next. If the Human Resources feature was selected for installation, you will see
                              the following screen:

                              a   In the SQL Server field, enter or select the name of the database server.
                              b   Select the authentication type. If selecting SQL Server authentication, enter the
                                  User Name and Password.
                              c   In the ERP HR Reporting Database Name field, enter or select the name of the HR
                                  Reporting database.

Last Revised: June 22, 2018                                         31                                        New World ERP Release 2018.1
New World ERP 2018.1 Installation Guide

                          15    Click Next. If the Import Service feature was selected for installation, you will see the
                                following screen:

                           NOTE:
                          The import service must be installed to take advantage of the scheduled service import feature
                          for Journals, Revenue Collections Receipt Batches, and Accounts Payable Invoice Batches. You do
                          not need to install the service unless you plan to use the scheduled service import feature.

                                If the default value, Local System Account, is chosen, the service can access only the
                                local drives for the machine it is installed on; therefore, the import folder that must be
                                defined when the scheduled service is set up must also be local. If your organization
                                plans to set up the import folders on another machine, select the Account Name
                                option and specify a domain User and Password.
                          16    Click Next. You will see the following screen:

                          17    Click Install. The following processes will be indicated as they are performed: remov-
                                ing old application server files, installing new application server files, removing previ-

 New World ERP Release 2018.1                                    32                                              Last Revised: June 22, 2018
New World ERP 2018.1 Installation Guide

                              ous website files, installing new website files, removing old script files,
                              decompressing and copying new script files, and deploying SSRS reports:

                              Once all the processes are complete, you will see the following screen:

                        NOTE:
                       If SQL or SSRS report deployment errors/warnings have occurred, the screen will display a
                       Show Errors button. Clicking the button will display the errors/warnings in Notepad. If SSRS
                       subscriptions are used and the parameters change for a report, a warning will be returned in
                       the SSRS error log file along with the subscription settings; the subscriptions will need to be
                       recreated for the identified reports. Errors are not expected and should be reported to
                       Customer Support at 877-734-3315.

                       18     Click Finish.

                        NOTE:
                       See Appendix B for information on the product registration process following installation.

Last Revised: June 22, 2018                                        33                                        New World ERP Release 2018.1
New World ERP 2018.1 Installation Guide

                   Installing Community Development myCommunity
                   The myCommunity software needs to be installed only if you are using the myCommunity Mobile
                   application.

                   Installer Prerequisites
                              NOTE:
                          If you are using the myCommunity Mobile app, an SSL certificate is required, and the IIS
                          Default Web Site must be configured to have https binding enabled.

                          •     Microsoft .NET 3.5 and 4.6

                   Administrator Guide
                   Before running the CD Installer, please read the Community Development System Administrator's
                   Guide.pdf.

                   Install Sequence
                   After you have reviewed the Community Development System Administrator's Guide, follow the
                   steps below to install the New World ERP Community Development software. The software will
                   need to be installed on the myCommunity server. The myCommunity server should reside outside
                   the corporate firewall. The software that runs on the myCommunity server only needs to be
                   installed if you are using the myCommunity Mobile app. Please note that all the software can be
                   installed on a single machine only if it is a test server.

                              NOTE:
                          An SSL certificate is required, and the IIS Default Web Site must be configured to have https
                          binding enabled.

                              NOTE:
                          The server/firewall needs to be configured to work with Apple Push Notification.

                          1     Copy the CD_myCommunity_ folder included with the New World ERP
                                release to the server.

 New World ERP Release 2018.1                                  34                                               Last Revised: June 22, 2018
New World ERP 2018.1 Installation Guide

                       2      Double-click the setup.exe file. You will see the following screen:

                       3      Click Next. The Destination Folder dialog will open:

                       4      If you do not want to accept the default location, click the Change button to select
                              another location.

Last Revised: June 22, 2018                                        35                                      New World ERP Release 2018.1
New World ERP 2018.1 Installation Guide

                          5     Select only the myCommunity Server feature and click Next. The New World ERP
                                Server Information dialog will open:

                          6     Enter the ERP Server and click Next. The dialog to begin the installation will open:

                          7     Click Install to begin the installation.

 New World ERP Release 2018.1                                    36                                           Last Revised: June 22, 2018
New World ERP 2018.1 Installation Guide

                       8      Once the installation is complete, click the Finish button:

                        NOTE:
                       See Appendix B for information on the product registration process following installation.

               For Customers with eSuite or Decision Support
               If you use eSuite or Decision Support, please be sure to upgrade to the current software of those
               releases after you have applied the post-installation steps in the next section that are applicable
               to your location.

               Post-Installation Setup
               New World ERP Module Installer
                        NOTE:
                       Only customers who license Dynamic Reporting need to install this.

               You will see the following sequence of dialogs if you are installing New World ERP Module
               Installer after you have installed the New World ERP release. Please review all steps before
               beginning the installation.
                       1      Locate the New World ERP Module installer under the LOGOSModule- folder
                              with the rest of the installers. New World ERP must be installed on the machine before
                              you run this installer.

Last Revised: June 22, 2018                                        37                                      New World ERP Release 2018.1
New World ERP 2018.1 Installation Guide

                          2     Double-click the setup.exe file to start the installer. The first dialog introduces you to
                                the Setup Wizard:

                          3     Click Next. The SQL Server Information dialog displays:

                          4     Fill in the SQL database deployment information:
                                a   In the SQL Server field, type the name of the server where your SQL database
                                    resides, or use the Browse button to find and select the name.
                                b   Select the following radio button: SQL Server authentication using credentials
                                    below.
                                c   Type the User Name and Password of the user who has administrator rights to the
                                    ERP database.
                                d   In the ERP Database Name field, type or browse for the name of the database that
                                    you are updating.

 New World ERP Release 2018.1                                     38                                              Last Revised: June 22, 2018
New World ERP 2018.1 Installation Guide

                       5      Click Next. The dialog to start the installation of the New World ERP Module Installer
                              displays:

                       6      Click Install. After all of the files have been installed, the following dialog displays:

                       7      Click Finish to exit the Setup Wizard.

               Report Writer
               If you license the Report Writer, it is included with the rest of the software in a folder named,
               Report Writer_. Run the setup.exe and click the Next button on the dia-
               logs to install.

               Managed Internet Update (MIU)
               New in the 2017.1 release was the Managed Internet Update (MIU) program, an internet-driven
               fix delivery program. It is the sole method of fix application. At this point in the update process,
               we strongly recommend that you run the available patches in the MIU.

Last Revised: June 22, 2018                                         39                                         New World ERP Release 2018.1
New World ERP 2018.1 Installation Guide

                   For more information on the program and how to apply fixes, please see the MIU Administrator's
                   Guide in the Managed Internet Update folder of the software download zip package.

                           NOTE:
                          If this is a test environment, please note which patches you are installing, so you can
                          replicate the patches in your live environment.

                   Changing the Color of the ERP Header
                   A file named Custom.css, is located in the LOGOS website directory, whose default install location
                   is C:\Program Files (x86)\New World Systems\Logos.Net\Logos\Styles.

                   This file contains commented code that can be uncommented to change the color of the header
                   in New World ERP so that you can easily differentiate servers when testing New World ERP. To
                   uncomment the code and have it take effect, you need only remove the /* */ that surrounds the
                   tag .phbackground and save the file. The change will take effect immediately. See the illustration
                   below:

                   You can also change the color of the header by changing the RGB value of the background-color
                   tag.

                   To choose whatever color you want, go to the following website:

                   http://www.colorpicker.com/

                           NOTE:
                          The installer now persists this config file.

 New World ERP Release 2018.1                                    40                                             Last Revised: June 22, 2018
New World ERP 2018.1 Installation Guide
                                                                                                     Appendix A: Downloading the Update

               Appendix A: Downloading the Update
               After creating a case for software access, you will receive an email like the following:

               Tyler Technologies uses an electronic delivery system to make software available for download
               toyour servers. The 2018.1 New World ERP Release is available via one of the links below. Please
               click on the link to access the files and download the software to your server:
                       •      Download your software (Primary - East Coast) at: https://edelivery.tylertech.com/
                              [customer number]
                       •      Download your software (Secondary - Midwest) at: https://edelivery2.tylertech.com/
                              [customer number]

               You will be prompted for your credentials; please use the following information:

               Username: [customer number]

               Password: [customer number]

Last Revised: June 22, 2018                                       41                                      New World ERP Release 2018.1
New World ERP 2018.1 Installation Guide
Appendix B: Product Registration

Appendix B: Product Registration
                   When the installation completes, you will be prompted to register the product:

                          1     Type your Customer Name, typically the city and state or county and state.
                          2     Select the type of environment--Test, Live or Other--where the software has been
                                installed.
                          3     If you have an internet connection, click Submit, and your registration information
                                will be sent to Tyler Technologies. A successful submission will display as follows:

 New World ERP Release 2018.1                                   42                                            Last Revised: June 22, 2018
New World ERP 2018.1 Installation Guide
                                                                                                          Appendix B: Product Registration

                       4      If you do not have an internet connection and click Submit, an error will display,
                              instructing you to save the file and send it as an attachment to erpproduc-
                              treg@tylertech.com:

                       5      Click OK.
                       6      If you do not have an internet connection, click Save. The Select Save File Location
                              dialog will display:

                       7      Select the location where you want to save the registration information to be submit-
                              ted.
                       8      Click Save.
                       9      Send the saved file as an email attachment to erpproductreg@tylertech.com.

Last Revised: June 22, 2018                                        43                                       New World ERP Release 2018.1
New World ERP 2018.1 Installation Guide
Appendix B: Product Registration

 New World ERP Release 2018.1             44   Last Revised: June 22, 2018