Sanodegusto pro for professionals catalog 2018
Page content transcription ( If your browser does not render page correctly, please read the page content below )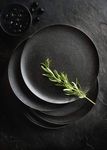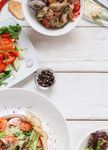 T H E P E R F E CT T E M P E R AT U R E ,
   EVEN AFTER 30 MINUTES


 The Sanodegusto powered by Tempcontrol® dinner plate collection means a
real kitchen revolution. Take your time to plate, serve everyone at ease and let
         them enjoy the perfect meal at the right, constant temperature.

                                  Can you taste the difference?




                Certain characteristics, colour, design ... may differ from the images as listed on our website, catalogues or any other communication tool. Therefore,
                     we cannot be held liable for any differences between any ordered and its image on the website, in catalogues or any other communication tool.
                         The catalogue and accompanying images are copyrighted and the purchase of a product does not, in any way, imply any copyright transfer.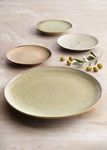 DINNER PL ATE
                 B E N E F I TS




    More time to plate            More time to serve
Tempcontrol® gives you more     Tempcontrol® gives you
  time to plate your dish.    peace of mind while serving.




     More time to eat                 Save costs
Tempcontrol® lets you enjoy   Tempcontrol® can help your
 each other's company and      company to save money.
       meals longer.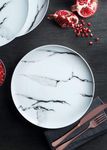 CONTENT



              ®
Tempcontrol - Belgian patented technology     6-7

CALIDO                                       8-19

Calido warm | nuance10-15
Calido warm | deco16-17
Calido cold | nuance18-19
Calido cold | pure18-19

CULINARIA                                   20-25

Culinaria warm | nuance22-23
Culinaria cold | nuance24-25
Culinaria cold | pure24-25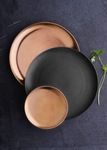 T E M P C O N T R O L®
    B E LG I A N PAT E N T E D T E C H N O LO G Y

              Tempcontrol® is a revolutionary, integrated heating
              and cooling technology for dinnerware. It keeps
              your dinnerware either warm or cold longer than
              any existing dinnerware.

              By putting Tempcontrol® dinnerware in the oven,
              heating cabinet, fridge or freezer it will capture the
              heat or cold and slowly release it afterwards, while
              maintaining the exact, constant temperature.

              Using Tempcontrol® plates will significantly reduce
              stress while plating or serving as temperature is
              not an issue anymore.

              Moreover, your food will always be served at the
              right temperature with preservation of all flavours
              which will lead to satisfied guests or customers.

              Discover the Sanodegusto dinner plate collection
              and taste the difference.



              After heating up or cooling down, your plate
              stays warm or cold for more than 30 minutes.




6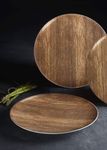 Choose between warm and cold
            Keeps the table and cookware warm at 55°C/131°F
            55°C/131°F is the perfect temperature to keep your steak, fish or vegetables
            warm on a dinner plate. At this temperature the food will also keep all its flavours
            and taste. It makes sure your meat or fish will not pass the requested cooking
            temperature.




            Keeps the table and cookware cool at 4°C/39°F
            4°C/39°F is the ideal temperature to keep your fruit, cheese, carpaccio, tapas,
            sushi or even your desserts fresh on a plate. It is also the perfect temperature to
            keep your cold beverages like fruit juice, lemonade, beer, cocktails and others at
            the right temperature.




                                                                                                   7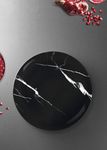 COLLECTION




          Create unique masterpieces and give your dishes an extra flare on these
          pure and natural coloured plates. The perfectly balanced collection
          combines white elegance with vivid colours and more natural looks
                               such as wood and marble.




8

    8                            Sanodegusto pro | for professionals
CALIDO NUANCE
               Single or multicoloured dinnerware in natural or vivid shades and modish designs.




                                                 LIGHT TAUPE




                                               DARK OCEAN BLUE




                                                 Dimensions
16 cm - 6.3"   18 cm - 7.09"   21 cm - 8.27"   23 cm - 9.06"   25 cm - 9.84"   27 cm - 10.63"      30 cm - 11.81"
                                          available for warm

                                                                                                                    11
12
     WARM CALIDO NUANCE
     55°C/131°F
CALIDO NUANCE
               Single or multicoloured dinnerware in natural or vivid shades and modish designs.




                                               BLACK MARBLE 1




                                               BLACK MARBLE 2




                                                 Dimensions
16 cm - 6.3"   18 cm - 7.09"   21 cm - 8.27"   23 cm - 9.06"   25 cm - 9.84"   27 cm - 10.63"      30 cm - 11.81"
                                          available for warm

                                                                                                                    13
WARM CALIDO NUANCE
14
     55°C/131°F
CALIDO NUANCE
               Single or multicoloured dinnerware in natural or vivid shades and modish designs.




                               LEOPARD                                  MOCHA




                                                    OLIVE




                                                 Dimensions
16 cm - 6.3"   18 cm - 7.09"   21 cm - 8.27"   23 cm - 9.06"   25 cm - 9.84"   27 cm - 10.63"      30 cm - 11.81"
                                          available for warm

                                                                                                                    15
CALIDO DECO
                               Embossed finishes in both natural and exceptional designs.




                                    ROSEWOOD                                 WALNUT




                                                      ONYX BLACK




                                                      Dimensions
     16 cm - 6.3"   18 cm - 7.09"   21 cm - 8.27"   23 cm - 9.06"   25 cm - 9.84"   27 cm - 10.63"   30 cm - 11.81"
                                               available for warm

16
WARM CALIDO DECO
                    17
       55°C/131°F
COLD CALIDO NUANCE
18
     4°C/39°F
CALIDO NUANCE
               Single or multicoloured dinnerware in natural or vivid shades and modish designs.




         CARRARA                                     NAVY                                   SEASHELL




                                   CALIDO PURE
                                  Elegant white dinnerware for every cuisine.




                                                    WHITE



                                                 Dimensions
16 cm - 6,3"   18 cm - 7.09"   21 cm - 8.27"   23 cm - 9.06"   25 cm - 9.84"    27 cm - 10.63"     30 cm - 11.81"
                                          available for cold

                                                                                                                    19
COLLECTION




                         ULINA RIA
           Culinaria dinner plates are made of strong, elegant porcelain with an
           emphasis on high chipping resistance. The collection is available in both
           delicate white and more trendy finishes such as colour tones, marble
           and wood structure. These dinner plates will grace the most elegant
                           tabletop. A must-have for every cuisine.




20
COLD CULINARIA PURE
                       21
            4°C/39°F
WARM CULINARIA NUANCE
22
     55°C/131°F
CULINARIA NUANCE
   Single or multicoloured dinnerware in natural or vivid shades and modish designs.




EBONY                                LEOPARD RIM                            LEOPARD COUPE




VANILLA                                 MIMOSA                                   SKY BLUE




                                     Dimensions
   16 cm - 6.3"   20,5 cm - 8.07"   25 cm - 9.84"   27 cm - 10.63"   30 cm - 11.81"
                              available for warm

                                                                                            23
CULINARIA NUANCE
     Single or multicoloured dinnerware in natural or vivid shades and modish designs.




                                       GREY MARBLE




                         CALIDO PURE
                        Elegant white dinnerware for every cuisine.




                    WHITE RIM                               WHITE COUPE



                                       Dimensions
     16 cm - 6.3"   20,5 cm - 8.07"   25 cm - 9.84"   27 cm - 10.63"   30 cm - 11.81"
                                available for cold

24
COLD CULINARIA NUANCE
                          25
               4°C/39°F
Calido
     Create unique masterpieces and give your dishes an extra flare on these pure and natural coloured plates. The perfectly
     balanced collection combines white elegance with vivid colours and more natural looks such as wood and marble.




     A                                      B                           C                       D




     E                                      F                           G                       H                   I




     J                                      K                           L                       M                   N




     Available in 7 dimensions:


                                                25          27    30
                            21    23
         16     18




         Product                       CQ            Tempcontrol® technology   Product              CQ   Tempcontrol® technology

         A    Light taupe              4             Warm                      H Rosewood           4    Warm

         B    Dark ocean blue          4             Warm                      I   Walnut           4    Warm

         C    Black marble 1           4             Warm                      J   Onyx black       4    Warm

         D    Black marble 2           4             Warm                      K   Carrara          4    Cold

         E    Leopard                  4             Warm                      L   Navy             4    Cold

         F    Mocha                    4             Warm                      M Seashell           4    Cold

         G    Olive                    4             Warm                      N   White            4    Cold




26
Culinaria
Culinaria dinner plates are made from strong, elegant porcelain with an emphasis on high chipping resistance.
The collection is available in both delicate white and more trendy finishes such as colour tones, marble and wood
structure. These dinner plates will grace the most elegant tabletop. A must-have for every cuisine.



  A                               B                         C




  D                               E                         F




  G                               H                         I




Available in 5 dimensions:


                      25     27       30
          20,5
  16




 Product                     CQ       Tempcontrol® technology

 A     Ebony                 4        Warm

 B     Leopard rim           4        Warm

 C     Leopard coupe         4        Warm

 D     Vanilla               4        Warm

 E     Mimosa                4        Warm

 F     Sky blue              4        Warm

 G     Grey marble           4        Cold

 H     White rim             4        Cold

 I     White coupe           4        Cold



                                                                                                                    27
www.sanodegusto.com
V3_2018




          w w w.te m p co n t ro l .co m