Prospectus 2020 - East 15 Acting School
If your browser does not support JavaScript, please read the page content below: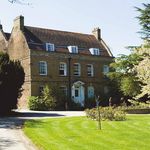 East 15's extraordinary legacy and its reputation for rigorous and inspired teaching ensures students consistently display an unusual degree of courage, vision and versatility that is very exciting to watch." Colin Firth OBE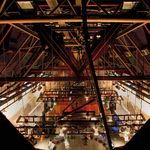 4 Director's welcome 6 About this prospectus 7 About East 15 8 Actor Skills at East 15 9 Prizes and Awards at East 15 10 Loughton Campus 12 Southend Campus 14 Support Services 15 Accommodation 16 Staff at East 15 21 Undergraduate study at East 15 22 BA Acting 24 BA Acting (International) 26 BA Acting and Community Theatre 28
BA Acting and Contemporary Theatre 30 BA Acting and Stage Combat 32 BA Physical Theatre 34 BA World Performance 36 BA Stage and Production Management 38 BA Creative Producing (Theatre and Short Film) 40
Certificate of Higher Education in Theatre Arts 42 Applying to East 15 as an undergraduate 44 Undergraduate auditions 46 Postgraduate study at East 15 48 MA Acting 50
MA/MFA Acting (International) 52
MA/MFA Theatre Directing 54 Applying to East 15 as a postgraduate 56 Postgraduate auditions 58 Money matters 62 University of Essex 63 Further information Contents
4 East 15 Prospectus 2020 Director's welcome Welcome to the East 15 prospectus As you will read in the pages that follow, East 15 offers an extraordinary, dynamic and unique portfolio of courses that span many areas of training for actors, directors, technical theatre specialists and students of theatre practice. In addition to the carefully selected UK students, we also teach and train students from over 26 countries worldwide (www.east15.ac.uk) Here at East 15 we draw upon our traditions of over 50 years, while combining this with a keen sense of the changing world of stage and screen today.
Our training is by professionals and for professionals, allowing our graduates to work successfully across the globe. Our international, outstanding teaching faculty is made up of professionals from all areas of live and recorded performance. We have two first class campuses in Loughton, on the edge of London, and in picturesque Southend-on-Sea. This combination of resources and locations enables us to offer a broad and diverse range of courses at BA and MA/MFA level, and make use of innovative and excellently equipped learning facilities, such as the state-of-the-art Clifftown Theatre (www.Clifftowntheatre.com) and suites of studios and technical facilities at both campuses.
We have an outstanding student satisfaction rating in the UK of 97% total satisfaction in national student surveys.
As part of the University of Essex, one of the UK's leading academic institutions (www.essex.ac.uk), we pride ourselves on placing excellence at the top of our agenda in all our work. East 15 Acting School has been named as the top drama school in the U.K. in the Times and Sunday Times Good University guide Director Leon Rubin with recent graduates www.east15.ac.uk I look forward to meeting many of you at auditions and interviews, and working with those of you that join East 15 for your study and training.
Leon Rubin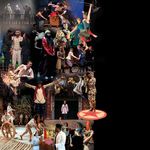 6 East 15 Prospectus 2020 About this prospectus About this prospectus ACTING SCHOOL This prospectus has been prepared in Spring 2019 for courses available from September 2020.
Although great care is taken in compiling this prospectus, it is for the general guidance of prospective students only. East 15 Acting School cannot guarantee the provision of all courses and services advertised in the event of circumstances beyond its control and therefore reserves the right to make changes or cancel any course without notice, should this become necessary. The School cannot be held responsible for failure/delay in performing obligations caused by things beyond its reasonable control, such as fire, flood or industrial action. For the most up-to-date information, please contact East 15 directly.
The full Procedures, Rules and Regulations for the University of Essex are set out in the Charter, Statutes and Ordinances and in the University Regulations, Policy and Procedures. Copies are available on request from the University. In accepting the offer of a place at the University, you consent to incorporation of this notice as a term of contract between you and the University. Quality assurance The Quality Assurance Agency (QAA) last undertook a Review of the University from www.east15.ac.uk 2-5 December 2014. This Review found that the University meets all expectations required of higher education providers, and commended the University's focus on improving the student learning experience.
A copy of the full report is available on the QAA website at: www.qaa.ac.uk/ reviews/reports Further information East 15 Acting School is part of the University of Essex At Loughton East 15 Acting School Hatfields Campus Rectory Lane Loughton IG10 3RY Telephone: +44 (0)20 8508 5983 At Southend East 15 Acting School Southend Campus Elmer Approach Southend-on-Sea SS1 1LW Telephone: +44 (0)1702 328200 Fax: +44 (0)1702 328201 E-mail: east15@essex.ac.uk Website: www.east15.ac.uk Art Director/Editor: Kevin Wyatt-Lown Designer: Stephen Foster Design Photographers: Gemma Mount, Andrew H. Williams, Kevin Wyatt-Lown, Robin Little
7 About East 15 Jacques Lecoq, Peter Brook and other important contemporary trainers. In 2000, East 15 merged with the University of Essex, a leading UK research-intensive university, opening an exciting new chapter in the history of both institutions and offering more opportunities to students. Since 2007, under the directorship of Leon Rubin, more than 13 million pounds have been spent on new buildings and facilities for East 15 in Loughton and Southend-on-Sea, including the Clifftown Theatre and Studios, once a Victorian gothic church in Southend which now enjoys a new lease of life, converted into studios, workshops and a state-of-theart theatre and performance space.
In that period several new programmes have also been developed to take the school into a new era of international and culturally diverse stage and screen performance territories.
East 15 is one of a leading group of UK conservatoires. It is now one of the largest specialist theatre schools in the UK, with a distinguished international teaching staff and an undergraduate and extensive postgraduate population of over 770 students. For over 50 years, East 15 has produced actors, directors, theatre practitioners and technicians for the international stage, TV, film and radio. East 15, based in Loughton on the edge of East London and founded by Margaret Bury, grew from the work of Joan Littlewood's famed Theatre Workshop, which broke new ground, re-interpreting the classics for a modern age, commissioning new plays from socially committed writers, and creating an ensemble capable of inventing new work.
It evolved into an outstanding ensemble that combined inspired, improvisational brilliance with method, technique, research, text analysis and the intense expression of truthful emotion. Much of the original approach was based upon the theories of Stanislavsky and over the years new training methods at East 15 have now embraced approaches from diverse practitioners, such as Michael Chekhov, Rudolf Laban, Jerzy Grotowski, About East 15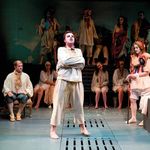 8 East 15 Prospectus 2020 Actor skills at East 15 Actor skills at East 15 East 15's training emphasises a balance between personal discovery, intuition and technical skills. The aim is to give students the basic awareness and confidence that will allow them to continue to learn and perfect their craft in the years to come. Movement The main focus of the movement programme at East 15 is to encourage confident, focussed, flexible, imaginative, physically expressive and truthful actors. The course is based on dynamic alignment (which may include Alexander, Authentic Movement, Bartenieff, Body Centring Experiential Anatomy and Pilates), characterisation techniques (including Laban, Grotowski, Lecoq and Chekhovbased work), dance (including jazz and ballet) and stage combat.
Voice The voice teachers at East 15 aim to equip students with the skills required to release their full vocal potential beyond the limits of "habit" voice. Students combine emotional truth with theatrical energy using techniques derived from leading physical and vocal practitioners like Laban, Chekhov, Berry and Linklater. Singing Actors must have a good feel for music, even if they cannot sing a note. Students at East 15 will learn to understand the rudiments of music and be able to approach a song with confidence and feeling. Students with musical theatre potential will be encouraged further although the overall emphasis is on acting through song.
Music Students with the ability to play musical instruments can develop those talents and there are numerous possibilities to play in ensembles for private and public performances at East 15. Although instrumental playing is not part of the assessment, actors who develop such skills certainly enhance their employability. Media East 15 students are introduced to the techniques and disciplines of working with recorded, digital and online media. Preparation for the industry Guest lectures and workshops, given by industry specialists, help prepare East 15 students for the complexity of working in theatre, film, TV and related areas.
www.east15.ac.uk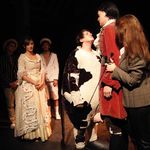 9 Prizes and Awards at East 15 Edmunds (2017, £4,500), Gabriella Leon (2016, £4.500) and Kathleen Hood (2015, £4.500). The Laurence Olivier Bursary This is worth up to £7,500 for a student entering the third year of BA Acting and is presented by the Society of London Theatres. East 15 students have regularly won this outstanding prize. In 2017 two awards were made: Precious Mustapha was awarded £7,500 while Jesse Jones received £4,000. Other winners have included; Paisley Fay Jackson (2016) Rebecca Saffir (2015) and Lottie Finklaire (2014) while in 2012 Nayatia Hinds and Nathalie Wain were each awarded £2000.
Lilian Baylis Award This is worth £1,500 and has been consistently won by students from East 15, including Rory Howes (2018) Jennifer Woodward (2017) Ben Ayers (2016) Isabella Javor (2015) Livia Heim (2014) and Lucy Townsend (2013). East 15 Awards There are several awards made which are unique to East 15. The Elizabeth Mills Award was established in 2015 and is worth £2,500. First awarded to BA Acting's Patricia Allison, the 2016 recipient was BA Acting and Contemporary Theatre's Cara Baldwin. In 2017 it was won by BA Acting and Contemporary Theatre student Louise Barron and BA Acting & Community Theatre's Holly Matthams received the award in 2018.
As one of the UK's leading acting schools, East 15 has a number of students and graduates who have won awards and competitive scholarships over the last few years. Carleton Hobbs Award This Bursary provides winning students a contract for six months work with the BBC Radio Drama Department. A long list of East 15 students has enjoyed recognition through this competition. Past winners and commended nominees have included BA Acting graduates Patricia Allison (2017) Joseph Ayre (2016) and Andrea Valls (2015). However, for the first time, 2018 saw East 15 secure recognition in every single category of the competition with this year's overall bursary prize going to Alexandra Constantinidi.
The John Gielgud Bursary This is worth between £2,500 and £5,000. Winning students from East 15 have included Lily Sinko (2018, £5,000) )Samuel Prizes and Awards for East 15 The Jacob's Ladder Bursary was established in 2016 and makes multiple awards totalling £25,000 each year. In 2016 there were eight, and 2017 fifteen, awards made. In 2018 some twenty students benefited from the Bursary. The £500 Tim Welling Award commemorates a past student of the school and is awarded to a BA Acting student. It was first awarded in 2014 to Ellie Moon. Subsequent winners have been Katie Neil (2015), Hadley Brown (2016) Jacob Reid (2017) and Molly Longworth (2018).
Also commemorating a past student, and again worth £500, the Thomas Bennett Comedy Award is awarded to a BA Acting and Contemporary Theatre student. Harris Allen won this in 2018. Edinburgh Festival and beyond Supporting career progression is an important part of the East 15 ethos. There is an on-going annual programme of awarding New Production Awards, made to new companies created by both existing and past students. As well as supporting productions at the Edinburgh Fringe, these companies have also taken plays to the Brighton, Camden and New York Fringe Festivals. In 2018 some £48,000 was awarded to new companies.
In addition, the University of Essex hosts a no-cost crowdfunding programme which is open to all current and past students and, in many cases, also offers match funding for projects. Last year it supported some 22 productions to the tune of over £23,250. Postgraduate Scholarships There are a number of Bursaries and Scholarships available to Postgraduate Students. BA Acting and Community Theatre student Jennifer Woodward, receives the 2017 Lillian Bayliss Award from David Suchet CBE.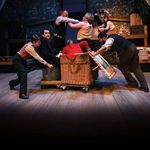 10 East 15 Prospectus 2020 Loughton Campus Loughton Campus East 15 has three sites in Loughton: Hatfields, Roding House and Unit Four.
Each is just a five-minute walk from the nearest London Underground station, Debden, on the eastern branch of the Central Line and only thirty minutes by tube from Central London, West End theatres and all other major tube and mainline stations and termini including Eurostar. Additionally, East 15 often presents students' own work at theatres and studios in London. The campus offers a perfect balance between access to the rich, cultural diversity of London while also providing an environment in which to study in an attractive and peaceful setting. Loughton is situated on the edge of Epping Forest, a 6,000 acre ancient woodland which is ideal for leisure pursuits including walking, running, cycling and horse riding.
The residential area around Loughton offers a rich variety of shops, restaurants, pubs and cafés and has a Leisure Centre providing gym and pool facilities. The hub of Hatfields is a beautiful Georgian dower house, set in six acres of lawns with orchards, flowerbeds and a small lake, providing an idyllic atmosphere for study, relaxation and performance. The site also offers a range of rehearsal spaces, a Dance Studio and the school's own, fully equipped theatre. The Corbett Theatre was built inside a medieval tithe barn and is used extensively for student productions.
Just a short walk from Hatfields is Roding House, a £1.3 million facility containing rehearsal spaces, the Littlewood Studio and East 15's costume department. Unit Four is a £1.5 million facility which is home to the Stage and Production Management department and it is situated next to Roding House. Hatfields There are 28 rehearsal studios at Hatfields, including a dance studio, radio recording room, Mac editing lab and screening room. In the Summer of 2017 work began on a major set of new buildings and facilities that will make this the best equipped single campus drama school in the UK.
The Corbett Theatre Hatfields is also home to the Corbett Theatre, named in honour of Harry H Corbett, a key Theatre Workshop member and early benefactor of East 15.
The building is a medieval tithe barn that was dismantled and transported to Hatfields in the 1960s. These unusual origins create a unique performance space with a unique environment for students to perform in. Combined with full technical facilities, tiered seating for 125 people and fitted dressing rooms, the theatre provides an excellent resource for public productions. Lectures, rehearsals and technical classes also take place here, while the adjacent Theatre Foyer Bar and Café provides a social meeting point for students and staff.
Student resources Loughton Campus Computing facilities and the library As part of a multi-million pound investment in the further development of resources on the Loughton Campus, 2017 saw the opening of a new IT suite and extended Campus library. In addition, there are also computer facilities at Roding House and at Unit Four, all providing internet access, printing and photocopying. There is also wireless connectivity throughout the site. Students can also use the library resources at the Southend Campus and the University of Essex's Colchester Campus library, which has holdings of over one million books and microfilms, as well as some 7,300 current periodicals.
Books are delivered to Loughton via a daily Roding House Roding House contains ten rehearsal rooms, a green room/café, a sound recording studio and a video editing suite. East 15's extensive costume department is also based here. Unit Four Unit Four is situated next to Roding House and is home to East 15's Stage and Production Management department. The Unit contains a large workshop, paint shop, prop shop, prop storage facilities and teaching spaces. www.east15.ac.uk
12 East 15 Prospectus 2020 Southend Campus Southend Campus The Southend Campus is sited in the heart of Southend-on-Sea and is served by excellent transport links. Southend Central railway station, with journey times to central London taking less than one hour, is adjacent to the Gateway Building and Southend Airport, offering budget flights to many European and UK destinations, including Edinburgh, is just three miles away. Southend is the largest town in Essex and a vibrant seaside resort with a cosmopolitan atmosphere. In recent years it has been transformed by a redevelopment and enhancement scheme.
It has seven miles of awardwinning beaches and the longest pleasure pier in the world. Other social amenities and facilities in the town include three theatres, museums, numerous art galleries and libraries. There are over 650 acres of parks and gardens, a fun park and a watersports centre, a bowling alley, leisure centres, pubs, clubs, cafés' and restaurants.
Student resources The Gateway Building The Gateway Building houses a purpose-built suite specifically for East 15 students. This includes fully-equipped, state-of-the art rehearsal studios with panoramic views across Southend-onSea, plus seminar rooms, computer labs and media production resources including an Apple Mac edit suite. The Forum Opened in September 2013, The Forum Southend-on-Sea offers a brand new resource to enhance your student experience. East 15 students have round the clock, secure access to the Learning Hub, which provides innovative IT and study spaces. The Forum also houses an integrated public and academic library, carrying books and other materials to support East 15's course at Southend.
In addition, students have access to the East 15 Loughton Campus library and the University's Colchester Campus library, if required.
The Students' Union The Students' Union facility at the Southend Campus provides a dedicated space for students to meet, have a coffee, relax and watch films or sport. It runs a wide variety of entertainment throughout the term, such as international nights and open mic nights. Clifftown Studios and Theatre Following the purchase of this magnificent Victorian former church in the heart of Southend's conservation area, it has been converted into a variety of unique spaces for rehearsals, technical and practical work and performances. The church nave, with its original organ and stained glass windows now provides an inspirational and atmospheric environment, redesigned to accommodate the needs of a 21st century performance space.
www.east15.ac.uk
14 East 15 Prospectus 2020 Support Services Support Services We offer a range of support services designed to help you to achieve your full potential and to get the most out of your studies. These form a coordinated network of support, and are an important part of the overall student experience. Support Services aim to be accessible to you and responsive to your individual needs. We offer confidential advice and information on many issues, including finance and funding, entitlement to benefits and immigration issues. There are Student Support Advisors available at the Loughton and Southend Campuses who can offer initial advice and information.
You may be referred to other services for specialist advice. Helpful information is also available on the website at www.essex.ac.uk/students and the Students Union Advice Centre website at either www.essexstudent.com/ loughton or www.essexstudent.com/ southend Dyslexia and other learning difficulties We have a strong tradition of encouraging and supporting students with dyslexia and other specific learning difficulties. Provision includes: screening and/or referral for a diagnostic assessment and advice on the Disabled Students' Allowance. Disability We aim to create an accessible and enabling environment.
We would encourage you, before you arrive, to contact the relevant disability service to discuss access to the University and to your course. These discussions are confidential. Students may qualify to apply for the Disabled Students' Allowance and can contact us for advice. www.essex.ac.uk/students/contact/ Student administration At the Loughton Campus, we are able to provide students with official letters and documentation, such as bank letters, confirmation of enrolment and council tax exemption forms, as well as authenticating documents by providing a University stamp for specific forms.
General, non-academic advice can also be given about other services provided by the University of Essex and the Students' Union.
At the Southend Campus, all of the above services are available from the Student Administration Team located on the second floor of The Forum. Pastoral system Conservatoire training can be demanding and, in response to this, the School has developed a network of support to help with any academic and personal pressures. A personal tutor is appointed to each student and they are a channel for any enquiries or anxieties that the student may have. Graduate support East 15 and the University are committed to helping graduates enter their chosen career with confidence. This support is given in the second and final year of undergraduate courses and throughout the year for postgraduate students.
It includes career guidance, planning of audition pieces and advice from working professionals.
www.east15.ac.uk
15 Loughton Campus Those who wish to live close to the Loughton Campus can choose from a wide range of shared student properties offering both Joint and Individual Tenancies. There is also the option to live with Resident Landlords who can provide a more flexible tenancy. The Students' Union provides a property finding service, SU Lets, at our Loughton campus. They specialise in helping students secure Accommodation Accommodation local, private accommodation. All the properties they work with in the area are accredited by Epping Forest District Council.
There are rooms in shared houses, living with a resident landlord or letting an entire house. Click on the "view our listings" area at www. essexstudent.com/sulets and select Loughton area to see what's available. Southend Campus Our state-of-the-art student residences in University Square offer 561 modern en-suite rooms arranged in flats, within seven houses around a central enclosed courtyard. You apply for accommodation directly to the University which aims to guarantee accommodation to all first-year undergraduates.
16 East 15 Prospectus 2020 Staff at East 15 Staff at East 15 www.east15.ac.uk Professor Leon Rubin Director Leon Rubin is a fellow of the Royal Society of Arts and the Royal Asiatic Society . He has an Honorary Professorship of the GITIS University, Moscow and Honoury Degree from UNATC, Budapest. He is a former Associate at the Abbey Theatre, Dublin, who began his career as Assistant Director at the Royal Shakespeare Company and has been Artistic Director of three major UK theatre companies including Bristol Old Vic. He is author of The Nicholas Nickleby Story (the making of the RSC production) and Performance in Bali, published by Routledge.
He has directed productions throughout the world, including Canada, China, Thailand, Japan, Greece, USA, Ireland, Chile and Hong Kong, as well as throughout the UK. He has also trained and lectured actors and directors in Russia, Spain, Korea, France, Holland and the Philippines. In the last few years, he directed a series of Shakespeare productions for the Stratford Festival Theatre, Canada, and a major Japanese theatre company, Bungaku-Za. He is director of a major show in Thailand, which has been performed in a 3,000 seat theatre for the past 16 years. He has also directed in the West End and in New York.
Dr Chris Main Associate Director (Southend) Chris Main holds an MA in Theatre Practice and a PhD in Elizabethan/ Jacobean Theatre from Exeter University. He is a Certified Teacher of stage combat with the BASSC, a fight examiner for Stage Combat Germany and holds a black belt in Aikido. Chris has worked for many theatre companies including: the Orange Tree, Stephen Joseph Theatre, Royal & Derngate, Crucible Theatre, Graeae, The Northcott, and the BBC. He has directed several shows for East 15 – including a Martin Lynch premier and has also directed numerous productions for the Royal Armouries at the Tower of London.
He was the fight arranger for the feature film The Roundabout and Assistant Fight Arranger on the feature, Faintheart. In what feels like a past life, he performed in Conquest, a series for the History Channel.
Matthew Lloyd Associate Director (Loughton) and Head of MA/MFA Theatre Directing After graduating from Oxford, Matthew went on to study at Harvard and Columbia Universities. Whilst Artistic Director at the Royal Exchange Theatre, Manchester his productions included the award-winning An Experiment with an Air-Pump, and Waiting for Godot with Richard Wilson. As Associate Director at Hampstead Theatre his work included the multiaward-winning The Fastest Clock in the Universe by Philip Ridley, Slavs! by Tony Kushner and the Olivier Award winning The Lucky Ones by Charlotte Eilenberg. Freelance credits include the Oliviernominated Duet for One with Juliet Stevenson and productions at the Almeida, Royal Court, the Bush, most of Britain's leading regional theatres, plus Off-Broadway and Parco Theatre, Tokyo.
17 Andrea Brooks Head of MA Acting Andrea Brooks was Artistic Director of Zygo Arts, an award-winning theatre and arts company working in the UK and internationally, most recently in Georgia. She trained at the Drama Centre and has worked as a freelance director and business trainer and mentor. She is an Associate Artist at BAC, London. Dr. Margaret Coldiron Deputy Head of BA World Performance Margaret Coldiron is a specialist in Asian performance and masks. She is a member of the Directors Guild of Great Britain and a Fellow of the Royal Asiatic Society and is widely published. After taking a degree in English and Comparative Literature she trained as an actress at the Drama Centre.
She holds an MA in Text and Performance Studies from King's College and RADA and a PhD in Drama from Royal Holloway. She has studied Topeng masked dance drama and mask carving in Bali and has worked with Japanese Noh masters Matsui Akira (Kita school), Umewaka Naohiko (Kanze school) and Michishige Udaka (Kongoh school). Since 1997 she has been Associate Director of Thiasos, a theatre company specialising in intercultural productions of ancient Greek plays.
She has also undertaken extensive fieldwork on masked performance in India, Sri Lanka and Thailand. Stephen Douse Head of Music (Southend) Stephen Douse studied at the Royal Academy of Music and has been a professional musician for 30 years. His work has embraced cabaret, jazz, music theatre, opera and world music and he has made many TV and radio recordings. He has worked throughout America, Europe and Japan, and with companies including Academy of Ancient Music and D'Oyly Carte Opera Company, Hilliard Ensemble, Kent Opera and Welsh National Opera. Previously Head Of Music at ALRA he has also taught at LAMDA and City Lit.
Steffany George Head of Movement (Southend) Steffany George has been working with actors for over seventeen years; first as a movement director and choreographer, and most notably, teaching movement for actors, coaching, and directing plays at The Stella Adler Studio of Acting in New York City. Steffany has received a commission from The Nagouchi Museum with Topaz Arts for her own work Gone Bye. She performed as a contemporary dancer in numerous productions in both New York and Germany. Christina Gutekunst Head of Voice Christina Gutekunst has been teaching and coaching for nearly 20 years in Germany and the UK.
She trained in acting and voice at schools in Stuttgart, Bremen and Berlin in Germany and also in London, and gained an MA Distinction in voice studies at the Central School of Speech and Drama. She taught voice in various drama schools and has been Head of Voice at East 15 since 2003. Christina has coached for both theatre such as Night Breath by Brian Oliver and Sleeping Dogs by Philip Osment; and TV productions such as Ant and Dec and The Bill. She has worked as a voice over artist as well as directed voice overs at Les Frogs and for Foreign Versions. She was a founder member of Beyond Words Theatre Company and Re: Actors Theatre Group.
Her book, Voice into Acting, is published by Bloomsbury Methuen Drama. Simon Hunt Head of BA Physical Theatre Simon Hunt is an actor, theatre director and acting teacher who has worked in the Performing Arts Industry for the last 20 years. Having worked with some of the most exciting International companies, including De La Guarda, and taught at some of the top drama schools in the UK, Simon emigrated to Sydney in 2003, where he was Course Director of the Full Time Acting Course at Actors Centre Australia. In addition to over 50 shows and projects he has directed and created for drama schools, he has also worked professionally as both a Director and Movement Director for TV and theatre projects.
As an actor he has worked at many theatres across the UK including The Young Vic, Victoria Palace in the West End, Nottingham Playhouse, the West Yorkshire Playhouse, Theatre Royal, Plymouth and The Gate, Notting Hill. Simon trained at the Guildford School of Acting. Dr Adrian James Course co-ordinator for Certificate in HE (Southend) Adrian James initially trained as an actor and for 12 years worked in theatre across England and Europe.
He has taught at many of the leading British acting conservatoires, having learned his craft at East 15, working for nine years during the 1980s with Margaret Bury, the founder of the school. He was the Associate Director of the School of Acting and the Course Leader of the M.A. in Acting at Arts Educational for eighteen years and has taught regularly at The Actors Centre and lectured at the Dramatiska Institutet in Stockholm. Gordon Kemp Head of BA Acting and Stage Combat Gordon holds an MA (Hons) in Political Science from the University of Dundee and a Postgraduate Diploma in Classical Acting from the London Academy of Performing Arts.
He is a certified teacher of stage combat with both the British Academy of Stage and Screen Combat (BASSC) and the British Academy of Dramatic Combat (BADC) serving a 5 year apprenticeship at Shakespeare's Globe
18 East 15 Prospectus 2020 Staff at East 15 Staff at East 15 Dr. Tara McAllister-Viel Head of Voice (Southend campus) Tara McAllister-Viel worked for some 20 years as an actress, voice director and voice-over artist. Before joining East 15, she taught at Central School of Speech and Drama and has been Visiting Professor for Voice at The Korean National University of Arts, School of Drama in Seoul. Voice workshop credits include: Punchdrunk (UK), Centre for Performance Research (Wales) National Drama School of Castilla and Leon (Spain), and University of Halle Institut für Sprechwissenschaft und Phonetik (Germany).
She studied a traditional Korean vocal art form called p'ansori, has published several articles regarding her intercultural approach to training actors' voices and has presented her work at international conferences and symposiums. Gerry McAlpine Head of First Year Studies and Course co-ordinator for Certificate in HE (Loughton) Gerry McAlpine is an East 15 graduate from the early 1970s. She worked with Margaret Bury, who founded E 15, during the years before she retired, and is proud to be able to pass on her East 15 training. She worked as an actress in Canada and England before returning to teach at East 15.
Zois Pigadas Head of Contextual Studies and Course coordinator for BA Acting (International) Zois Pigadas is from Athens, Greece and has studied Theatre at an undergraduate level at York University in Toronto, Canada, followed by Post-Graduate Studies at Goldsmiths College, University of London. He has been teaching actors and theatre students for more than 15 years at, among other insitutions, E15 Acting School, Goldsmiths College, University of Kent and Rose Bruford College. He specialises in workshopping and devising Forum Theatre and has developed a methodology of Active Analysis based on the teachings of Jurij Alschitz.
Alex Purser Head of Stage and Production Management Alex Purser holds a BA (Hons) in Drama with English and an MFA in Theatre Directing. He has spent the past 14 years working in industry as Project, Production and/ or Stage Manager in a variety of contexts including musical theatre, opera, ballet, tours and events. Alex has worked both in the UK and internationally, working on projects in China, France, Italy, Spain, Holland and Germany. His industry experience is varied and wide ranging from local theatre productions, through large West End musicals to events at the Royal Palaces and even a Disney Theme Park ride! www.east15.ac.uk Theatre as part of his training.
As a Fight Director & Performer he has worked with a range of venues and theatre companies including Riverside Studios, The Royal Ballet, The Royal Opera, Shakespeare's Globe and Theatre Royal, Bath. He has also worked as an action performer, most recently on the TV series Vikings. Professor Rosemary Klich Professor of Research Rosemary specialises in multimedia, immersive, and participatory theatre. Prior to joining East 15 in 2017, she was Head of Drama and Theatre at the University of Kent where she taught since 2007. Her current research investigates media, sound, and spectatorship, and her teaching expertise is in the theory and making of contemporary performance practice.
Her co-authored book Multimedia Performance was published with Palgrave in 2012 and she has since published in journals such as Contemporary Theatre Review, Performance Research, International Journal of Performing Arts and Digital Media and Body Space Technology. She has also undertaken various practice-asresearch projects working in collaboration with performers, videographers, sound designers and photographers. Rosemary holds a PhD from the University of New South Wales in Sydney, Australia and has presented keynote talks at conferences and symposia in Poland, Korea, Belgium and the UK.
Ainslie Masterton Head of BA Acting and Community Theatre Ainslie Masterton worked as an actor, director and voice coach in Australia, before focusing on community theatre and film projects based around Sydney and outback aboriginal communities. Since 1998 she has been involved in actor training at Bretton Hall and East 15.
19 Uri Roodner Head of BA Acting and Contemporary Theatre Uri has an extensive career as a performer, director and mentor working in theatre, film and TV. He has appeared in major British theatres including The Royal Court, National Theatre Studio and The Arts Theatre West End, and collaborated with leading companies including The RSC, Gecko and The Clod Ensemble.
He appeared in films by major directors such as Michael Winterbottom, Jose Pedilha and The Brothers Quay. He appeared in TV, on radio and in TV commercials in more than 15 countries, and worked as a documentary film maker for The BBC, Channel 4 and The Discovery Channel USA. His award winning Theatre Company 'Tottering Bipeds' toured to many venues in Britain including The Lyric Hammersmith, Sadler's Wells, Sheffield Crucible, Edinburgh Traverse and Plymouth Theatre Royal. The company toured abroad and their work was filmed for a dedicated BBC2 documentary.
Uri's eclectic training includes The Drama Studio London, École Philippe Gaulier Paris, Monika Pagneux, Pierre Byland, Desmond Jones School and the National Film School. He has taught actors in London, New York, Shanghai, Amsterdam, Madrid and Tel-Aviv. Marcin Rudy Head of Movement Marcin is a movement director, actor and lecturer in movement. Between 2000 and 2012 he collaborated with a multi-award winning physical theatre company Song of the Goat Theatre (Poland) as a performer/ deviser. He has performed in 22 countries on 5 continents, at venues including the Barbican, Sydney Opera House, Taipei National Theatre and La MaMa New York.
After leaving the company he focussed on creating training for actors with special emphasis on the physical/emotional connection. His credits as a movement director include LOVE (National Theatre, London), Britanicus (Wilton's Music Hall, London), Doing the Idiots (National Theatre Studio, London), Black Battles with Dogs (Southwark Playhouse, London), Disco Dementia (Banannefabric, Luxembourg) and Romeo and Juliet (Teatro Mercadante, Naples).
Dr. Ramiro Silveira Head of BA World Performance Ramiro Silveira is a director, lecturer, actor trainer and researcher. He holds a PhD in Theatre Pedagogy - Theatre Artist Training from University of São Paulo (Brazil) and an MFA in Theatre Directing from University of Middlesex. He also trained with Eugenio Barba, Philippe Gaulier and Genadi Bogdanov. He is known for his innovative theatre rehearsal process called Theatre Playground, a study of presence and relation based on rhythm, movement and multicultural references in order to inspire creative live theatre. Since 2001 he has been using his technique to direct plays and run acting and directing workshops all over the world.
He works with a wide range of global performance styles, many drawn from African and Brazilian Drums, Music and Rituals. Robin Sneller Head of MA/MFA Acting (International) Robin Sneller trained at East 15. He has tutored and directed at Arts Educational, East 15, the Royal Scottish Academy of Music and Drama, where he directed Richard III, touring to the International Shakespearean Festival in Poland, and at the Royal Welsh College of Music and Drama. As an actor he has worked in the West End with Sir Peter Hall in Mind Millie for Me by Feydeau, at the National Theatre, with Stephen Daldry at the Gate Theatre and the Crucible, as well as many seasons at the Glasgow Citizen's Theatre and Edinburgh Royal Lyceum theatres.
Neil Somerville Head of Music Neil Somerville has been a Musical Director and Vocal Coach for 15 years and has worked across the UK, Scandinavia and North America. He toured the UK with The Wind In The Willows, conducted the Scottish Premiere of Ragtime and has been Musical Director for award-winning productions of Sweeney Todd, West Side Story, Oklahoma! and The 25th Annual Putnam County Spelling Bee. Many of his singing students currently work in the West End, on cruise ships and on UK tours. Neil regularly accompanies cabarets, master classes and concerts with some of the best performers in the industry.
He has been a visiting Portfolio Coach at London School of Musical Theatre, Lecturer in Singing at Colchester Institute and Head of Music at Ridley Studios.
Philip Weaver Head of BA Acting Philip Weaver trained at The Royal Scottish Academy of Music and Drama and Goldsmiths' College, University of London. Philip has worked as an actor and director for theatres including BAC, Birmingham Rep, Colchester Mercury, Glasgow Citizens, The Kings Head Islington, The Lyric Hammersmith, Nottingham Playhouse, The Oval House, RSC Summer Studio, Salisbury Playhouse, The Scottish Chamber Orchestra, Theatr Clwyd, Wolsey Ipswich and The Young Vic, as well as BBC Radio Four. He has also worked in Holland, Belgium, Slovakia and Scandinavia. He is co-founder and Associate Director of Spinning Wheel Theatre Company.
East 15 currently offers the following courses for undergraduate students: Loughton Campus
BA Acting
BA Acting (International)
BA Acting and Contemporary Theatre
BA Stage and Production Management
Certificate of Higher Education in Theatre Arts Southend Campus
BA Acting and Community Theatre
BA Acting and Stage Combat
BA Physical Theatre
BA World Performance
Certificate of Higher Education in Theatre Arts
BA Creative Producing (Theatre and Short Film) Undergraduate study at East 15 Undergraduate study at East 15 21 East 15 Prospectus 2020 www.east15.ac.uk
22 East 15 Prospectus 2020 BA Acting About BA Acting BA Acting offers a step-by-step process that begins in the first year by introducing students to the basic methods and theories of acting technique in small groups, then culminates in a final professional preparation year in which students perform full-scale productions to public audiences. Applicant information BA Acting provides a thorough preparation for a career in acting and aims to develop each individual student's talent, extending existing skills in voice and movement for professional life. First Year The first year curriculum covers acting, voice, singing, movement and contextual studies.
Students explore their own creativity through work focussed on co-operation, responsiveness to others and the ensemble, fostered by groupshared experiences. Acting on this course begins with objective self-assessment, development of observational skills and imagination: recreating through observation, research and improvisation. First-year work ranges from individual character study through to larger community based projects and the emotional upheaval of British realism. The first year culminates in a large scale Living History Project, in which students study, understand and live the lives of others through periods of conflict.
Second Year The second year offers a journey of maturation. The focus of study moves from improvisation to text and from the examination of self to the exploration of character. Technical skills, such as movement, voice and singing are integrated into the work and students start to build their characters independently. They are also introduced to screen and radio work which then runs throughout the second year.
They are asked to adapt to the differing demands of project and director, encouraging them to take responsibility for their own creative work. Students experience a wide variety of challenging roles from nineteenth century naturalism, to exploring the textual and psychological complexities of Shakespeare. Additionally, through the Brecht cabaret and Commedia dell'Arte projects, students learn to devise, breaking the fourth wall. Third Year The third year requires students to meet the demands they will face in professional performance industries. They deliver a wide variety of plays to extend their performance repertoire and work with industry professionals in recorded media.
Plays and performance projects are chosen to meet the needs of the individual group as far as possible. All productions demand research, advanced skills and commitment. Theatre productions place a particular emphasis on ensemble work and actor contribution. Through specialised professional development workshops students are introduced to the administrative aspects of their future profession: including audition technique, CV and letter writing, tax and self-employment, self-marketing and promotion. Additionally, students undertake a showcase performance which is presented in a major West End theatre for an invited audience of influential agents, casting directors, film, voice over, TV and theatre directors.
After East 15 Graduates of BA Acting regularly appear in stage, film, TV and radio productions throughout the world. Recent graduates have gone on to work with major companies such as the Royal National Theatre, Royal Shakespeare Company, Shakespeare's Globe, Manchester Royal Exchange, BBC, ITV and in the West End. Students are consistently successful in the BBC Radio Drama Carleton Hobbs competition, resulting in a professional contract. They have also been consistent winners of both The John Gielgud and The Laurence Olivier Bursaries. For the past eight years BA Acting students have represented East 15 at the Globe Theatre's Sam Wanamaker Festival.
They are known, and often cast, for their courage, originality and drive! BA Acting Loughton Campus UCAS code: W411 www.east15.ac.uk
23 Daniel Ezra Before graduating, Daniel had already been cast in two BBC TV productions. His agent at Curtis Brown reported; "His tapes are some of the best I have ever seen and he's already making a buzz in America! He is one of the most committed and professional drama graduates I've ever worked with and I really think he's going to have a mighty career." Coming to East 15 was one of the best decisions I ever made. Growing up, I could never keep still, was always full of energy and excitement and East 15 provided the perfect outlet.
It is a thriving institute, everyone here has something positive to offer and East 15 allows everyone, no matter who they are, to express themselves and contribute to their art.
Throughout my time on the BA Acting course, I was pushed far beyond my comfort zones and asked to explore areas of myself I hadn't been conscious of. I fell in love with Shakespeare, tested myself in a variety of forms from Commedia Dell Arte to stage combat and historical dance and upon leaving, I felt confident that I had an immense amount of experience to draw upon to help me navigate this daunting industry. I am incredibly proud to be an East 15 graduate. We are known for our boldness, our fierce determination and commitment to our work, anybody entering East 15 should expect to have that commitment tested on a constant basis.
It is not easy, but should you prevail the rewards are incredible. My career has begun like a dream since leaving East 15 and I will be forever grateful to every student and staff member for aiding me on my journey.
24 East 15 Prospectus 2020 BA Acting (International) About BA Acting (International) Built on the methodologies that have helped establish East 15 as one of the most internationally respected drama training establishments in Europe, BA Acting (International) is influenced by the Acting course that has always been at the core of the school's programmes. It offers a step-by-step process that begins by introducing students to the basic methods and theories of acting technique in small groups and culminates in a final professional preparation year in which students perform full-scale productions and graduate with a professionally produced showreel.
Applicant information BA Acting (International) not only provides a thorough preparation for a career in acting while aiming to develop each individual student's talent, but also offers the added benefit to international students of gaining invaluable insights into British culture and its influences on the global stage. First Year The first year curriculum covers acting, voice, singing, movement and contextual studies. Students explore their own creativity through work focussed on cooperation, responsiveness to others and the ensemble, fostered by group-shared experiences.
Acting on this course begins with objective self-assessment, development of observational skills and imagination, re-creating through observation, research and improvisation.
First-year work includes Verbatim Theatre and Contemporary Scene Study with the study of British Plays from 1956 to 1978 The first year culminates in a large scale Living History Project, in which students study, understand and live the lives of others through periods of conflict. Second Year The second year offers a journey of maturation. The focus of study moves from improvisation to text and from the examination of self to the exploration of character.
Technical skills, such as movement, voice and singing are integrated into the work and students start to build their characters independently. They are asked to adapt to the differing demands of project and director, encouraging them to take responsibility for their own creative work. Students explore the textual and psychological complexities of Shakespeare and Elizabethan Verse Drama. Additionally, students are introduced to the challenge of adapting their skills for film, television and radio work. Third Year The third year requires students to meet the demands they will face in professional performance industries.
They extend their performance repertoire and work with industry professionals in recorded media. Plays and performance projects are chosen to meet the needs of the individual group as far as possible. All productions demand research, advanced skills and commitment. Theatre productions place a particular emphasis on ensemble work and actor contribution.
Through specialised professional development workshops students are introduced to the administrative aspects of their future profession: including audition technique, CV and letter writing, tax and self-employment, self-marketing and promotion. Additionally, students will undertake to complete their own, professionally produced, showreel After East 15 Graduates of East 15 regularly appear in stage, film, TV and radio productions throughout the world. BA Acting (International) Loughton Campus UCAS code: W83A www.east15.ac.uk