THE ALL-AMERICAN - PRESSURE COOKER/CANNER
Page content transcription ( If your browser does not render page correctly, please read the page content below )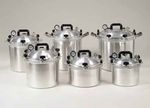 COOKING & CANNING WITH
       THE ALL-AMERICAN
                                                  ®




        PRESSURE COOKER/CANNER




                The professional quality deluxe cast
                aluminum Pressure Cooker/Canners with
                the exclusive "Metal-To-Metal" seal.



   INSTRUCTIONS & RECIPES
77L3
CAUTION! READ THESE IMPORTANT SAFEGUARDS!
When using pressure cookers, basic safety precautions should always be followed:

1.    Read all instructions.
2.    Do not touch hot surfaces. Use handles and pot holders.
3.    Close supervision is necessary when the pressure cooker/canner is used
      near children.
4.    Do not place the pressure cooker/canner in a heated oven.
5.    Extreme caution must be used when moving a pressure cooker/canner containing hot liquids.
6.    Do not use pressure cooker/canner for other than intended use.
7.    This appliance cooks under pressure. Improper use may result in scalding injury. Make certain
      unit is properly closed before operating. See Operating Instructions beginning on page 6 of this
      booklet.
8.    Never fill the unit over 2⁄3 full when cooking; however, when cooking foods that expand such as
      dried fruits, or vegetables, the unit must never be over 1⁄2 full. One-half full means the food, as
      well as all other ingredients and liquids combined. See Food Preparation Instructions beginning on
      page 8 of this booklet.
9.    Do not cook foods such as applesauce, beans, cranberries, pearl barley, oatmeal or other cereals,
      rice, split peas, noodles, macaroni, rhubarb, or spaghetti. These foods tend to foam, froth, and
      sputter, and may block the pressure release device (steam vent). Refer to page 4 "Suitable Foods"
      for additional information and listings.
10. Always check the pressure release devices for clogging before use.
11. Do not open the pressure cooker/canner until the unit has cooled and internal pressure has been
    released. Gauge should read zero at this time. Remove pressure regulator weight. Any pressure in
    the cooker can be hazardous. See Operating Instructions beginning on page 6 of this booklet.
12. Do not use this pressure cooker/canner for pressure frying with oil (broasting).
13. Always make sure that the pressure regulator weight vent pipe opening is clean and you can see
    through it. Read page 6 "Cleaning Vent Pipe."
14. Never loosen wing nuts until the steam pressure gauge registers zero and you have allowed any
    remaining pressure to escape by removing the Pressure Regulator Weight.
15. Do not subject your cooker/canner to sudden extreme temperature changes as this will cause
    expansion or contraction which can crack a cast aluminum utensil. Do not move a cooker from a
    cold storage area directly onto a hot flame or element. Do not add cold water to a cooker/canner
    which has boiled dry and is still hot. Do not cool a hot cooker/canner suddenly by pouring cold
    water on it or wrapping cold wet towels around it.

16. When normal operating pressure is reached, turn the heat down so all the liquid, which creates
    steam, does not vent out.

17. Be sure that handles are assembled and fastened properly before each use. Cracked, broken or
    charred handles should and must be replaced. The No. 64 Bakelite wing nut should be threaded
    into the No. 54 clamp bolt four (4) complete revolutions before bringing assembly into the hold
    down position. When all the wing nuts are in hold down position, tighten all evenly.

18. ALL-AMERICAN Pressure Cooker/Canners are NOT recommended for use on glass top/flat ranges
    because its weight may cause the glass/ceramic to break. The diameter of the canner is also larger
    than most burners, and may cause heat to transfer outward and damage the surrounding surface.


                      19. SAVE THESE INSTRUCTIONS.
COOKING AND CANNING WITH HEAVY CAST ALUMINUM
                 ALL-AMERICAN PRESSURE COOKER/CANNER
                                                                   Table Of Contents
Important Safeguards.....................................................................................................................inside front cover
Warranty ..............................................................................................................................................................2
Model Information .................................................................................................................................................2
Warning Labels .....................................................................................................................................................3
About the ALL-AMERICAN Pressure Cooker ...........................................................................................................4
Important Safety Precautions .................................................................................................................................6
Caring for your Cooker...........................................................................................................................................7
How to Use Your Cooker ........................................................................................................................................8

Cooking Instructions
Cooking Meat in the Pressure Cooker....................................................................................................................10
Cooking Vegetables in the Pressure Cooker ..........................................................................................................10
Cooking Grains in the Pressure Cooker..................................................................................................................10
Recipes for Pressure Cooking—Meats ...................................................................................................................12
Recipes for Pressure Cooking—Seafood ................................................................................................................14
Recipes for Pressure Cooking—Fowl .....................................................................................................................14
Recipes for Pressure Cooking—Soups, Dried Fruits & Vegetables............................................................................15
Recipes for Pressure Cooking—Desserts ................................................................................................................16

Canning Instructions
Processing in the Pressure Canner ........................................................................................................................18
Canning Terms ....................................................................................................................................................18
Safety Tips for Home Canning ..............................................................................................................................19
Causes of Spoilage ...............................................................................................................................................19
ALL-AMERICAN Automatic Master Sealer ............................................................................................................20
Packing Cans or Jars ............................................................................................................................................21
Directions for Using Tin Cans ...............................................................................................................................21
Directions for Using Glass Jars..............................................................................................................................21
Labeling Cans and Jars.........................................................................................................................................22
Storing Cans and Jars...........................................................................................................................................22
Altitude Adjustment Chart....................................................................................................................................23
Timetables and Canning Instructions for Meat .......................................................................................................24
Timetables and Canning Instructions for Poultry....................................................................................................27
Timetables and Canning Instructions for Seafood...................................................................................................28
Preparing Fruits and Vegetables for Canning .........................................................................................................30
Timetables and Canning Instructions for Fruits ......................................................................................................31
Timetables and Canning Instructions for Tomatoes ................................................................................................33
Timetables and Canning Instructions for Vegetables...............................................................................................34
Recipes for Canning .............................................................................................................................................37
Questions and Answers on Home Canning ...........................................................................................................40
Repair Parts Price List ..........................................................................................................................................42
Parts Illustrations.................................................................................................................................................43
Charts and Tables ................................................................................................................................................44
Index ............................................................................................................................................inside back cover


                                                                    CAUTION!
READ THIS BOOKLET BEFORE USING. IMPROPER USE MAY RESULT IN SCALDING INJURY. DO NOT
OPEN COOKER/CANNER UNTIL ALL PRESSURE IS RELEASED AND GAUGE IS AT ZERO. DO NOT
OVERFILL UNIT. BE SURE TO READ AND UNDERSTAND ALL OPERATING INSTRUCTIONS BEFORE
USING COOKER. READ THE IMPORTANT SAFEGUARDS ON THE OPPOSITE PAGE.



                                                                                   1
ALL-AMERICAN HEAVY CAST ALUMINUM PRESSURE COOKER/CANNER LIMITED WARRANTY
      This quality pressure cooker/canner is designed and manufactured to provide many years of satisfactory performance under normal use.
      Wisconsin Aluminum Foundry pledges to the original owner that should there be any defects in material or workmanship during the first
      year after purchase, we will repair or replace it at our option. This pledge does not apply to damage caused by shipping. To obtain service
      under the warranty:
      1. Call the Customer Service Department to obtain a Return Authorization Number. Items returned without a Return Authorization Number
         will be refused.

      2. Return pressure cooker/canner, postage prepaid, with sales receipt, Return Authorization Number and a description of the
         claimed defect to:
         Wisconsin Aluminum Foundry Co., Inc.
         Consumer Products Division
         Corner of S. 18th and Franklin Streets
         Manitowoc, WI 54220

                                                      IMPORTANT — PLEASE READ
      Any alterations, modifications or changes of any type made to the pressure cooker/canner or to any component thereof will void this
      warranty!
      We want you to obtain maximum performance from using this quality pressure cooker/canner, and we ask that you take the time to read and
      follow the operating instructions. Failure to follow instructions, damage caused by improper replacement parts, abuse, or misuse will void
      this pledge. This warranty gives you specific legal rights, and you may also have other rights which vary from state to state. This is
      Wisconsin Aluminum Foundry's personal pledge to you and is being made in place of all other express warranties.




                   DIMENSIONS, WEIGHTS AND CAPACITIES OF ALL-AMERICAN PRESSURE COOKERS

  MODEL                              910         915        921                                 925            930             941
  LIQUID CAPACITY (Qts.)             10 ⁄2
                                        1
                                                15 ⁄2
                                                    1
                                                            211⁄2                                25             30             411⁄2
  Inside Diameter, Inches            10 ⁄8
                                        3
                                                12 ⁄8
                                                    5
                                                            125⁄8                               12 5⁄8         12 5⁄8          151⁄4
  Inside Height, Inches               75⁄8       71⁄2       101⁄2                               111⁄2           14             133⁄4
  Shipping Weight, lbs.               14          20         23                                  24             29              41
  Will Hold:
  Pint Jars                            7          10         19                                  19             19              32
  Quart Jars                           4           7           7                                 7              14              19
  No. 1 Cans                          14          22         35                                  36             44              73
  No. 2 Cans                           7          12         18                                  20             25              36
  No. 3 Cans                           3           5         10                                  10             10              21
  No. 10 Cans                          1           1           1                                  2              2               6
  Please note: Jar counts are based on the Standard Mason Jar.

  Record your model number here


UPC CODES
910   ........ 0   89149 00910   5
915   ........ 0   89149 00915   0
921   ........ 0   89149 00921   1
925   ........ 0   89149 00925   9
930   ........ 0   89149 00930   3
941   ........ 0   89149 00941   9


                                                                            2
SAFETY WARNING LABELS
   The warning label pictured below is located on the top of your pressure cooker. Please refer to the drawing below
for location placement of safety warning label. In the event that your pressure cooker ever requires replacement
labels, please contact the manufacturer and a new replacement label will be promptly sent out to you free of charge.
Instructions for placing the label on the unit will be included.




                                                          3
ABOUT THE
                   ALL-AMERICAN
                PRESSURE COOKER/CANNER
T
        he ALL-AMERICAN Pressure
        Cooker/Canner offers the busy
        cook many money-saving
                                                                   SUITABLE FOODS
advantages:                                   IMPORTANT INFORMATION (from No. 9 inside front cover):
   Safe canning. Pressure cooking                 It is especially important that you never cook rice, applesauce,
provides the only safe method for             beans, cranberries, macaroni, rhubarb or spaghetti in your cooker.
canning non-acid foods such as                There are many varieties of dry, hard beans and peas, examples of
vegetables, fish, meat and poultry. It        which are pinto beans, black beans, lima beans, blacked-eyed peas,
is perfect for canning in tin cans as         kidney beans, lentils, soy beans, mung beans, small red beans, garban-
well as in glass jars.                        zo beans (chick peas).
   Saves energy and time. The                     In the interest of safety, do not use your cooker to cook the foods
pressure cooker prepares foods in a           listed above. These foods tend to foam, froth, and sputter and pieces of
fraction of the time required by other        food could block the safety or pressure release devices; therefore, we
cooking methods.                              urge you not to cook these foods in your pressure cooker.
   More healthy. Foods cook                       Safety must be of first concern.
quickly in a minimum amount of
liquid, helping foods retain flavor and       Please write to:
healthy nutrients.                            WISCONSIN ALUMINUM FOUNDRY
   Saves money. Budget cuts of                Consumer Products Division
meat are quickly cooked to juicy              P.O. BOX 246
goodness in the pressure cooker. And          MANITOWOC, WI 54221-0246
the high temperature makes meat
tender and flavorful without the use          PLEASE READ THIS IMPORTANT STATEMENT:
of chemical tenderizers.                      Wisconsin Aluminum Foundry will not be held responsible for any
   Saves clean-up. Since food                 accidents, injuries, or any other problems resulting from the cooking of
flavors do not mingle in live steam,          any of the foods listed above.
several foods may be prepared in
the cooker at the same time without
mixing flavors.

OTHER CANNING/COOKING
INFORMATION AND
RESOURCES
• County University/Extension Office
  (every county has one)
• Extension Agent/Home Economist
  (Check local phone book for
  number or call information)
• Library
   Books under Canning, Food
   Preservation, Home Canning
• Internet
  National Center for Home Food
  Preservation
 http://www.uga.edu/nchfp/how/can_home.html
• Bookstores
   Books under Canning, Food
   Preservation, Home Canning




                                                             4
The automatic pressure control
                                                                                                          consists of the round pressure
                                                                                                          regulator weight and the vent pipe.
      Easy to read pressure gauge                                       Bakelite top handle               The vent pipe is attached to the cover
                                                                                                          and the pressure regulator weight fits
                                                                                                          on the vent top. (See page 8)


Cover secured with
large, stay-cool
Bakelite wing nuts.



                                        The overpressure plug will automatically vent steam if the vent
                                        pipe becomes clogged. (See page 6)



                                                     Metal-to-metal seal
                                                     between the cover and
                                                     the pot means you
                                                     never need to replace
                                                     a broken, cracked or
                                                     hardened gasket.

                                                     The exclusive metal-
                                                     to-metal seal
                                                     improves with use if
                                                     properly cared for and                                                Double thickness
Extra heavy, high-                                   lubricated.                                                           edges
grade cast aluminum                                  (See Page 6)
heats quickly, wears
well, cleans easily,
and will not rust.




                                              HANDLE SAFETY
                                                   IMPORTANT NOTICE
                                       Only use the side handles to lift the pressure
                                    cooker. This applies to the pressure cooker when
                                    it is empty or contains items. NEVER use the top
                                    handle to lift the complete unit. The top handle is
                                              used to remove the cover only.




                                                                5
IMPORTANT SAFETY PRECAUTIONS:
  READ BEFORE USING PRESSURE COOKER/CANNER

F
       or your own safety and to avoid        Keep Safety Openings Clear                      clogged inside with food or grease
       damaging the cooker, please read       It is important to inspect the openings         buildup, it will not function. If the
       these instructions carefully           to the overpressure plug, the vent pipe,        steam pressure gauge registers in the
before using.                                 and the steam pressure gauge regularly          CAUTION range and the selective
                                              and to make sure steam can pass                 Pressure Regulator Weight has not
Lubricate Before Using                        through them.                                   automatically released pressure, do the
Before using your cooker, lubricate the                                                       following at once:
metal-to-metal seal with petroleum jelly      Cleaning Vent Pipe                              1. Turn off the heat source. Do not
or Vaseline to prevent the cover from         Before using cooker/canner, hold the                move the pressure cooker!
scratching or sticking. Apply a thin film     cover up to the light to see if the vent        2. Allow the cooker to stand until cold
of lubricant to the edge inside the           pipe is clear. If you cannot see light              to the touch (this may take an hour
cooker where the inside wall begins to        through the vent pipe, it may be                    or more). Only then is it safe to
bevel out (see diagram below). Use            blocked. Carefully insert a piece of wire           remove the cover, and only remove
just enough lubricant to wet the edge,        in the vent pipe and run it gently in               cover after the gauge reads at ZERO.
but not enough to actually see it.            and out to be sure the tube is clear and        3. Clean the Vent Pipe and the steam
    Place a similar amount of lubricant       unobstructed. You may wish to                       pressure gauge passage as described
on the threads of the bakelite wing           purchase a #75 cleaning rod for this                above. You may purchase a new
nuts and also on the metal face around        purpose. Rinse with hot water.                      Vent Pipe from the factory if needed.
the opening. Wipe away excess
lubricant. This will help the wing nuts       Use Adequate Liquid/Water                       Temperature Fluctuation
turn more easily and hold the cover           It is critical to understand the impor-         Do not subject your cooker to sudden
securely to the cooker/canner, prevent-       tance of having water in the cooker             extreme temperature changes as this will
ing steam leaks.                              when in use. During cooking or                  cause expansion or contraction which
                                              canning there must be at least 11⁄2" of         can crack a cast aluminum utensil. Do
About the Metal-to-Metal Seal                 water (or the amount called for in the          not move a cooker from a cold storage
The cover of your pressure                        recipe or canning instructions) in          area directly onto a hot flame. Do not
cooker/canner is designed to                               the bottom of the cooker so        add cold water to a cooker which has
seal tightly without the                                       that the cooker won't          boiled dry and is still hot. Do not cool a
use of a rubber gasket.                                           boil dry due to steam       hot cooker suddenly by pouring cold
    The metal                                                       blow-off. If there is     water on it or wrapping cold wet cloths
surfaces where the                                                   not enough water         around it.
cover and cooker                                                       in the pressure
meet are beveled                                                        cooker and it         Open Cooker Safely
to produce the            TOP
                                                                        boils dry, the unit   Be sure pressure has dropped to zero
                                                   GAP
exclusive metal-                                                        will be ruined,       and that you have removed the
to-metal seal. As                                                       cannot be             selective Pressure Regulator Weight
                                                METAL-TO-METAL
a result, the cover                             SEAL                   repaired, and          before loosening the Bakelite wing
will wobble                                                          must    be replaced.     nuts. When removing cover, raise the
                                             APPLY LUBRICANT
slightly when placed                         HERE, TO THE                                     farthest edge first to protect face and
on the bottom before                         BOTTOM ONLY                                      arms from steam.
                                    BOTTOM
                                                                 Filling Cooker
the wing nuts are fully                                        Pressure cooker should
fastened. When the cover is                                never be more than 2⁄3 full        Dropping The Cooker
properly seated, there is a small gap             when cooking foods like soups or            If you ever drop your pressure cooker,
between the cooker/canner and the cover       stews. When cooking foods which                 it must be examined for damage. If it is
(see diagram above). To secure the            expand, including all dried beans &             dropped on a hard surface, call for a
cover, gradually and evenly tighten two       peas, such as pinto beans, fill cooker 1⁄2      Return Authorization number and
opposite wing nuts at the same time,          full. Half full means the pot is 1⁄2 full of    return the unit to Wisconsin Aluminum
maintaining the same size gap around          the beans and water combined,                   Foundry with a note explaining that
the entire unit where the cover meets the     resulting in occupying never more than          the unit was dropped and that you
bottom. Never tighten just one wing           1
                                               ⁄2 of the total volume of the cooker.          would like it examined. We will check it
nut at a time. A new cooker will                                                              thoroughly, including the selective
sometimes leak slightly around the            Excess Pressure Inside Cooker                   Pressure Regulator Weight and steam
metal-to-metal seal. This will do no          The selective Pressure Regulator                pressure gauge, and notify you of our
harm, and should cease after being used       Weight is designed to release excess            findings and the repair charges.
a few times.                                  steam at 18 pounds of pressure.
                                              However, if the Vent Pipe becomes

                                                                    6
CARING FOR YOUR COOKER
Metal-To-Metal Seal, Cleaning                 Pitting is caused by the interaction    IS PRESENT until it is determined
And Maintenance                            of aluminum with other metals in the       the extent of damage caused by
The metal-to-metal seal must be            presence of moisture. This can be          pitting.
lubricated periodically to prevent the     prevented by washing, rinsing and
cover from sticking to the bottom as       drying the unit thoroughly after           Storage
a result of dryness. Lubricate the         every use. Always store the pressure       The cover should be stored separate-
metal-to-metal seal on the bottom          cooker in a dry area when not in use.      ly from the bottom or upside down
with petroleum jelly or Vaseline to        While pitting is not injurious to          on the bottom to allow air circula-
prevent scratching and sticking of         health, if pitting becomes present and     tion. Always be sure the cover and
the seal. (See diagram page 4.) It is      you detect it in the metal, then we        bottom are thoroughly dried to
recommended that a thin film be            recommend that the unit be returned        protect against pitting and corrosion.
applied every third or fourth use. The     to the factory for examination. DO         Protect the metal-to-metal seal from
metal-to-metal seal must not be            NOT USE THE UNIT IF PITTING                being struck or dented.
permitted to become dry, as this
could result in severe damage to the
metal-to-metal seal and make it very
difficult to remove the cover. Lack of              OVERPRESSURE PLUG, NO. 2040
lubrication also makes it very difficult
to maintain a steam-tight seal.                        IMPORTANT INFORMATION

                                             T
   It is also important to periodically              he overpressure plug releases if the vent pipe becomes blocked
wipe off the metal-to-metal seal with                and cooker/canner develops too much pressure. This is a protec-
a clean towel to remove any build-up                 tion that permits excess pressure to be released safely. If you
of foreign material trapped in the           follow directions for using the unit properly, the plug will probably
lubricant. You may use 0000 grade            never release.
steel wool and carefully go around              A small amount of steam or moisture may be visible around the
the seal to remove any build-up of           overpressure plug as the pressure is starting to build inside the unit. It
hardened lubricant. However, avoid           is normal for the overpressure plug to leak steam until approximately 5
hard scrubbing of the metal-to-metal         pounds is shown on the pressure gauge. If leakage continues beyond
seal to prevent damage.                      that point, the cause may be:
Accuracy Of Steam                               1. The overpressure plug needs replacing if it is worn, cracked or
Pressure Gauge                               hard. We recommend that you replace the overpressure plug every 12
ALL-AMERICAN pressure cooker                 months, or before if it becomes hard or deformed. Never reuse a blown
canners are weighted-gauge canners.          overpressure plug.
The pressure gauge is supplied as a             2. Built-up food or grease may be in the opening. We recommend
reference only for when the unit is          that the opening in the cover where the overpressure plug fits be
pressurized and timing for canning           cleaned with hot soapy water and a small brush at least once every
may roughly begin, or when the               month during periods of use to maintain a clean opening. This clean-
pressure has dropped to zero and the         ing/inspection is in addition, of course, to normal cleaning performed
lid may be safely removed. The               after using the unit.
accuracy of your steam pressure                 TO REMOVE THE OVERPRESSURE PLUG: From the underside of the
gauge is at + 2 pounds. Please refer to      cover, pull the plug out of its opening using your fingers. After cleaning,
information provided on page 8 under         reinsert the overpressure plug by pushing the round top side of the
"Using Cooker" - Item #2 - the bold          overpressure plug into the opening from the underside of the cover. When
print. If you would like to have your        the overpressure plug is correctly in position, the indented portion will be
gauge tested you may contact your            visible when the underside is viewed. Be certain to check, after inserting
county extension agent. If they are          plug, that the round top of plug and top lip are fully through the opening
unable to provide this service, you          so that the top lip is not folded under.
will have to purchase a new gauge.
                                                           ROUND TOP OF PLUG
Discoloration And Pitting                                  MARKED "AA"               TOP LIP
                                                                                               COVER TOP SIDE
Discoloration of aluminum inside is
harmless. It can be removed by
boiling a solution of one tablespoon-
ful of vinegar or two level table-
spoons cream of tartar in a quart of                             BOTTOM OF PLUG       OVERPRESSURE PLUG
                                                                 IS INDENTED
water, or by scrubbing with an
aluminum cleaner or soap impregnat-
ed steel wool cleaning pad.
                                                             7
HOW TO USE YOUR COOKER
Check metal-to-metal seal for lubrica-                     Exhausting                                                  on which size pressure cooker you
tion. (See pages 6-7). Check to make                       There are two ways in which you                             have and how much food your are
sure vent pipe is clear. (See page 6)                      may use this pressure cooker, one                           cooking.
                                                           would be for cooking food and the                              Please understand that there
Place Food And Water Inside                                second would be for canning food in                         will not be an exact correlation
Place 11⁄2" of water (or the amount                        either glass jars or metal cans.                            between the pressure shown
called for in the recipe or canning                           The following instructions apply to                      on the gauge to the corre-
instructions) in bottom of cooker.                         both methods; however, there is one                         sponding pressure setting on
(Note: Whenever canning, add water                         step that must be taken whenever                            the pressure regulator weight.
BEFORE placing jars or cans into                           you are using the pressure cooker as                        For example, even though you
cooker.) Always place a rack in                            a pressure canner, and that is "after                       have set the pressure regulator
bottom of the pressure cooker with                         placing lid on cooker, you must allow                       weight at 10 lbs., the gauge
the rim facing down when using                             steam to escape from the vent pipe                          may show a range during the
pans, canning jars, or tin cans. Never                     for 7 minutes before placing selective                      cooking process of 8 to 12 lbs.
allow these containers to stand                            pressure regulator weight on cover."                        Do not expect the gauge to
directly on the bottom of the cooker.                      This procedure is called "exhaust-                          always show the exact pres-
The rack is also useful for holding                        ing" and is necessary only when                             sure setting as the pressure
meat or vegetables out of the water                        canning food.                                               regulator weight, as the pres-
while cooking.                                                For more detailed CANNING                                sure is changing within the
                                                           instructions, please refer to pages 18                      unit as the pressure regulator
Place Cover On Cooker                                      and 22.                                                     weight jiggles and sputters,
Place cover on cooker bottom so that                                                                                   which is simply a process of
arrow on cover aligns with the arrow                       Using Cooker                                                constantly building up and
on the bottom.1 Gradually and evenly                       1. Set the pressure regulator weight                        releasing pressure to maintain
tighten two opposite wing nuts at the                         over vent pipe, aligning the weight                      the setting on the pressure
same time, maintaining the same                               so that the hole corresponding to                        regulator weight.
size gap around the entire unit where                         the desired pressure is directly over                       Even in the situation where
the cover meets the bottom. Never                             the vent pipe.                                           the gauge is not registering
tighten just one wing nut at a                             2. Place pressure cooker over heat                          correctly for any reason, you
time.                                                         source, and when the pressure                            can be assured that the unit
                                                              regulator weight begins to jiggle                        will still operate at the pres-
                                                              and sputter, adjust the heat until it                    sure regulator weight setting.
                      The pressure                            jiggles only one to four times each                      The basic reason that our
                       regulator weight
          15




                                                              minute. The pressure regulator                           pressure cooker retains the
                    5




                       lets you select one                    weight will jiggle or rock when the                      gauge is to provide additional
               10      of three pressure                      pressure is reached. NEVER TURN                          information as to the pressure
                     settings.                                UP THE HEAT TO THE POINT                                 and temperature within the
                                                              THAT A CONSTANT FLOW OF                                  unit, but you can be assured
     Pressure           Cooking Temperature                   STEAM IS ESCAPING, THEREBY                               that the unit is functioning at
     5 lbs.             228° F        107°C                   CAUSING THE PRESSURE REGU-                               the pressure regulator weight
     10 lbs.            240° F        113°C                   LATOR WEIGHT TO BE CON-                                  setting.
     15 lbs.            250° F        118°C                   STANTLY IN THE "UP" POSITION.                               Try to keep the pressure as
                                                              REDUCE THE HEAT SO THAT                                  steady as possible by regulating
        When the pressure cooker                              THE PRESSURE REGULATOR                                   the amount of heat applied to the
     reaches the proper temperature,                          WEIGHT ONLY JIGGLES AND                                  cooker. At no time should the
     the pressure regulator weight                            SPUTTERS FROM ONE TO FOUR                                pressure be allowed to rise
     will jiggle audibly, and you can                         TIMES A MINUTE.                                          above 15 P.S.I. Excess pressure
     see the steam being released.                               Experience with the pressure                          should be decreased by turning
     The pressure will be automatical-                        regulator weight will teach you                          heat down. Remember, it is the
     ly maintained for proper pres-                           what setting on your stove will                          amount of heat applied to the
     sure cooking. The pressure                               maintain the proper pressure and                         unit that regulates the pressure.
     regulator weight itself never                            how long it takes to bring the                        3. To count your cooking time, begin
     requires adjustment or testing for                       pressure cooker to the point where                       from the first jiggle or rock of the
     accuracy.                                                the pressure regulator weight                            pressure regulator weight, and
                                                              jiggles or rocks. This will depend                       when the food has cooked to
1
    This means that you have the cover and bottom correctly positioned together. (Older pressure cookers will have a linemark on the rim of the bottom.)


                                                                                     8
HOW TO USE YOUR COOKER
proper pressure for the correct period     sure regulator weight from the vent
of time, turn off the heat.                pipe as soon as the pressure gauge
                                           indicator reaches zero P.S.I. and then
Reduce Pressure                            remove the cover. The longer you
WARNING: Steam escaping from the           wait without removing the pressure
vent pipe can scald or burn you and        regulator weight, the more vacuum
the pressure regulator weight may be       will form, pulling the cover tighter
hot. Protect your hand with a pot          and tighter to the bottom.
holder or mitt.                               Another reason that a cover sticks
   When cooking is completed and           to the bottom is that the metal-to-
heat is off, reduce pressure as follows:   metal seal has been permitted to
• After most normal cooking, permit        build up a coating of foreign material
  cooker to cool until steam pressure      such as dried grease, lubricating oil,
  gauge reads zero.                        etc. Please refer to page 7 under the
• After cooking soup, cereals, or any      section "Metal-to-Metal Seal,
  food that might boil over in the         Cleaning and Maintenance" for
  pans, turn heat off and permit           complete instructions.
  cooker to cool.
• After canning in glass jars, turn        Removing a "Stuck" Cover
  heat off and permit cooker to cool       (due to a vacuum)
  gradually until the steam gauge          In the event that a vacuum forms,
  drops to zero. Remove the selective      use a large standard screwdriver to
  pressure regulator weight slowly         pry the top loose. Place the end of
  and do not release steam pressure        the screwdriver at an angle between
  too rapidly as liquid will be drawn      the cover and bottom near a wing
  from jars.                               nut assembly. Do not go straight in
• After canning in tin cans, turn heat     with the screwdriver or you will
  off and release pressure as quickly      damage the metal-to-metal seal.
  as possible by removing the              Gently pry upward using the screw-
  selective pressure regulator weight      driver as a lever. Continue to pry
  with fork or hot pad.                    upward at each wing nut assembly
   Do not put cold cloths or water on      area uniformly so that the cover is
the cooker to hasten cooling. This         raised evenly. In most cases, the
may crack the aluminum.                    cover should come off rather quickly.
   Do not move the pressure cooker            If you need further assistance,
until the pressure is completely           please call the factory.
reduced.

Opening Cooker Safely
CAUTION: Never loosen wing nuts
until the steam pressure gauge
registers zero, and you have allowed
any remaining pressure to escape by
carefully removing the selective
pressure regulator weight.
   Remove cover, raising farthest
edge first to protect face and arms
from steam.
   When the pressure regulator
weight is left on, a vacuum may
form inside the cooker making the
cover difficult to remove. To avoid a
vacuum, which will cause the cover
to be drawn to the bottom very
tightly, you must remove the pres-



                                                             9
COOKING IN THE PRESSURE COOKER
Meat                                      MEAT TIMETABLE
When cooking meats, place empty           Beef ................................................Cook at 15 Pounds Pressure
cooker on stove to heat. Put fat in       Rump or chuck roast..........................12 to 15 min. per lb.
bottom of cooker and sear meat on         Corned beef ......................................12 to 15 min. per lb.
all sides to seal in juices. Add 1⁄2"     Ground meat loaf ..............................8 to 10 min. per lb.
water to bottom of cooker (or the         Pot roast, thin....................................8 to 10 min. per lb.
amount called for in the recipe), and     Pot roast, thick ..................................10 to 12 min. per lb.
cook for time given in timetable or       Fresh tongue ....................................35 to 45 min.
recipe. Follow instructions under         Tongue, smoked or cured ..................60 min.
How to use Your Cooker, page 6.           Round steak, 1" thick ........................15 min.
    The length of cooking period for      Stew meat cubes ................................15 to 20 min.
meats depends on the amount and           Hearts ..............................................15 to 20 min.
distribution of the fat on the meat,
the amount of bone, toughness, size,      Lamb or Mutton
thickness of cut, and the position of     Shoulder roasts ..................................10 to 12 min. per lb.
the meat in the cooker. Rolled roasts     Stew cubes ........................................15 min.
require a longer cooking time per
pound than unboned roasts, and            Pork
short, chunky roasts require longer       Fresh ham ........................................12 to 15 min. per lb.
cooking time than long, flat ones.        Loin roasts ........................................10 to 12 min. per lb.
Due to the difference in surface area     Shoulder roasts ..................................12 to 15 min. per lb.
of small roasts up to 3 or 4 pounds,      Pork chops, 1" thick ..........................10 min.
they require a longer cooking time        Pork steak, 1" thick............................10 min.
per pound than larger roasts.             Pork shanks ......................................20 to 30 min.
Consequently, it is possible to give
only general rules regarding average      Spareribs
cooking time for meats. Average           Spareribs ..........................................15 min.
times are about 8 to 10 minutes per
pound for rare, and at least 12 to 15
minutes per pound for well done.
With a little experimenting, you will
be able to regulate the cooking time
according to a particular cut of meat.   GRAIN TIMETABLE
                                                                                             Cook at 15 Pounds Pressure

                                         Bulgur, Cracked Wheat ..................................................5-10 Minutes
                                         Preparation: Wash. Place in pan. Cover grain with 1" of water. Add warm
                                         water to bottom of cooker to level of rack. Never fill the pressure cooker
                                         more than one-half full. This one-half includes the water and all ingredi-
                                         ents.

                                         Whole Wheat Berries & Other Whole Grains ..................35 Minutes
                                         Preparation: Hard grains may be soaked overnight to reduce cooking time.
                                         Cover grain in pan with 2" of water. Continue as above.




                                                             10
COOKING IN THE PRESSURE COOKER
                                                        Place vegetables on rack or in a                          the cover, raising the farthest edge
Vegetables                                              metal pan resting on the rack.                            first to protect face and arms from
                                                           For best color and texture, when                       steam. Do not allow the vegetables
Prepare vegetables in the usual                         done cooking, turn the heat off,                          to remain in the cooker once the
manner and season. Pour about 1⁄2"                      allow pressure to reach zero, remove                      pressure is down to zero.
of water in the bottom of the cooker.                   the regulator weight, then remove



  VEGETABLE TIMETABLE
                                                                                                                                   Cooking Time (Min.)
  Vegetable                                  Preparation                                                                       At 15 Pounds Pressure
  Asparagus .............................Clean and wash. Use pan ...............................................................................1-3
  Beans, green or wax ..............Wash and cut.................................................................................................2-3
  Beets .....................................Wash, leaving root and 2" of stem on. Cook. Peel and
                                             dice. Season with salt, butter, pepper, and a little
                                             vinegar and sugar .............................................................New 12-18; Old 15-20
  Brussels Sprouts.....................Wash ................................................................................................................2
  Cabbage.................................Quarter and season with salt ..............................................................................8
  Carrots...................................Slice, put in pan. Season.........................................................Sliced 2; Whole 3-4
  Cauliflower ............................Soak head 1⁄2 hour in cold salt water. Divide sections.
                                             Place in pan ...................................................................................................1-2
  Celery ....................................Wash and dice ...............................................................................................2-3
  Corn-on-the-Cob ....................Clean and place on rack..................................................................................3-5
  Hominy ........................................................................................................................................................30
  Onions ..................................Place in pan. Season ................................................................Sliced 3; Whole 10
  Parsnips ................................Wash. Cook on rack.................................................................Sliced 3; Whole 10
  Peas ......................................Shell and wash ..............................................................................................2-3
  Potatoes, Irish ........................Peel and place in pan..................................................................................10-20
  Potatoes, scalloped ........................................................................................................................................10
  Potatoes, sweet ......................Wash, peel, quarter or halve, cook on rack ....................................................8-10
  Pumpkin or Winter Squash .....Wash and remove seeds. Break in pieces and place in pan ...........................10-12
  Rutabagas .............................Peel and wash ....................................................................Sliced 5; Quartered 12
  Spinach, Swiss Chard .............Wash thoroughly in several waters ....................................................................2
  Turnips ..................................Slice or dice turnips. Use pan. Season with salt and a little sugar ......................4-5




                                                                                 11
PRESSURE COOKING RECIPES
Meats                                    Rolled Beef Roast
                                         Sear the roast (5 pounds) on all sides
                                                                                   Beef Stroganoff
                                                                                   1 lb. beef stew meat cut in 1" pieces
                                         in fat or drippings in the bottom of      1 tbsp. flour
Pot Roast                                the cooker. When partially seared,        1 tbsp. oil
4 lbs. beef for pot roasting             dredge with flour and finish brown-       1 4-oz. can mushrooms, drained
2 tbsp. drippings                        ing. Add salt, pepper and such              (reserve liquid)
4 tbsp. flour                            seasonings as desired. Put roast on       1 onion, medium, sliced
2 tsp. salt                              rack and add 1⁄2" of water. Seal cooker   1 tsp. salt
1
 ⁄4 tsp. pepper                          and cook for 60 minutes at 15             1
                                                                                    ⁄4 tsp. pepper
1 cup celery, chopped fine               pounds pressure. Let pressure             Dash ground marjoram
1
 ⁄2 cup carrots, cut in cubes            condense slowly. Use liquid in            2 tsp. dry mustard
2 green peppers, diced                   bottom of cooker for gravy.               3 tbsp. catsup
2 cups stewed tomatoes                   For smaller roasts cook a shorter time.   1
                                                                                    ⁄2 cup dairy sour cream
1 medium sized onion, chopped fine                                                     Roll beef in flour. Brown in hot oil
Enough water to fill bottom of           Chili Elegante                            in cooker. Add enough water to
  cooker to 1⁄2"                         1 lb. ground beef                         reserved mushroom liquid to mea-
    Dredge the meat on all sides with    2 onions, chopped                         sure 3⁄4 cup. Use 11⁄2 cups for 6-8 qt.
flour, salt and pepper; put drippings    2 tbsp. oil                               recipe. Add mushrooms, mushroom-
in cooker and brown meat on all          1 green pepper, sliced into strips        water mixture and remaining ingredi-
sides. Add green pepper and onion,       2 cups diagonally sliced celery           ents except sour cream to cooker.
pouring water and stewed tomatoes        1 clove garlic, minced                    Cover, when pressure gauge reaches
over meat. Cover cooker and cook for     1 (16 oz.) can kidney beans,              10 lbs., cook 20 minutes (or cook at
about 60 minutes at 15 pounds            undrained                                 15 lbs. for 15 minutes). Cool cooker
pressure. Release steam, open cooker      1 (4 oz.) can mushrooms,                 for 5 minutes, then release steam.
and add celery and carrots. Cook         undrained                                 Stir in sour cream; heat through.
another 10 minutes at 15 pounds          2 (16 oz.) cans whole tomatoes            Serve with noodles. Makes 4 servings
pressure.                                1
                                          ⁄2 cup red wine
                                         2 tsp. salt                               Barbecued Beef Short Ribs
Swiss Steak                              1-11⁄2 tbsp. chili powder                 3 lbs. beef short ribs, cut in pieces
13⁄4 lbs. round steak                    Dash of cayenne pepper                    2 tbsp. bacon fat
3 tbsp. butter or margarine                  Heat oil until hot; add beef and      2 tbsp. onion, chopped
Flour to be pounded into meat            cook until browned. Add onion,            1 tbsp. green pepper, chopped
2 tbsp. flour for gravy                  celery, green pepper and garlic; saute    1 cup catsup
2 tsp. onion, chopped                    lightly. Drain beans and mushrooms,       1 tsp. salt
1 tsp. salt                              reserving liquid; set beans and           1 tsp. celery seed
1
 ⁄8 tsp. pepper                          mushrooms aside. Add unused               2 tbsp. brown sugar
1
 ⁄2 tsp. Worcestershire sauce            liquid, tomatoes, wine, chili powder,     2 tbsp. lemon juice
1 cup water for gravy                    salt, and cayenne to beef mixture;        2 tsp. dry mustard
    Brown the chopped onion in the       stir well. Close cover of pressure        1 cup water
butter in an inset pan. Add meat and     cooker securely and cook 20 minutes          Brown short ribs in fat in cooker.
brown as well. Lift meat from the        at 15 lbs. pressure. Let pressure drop    Pour off excess fat. Mix remaining
inset pan. Add 2 tablespoons of flour;   of its own accord. Add beans and          ingredients; pour over ribs. Cover,
brown. Add 1 cup water; stir until       mushrooms; heat to boiling. Serve         when pressure gauge reaches 10 lbs.,
thoroughly blended, making a rather      hot. Makes 6-8 servings.                  cook 45-50 minutes (or cook at 15
thick gravy. Add seasonings and                                                    lbs. for 35-40 minutes). Cool cooker
meat. In the bottom of the pressure                                                for 5 minutes, then release steam.
cooker put water to just below height                                              Remove ribs. Mix 2 tablespoons flour
of rack, and the pan of steak. Cook                                                and 1⁄4 cup cold water for each cup
for 40 minutes at 15 pounds pres-                                                  liquid. Gradually stir into broth. Cook
sure. Reduce steam to zero; remove                                                 until thickened, stirring constantly.
meat and serve.                                                                    Makes 4 servings




                                                           12
PRESSURE COOKING RECIPES
Stuffed Green Peppers                    Stuffed Round Steak                        Chop Suey
4 green peppers                          11⁄2 lbs. round steak, cut thin            1 lb. pork and veal stew meat cut in
3
 ⁄4 lb. ground beef                      3 tbsp. butter or margarine                  1" pieces
1
 ⁄3 cup rice, cooked                     2 tsp. salt                                1 tbsp. oil
                                         1
1 tsp. salt                               ⁄4 tsp. pepper                            1 cup celery, cut in 1 in. pieces
Dash pepper                              2 tbsp. minced onion                       2 onions, medium, sliced
                                                                                    1
1 egg                                    1 cup hot water                             ⁄2 tsp. salt
1
 ⁄3 cup onion, chopped                   1 cup cracker or bread crumbs              Dash pepper
1 10 3⁄4-oz. can tomato soup             1
                                          ⁄3 cup butter or substitute               1 cup water
3                                        1
 ⁄4 cup water                             ⁄3 cup boiling water                      1 1-lb. can bean sprouts, drained
     Remove seeds and wash peppers.      1 tsp. salt                                1
                                                                                     ⁄4 cup soy sauce
Mix beef, rice, salt, pepper, egg,       1
                                          ⁄2 tsp. pepper                            3 tbsp. cornstarch
onion and 1⁄3 cup soup. Stuff peppers        Make a dressing of crumbs, melted      1
                                                                                     ⁄4 cup water
lightly and place on rack in cooker.     butter, water and seasoning. Season            Brown meat in oil in cooker. Add
Top each pepper with 1 tablespoon        steak with salt and pepper, spread on      celery, onions, salt, pepper and
soup. Mix remaining soup and water;      dressing, roll and tie. Put butter in      water. Cover, when pressure gauge
pour into cooker. Cover, when            cooker and brown onions, roll steak        reaches 10 lbs., cook 10 minutes (or
pressure gauge reaches 10 lbs., cook     in flour and brown with onions. Add        cook at 15 lbs. for 8 minutes). Cool
15 minutes (or cook at 15 lbs. for 12    1
                                          ⁄2" of hot water and cover cooker.        cooker for 5 minutes, then release
minutes). Turn off the heat source       Cook for 15 minutes at 15 pounds           steam. Add bean sprouts. Simmer
and wait for the steam gauge to read     pressure.                                  uncovered 3 minutes. Add soy sauce.
zero, then release pressure. Makes 4                                                Mix well. Mix cornstarch and water
servings                                 Scalloped Potatoes and Ham                 in separate bowl. Gradually stir into
                                         3 potatoes, medium                         pork mixture. Cook until thickened,
Corned Beef and Cabbage                  3 tbsp. flour                              stirring constantly. Serve with rice.
                                         3
2 lbs. corned beef brisket                ⁄4 tsp. salt                              Makes 4 servings
11⁄2 cups water                          1
                                          ⁄4 tsp. pepper
4 carrots                                1 cup ham, cooked, cubed                   Spiced Pork Roast
4 potatoes, medium, cut in halves        2 tbsp. onion, chopped                     4 lbs. fresh pork loin
4 cabbage, wedges                        2 tbsp. butter or margarine                1 tbsp. mixed pickle spice
4 onion, small, whole                    1 cup milk                                 Salt and pepper
   Place corned beef in cooker. Add          Cut potatoes in thin slices (about 3   3 tbsp. butter or drippings
water. Cover, when pressure gauge        cups). Mix flour, salt and pepper. In      1 onion
reaches 10 lbs., cook 60 minutes (or     greased 11⁄2 quart metal or heat proof     Flour
cook at 15 lbs. for 45 minutes). Cool    glass bowl, arrange 3 layers of               Sprinkle the meat with salt and
cooker for 5 minutes, then release       potatoes and ham, sprinkling each          pepper and dredge with flour. Put
steam. Add remaining ingredients.        layer of potatoes with part of flour       butter in the bottom of cooker and
Cover, when pressure gauge reaches       mixture and dotting with butter. Pour      brown meat on all sides. Slice onion
15 lbs., cook 5-8 minutes. Reduce        milk over potatoes and cover bowl          over the meat; add 1⁄2" hot water and
pressure instantly. Makes 4 servings     with foil. Pour 11⁄2 cups water in         spices tied in a cheesecloth. Seal
                                         cooker. Place bowl on rack in cooker.      cooker and cook 45 minutes at 15
Whole Ham                                Cover, when pressure gauge reaches         pounds pressure.
    A whole ham is very easily           15 lbs., cook 18-20 minutes. Cool
prepared in the pressure cooker. Pour    cooker for 5 minutes, then release         Leg of Lamb (5 Pounds)
1
 ⁄2" of water in the bottom of cooker.   steam. Garnish potatoes, if desired,          Sprinkle meat with salt and pepper
Place ham (about 10 pounds) on the       with paprika, chopped parsley or           and roll in flour. Brown meat in
rack. Cover. Cook about 50 minutes       grated Cheddar cheese. Makes 4             bottom of cooker. Add 1⁄2" hot water
at 15 pounds pressure. A nice flavor     servings                                   in bottom of cooker and cover. Cook
is added to the ham by crumbling up                                                 for 50 minutes at 15 pounds pres-
three ginger snaps in kettle in which                                               sure. If you have the lower end of
ham is cooking.                                                                     the bone broken, it makes it easier to
    Remove ham from cooker.                                                         brown meat in cooker.
Remove the outside skin, sprinkle
ham with brown sugar and fine
cracker crumbs and stick cloves into
ham. Brown in oven.


                                                           13
PRESSURE COOKING RECIPES
Veal Loaf
11⁄2 lbs. ground veal                    Seafood                                 Fowl
1 cup ground ham, raw or cooked
2 eggs                                   Fried Perch                             Stewed Chicken
1 cup dried bread crumbs                 The fine bones of the fish are soft-    Place cut up stewing chicken into
1
 ⁄3 teaspoon nutmeg                      ened by the high temperature of         pressure cooker, adding 1⁄2 teaspoon
Grated rind of 1⁄4 lemon                 pressure cooking. Roll 6 cleaned        salt and 1⁄8 teaspoon pepper. Cover
Juice of 1 lemon                         perch in salted flour and brown         with boiling water and place cover on
1 cup milk                               quickly on the bottom of cooker, in     cooker. Cook 40 minutes at 15
1 tbsp. butter, melted                   hot oil or drippings. Remove to a pan   pounds pressure. Release steam
11⁄2 tsp. salt                           and then place pan inside cooker.       slowly. Gravy may be made by
1
 ⁄4 tsp. pepper                          Add water to cooker and cook for 15     adding 1⁄4 cup of flour diluted with
1 pint strained tomato juice             minutes at 15 pounds pressure.          enough cold water to pour easily.
    Mix all ingredients except the       Serve with egg sauce.
tomato juice in the order given. Place                                           Fried Chicken
loaf in a separate pan or dish; pour     Lobster                                 Cut up chicken. Season with salt and
the tomato juice over the loaf. Place    Plunge lobster into boiling water to    pepper and roll pieces in flour. Brown
water in bottom of cooker almost to      cover. Remove lobster and place on      in oil or drippings in bottom of
top of rack and put meat in pan on       rack in cooker with 2 cups boiling      cooker. Adding four thin slices of
the rack. Seal cooker by fastening       water, salted. Place cover on cooker.   bacon cooked at the same time will
cover properly. Cook for 30 minutes      Allow steam to flow from Vent Pipe      give a good flavor. Add 1⁄2" boiling
at 15 pounds pressure.                   for at least two minutes, to remove     water and seal the cooker. If cooking
                                         all air from cooker. Process for ten    an older chicken, cook for 40 min-
Veal Roast                               minutes at 10 pounds pressure.          utes at 15 pounds pressure; if
3 lbs. veal                              Reduce pressure gradually and           cooking a younger chicken, 10 to 15
1
 ⁄2 bay leaf                             remove lobster as soon as gauge has     minutes.
1 small onion                            returned to zero. Plunge lobster into
2 tbsp. flour                            cold water but remove immediately.      Browned Chicken Fricassee
2 tbsp. catsup                           Crack shell; clean and serve.           One 41⁄2 or 5 lb. chicken
1 tsp. salt                                                                      4 tbsp. flour
1 tbsp. drippings                                                                3 tsp. salt
                                                                                 1
1
 ⁄4 cup water in pan                                                              ⁄8 tsp. pepper
    Brown roast and onion in drip-                                               4 tbsp. butter or margarine
pings in a pan. Mix seasonings and                                               4 cups cold water
1
 ⁄4 cup water and add to pan. In                                                 1 large, peeled, quartered onion
bottom of cooker put water to just                                               Celery tops
below top of the rack and pan                                                        Cut up chicken. Dredge each piece
containing the roast. Cook for 30                                                with some of the flour combined with
minutes at 15 pounds pressure. Turn                                              2 teaspoonfuls of salt and pepper.
off heat and allow pressure to return                                            Brown on all sides in hot butter. Add
to zero before removing the selective                                            cold water, onion, a few celery tops,
Pressure Regulator Weight.                                                       and the remaining 1 teaspoon of salt.
                                                                                 Place cover on cooker and cook 40
                                                                                 minutes at 15 pounds pressure.
                                                                                 Release steam slowly. Move chicken
                                                                                 to a hot platter and cover with a
                                                                                 gravy made as follows:
                                                                                     Measure the chicken stock, having
                                                                                 first skimmed off any surface fat.
                                                                                 Add 2 tablespoons flour mixed to a
                                                                                 smooth paste in 3 tablespoons cold
                                                                                 water for every cupful of chicken
                                                                                 stock. Simmer 5 minutes while
                                                                                 stirring; add more salt and pepper if
                                                                                 needed. Serves 6.



                                                          14
PRESSURE COOKING RECIPES
Roast Fowl
Prepare bird for roasting, rinsing         Soups                                    New York Clam Chowder
                                                                                    4 tbsp. butter or margarine
inside and outside with cold water,                                                 4 slices bacon, cut in pieces
and wipe dry with clean cloth. Stuff       You will enjoy soups cooked in the       1 Spanish onion, minced
with desired dressing. The giblets         pressure cooker. Original flavors are    2 potatoes, peeled and diced
may be cooked separately in bottom         retained because of the short cook-      2 green peppers, seeded and chopped
of cooker or may be added to the           ing period.                              4 stalks celery, chopped
dressing as desired. If giblets are left                                            2 cloves garlic, minced
whole, add 1⁄2" of boiling water and       NOTE: DO NOT COOK SPLIT PEA              1 qt. clam broth or fish stock
seasoning. Place rack over giblets and     SOUP IN YOUR COOKER, AS IT WILL          1
                                                                                     ⁄2 cup dry red wine
put chicken on rack. Cover, leaving        FOAM, FROTH AND SPUTTER. THIS            2 cups canned peeled tomatoes,
selective Pressure Regulator Weight        ACTION MAY CLOG THE VENT PIPE.               chopped
off until steam escapes freely. Replace                                             1 tsp. oregano
selective Pressure Regulator Weight        Cream of Potato Soup                     1
                                                                                     ⁄2 tsp. thyme
and bring to 15 pounds pressure. For       Cut potatoes in slices, add a large      2 cups minced clams, fresh or
a young chicken, retain this pressure      slice of onion and cook for 5 minutes        canned
for 20 minutes; for a chicken one          at 15 pounds pressure in 1⁄2" of         Melt butter in cooker. Add bacon,
year old, retain pressure for 25           boiling water. Mash and add thin         onion, potatoes, peppers, celery and
minutes; and for an older chicken, 35      white sauce, season. Chopped             garlic; cook, stirring, until onion is
minutes. Turn off heat and allow           parsley may be added just before         translucent. Add clam broth, wine,
hand on dial to return to zero. Put        serving.                                 tomatoes, oregano and thyme. Cover,
chicken in pan and brown in oven for                                                cook 7 minutes at 15 lbs. pressure.
a few minutes. While chicken is            Cream of Celery Soup                     Remove from heat, cool 5 minutes
browning, make your gravy in the           Dice 1 cup celery and cook in 1⁄2"       and reduce pressure slowly. Stir in
pressure cooker.                           boiling water for 10 minutes at 15       clams and heat through. Season to
                                           pounds pressure. Add 2 cups of thin      taste with salt and pepper. Serve with
                                           white sauce; season and serve.           oyster crackers if desired. Serves 6


                                           Vegetable Soup
                                           1 cup lima beans
                                           1 small stalk celery
                                           2 quarts of water
                                           3 carrots
                                           2 onions
                                           2 tbsp. barley
                                           3 potatoes
                                           1 tsp. salt
                                           2 cups tomatoes, either
                                             canned or fresh
                                           1 small soup bone
                                              Dice vegetables and place in clear,
                                           cold water. Place soup bone in
                                           cooker; cover with water. Cover
                                           cooker and cook at 15 pounds
                                           pressure for 15 minutes. Place diced
                                           vegetables in cooker and cook
                                           together for 10 minutes.




                                                             15
Boston Brown Bread
Fruits &                                 Desserts                                2 cups graham flour
                                                                                 1 cup cornmeal
Vegetables                               In steaming breads and puddings,
                                         use molds large enough to allow for
                                                                                 1 tsp. salt
                                                                                 1 tsp. soda
Compote of Dried Fruits                  expansion. Coffee cans are good. Fill   1
                                                                                  ⁄2 cup molasses
1 lb. (about 21⁄2 cups) dried fruits     no more than 2⁄3 full.                  11⁄2 to 2 cups buttermilk
                                                                                 1
(prunes, peaches, apricots, apples)                                               ⁄4 cup shortening (melted)
2 cups water                             Chocolate Bread Pudding                 3
                                                                                  ⁄4 cup seeded raisins
1 tbsp. cornstarch                       11⁄2 squares chocolate                      Measure and sift dry ingredients.
1
 ⁄2 cup sugar                            2 cups cold milk                        Mix molasses and buttermilk until
Pinch salt                               2 well-beaten eggs                      well blended, then add shortening.
                                         1
Juice and grated peel of 1 lemon          ⁄2 tsp. salt                           Add liquid to dry ingredients, mixing
                                         2
Put your favorite assortment of dried     ⁄3 cup sugar                           quickly. When well mixed, add
                                         1
fruits in cooker and add water. Cover,    ⁄2 tsp. vanilla                        raisins and mix just enough to
place over high heat until pressure      2 tbsp. butter or margarine             distribute raisins. Put into greased
                                         1
gauge reaches 15 lbs. Reduce heat         ⁄2 cup bread crumbs                    molds, filling about 2⁄3 full. Place
and cook for 10 minutes at 15                Add grated chocolate to cold milk   greased covers on, having some
pounds pressure. Reduce pressure         and heat until chocolate is melted.     punctured to allow escape of steam.
instantly. Transfer fruit to a serving   Add salt, sugar and vanilla to beaten
dish using a slotted spoon. Mix          eggs; mix until well blended. Add to    Place molds on rack in cooker with 3
cornstarch with 1 tbsp. water and stir   hot chocolate mixture. Melt butter in   or 4 cups of water. Cover cooker,
into cooker. Add sugar, salt, lemon      pan. Put bread crumbs in buttered       leaving selective Pressure Regulator
juice and lemon peel. Cook, stirring,    pan and stir until crumbs are well      Weight off. Steam for about 15
until sauce is clear and thickened.      coated. Add chocolate mixture and       minutes. Replace selective Pressure
Pour over fruit. Serves 6                mix with bread crumbs. Place pan on     Regulator Weight on Vent Pipe and
                                         rack in cooker. Cover and cook for      cook one hour at 15 pounds pres-
Acorn Squash                             10 minutes at 10 pounds pressure.       sure. Release steam at once. Place
2 acorn squash                                                                   bread in the oven for a few minutes
4 tablespoons butter or margarine                                                to dry the outside.
4 tablespoons brown sugar
1 teaspoon salt
1
 ⁄4 teaspoon pepper
Juice of 1⁄2 lemon
    Wash squash; cut in half length-
wise and discard pith and seeds. Fill
hollows with butter and brown sugar;
season with salt, pepper and lemon
juice. Pour 2 cups water into cooker
and place squash halves, cut side up,
on rack in cooker. Cover, place over
high heat until pressure gauge reaches
15 lbs. Reduce heat and cook 6
minutes (or cook at 10 lbs. for 8
minutes). Serves 4
    NOTE: The cooking time for acorn
squash will vary according to its size
and maturity.




                                                          16