GUESS - Winter 2016 Jewellery Dealer Catalogue
Page content transcription
If your browser does not render page correctly, please read the page content below
This Winter, Guess Jewellery continues to be at the forefront
     of innovation, creating timeless and fashion forward pieces
                       in three key collections:

         February                            March                               April
       My Feelings 4 U                       Rainbow                           Heartbeat
  Echoing its innovative and           The radiant Rainbow             This collection picks up the
  fashion-forward character,         collection represents an        theme of the heart - always a
 Guess Jewellery has chosen        explosion of colour, featuring    true Guess icon - with pieces
to launch this richly symbolic,      exclusively handcrafted         featuring charms in the most
 colourful trio of bracelets to    enamel details, accompanied        simple, pure form of a heart.
mix and match depending on          by the unmistakable logo.         The meaning is that nothing
the mood and feelings of the                                                  simpler exists.
              day.                        Exotic Attitude
                                                                           Guess Adventure
                                   The Exotic Attitude collection
            Riviera                 is an innovative restyling of    Guess Adventure is dedicated
      A collection with an         iconic lines that were a huge       to the most adventurous
  irresistibly Mediterranean        success for Guess Jewellery.      Guess girl and is the perfect
     flavour that features           The collection is enriched       gift to wear with any outfit
traditional lace-effect details      with exclusive Swarovski®        and at any time of the day.
  to incorporate a touch of        crystals and sold in a box set,
sexiness for every Guess girl.      making it a perfect gift idea.
                                                                            Guess Blossom

                                            Wrap Me Up                    Guess Blossom pieces
          Hypnotic                                                      are utterly innovative and
(Blue - February, Pink - April)       The railway tracks of the      original, reflecting the brand's
The shiny Swarovski® crystals          heart. The Wrap Me Up           continuous search for new
in this range are particularly       collection is an interesting     trends. A range for the most
  striking in various shades        reassessment of the theme         tasteful, sophisticated Guess
  of colour that glisten in a        of the heart enveloped by           girls, who love to shine
captivating, almost hypnotic          crystals. Items from the       discretely with a radiance and
 way - it really is difficult to     collection are perfect for a      luminosity to be cherished
stop admiring the Guess girl       romantic evening or everyday             like a tender bud.
        wearing them.                            wear.

     Around The World                      Iconic Pearls
    Around the World is a           The perfect combination of
collection that is young and         classic and modern style.
fresh, for all Guess girls who      The Iconic Pearls collection
 love discovering the world.       epitomises this blend through
                                     the use of special design
                                    elements that merge glass
                                     pearls with the 4G logo, a
                                        true icon of Guess.
Hypnotic                    Hypnotic                     Hypnotic
           STONE                 UBN61046 $229.95           UBE61049 $99.95
            RING                    16-18" STONE                    2 STONE
         SILVER / BLUE               NECKLACE                      EARRINGS
    UBR61016-52 $129.95              SILVER / BLUE                SILVER / BLUE

     7 613349 142589

    UBR61016-54 $129.95

     7 613349 142596

    UBR61016-56 $129.95

                Hypnotic                                  Hypnotic
          UBB61065 $499.95                            UBB61040-L $149.95
               6 ROW STONE                                  4 STONE
                 BRACELET                                  BRACELET
                 SILVER / BLUE                             SILVER / BLUE

4                                Hypnotic |          Available from FEBRUARY
My Feelings 4 U                         My Feelings 4 U                           My Feelings 4 U                         My Feelings 4 U
UBE61043 $79.95                         UBE61044 $79.95                           UBE61037 $69.95                         UBE61038 $79.95
   STONE STUD                               STONE STUD                                STONE STUD                             STONE STUD
    EARRINGS                                 EARRINGS                                  EARRINGS                               EARRINGS
  ROSE GOLD / BLUE                       ROSE GOLD / ICE BLUE                         SILVER / PINK                          GOLD / GREY

                 My Feelings 4 U                          My Feelings 4 U                             My Feelings 4 U
                 UBE61045 $79.95                          UBE61036 $69.95                             UBE61041 $79.95
                      STONE STUD                                   STONE STUD                            STONE STUD
                       EARRINGS                                     EARRINGS                              EARRINGS
                     ROSE GOLD / PINK                           SILVER / LIGHT PINK                     GOLD / ICE BLUE

    My Feelings 4 U                                       My Feelings 4 U                                      My Feelings 4 U
   UBB61009-L $139.95                                   UBB61007-L $119.95                                   UBB61002-L $139.95
             LOVE                                                    LOVE                                               JOY
           BRACELET                                                BRACELET                                           BRACELET
        ROSE GOLD / PINK                                        SILVER / LIGHT PINK                                 GOLD / ICE BLUE

               My Feelings 4 U |                                      Available from FEBRUARY                                               5
Around The World     Around The World        Around The World
         UBE61006 $119.95     UBE61004 $99.95         UBE61005 $119.95
               DISC LOGO          DISC LOGO               DISC LOGO
               EARRINGS           EARRINGS                EARRINGS
               ROSE GOLD            SILVER                  GOLD

    Around The World         Around The World            Around The World
    UBB61012-L $119.95        UBB61010-L $99.95           UBB61011-L $119.95
         DISC LOGO                DISC LOGO                    DISC LOGO
         BRACELET                 BRACELET                     BRACELET
         ROSE GOLD                  SILVER                         GOLD

        Around The World     Around The World        Around The World
         UBN61012 $149.95     UBN61010 $129.95        UBN61011 $149.95
                DISC                DISC                    DISC
              NECKLACE            NECKLACE                NECKLACE
               ROSE GOLD            SILVER                  GOLD

6
                     Around the World |           Available from FEBRUARY
Riviera                                Riviera
                   UBB61034-L $149.95                 UBB61035-L $169.95
                          DROP                                   DROP
                        BRACELET                               BRACELET
                          SILVER                                 GOLD

    Riviera                                                                    Riviera
UBE61031 $129.95                                                           UBE61032 $149.95
 LEVERBACK DROP                                                             LEVERBACK DROP
    EARRINGS                                                                   EARRINGS
      SILVER                                                                     GOLD

                                   Riviera            Riviera
                         UBN61040 $199.95         UBN61041 $229.95
                                   20" DROP           20" DROP
                                   NECKLACE           NECKLACE
                                    SILVER              GOLD

                            Riviera |         Available from FEBRUARY                         7
Rainbow                    Rainbow
       UBN61062 $119.95           UBN61064 $139.95
        16-18" COLOUR STRIPE       16-18" COLOUR STRIPE
              NECKLACE                   NECKLACE
               SILVER                   ROSE GOLD

        Rainbow                              Rainbow
    UBB61056-L $99.95                   UBB61058-L $119.95
      COLOUR STRIPE                         COLOUR STRIPE
        BRACELET                              BRACELET
          SILVER                              ROSE GOLD

8                              Rainbow |            Available from MARCH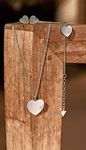 Exotic Attitude
                            UBS61029 $149.95
                               HEART BANGLE
                                  BOXSET
                                 GREEN / GOLD

Exotic Attitude                                             Exotic Attitude
UBS61026 $149.95                                            UBS61027 $149.95
  HEART BANGLE                                                HEART BANGLE
     BOXSET                                                      BOXSET
   BLACK / GOLD                                               BLACK / ROSE GOLD

                             Exotic Attitude
                            UBS61030 $149.95
                               HEART BANGLE
                                  BOXSET
                             BURGUNDY / ROSE GOLD

                  Exotic Attitude |             Available from MARCH              9
Wrap Me Up
                                    UBN61030 $199.95
                                     16-18" PAVÉ HEART
                                         NECKLACE
                                         ROSE GOLD

        Wrap Me Up                   Wrap Me Up             Iconic Pearls
      UBN61036 $229.95             UBE61027 $199.95       UBN61021 $249.95
         32" PAVÉ HEART                 PAVÉ HEART          32" LONG PEARL
            NECKLACE                LEVERBACK EARRINGS         NECKLACE
           ROSE GOLD                     ROSE GOLD             ROSE GOLD

       Wrap Me Up                    Iconic Pearls           Iconic Pearls
     UBB61030-L $169.95             UBE61015 $199.95       UBB61021-L $199.95
         PAVÉ HEART                    PEARL DROP                PEARL
          BRACELET                    STUD EARRINGS             BRACELET
          ROSE GOLD                      ROSE GOLD               ROSE GOLD

10                        Wrap Me Up & Iconic Pearls | Available from MARCH
Hypnotic                   Hypnotic                     Hypnotic
       STONE                UBN61048 $249.95             UBE61051 $119.95
        RING                   16-18" STONE                    2 STONE
     ROSE GOLD                  NECKLACE                      EARRINGS
UBR61018-52 $149.95             ROSE GOLD                     ROSE GOLD

UBR61018-54 $149.95

 7 613349 142794

UBR61018-56 $149.95
 7 613349 142800

          Hypnotic                                     Hypnotic
      UBB61067 $549.95                             UBB61042-L $169.95
         6 ROW STONE                                    4 STONE
           BRACELET                                     BRACELET
           ROSE GOLD                                    ROSE GOLD

                         Hypnotic |           Available from APRIL          11
Heartbeat          Heartbeat           Heartbeat
           UBE61057 $79.95     UBE61053 $69.95     UBE61055 $79.95
            PLAIN HEART STUD    PLAIN HEART STUD    PLAIN HEART STUD
                EARRINGS            EARRINGS            EARRINGS
                ROSE GOLD            SILVER               GOLD

        Heartbeat                 Heartbeat                 Heartbeat
     UBB61047-L $99.95         UBB61043-L $79.95       UBB61045-L $99.95
        PLAIN HEART               PLAIN HEART               PLAIN HEART
         BRACELET                  BRACELET                  BRACELET
          ROSE GOLD                   SILVER                     GOLD

              Heartbeat           Heartbeat           Heartbeat
          UBN61054 $119.95      UBN61050 $99.95    UBN61052 $119.95
              PLAIN HEART         PLAIN HEART         PLAIN HEART
               NECKLACE            NECKLACE            NECKLACE
                ROSE GOLD             SILVER              GOLD

12                                   Heartbeat |   Available from ARPIL
Guess Adventure                      Guess Adventure
                    UBB61061-L $119.95                  UBB61062-L $139.95
                     ANIMAL LOGO DISC                      ANIMAL LOGO DISC
                         BRACELET                              BRACELET
                          SILVER                                 GOLD

                                                          7 613349 137851

Guess Adventure                                                               Guess Adventure
UBE61064 $129.95                                                              UBE61065 $149.95
 ANIMAL LOGO DISC                                                              ANIMAL LOGO DISC
     EARRINGS                                                                      EARRINGS
      SILVER                                                                         GOLD

                            Guess Adventure      Guess Adventure
                            UBN61065 $129.95     UBN61066 $149.95
                              ANIMAL LOGO DISC    ANIMAL LOGO DISC
                                 NECKLACE            NECKLACE
                                   SILVER               GOLD

                                                 7 613349 140851

                    Guess Adventure |            Available from APRIL                             13
Guess Blossom
     UBB61032-L $249.95
           BANGLE
            GOLD

                                        Guess Blossom
                                       UBN61038 $229.95
                                        31" TASSLE PENDANT
                                             NECKLACE
                                              GOLD

14                        Guess Blossom |   Available from APRIL
Guess Love
                                            UBE71532 $89.95
                                                 HEART
                                                EARRINGS
                                                  SILVER

                                            7 613341 011081

  Guess Love        Guess Love
UBN71539 $99.95   UBN71542 $139.95
    17" HEART       17" PAVÉ HEART
    NECKLACE           NECKLACE
      SILVER            SILVER

7 613341 011586   7 613341 011616

                                              Guess Love
                                            UBE71526 $49.95
                                               HEART STUD
                                                EARRINGS
                                                  SILVER

                                            7 613341 011029

  Guess Love        Guess Love                Guess Love
UBB71530 $79.95   UBB71533 $139.95          UBE71529 $79.95
  HEART CHARM     PAVÉ HEART CHARM           PAVÉ HEART STUD
    BRACELET          BRACELET                  EARRINGS
      SILVER            SILVER                    SILVER

7 613341 010411   7 613341 010442           7 613341 011050

                                     Core RANGE                15
Guess Love                                                                             Guess Love
     UBE71528 $59.95                                                                         UBE71531 $89.95
        HEART STUD                                                                           PAVÉ HEART STUD
         EARRINGS                                                                               EARRINGS
         ROSE GOLD                                                                              ROSE GOLD

     7 613341 011043                                                                     7 613341 011074

                                         Guess Love         Guess Love
                                       UBN71541 $119.95   UBN71544 $159.95
                                           17" HEART        17" PAVÉ HEART
                                           NECKLACE            NECKLACE
                                           ROSE GOLD          ROSE GOLD

                                       7 613341 011609    7 613341 011630

                       Guess Love                                              Guess Love
                     UBB71532 $99.95                                         UBB71535 $149.95
                       HEART CHARM                                           PAVÉ HEART CHARM
                         BRACELET                                                BRACELET
                         ROSE GOLD                                               ROSE GOLD

                     7 613341 010435                                         7 613341 010466

16                                                                                       Core RANGE
Guess Love         Guess Love
UBN71540 $119.95   UBB71531 $99.95
    17" HEART        HEART CHARM
    NECKLACE           BRACELET
      GOLD               GOLD

7 613341 011593    7 613341 010428

  Guess Love         Guess Love
UBE71527 $59.95    UBE71533 $99.95
   HEART STUD           HEART
    EARRINGS           EARRINGS
      GOLD               GOLD

7 613341 011036    7 613341 011098

                          Core RANGE   17
Crystals of Love                                                 Crystals of Love
        UBN51419 $69.95                                                 UBN51420 $79.95
         16-18" MINI HEART                                               16-18" MINI HEART
             NECKLACE                                                        NECKLACE
               SILVER                                                          GOLD

        7 613323 224157                                                 7 613323 224232

                             Crystals of Love    Crystals of Love
                              UBE51415 $59.95    UBE51416 $69.95
                               MINI HEART STUD     MINI HEART STUD
                                  EARRINGS            EARRINGS
                                    SILVER              GOLD

                             7 613323 222931     7 613323 222979

 Crystals of Love                                                      Crystals of Love
     UBB51413 $59.95                                                    UBB51414 $69.95
        MINI HEART                                                         MINI HEART
        BRACELET                                                           BRACELET
          SILVER                                                              GOLD

 7 613323 221583                                                        7 613323 221613

18                                                                   Core RANGE
G-Hearts                                                                             G-Hearts
UBE71523 $69.95                                                                      UBE71525 $79.95
  G HEART STUD                                                                         G HEART STUD
    EARRINGS                                                                             EARRINGS
      SILVER                                                                             ROSE GOLD

7 613341 010992                                                                      7 613341 011012

                                    G-Hearts              G-Hearts
                                 UBN71536 $99.95       UBN71538 $129.95
                                 16-18" MINI G HEART   16-18" MINI G HEART
                                      NECKLACE              NECKLACE
                                       SILVER              ROSE GOLD

                                 7 613341 011555       7 613341 011579

                     G-Hearts                                          G-Hearts
                 UBB71527-S $89.95                                UBB71529-S $99.95
                       G HEART                                            G HEART
                      BRACELET                                           BRACELET
                        SILVER                                           ROSE GOLD

                  7 613341 010367                                  7 613341 010404

                                                                    Core RANGE                         19
Love Spun                Love Spun
                                    UBB11427 $109.95           UBB11429 $109.95
                                  SPINNING HEART CHARM        SPINNING HEART CHARM
                                        BRACELET*                   BRACELET*
                                               SILVER               ROSE GOLD

                                    7 613311 249452            7 613311 249476

                                        Love Spun                Love Spun
                                    UBE11404 $69.95            UBE11406 $69.95
                                      PAVÉ HEART STUD           PAVÉ HEART STUD
                                         EARRINGS*                 EARRINGS*
                                               SILVER               ROSE GOLD

                                    7 613311 249483            7 613311 249506

                                        Love Spun                Love Spun
                                    UBN11419 $109.95           UBN11421 $109.95
                                   16-18" SPINNING HEART      16-18" SPINNING HEART
                                          PENDANT*                   PENDANT*
                                               SILVER               ROSE GOLD

                                    7 613311 249421            7 613311 249445

     * Styles indicated are in previous quality tin casting

20                                                                              Core RANGE
The Drop
UBN71532 $249.95
32" LARGE DROP STONE
       PENDANT
     ROSE GOLD

7 613341 011517

                           The Drop
                       UBN71530 $249.95
                       32" LARGE DROP STONE
                              PENDANT
                              SILVER

                       7 613341 011494

                             Core RANGE       21
City of Angeles              Walk of Fame            Walk of Fame
     UBN21507 $129.95             UBE21580 $69.95        UBN21601 $129.95
      16-18" LOGO DISC                L.A. STAR             16-18" L.A. STAR
          NECKLACE                    EARRINGS                 NECKLACE
       SILVER/ROSE GOLD               ROSE GOLD                ROSE GOLD

     7 613332 316706              7 613332 315020        7 613332 322530

            City of Angeles                          Walk of Fame
           UBB21504-L $119.95
                  LOGO DISC
                                                    UBB21590-L $99.95
                                                        L.A. STAR
                  BRACELET
                                                        BRACELET
               SILVER/ROSE GOLD
                                                         ROSE GOLD

            7 613332 318915
                                                    7 613332 317673

22                                                                     Core RANGE
Walk of Fame                                        Walk of Fame
                  UBB21588-L $89.95                                   UBB21591-L $149.95
                      L.A. STAR                                            L.A. STAR
                      BRACELET                                             BANGLE
                        SILVER                                                SILVER

                  7 613332 316188                                     7 613332 316232

 Simple Logo                                                                            Walk of Fame
UBE70711 $39.95                                                                         UBE21578 $59.95
   PAVÉ G LOGO                                                                              L.A. STAR
    EARRINGS                                                                                EARRINGS
      SILVER                                                                                  SILVER

0 091661 318351                                                                         7 613332 316683

                                 Walk of Fame         Walk of Fame
                                 UBN21599 $99.95      UBN21605 $149.95
                                   16-18" L.A. STAR   35.5" LARGE L.A. STAR
                                      NECKLACE              NECKLACE
                                        SILVER               SILVER

                                 7 613332 322509      7 613332 322639

                                                                      Core RANGE                          23
G-Rounds             G-Rounds               G-Rounds
      UBN21591 $139.95      UBN21589 $119.95      UBN21590 $139.95
       16-18" 3 ROW PAVÉ     16-18" 3 ROW PAVÉ     16-18" 3 ROW PAVÉ
           NECKLACE              NECKLACE              NECKLACE
           ROSE GOLD              SILVER                 GOLD

      7 613332 322387       7 613332 322356       7 613332 322370

         G-Rounds             G-Rounds               G-Rounds
         3 ROW PAVÉ            3 ROW PAVÉ            3 ROW PAVÉ
            RING                  RING                  RING
           ROSE GOLD              SILVER                 GOLD

     UBR28522-52 $119.95   UBR28520-52 $99.95    UBR28521-52 $119.95

      7 613332 333147       7 613332 332942       7 613332 333048

     UBR28522-54 $119.95   UBR28520-54 $99.95    UBR28521-54 $119.95

      7 613332 333154       7 613332 332959       7 613332 333055

     UBR28522-56 $119.95   UBR28520-56 $99.95    UBR28521-56 $119.95

      7 613332 333161       7 613332 332966       7 613332 333062

24                                                          Core RANGE
Guess Chic                                     Guess Chic
               UBB71512-S $99.95                            UBB71513-S $129.95
                  SMALL CONCAVE                                 SMALL CONCAVE
                    BRACELET                                      BRACELET
                      SILVER                                         GOLD

               7 613341 010060                                 7 613341 010084

  Guess Chic                                                                     Guess Chic
UBE71508 $79.95                                                             UBE71509 $89.95
  CONCAVE STUD                                                                   CONCAVE STUD
    EARRINGS                                                                       EARRINGS
      SILVER                                                                         GOLD

7 613341 010848                                                             7 613341 010855

                               Guess Chic           Guess Chic
                           UBN71515 $99.95       UBN71516 $129.95
                          16-18" SMALL CONCAVE   16-18" SMALL CONCAVE
                                  PENDANT                PENDANT
                                  SILVER                GOLD

                           7 613341 011340       7 613341 011357

                                                             Core RANGE                         25
California Sunlight                                                                    California Sunlight
            UBE21544 $119.95                                                                     UBE21545 $129.95
UBN21550     HOOP EARRINGS      UBR28517-52                  UBR28517-54                           HOOP EARRINGS
N-16-18"CRYSTAL FLOW
                 SILVERNK(GL)   R-SMALL FLOWER(RH)-52        R-SMALL FLOWER(RH)-54                      GOLD

            7 613332 321038                                                                       7 613332 315105

7613332321861                   7613332332645                7613332332652

                                   California Sunlight             California Sunlight
                                      UBN21549 $99.95                UBN21550 $119.95
                                     16-18" CRYSTAL FLOWER          16-18" CRYSTAL FLOWER
                                            NECKLACE                       NECKLACE
                                                SILVER                       GOLD

                                      7 613332 321830                 7 613332 321861

                                   California Sunlight            California Sunlight
                                        SMALL FLOWER                    SMALL FLOWER
                                            RING                            RING
                                                SILVER                       GOLD
                                    UBR28517-52 $79.95              UBR28518-52 $89.95
                                      7 613332 332645                7 613332 332744

UBR28518-52                        UBR28517-54 $79.95
                                UBR28518-54                        UBR28518-54 $89.95
                                                             UBR28518-56
R-SMALL FLOWER(GL)-52           R-SMALL FLOWER(GL)-54        R-SMALL FLOWER(GL)-56
                                      7 613332 332652                 7 613332 332751

                                    UBR28517-56 $79.95              UBR28518-56 $89.95
7613332332744                   7613332332751                7613332332768
                                       7 613332 332669                7 613332 332768

                                                                                            5

 26                                                                                              Core RANGE
Embrace Me                                       Embrace Me
                 UBB71509-S $99.95                               UBB71510-S $129.95
               DOUBLE CHAIN CIRCLE LOCK                        DOUBLE CHAIN CIRCLE LOCK
                      BRACELET                                        BRACELET
                          SILVER                                          GOLD

                    7 613341 010008                               7 613341 010022

                                                                                     Embrace Me
 Embrace Me                                                                         UBE71506 $119.95
UBE71505 $99.95                                                                      CIRCLE LOCK STUD
 CIRCLE LOCK STUD                                                                        EARRINGS
     EARRINGS
                                                                                           GOLD
      SILVER
                                                                                    7 613341 010824
7 613341 010817

                                   Embrace Me             Embrace Me
                              UBN71512 $119.95          UBN71513 $139.95
                           16-18" CIRCLE LOCK SMALL   16-18" CIRCLE LOCK SMALL
                                    NECKLACE                   NECKLACE
                                      SILVER                   GOLD

                              7 613341 011319           7 613341 011326

                                                                  Core RANGE                            27
Tied in Knots        Tied in Knots
                           UBB71524-S $249.95   UBB71525-S $299.95
                               INTERLOCKED         INTERLOCKED
                                  BANGLE              BANGLE
                                  SILVER               GOLD

                            7 613341 010305      7 613341 010329

       Tied in Knots                                                   Tied in Knots
         INTERLOCKED                                                     INTERLOCKED
             RING                                                            RING
            SILVER                                                          GOLD
     UBR72504-52 $149.95                                             UBR72505-52 $179.95

      7 613341 011883                                                 7 613341 011937
     UBR72504-54 $149.95                                             UBR72505-54 $179.95

      7 613341 011890                                                 7 613341 011944
     UBR72504-56 $149.95                                             UBR72505-56 $179.95

      7 613341 011906                                                 7 613341 011951

28                                                                        Core RANGE
HEARTBEAT            HEARTBEAT            HEARTBEAT             HYPNOTIC             HYPNOTIC              HYPNOTIC             HYPNOTIC
 UBN61050 $99.95      UBE61053 $69.95     UBB61043-L $79.95     UBN61048 $249.95     UBE61051 $119.95     UBB61042-L $169.95    UBN61046 $229.95

    HYPNOTIC              HYPNOTIC          WRAP ME UP            WRAP ME UP           WRAP ME UP            HEARTBEAT            HEARTBEAT
UBB61040-L $149.95   UBB61065 $499.95     UBN61036 $229.95      UBE61027 $199.95    UBB61030-L $169.95     UBN61054 $119.95    UBB61047-L $99.95

   HEARTBEAT         GUESS ADVENTURE      GUESS ADVENTURE      GUESS ADVENTURE          G-HEARTS              G-HEARTS             G-HEARTS
 UBE61057 $79.95     UBN61066 $149.95      UBE61065 $149.95    UBB61062-L $139.95    UBN71536 $99.95       UBE71523 $69.95     UBB71527-S $89.95

    G-HEARTS              G-HEARTS              G-HEARTS           G-ROUNDS             G-ROUNDS             G-ROUNDS              G-ROUNDS
 UBN71538 $129.95     UBE71525 $79.95     UBB71529-S $99.95     UBN21590 $139.95    UBR28521-54 $119.95    UBN21591 $139.95    UBR28522-54 $119.95

               G-ROUNDS              G-ROUNDS         MY FEELINGS 4 U     MY FEELINGS 4 U       MY FEELINGS 4 U      MY FEELINGS 4 U
           UBN21589 $119.95    UBR28520-54 $99.95    UBB61007-L $119.95    UBE61036 $69.95     UBB61009-L $139.95     UBE61045 $79.95

           Ordering the W16 'Must Haves' can be done through the Designa Accessories website,
                your Designa Representative or contact Sales Support on (02) 8543 4600

                                                    'Must Haves' ADVERTISED LINES                                                               29
GUESS ID Jewellery is a seasonal collection of trend focused jewellery.
       Consistent with the GUESS image, the collection embraces the sexy and playful personality of
      the iconic brand offering a mix of must-have logo driven essentials and fashion forward designs.

      Known for quality, trend setting style, and marketing creativity, GUESS ID updates their fashion
         driven consumer with monthly fashion indents of irresistible and dramatic new designs.

     CORE CONSUMER:
     –– Females 18 – 39                                 –– The GUESS girl loves to make a statement by
                                                           finishing her outfit with the perfect accessory
     –– The upper end of this age bracket grew up
        with Guess                                      –– Young – Modern & Fashionable
     –– The younger end is about introducing the        –– Sexy – Confident & Expressive
        brand to a younger audience
                                                        –– Adventurous – Daring & Fun

     Key Selling Features:
     –– Guess Jewellery collection includes both        –– Brass base metal jewellery that is lead free /
        everyday essentials and statement                  nickel free / cadmium free
        making pieces
                                                        –– Hypoallergenic
     –– Suggest Guess Jewellery as an add-on
                                                        –– Electro-Plating process in silver colour or 18
        purchase to your watch sale. Bracelets create
                                                           ct yellow/rose gold
        a great look when layered or stacked with
        other accessories                               –– Swarovski crystal stones
     –– A successful GUESS Watch business should        –– Warranty booklet with each purchase
        result in a successful GUESS Jewellery             detailing care instructions
        business. The GUESS consumer is a fashion
                                                        –– GUESS heritage triangle and "?"tag on
        and branded driven consumer
                                                           all styles
     –– High tech nano coating
                                                        –– 1 year replacement warranty

30
KEY FEATURES AND BENEFITS

                 JEWELLERY OVERVIEW
                    Brass base metal                  Handmade pavé settings
                    Nickel free/Hypoallergenic        Thicker plating
                    Swarovski crystals                High tech nano coating

              BRASS vs TIN BASE METAL
DID YOU KNOW?
Most fashion jewellery brands craft their products from tin, so the brass
base we use sets GUESS apart from competitors
    Brass is harder than tin, has a higher melting point which means each
    piece is better quality and more durable
    Edging is crisper, clearer, and more defined - this is due to the brass'
    ability to withstand the polishing process
    Brass is an excellent conductor, which helps the plating adhere to the
    piece better, and for longer
    All styles released after January 2015 are cast in brass

                                            THICKER PLATING
                               All Rhodium plating is now twice as thick (0.1 microns). This is the
                               thickest that can be achieved for rv vv hodium plating
                               All yellow gold plating is now 25% thicker (.25 microns)

                               Rose gold plated items are first plated in gold and then overlain with
                               rose gold, to give them a thickness of slightly over 1 micron
                               Gold plating on rings is 1 micron due to heavy abrasion in everyday wear

           NANO-TECHNOLOGY COATING
    Adds a specific protective layer on the jewellery during the plating process

    The nano particles fill the gaps on the surface of the jewellery, resulting in
    the plating lasting longer, and the jewellery piece having a higher resistancy
    to abrasion and water
    ALL styles released after October 2014 have this added protection

                                          SWAROVSKI CRYSTALS
                                All Swarovski stones are made of glass - even pearls
                                Swarovski stones are pure glass, clearer than cubic zirconia, and are
                                widely recognised as the market leader in this field
                                No resin or plastics will be used in GUESS Jewellery for embellishments
                                or stones

                                                                                                          31
PRODUCT INDEX OF STYLES
CODE	PG                  CODE	PG                   CODE	PG                  CODE	PG                   CODE	PG
UBB11427           20    UBB71513-S          25    UBE61051            11   UBN61010              6   UBR28518-56         26
UBB11429           20    UBB71524-S          28    UBE61053            12   UBN61011              6   UBR28520-52         24
UBB21504-L         22    UBB71525-S          28    UBE61055            12   UBN61012              6   UBR28520-52         24
UBB21588-L         23    UBB71527-S          19    UBE61057            12   UBN61021             10   UBR28520-52         24
UBB21590-L         22    UBB71529-S          19    UBE61064            13   UBN61030             10   UBR28521-52         24
UBB21591-L         23    UBB71530            15    UBE61065            13   UBN61036             10   UBR28521-52         24
UBB51413           18    UBB71531            17    UBE70711            23   UBN61038             14   UBR28521-52         24
UBB51414           18    UBB71532            16    UBE71505            27   UBN61040              7   UBR28522-52         24
UBB61002-L          5    UBB71533            15    UBE71506            27   UBN61041              7   UBR28522-52         24
UBB61007-L          5    UBB71535            16    UBE71508            25   UBN61046              4   UBR28522-52         24
UBB61009-L          5    UBE11404            20    UBE71509            25   UBN61048             11   UBR61016-52          4
UBB61010-L          6    UBE11406            20    UBE71523            19   UBN61050             12   UBR61016-54          4
UBB61011-L          6    UBE21544            26    UBE71525            19   UBN61052             12   UBR61016-56          4
UBB61012-L          6    UBE21545            26    UBE71526            15   UBN61054             12   UBR61018-52         11
UBB61021-L         10    UBE21578            23    UBE71527            17   UBN61062              8   UBR61018-54         11
UBB61030-L         10    UBE21580            22    UBE71528            16   UBN61064              8   UBR61018-56         11
UBB61032-L         14    UBE51415            18    UBE71529            15   UBN61065             13   UBR28517-52         26
UBB61034-L          7    UBE51416            18    UBE71531            16   UBN61066             13   UBR28517-54         26
UBB61035-L          7    UBE61004             6    UBE71532            15   UBN71512             27   UBR28517-56         26
UBB61040-L          4    UBE61005             6    UBE71533            17   UBN71513             27   UBR72504-52         28
UBB61042-L         11    UBE61006             6    UBN11419            20   UBN71515             25   UBR72504-54         28
UBB61043-L         12    UBE61015            10    UBN11421            20   UBN71516             25   UBR72504-56         28
UBB61045-L         12    UBE61027            10    UBN21507            22   UBN71530             21   UBR72505-52         28
UBB61047-L         12    UBE61031             7    UBN21549            26   UBN71532             21   UBR72505-54         28
UBB61056-L          8    UBE61032             7    UBN21550            26   UBN71536             19   UBR72505-56         28
UBB61058-L          8    UBE61036             5    UBN21589            24   UBN71538             19   UBS61026             9
UBB61061-L         13    UBE61037             5    UBN21590            24   UBN71539             15   UBS61027             9
UBB61062-L         13    UBE61038             5    UBN21591            24   UBN71540             17   UBS61029             9
UBB61065            4    UBE61041             5    UBN21599            23   UBN71541             16   UBS61030             9
UBB61067           11    UBE61043             5    UBN21601            22   UBN71542             15
UBB71509-S         27    UBE61044             5    UBN21605            23   UBN71544             16
UBB71510-S         27    UBE61045             5    UBN51419            18   UBR28518-52          26
UBB71512-S         25    UBE61049             4    UBN51420            18   UBR28518-54          26

    Under the Australian Consumer Law, we advise our goods come with guarantees that cannot be excluded under the
Australian Consumer Law. You are entitled to a replacement or refund for a major failure and for compensation for any other
reasonably foreseeable loss or damage. You are also entitled to have the goods repaired or replaced if the goods fail to be of
             acceptable quality and the failure does not amount to a major failure (the "Mandatory Provision")

                                      DA Designa Accessories Pty Ltd
                     PO Box 2576, Taren Point NSW 2229 • 11 Box Road, Caringbah NSW 2229
                                    • Tel: (02) 8543 4600 • Fax: (02) 8543 4690