GUESS - Winter 2016 Jewellery Dealer Catalogue
If your browser does not support JavaScript, please read the page content below:
GUESS - Winter 2016 Jewellery Dealer Catalogue
February March April My Feelings 4 U Echoing its innovative and fashion-forward character, Guess Jewellery has chosen to launch this richly symbolic, colourful trio of bracelets to mix and match depending on the mood and feelings of the day. Riviera A collection with an irresistibly Mediterranean flavour that features traditional lace-effect details to incorporate a touch of sexiness for every Guess girl. Hypnotic (Blue - February, Pink - April) The shiny Swarovski® crystals in this range are particularly striking in various shades of colour that glisten in a captivating, almost hypnotic way - it really is difficult to stop admiring the Guess girl wearing them.
Around The World Around the World is a collection that is young and fresh, for all Guess girls who love discovering the world. Rainbow The radiant Rainbow collection represents an explosion of colour, featuring exclusively handcrafted enamel details, accompanied by the unmistakable logo. Exotic Attitude The Exotic Attitude collection is an innovative restyling of iconic lines that were a huge success for Guess Jewellery. The collection is enriched with exclusive Swarovski® crystals and sold in a box set, making it a perfect gift idea. Wrap Me Up The railway tracks of the heart. The Wrap Me Up collection is an interesting reassessment of the theme of the heart enveloped by crystals.
Items from the collection are perfect for a romantic evening or everyday wear.
Iconic Pearls The perfect combination of classic and modern style. The Iconic Pearls collection epitomises this blend through the use of special design elements that merge glass pearls with the 4G logo, a true icon of Guess. Heartbeat This collection picks up the theme of the heart - always a true Guess icon - with pieces featuring charms in the most simple, pure form of a heart. The meaning is that nothing simpler exists. Guess Adventure Guess Adventure is dedicated to the most adventurous Guess girl and is the perfect gift to wear with any outfit and at any time of the day. Guess Blossom Guess Blossom pieces are utterly innovative and original, reflecting the brand's continuous search for new trends.
A range for the most tasteful, sophisticated Guess girls, who love to shine discretely with a radiance and luminosity to be cherished like a tender bud.
This Winter, Guess Jewellery continues to be at the forefront of innovation, creating timeless and fashion forward pieces in three key collections:
4 Hypnotic UBB61040-L $149.95 4 STONE BRACELET SILVER / BLUE Hypnotic UBE61049 $99.95 2 STONE EARRINGS SILVER / BLUE Hypnotic UBN61046 $229.95 16-18" STONE NECKLACE SILVER / BLUE Hypnotic STONE RING SILVER / BLUE UBR61016-52 $129.95 UBR61016-54 $129.95 UBR61016-56 $129.95 Hypnotic UBB61065 $499.95 6 ROW STONE BRACELET SILVER / BLUE Hypnotic | Available from FEBRUARY 7 6 1 3 3 4 9 1 4 2 5 8 9 7 6 1 3 3 4 9 1 4 2 5 9 6
5 My Feelings 4 U UBE61043 $79.95 STONE STUD EARRINGS ROSE GOLD / BLUE My Feelings 4 U UBE61041 $79.95 STONE STUD EARRINGS GOLD / ICE BLUE My Feelings 4 U UBE61037 $69.95 STONE STUD EARRINGS SILVER / PINK My Feelings 4 U UBE61045 $79.95 STONE STUD EARRINGS ROSE GOLD / PINK My Feelings 4 U UBB61007-L $119.95 LOVE BRACELET SILVER / LIGHT PINK My Feelings 4 U UBB61009-L $139.95 LOVE BRACELET ROSE GOLD / PINK My Feelings 4 U UBE61044 $79.95 STONE STUD EARRINGS ROSE GOLD / ICE BLUE My Feelings 4 U UBE61038 $79.95 STONE STUD EARRINGS GOLD / GREY My Feelings 4 U UBE61036 $69.95 STONE STUD EARRINGS SILVER / LIGHT PINK My Feelings 4 U UBB61002-L $139.95 JOY BRACELET GOLD / ICE BLUE My Feelings 4 U | Available from FEBRUARY
6 Around The World UBN61011 $149.95 DISC NECKLACE GOLD Around The World UBE61005 $119.95 DISC LOGO EARRINGS GOLD Around The World UBN61010 $129.95 DISC NECKLACE SILVER Around The World UBE61004 $99.95 DISC LOGO EARRINGS SILVER Around The World UBN61012 $149.95 DISC NECKLACE ROSE GOLD Around The World UBE61006 $119.95 DISC LOGO EARRINGS ROSE GOLD Around The World UBB61011-L $119.95 DISC LOGO BRACELET GOLD Around The World UBB61010-L $99.95 DISC LOGO BRACELET SILVER Around The World UBB61012-L $119.95 DISC LOGO BRACELET ROSE GOLD Around the World | Available from FEBRUARY
7 Riviera UBN61040 $199.95 20" DROP NECKLACE SILVER Riviera UBE61031 $129.95 LEVERBACK DROP EARRINGS SILVER Riviera UBB61034-L $149.95 DROP BRACELET SILVER Riviera UBN61041 $229.95 20" DROP NECKLACE GOLD Riviera UBE61032 $149.95 LEVERBACK DROP EARRINGS GOLD Riviera UBB61035-L $169.95 DROP BRACELET GOLD Riviera | Available from FEBRUARY
8 Rainbow | Available from MARCH Rainbow UBN61062 $119.95 16-18" COLOUR STRIPE NECKLACE SILVER Rainbow UBB61056-L $99.95 COLOUR STRIPE BRACELET SILVER Rainbow UBN61064 $139.95 16-18" COLOUR STRIPE NECKLACE ROSE GOLD Rainbow UBB61058-L $119.95 COLOUR STRIPE BRACELET ROSE GOLD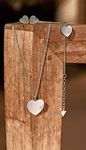 9 Exotic Attitude | Available from MARCH Exotic Attitude UBS61026 $149.95 HEART BANGLE BOXSET BLACK / GOLD Exotic Attitude UBS61029 $149.95 HEART BANGLE BOXSET GREEN / GOLD Exotic Attitude UBS61030 $149.95 HEART BANGLE BOXSET BURGUNDY / ROSE GOLD Exotic Attitude UBS61027 $149.95 HEART BANGLE BOXSET BLACK / ROSE GOLD
10 Wrap Me Up UBN61030 $199.95 16-18" PAVÉ HEART NECKLACE ROSE GOLD Iconic Pearls UBE61015 $199.95 PEARL DROP STUD EARRINGS ROSE GOLD Iconic Pearls UBN61021 $249.95 32" LONG PEARL NECKLACE ROSE GOLD Wrap Me Up UBB61030-L $169.95 PAVÉ HEART BRACELET ROSE GOLD Wrap Me Up UBN61036 $229.95 32" PAVÉ HEART NECKLACE ROSE GOLD Wrap Me Up UBE61027 $199.95 PAVÉ HEART LEVERBACK EARRINGS ROSE GOLD Iconic Pearls UBB61021-L $199.95 PEARL BRACELET ROSE GOLD Wrap Me Up & Iconic Pearls | Available from MARCH
11 Hypnotic STONE RING ROSE GOLD UBR61018-52 $149.95 UBR61018-56 $149.95 UBR61018-54 $149.95 7 6 1 3 3 4 9 1 4 2 7 9 4 7 6 1 3 3 4 9 1 4 2 8 0 0 Hypnotic UBB61042-L $169.95 4 STONE BRACELET ROSE GOLD Hypnotic UBB61067 $549.95 6 ROW STONE BRACELET ROSE GOLD Hypnotic UBN61048 $249.95 16-18" STONE NECKLACE ROSE GOLD Hypnotic UBE61051 $119.95 2 STONE EARRINGS ROSE GOLD Hypnotic | Available from APRIL
12 Heartbeat | Available from ARPIL Heartbeat UBN61052 $119.95 PLAIN HEART NECKLACE GOLD Heartbeat UBE61055 $79.95 PLAIN HEART STUD EARRINGS GOLD Heartbeat UBN61050 $99.95 PLAIN HEART NECKLACE SILVER Heartbeat UBE61053 $69.95 PLAIN HEART STUD EARRINGS SILVER Heartbeat UBN61054 $119.95 PLAIN HEART NECKLACE ROSE GOLD Heartbeat UBE61057 $79.95 PLAIN HEART STUD EARRINGS ROSE GOLD Heartbeat UBB61045-L $99.95 PLAIN HEART BRACELET GOLD Heartbeat UBB61043-L $79.95 PLAIN HEART BRACELET SILVER Heartbeat UBB61047-L $99.95 PLAIN HEART BRACELET ROSE GOLD
13 Guess Adventure | Available from APRIL Guess Adventure UBN61065 $129.95 ANIMAL LOGO DISC NECKLACE SILVER Guess Adventure UBE61064 $129.95 ANIMAL LOGO DISC EARRINGS SILVER Guess Adventure UBB61061-L $119.95 ANIMAL LOGO DISC BRACELET SILVER Guess Adventure UBN61066 $149.95 ANIMAL LOGO DISC NECKLACE GOLD Guess Adventure UBE61065 $149.95 ANIMAL LOGO DISC EARRINGS GOLD Guess Adventure UBB61062-L $139.95 ANIMAL LOGO DISC BRACELET GOLD 7 6 1 3 3 4 9 1 4 0 8 5 1 7 6 1 3 3 4 9 1 3 7 8 5 1
14 Guess Blossom | Available from APRIL Guess Blossom UBN61038 $229.95 31" TASSLE PENDANT NECKLACE GOLD Guess Blossom UBB61032-L $249.95 BANGLE GOLD
15 Guess Love UBE71526 $49.95 HEART STUD EARRINGS SILVER Guess Love UBE71532 $89.95 HEART EARRINGS SILVER Guess Love UBN71539 $99.95 17" HEART NECKLACE SILVER 7 6 1 3 3 4 1 0 1 1 5 8 6 7 6 1 3 3 4 1 0 1 1 0 2 9 Guess Love UBN71542 $139.95 17" PAVÉ HEART NECKLACE SILVER 7 6 1 3 3 4 1 0 1 1 6 1 6 7 6 1 3 3 4 1 0 1 1 0 8 1 Guess Love UBB71530 $79.95 HEART CHARM BRACELET SILVER 7 6 1 3 3 4 1 0 1 0 4 1 1 Guess Love UBB71533 $139.95 PAVÉ HEART CHARM BRACELET SILVER 7 6 1 3 3 4 1 0 1 0 4 4 2 Guess Love UBE71529 $79.95 PAVÉ HEART STUD EARRINGS SILVER 7 6 1 3 3 4 1 0 1 1 0 5 0 Core RANGE
16 Guess Love UBB71535 $149.95 PAVÉ HEART CHARM BRACELET ROSE GOLD 7 6 1 3 3 4 1 0 1 0 4 6 6 Core RANGE Guess Love UBB71532 $99.95 HEART CHARM BRACELET ROSE GOLD 7 6 1 3 3 4 1 0 1 0 4 3 5 Guess Love UBE71528 $59.95 HEART STUD EARRINGS ROSE GOLD 7 6 1 3 3 4 1 0 1 1 0 4 3 Guess Love UBE71531 $89.95 PAVÉ HEART STUD EARRINGS ROSE GOLD 7 6 1 3 3 4 1 0 1 1 0 7 4 Guess Love UBN71541 $119.95 17" HEART NECKLACE ROSE GOLD 7 6 1 3 3 4 1 0 1 1 6 0 9 Guess Love UBN71544 $159.95 17" PAVÉ HEART NECKLACE ROSE GOLD 7 6 1 3 3 4 1 0 1 1 6 3 0
17 Guess Love UBE71533 $99.95 HEART EARRINGS GOLD 7 6 1 3 3 4 1 0 1 1 0 9 8 Guess Love UBE71527 $59.95 HEART STUD EARRINGS GOLD 7 6 1 3 3 4 1 0 1 1 0 3 6 Guess Love UBN71540 $119.95 17" HEART NECKLACE GOLD 7 6 1 3 3 4 1 0 1 1 5 9 3 Guess Love UBB71531 $99.95 HEART CHARM BRACELET GOLD 7 6 1 3 3 4 1 0 1 0 4 2 8 Core RANGE
Crystals of Love UBB51414 $69.95 MINI HEART BRACELET GOLD 7 6 1 3 3 2 3 2 2 1 6 1 3 Crystals of Love UBB51413 $59.95 MINI HEART BRACELET SILVER 7 6 1 3 3 2 3 2 2 1 5 8 3 Crystals of Love UBE51416 $69.95 MINI HEART STUD EARRINGS GOLD 7 6 1 3 3 2 3 2 2 2 9 7 9 Crystals of Love UBE51415 $59.95 MINI HEART STUD EARRINGS SILVER 7 6 1 3 3 2 3 2 2 2 9 3 1 Crystals of Love UBN51420 $79.95 16-18" MINI HEART NECKLACE GOLD 7 6 1 3 3 2 3 2 2 4 2 3 2 Crystals of Love UBN51419 $69.95 16-18" MINI HEART NECKLACE SILVER 7 6 1 3 3 2 3 2 2 4 1 5 7 18 Core RANGE
G-Hearts UBB71529-S $99.95 G HEART BRACELET ROSE GOLD 7 6 1 3 3 4 1 0 1 0 4 0 4 G-Hearts UBE71525 $79.95 G HEART STUD EARRINGS ROSE GOLD 7 6 1 3 3 4 1 0 1 1 0 1 2 G-Hearts UBN71538 $129.95 16-18" MINI G HEART NECKLACE ROSE GOLD 7 6 1 3 3 4 1 0 1 1 5 7 9 G-Hearts UBB71527-S $89.95 G HEART BRACELET SILVER 7 6 1 3 3 4 1 0 1 0 3 6 7 G-Hearts UBE71523 $69.95 G HEART STUD EARRINGS SILVER 7 6 1 3 3 4 1 0 1 0 9 9 2 G-Hearts UBN71536 $99.95 16-18" MINI G HEART NECKLACE SILVER 7 6 1 3 3 4 1 0 1 1 5 5 5 19 Core RANGE
* Styles indicated are in previous quality tin casting Love Spun UBN11419 $109.95 16-18" SPINNING HEART PENDANT* SILVER 7 6 1 3 3 1 1 2 4 9 4 2 1 Love Spun UBB11427 $109.95 SPINNING HEART CHARM BRACELET* SILVER 7 6 1 3 3 1 1 2 4 9 4 5 2 Love Spun UBE11404 $69.95 PAVÉ HEART STUD EARRINGS* SILVER 7 6 1 3 3 1 1 2 4 9 4 8 3 Love Spun UBN11421 $109.95 16-18" SPINNING HEART PENDANT* ROSE GOLD 7 6 1 3 3 1 1 2 4 9 4 4 5 Love Spun UBB11429 $109.95 SPINNING HEART CHARM BRACELET* ROSE GOLD 7 6 1 3 3 1 1 2 4 9 4 7 6 Love Spun UBE11406 $69.95 PAVÉ HEART STUD EARRINGS* ROSE GOLD 7 6 1 3 3 1 1 2 4 9 5 0 6 20 Core RANGE
21 The Drop UBN71530 $249.95 32" LARGE DROP STONE PENDANT SILVER 7 6 1 3 3 4 1 0 1 1 4 9 4 The Drop UBN71532 $249.95 32" LARGE DROP STONE PENDANT ROSE GOLD 7 6 1 3 3 4 1 0 1 1 5 1 7 Core RANGE
Walk of Fame UBE21580 $69.95 L.A. STAR EARRINGS ROSE GOLD 22 Walk of Fame UBB21590-L $99.95 L.A. STAR BRACELET ROSE GOLD 7 6 1 3 3 3 2 3 1 7 6 7 3 Walk of Fame UBN21601 $129.95 16-18" L.A. STAR NECKLACE ROSE GOLD 7 6 1 3 3 3 2 3 2 2 5 3 0 City of Angeles UBN21507 $129.95 16-18" LOGO DISC NECKLACE SILVER/ROSE GOLD 7 6 1 3 3 3 2 3 1 6 7 0 6 City of Angeles UBB21504-L $119.95 LOGO DISC BRACELET SILVER/ROSE GOLD 7 6 1 3 3 3 2 3 1 8 9 1 5 7 6 1 3 3 3 2 3 1 5 0 2 0 Core RANGE
Simple Logo UBE70711 $39.95 PAVÉ G LOGO EARRINGS SILVER 0 0 9 1 6 6 1 3 1 8 3 5 1 23 Walk of Fame UBB21591-L $149.95 L.A. STAR BANGLE SILVER 7 6 1 3 3 3 2 3 1 6 2 3 2 Walk of Fame UBB21588-L $89.95 L.A. STAR BRACELET SILVER 7 6 1 3 3 3 2 3 1 6 1 8 8 Walk of Fame UBE21578 $59.95 L.A. STAR EARRINGS SILVER 7 6 1 3 3 3 2 3 1 6 6 8 3 Walk of Fame UBN21599 $99.95 16-18" L.A. STAR NECKLACE SILVER 7 6 1 3 3 3 2 3 2 2 5 0 9 Walk of Fame UBN21605 $149.95 35.5" LARGE L.A. STAR NECKLACE SILVER 7 6 1 3 3 3 2 3 2 2 6 3 9 Core RANGE
24 G-Rounds UBN21590 $139.95 16-18" 3 ROW PAVÉ NECKLACE GOLD 7 6 1 3 3 3 2 3 2 2 3 7 0 G-Rounds UBN21589 $119.95 16-18" 3 ROW PAVÉ NECKLACE SILVER 7 6 1 3 3 3 2 3 2 2 3 5 6 G-Rounds 3 ROW PAVÉ RING GOLD UBR28521-52 $119.95 UBR28521-54 $119.95 7 6 1 3 3 3 2 3 3 3 0 5 5 7 6 1 3 3 3 2 3 3 3 0 4 8 UBR28521-56 $119.95 7 6 1 3 3 3 2 3 3 3 0 6 2 G-Rounds 3 ROW PAVÉ RING SILVER UBR28520-52 $99.95 UBR28520-54 $99.95 7 6 1 3 3 3 2 3 3 2 9 5 9 7 6 1 3 3 3 2 3 3 2 9 4 2 UBR28520-56 $99.95 7 6 1 3 3 3 2 3 3 2 9 6 6 G-Rounds 3 ROW PAVÉ RING ROSE GOLD UBR28522-52 $119.95 UBR28522-54 $119.95 7 6 1 3 3 3 2 3 3 3 1 5 4 7 6 1 3 3 3 2 3 3 3 1 4 7 UBR28522-56 $119.95 7 6 1 3 3 3 2 3 3 3 1 6 1 G-Rounds UBN21591 $139.95 16-18" 3 ROW PAVÉ NECKLACE ROSE GOLD 7 6 1 3 3 3 2 3 2 2 3 8 7 Core RANGE
25 Core RANGE Guess Chic UBE71509 $89.95 CONCAVE STUD EARRINGS GOLD 7 6 1 3 3 4 1 0 1 0 8 5 5 Guess Chic UBN71516 $129.95 16-18" SMALL CONCAVE PENDANT GOLD 7 6 1 3 3 4 1 0 1 1 3 5 7 Guess Chic UBN71515 $99.95 16-18" SMALL CONCAVE PENDANT SILVER 7 6 1 3 3 4 1 0 1 1 3 4 0 Guess Chic UBB71512-S $99.95 SMALL CONCAVE BRACELET SILVER 7 6 1 3 3 4 1 0 1 0 0 6 0 Guess Chic UBB71513-S $129.95 SMALL CONCAVE BRACELET GOLD 7 6 1 3 3 4 1 0 1 0 0 8 4 Guess Chic UBE71508 $79.95 CONCAVE STUD EARRINGS SILVER 7 6 1 3 3 4 1 0 1 0 8 4 8
26 Core RANGE California Sunlight UBE21544 $119.95 HOOP EARRINGS SILVER 7 6 1 3 3 3 2 3 2 1 0 3 8 California Sunlight SMALL FLOWER RING GOLD UBR28518-52 $89.95 UBR28518-56 $89.95 UBR28518-54 $89.95 7 6 1 3 3 3 2 3 3 2 7 4 4 7 6 1 3 3 3 2 3 3 2 7 6 8 7 6 1 3 3 3 2 3 3 2 7 5 1 California Sunlight UBN21549 $99.95 16-18" CRYSTAL FLOWER NECKLACE SILVER 7 6 1 3 3 3 2 3 2 1 8 3 0 UBR28517-54 $79.95 California Sunlight SMALL FLOWER RING SILVER UBR28517-52 $79.95 UBR28517-56 $79.95 7 6 1 3 3 3 2 3 3 2 6 5 2 7 6 1 3 3 3 2 3 3 2 6 4 5 7 6 1 3 3 3 2 3 3 2 6 6 9 5 UBN21550 7613332321861 N-16-18"CRYSTAL FLOW NK(GL) UBR28517-52 7613332332645 R-SMALL FLOWER(RH)-52 UBR28517-54 7613332332652 R-SMALL FLOWER(RH)-54 UBR28518-52 7613332332744 R-SMALL FLOWER(GL)-52 UBR28518-54 7613332332751 R-SMALL FLOWER(GL)-54 UBR28518-56 7613332332768 R-SMALL FLOWER(GL)-56 California Sunlight UBN21550 $119.95 16-18" CRYSTAL FLOWER NECKLACE GOLD 7 6 1 3 3 3 2 3 2 1 8 6 1 California Sunlight UBE21545 $129.95 HOOP EARRINGS GOLD 7 6 1 3 3 3 2 3 1 5 1 0 5
27 Core RANGE Embrace Me UBB71509-S $99.95 DOUBLE CHAIN CIRCLE LOCK BRACELET SILVER 7 6 1 3 3 4 1 0 1 0 0 0 8 Embrace Me UBE71506 $119.95 CIRCLE LOCK STUD EARRINGS GOLD 7 6 1 3 3 4 1 0 1 0 8 2 4 Embrace Me UBN71513 $139.95 16-18" CIRCLE LOCK SMALL NECKLACE GOLD 7 6 1 3 3 4 1 0 1 1 3 2 6 Embrace Me UBN71512 $119.95 16-18" CIRCLE LOCK SMALL NECKLACE SILVER 7 6 1 3 3 4 1 0 1 1 3 1 9 Embrace Me UBB71510-S $129.95 DOUBLE CHAIN CIRCLE LOCK BRACELET GOLD 7 6 1 3 3 4 1 0 1 0 0 2 2 Embrace Me UBE71505 $99.95 CIRCLE LOCK STUD EARRINGS SILVER 7 6 1 3 3 4 1 0 1 0 8 1 7
28 Tied in Knots INTERLOCKED RING GOLD UBR72505-52 $179.95 Tied in Knots INTERLOCKED RING SILVER UBR72504-52 $149.95 Tied in Knots UBB71525-S $299.95 INTERLOCKED BANGLE GOLD 7 6 1 3 3 4 1 0 1 0 3 2 9 Tied in Knots UBB71524-S $249.95 INTERLOCKED BANGLE SILVER 7 6 1 3 3 4 1 0 1 0 3 0 5 UBR72505-56 $179.95 7 6 1 3 3 4 1 0 1 1 9 5 1 UBR72504-56 $149.95 7 6 1 3 3 4 1 0 1 1 9 0 6 7 6 1 3 3 4 1 0 1 1 9 3 7 7 6 1 3 3 4 1 0 1 1 8 8 3 UBR72505-54 $179.95 7 6 1 3 3 4 1 0 1 1 9 4 4 UBR72504-54 $149.95 7 6 1 3 3 4 1 0 1 1 8 9 0 Core RANGE
29 'Must Haves' ADVERTISED LINES Ordering the W16 'Must Haves' can be done through the Designa Accessories website, your Designa Representative or contact Sales Support on (02) 8543 4600 HEARTBEAT UBN61050 $99.95 HYPNOTIC UBB61040-L $149.95 GUESS ADVENTURE UBN61066 $149.95 G-HEARTS UBE71525 $79.95 G-ROUNDS UBR28520-54 $99.95 HEARTBEAT UBE61053 $69.95 HYPNOTIC UBB61065 $499.95 GUESS ADVENTURE UBE61065 $149.95 G-HEARTS UBB71529-S $99.95 MY FEELINGS 4 U UBB61007-L $119.95 HEARTBEAT UBB61043-L $79.95 WRAP ME UP UBE61027 $199.95 WRAP ME UP UBN61036 $229.95 GUESS ADVENTURE UBB61062-L $139.95 G-ROUNDS UBN21590 $139.95 MY FEELINGS 4 U UBE61036 $69.95 HYPNOTIC UBN61048 $249.95 WRAP ME UP UBB61030-L $169.95 G-HEARTS UBN71536 $99.95 G-ROUNDS UBR28521-54 $119.95 MY FEELINGS 4 U UBB61009-L $139.95 HYPNOTIC UBE61051 $119.95 HEARTBEAT UBN61054 $119.95 G-HEARTS UBE71523 $69.95 G-ROUNDS UBN21591 $139.95 MY FEELINGS 4 U UBE61045 $79.95 HYPNOTIC UBB61042-L $169.95 HEARTBEAT UBB61047-L $99.95 G-HEARTS UBB71527-S $89.95 G-ROUNDS UBR28522-54 $119.95 HYPNOTIC UBN61046 $229.95 HEARTBEAT UBE61057 $79.95 G-HEARTS UBN71538 $129.95 G-ROUNDS UBN21589 $119.95