WINTER 2018 CLASSES
If your browser does not support JavaScript, please read the page content below:
WINTER 2018 CLASSES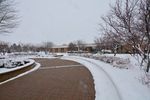 www.monroeccc.edu ENRICHING LIVES. WINTER 2018 CLASSES Registration begins Wednesday, November 1. Winter Semester classes begin Friday, January 5. Fee payment deadline for Advanced Registration is Wednesday, December 6. THE COLLEGE RESERVES THE RIGHT TO MAKE CHANGES IN THIS SCHEDULE WHEN NECESSARY. PLEASE CONSULT THE ONLINE REGISTRATION SYSTEM FOR THE MOST UP-TO-DATE INFORMATION.
WINTER 2018: ACADEMIC CALENDAR www.monroeccc.edu Main Campus Whitman Center 1555 South Raisinville Road 7777 Lewis Avenue Monroe, MI 48161 Temperance, MI 48182 1.877.YES.MCCC 734.847.0559 734.242.7300 THE COLLEGE RESERVES THE RIGHT TO MAKE CHANGES IN THIS SCHEDULE WHEN NECESSARY.
PLEASE CONSULT THE ONLINE REGISTRATION SYSTEM FOR THE MOST UP-TO-DATE INFORMATION. Monroe County Community College is an equal opportunity institution and adheres to a policy that no qualified person shall be discriminated against because of race, color, religion, national origin or ancestry, age, gender, marital status, disability, genetic information, sexual orientation, gender identity/expression, height, weight or veteran's status in any program or activity for which it is responsible. VISION Monroe County Community College will be an innovative and progressive higher education institution and our community's first choice for quality post-secondary education.
MISSION Monroe County Community College enriches and transforms lives by providing opportunity and excellence in higher education. Winter Semester Registration Begins for Current and Re-enrolling Students Using . Wednesday, November 1 Registration Begins for New Students (Open Registration . Monday, November 6 Fee Payment Deadline for Advanced Registration . Wednesday, December 6 College Closed . Saturday, December 23 through Monday, January 1 Winter Semester Classes Begin . Friday, January 5 Last Day for 100% Refund . Thursday, January 11 College Closed-Martin Luther King Day . Monday, January 15 50% Refund Period .
Friday, January 12 through Thursday, January 18 No Refund . Friday, January 19 Spring Break . Monday, February 26 through Sunday, March 4 Mid-point of the Semester . Monday, March 5 Last Day to Change to or from Audit or Pass/Fail . Monday, March 5 Last Day for Faculty to Submit Faculty-initiated Withdrawals . Friday, March 30 Deadline for Make Up of Fall Incomplete Grades . Friday, April 6 Last Day to Withdraw from a Class . Friday, April 6 College Closed . Friday, March 30 through Sunday, April 1 Commencement Ceremony . Friday, April 27 Last Day of Winter Semester Classes . Monday, April 30 Grades Due from Faculty via by noon .
Wednesday, May 2 Grades Available for Students via . Friday, May 4 (Note: Dates listed are for full semester classes - short classes have earlier deadline dates - call 734.384.4108)
1 WINTER 2018: OFFICE DIRECTORY  TOPIC INDEX SMOKING POLICY Smoking and the use of all tobacco products is prohibited at the college and is subject to all applicable laws, including Federal and State "clean air" acts. This tobacco-free policy prohibits the use of all tobacco products and includes use of all devices intended to simulate smoking, including electronic cigarettes and other similar types of devices. Office Directory Main Campus(Information . 734.242.7300 Toll Free . 1.877.YES.MCCC Admissions (Building A . 384.4104 Applied Science and Engineering Technology Division Office (T 149 .
384.4112 Blackboard Assistance . 384.4328 Bookstore (Building A . 384.4140 Business Division Office (C 233 . 384.4287 Business Learning Lab (Whitman . 734.847.0559 Career Information Center (A 103 . 384.4264 Cashier (Building A . 384.4231 Counselors (Building A) . 384.4104 Disability Services (C 218) . 384.4167 Dual Enrollment (Building A . 384.4302 Fee Payment (Building A . 384.4231 Financial Aid (A 159 . 384.4135 Health Sciences Division Office (H 120) . 384.4102 Humanities/Social Science Division Office (C 201 . 384.4153. International Students (Building A . 384.4302 Learning Assistance Lab (C 218 .
384.4167 Library (Building C . 384.4204 Lifelong Learning (Z 286 . 384.4127 Orientation (Building A . 384.4104 Placement Testing (W 157 . 384.4104 Refunds (Building A . 384.4291 Regional Computer Technology Center (W 157 . 384.4144 Registrar/Registration (Building A) . 384.4108 Science/Math Division Office (L 126 . 384.4233 Siena Heights University (L 112 . 384.4133 Snow/Emergency College Closing Information . 384.4223 Spring Arbor University (Whitman Center) . 734.856.6100 Transfer Students (Admissions) (Building A . 384.4104 Veterans (Building A) . 384.4108 Help Desk . 384.4333 Whitman Center, 7777 Lewis Avenue, Temperance, Michigan .
734.847.0559 Workforce Development (Z 286 . 384.4229 Topic Index Academic Calendar . Inside Front Cover Academic Transcripts . 7 Add/Drops . 7 Auditing a Course . 7 Billable Contact Hour Information . 6 Blended Classes . 52 Building/Parking Location Key . 14 Class Schedule . 15 Course Prefixes . 13 Credit by Examination . 7 Disability Services . 8 Educational Rights and Privacy Act . 8 Fee Payment Information . 3, 4 Financial Aid Information . 4, 12 General Information . 7 Getting Started (New Student Information . 2 Grades via . 13 Graduation . 7 Holds . 7 Learning Assistance Lab . 8 Maximum Hours .
7 MCCC Campus Map . 14 New Student Enrollment Process . 2 New Student Orientation . 2 Office Directory . 1 Office Hours . 9 Ohio Tuition Reciprocity . 7 Online Classes . 51 Online Registration Instructions . 10, 11 Online Requirements . 53 Parking Regulations . 8 Pass/Fail Option . 7 Refund Schedule . 5 Registration (Current or Re-enrolling Students . 3 Registration (New Students . 3 Registration (Late) . 3 Registration Instructions . 10, 11 Residency Status . 7 Schedule Guide - How to Read This Schedule . 14 Senior Citizen Tuition Waiver . 8 Snow/Emergency College Closing Information. . 5, 8 Student Email Account .
3 Student Learning Experiences . 10, 52 Student Rights & Responsibilities . 54 Textbook Information . 5 Tuition and Technology Fee Schedule . 4 Tutoring . 8 Veterans Benefits . 8 Waitlist . 4 Weekend Classes . 50 When and How to Pay . 4 Whitman Center Class Schedule . 47 Withdrawals . 7, 13, 53 Workforce Development (Employment Assistance) . 12
2 WINTER 2018: NEW STUDENT ENROLLMENT PROCESS NEW STUDENTS - Getting Started is Easy STEP 1 Complete an MCCC Application for Admission. There is no fee and the application can be completed online at www.monroeccc.edu. Just click on "Apply to MCCC" and follow the steps. STEP 2 Apply for financial aid. There are a wide variety of resources available to students, however, it is recommended that you apply as early as possible. Students who complete their files after the deadline date may not receive funding before the start of the semester. You can get started by: • Applying online at www.fafsa.gov • Calling 734.384.4135 • Visiting the Financial Aid Office in Building A, Room 159 on the MCCC Main Campus.
• Visiting the Whitman Center – See Whitman Center office hours on page 9. STEP 3 Complete one of the following placement options: a. Submit ACT scores: • English – 18 or higher • Reading – 18 or higher • Math – 20 or higher b. Submit SAT scores: • EBRW – 470 or higher • MATH – 450 or higher c. Provide proof of 12 or more transferable credit hours from a regionally accredited college or university. d. Take the Accuplacer placement test. • Accuplacer is a computerized assessment test that helps to evaluate your skills in reading, writing and math and is used by MCCC's counselors to assist in course selection.
• The Accuplacer test should be taken seriously. We recommend taking practice tests at accuplacer.collegeboard.org/students. Accuplacer is offered at two locations. On the Main Campus, it is offered in the Regional Computer Technology Center in Room 157 of the West Technology Building. Call 734.384.4255 for a schedule of testing times. At the Whitman Center, it is offered in the Business Learning Lab, Room 1. Call 734.847.0559 for testing times. STEP 4 Schedule an appointment (734.384.4104) with a counselor to review your assessment scores and discuss course selection or remediation. If you have special needs or a disability, call the Learning Assistance Lab (734.384.4167) to meet with a special assistance counselor.
STEP 5 Register for classes. • Fall Semester – April through start of classes • Winter Semester – November through start of classes • Spring/Summer Semester – March through start of classes STEP 6 Pay tuition and fees. Payment deadlines are: (Check deadlines in the Academic Calendar) • Fall – July • Winter – November • Spring – April • Summer – June STEP 7 Attend New Student Orientation. MCCC offers online and in-person orientation programs. The online orientation session is available at www.monroeccc.edu/orientation. The schedule for live orientation sessions will be provided at the time of registration for classes.
REMEDIATION OPTIONS Students with Accuplacer scores below the minimum levels in writing, reading or math will have a limited enrollment status and may require remediation. For information on remediation options, call 734.384.4104. ATTEND ORIENTATION Wednesday, January 3 5:30 - 7 p.m. La-Z-Boy Center • Room Z 257/260 Please note the building location on the MCCC campus map in this schedule. Take advantage of the resources available at MCCC. Attend New Student Orientation to learn about student services and resources, college programs and procedures, and more! To register for orientation, sign up online at www.monroeccc.edu, or in the Admissions and Guidance Office.
3 (Open registration includes continuing, re-enrolling and new students that have met with a counselor.) WINTER 2018: REGISTRATION PROCESS REGISTRATION BEGINS WEDNESDAY, NOVEMBER 1 Current and previously enrolled students may register by using the system or in person. (Please check the appointment schedule on this page for the appropriate date/time to register according to your cumulative hours earned.) Register Online using – www.monroeccc.edu Register in Person This appointment schedule has been developed according to the number of cumulative credit hours earned. That number will include any transfer credits that have been accepted by MCCC and added to your record.
Students may find the number of cumulative hours earned in the "Total Earned Credits" area on (Academic Profile: List of classes and grades). Students may register at their time or any registration time thereafter.
DAY BEGINNING CUMULATIVE HOURS EARNED BEGINNING NOVEMBER 6 • OPEN REGISTRATION Wednesday, November 1 40 credits & over . 12 a.m. Thursday, November 2 18 credits & over . 12 a.m. Friday, November 3 1 credit & over . 12 a.m. FEE PAYMENT Students registering prior to December 6 will have until then to pay tuition and fees. Beginning December 6, students must pay the same day of registering or adding a class. LATE REGISTRATION After classes begin, students may register or add a class prior to the second scheduled class meeting. Short courses or evening classes that meet only once a week may not be entered once the class has met for the first time.
Online classes may not be entered after the first day of the semester or term.
MCCC will use your MCCC-assigned email account for all college communications. All enrolled academic credit students, as well as new and re-enrolling students, will have an MCCC email account assigned. STUDENT EMAIL ACCOUNTS Further information is available at: www.monroeccc.edu. Click on the 'Student Email Account' box for instructions, or you may obtain an informational handout at the following locations: Admissions and Guidance Office, Library, Learning Assistance Lab (LAL), Registrar's Office and the Financial Aid Office.
4 WINTER 2018: FEE PAYMENT INFORMATION  TUITION SCHEDULE When to Pay • Students who register in advance must be sure to pay by Wednesday, December 6.
• Students who register on or after December 6 must pay the day of registration. How to Pay If you register by , go to "Tuition and Fees" – "Your Account/Account Summary by Term" – for the amount due. You will also receive a confirmation statement. 1.Nelnet/FACTS - Online Tuition Management Payment plan options are available through a third party - Nelnet FACTS Online Tuition Management. Go to the MCCC home page (www.monroeccc.edu), log into Under "Tuition and Fees-Your Account", click on "Create a Payment Plan." 2.Payment by Financial Aid All students with completed financial aid files prior to registering by will have their aid applied to tuition and fee charges after classes begin.
Students who decide not to attend after registering for classes must contact the Registrar's Office to cancel their registration. Students receiving financial aid are responsible for any charges not covered by their financial assistance. 3. Payment by Credit Card You may pay by credit card online with . You may pay when you register (or later), as long as you pay before the payment deadline. You are responsible for either paying your fees or dropping your class(es). 4.Payment in Person You may pay at the cashier's window on or before the deadline. The cashier accepts cash, checks, VISA, Discover Card and MasterCard.
Cashier hours are listed on the office hours page.
5.Payment by Mail Payment by mail is only available to those who register prior to December 6. Mail early. Payments must be received by Wednesday, December 6. Make checks payable to MCCC for the exact amount of your tuition and fees. Also, include the student's NAME and SOCIAL SECURITY NUMBER or STUDENT ID NUMBER on the front of the check or money order, and mail to: Cashier's Office Monroe County Community College 1555 South Raisinville Road Monroe, Michigan 48161-9746 If your check is returned for insufficient funds, a hold will be placed on your records until your account is up-to-date.
There is a $15 charge for returned checks. Tuition and Technology Fee Schedule* BILLABLE CONTACT MONROE COUNTY OUT OF OUT OF HOURS RESIDENT COUNTY STATE 1 127.00 210.00 231.50 2 254.00 420.00 463.00 3 381.00 630.00 694.50 4 508.00 840.00 926.00 5 635.00 1,050.00 1,157.50 6 762.00 1,260.00 1,389.00 7 889.00 1,470.00 1,620.50 8 1,016.00 1,680.00 1,852.00 9 1,143.00 1,890.00 2,083.50 10 1,270.00 2,100.00 2,315.00 11 1,397.00 2,310.00 2,546.50 12 1,524.00 2,520.00 2,778.00 13 1,651.00 2,730.00 3,009.50 14 1,778.00 2,940.00 3,241.00 15 1,905.00 3,150.00 3,472.50 16 2,032.00 3,360.00 3,704.00 A Technology Fee of $20 per billable contact hour is included in the above amounts.
A $40 per semester Registration Fee will be assessed. This fee is mandatory and non-refundable. Some courses have lab or special fees. Please see the course listings for details. * Tuition and fees are subject to change by action of the MCCC Board of Trustees. WAITLISTING FEATURE The waitlist process allows students to place their names on a waitlist for a full section. If an opening occurs, an email is sent to the MCCC email address of the first student on the waitlist informing that person that he or she has a limited amount of time to register for the course (usually one day). • Log onto .
• Verify your MCCC email address.
• From the main menu, choose "Students," and then click on "Manage My Waitlist" for detailed instructions.