2018 COMMERCIAL EXHIBITOR PROSPECTUS
If your browser does not support JavaScript, please read the page content below:
2018 COMMERCIAL EXHIBITOR PROSPECTUS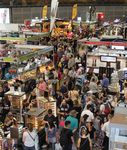 2018 COMMERCIAL EXHIBITOR PROSPECTUS THE 2018 SYDNEY ROYAL EASTER SHOW WILL BE HELD FROM FRIDAY 23 MARCH TO TUESDAY 3 APRIL AT SYDNEY SHOWGROUND, SYDNEY OLYMPIC PARK. The Sydney Royal Easter Show is Australia's largest annual ticketed event, attracting an average of over 838,000* attendees. It is a true celebration of Australian culture, from our rural traditions to our modern day lifestyles, providing unique experiences for everyone. Each year the country and city join together to enjoy animal experiences, agricultural competitions, carnival fun, entertainment, shopping and much more.
Over 12 days, this iconic Show hosts over 400 exhibitors within our pavilions and around the grounds. The diversity and appeal of our exhibitors is in fact one of the key drawcards for attendance to the Show. SYDNEY ROYAL EASTER SHOW * Average Show attendees 2013-2017 75% of all attendees spend six hours or more with an average spend of $330 per group (constituted of 3 people). This is a once-a-year opportunity for exhibitors to generate direct sales and leads, gauge first-hand response to new products, boost brand awareness and showcase your products and services to the largest audience in the country.
The Show is run by the Royal Agricultural Society of NSW (RAS), which is a not-for-profit organisation that has been celebrating excellence in Agriculture since 1822. By exhibiting at the Show, you are contributing to the agricultural prosperity of New South Wales. 2018 COMMERCIAL EXHIBITOR PROSPECTUS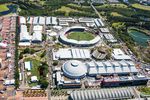 2018 COMMERCIAL EXHIBITOR PROSPECTUS OUR EXHIBITORS REACH HUNDREDS OF THOUSANDS OF CUSTOMERS AT AUSTRALIA'S LARGEST TICKETED EVENT. THE SHOW PROVIDES THE PERFECT PLATFORM FOR BUSINESSES TO: WHY EXHIBIT * Average Show attendees 2013-2017
Make immediate sales and generate leads to over 838,000* new customers
Build brand awareness and educate customers about your product
Build a database of prospective customers
Sampling opportunities to a broad cross-section of consumers.
Demonstrate the features and benefits of your product
Gain additional exposure with exclusive promotional opportunities 2018 COMMERCIAL EXHIBITOR PROSPECTUS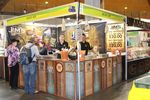 2018 COMMERCIAL EXHIBITOR PROSPECTUS AUSTRALIA'S LARGEST TICKETED EVENT ANIMALS AND LIVESTOCK ARE THE MAIN REASONS PEOPLE COME TO THE SHOW AGE GROUPS HOUSEHOLD INCOME KEY CUSTOMER SEGMENTS OUR AUDIENCE - 2017 (NUMBER OF UNIQUE INDIVIDUALS) NSW – Metro 75.7% (601,826) Overseas (28,000+) NSW – Regional 21.9% (173,826) Parents with pre-school children Empty Nesters 922,827 Avg. 838,000 over the last 5 years Total Attendees Male 27% Female 73% 75% ofattendees spent6+hours attheshow Averagehours spentatthe show 7.9 CELEBRATING EXCELLENCE IN AGRICULTURE SINCE 1822 ATTENDEES GENDER ATTENDEES ORIGINS Parents with primary school children $80k - $100k 10% >$100k 30% Don't Know 3% Refused to Answer 32% Under $40k 8% $40k-$60k 9% $60-$80k 8% 30% 21% 22% 10% 18% 43% 13% 15% 16-24 25-34 35-49 50-59 60+ Source – IER Attendees Research 2017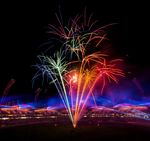 2018 COMMERCIAL EXHIBITOR PROSPECTUS 30% 24% 18% 17% 11% Showbags Food & Beverages Commercial Exhibitor Products Rides & Amusements Other 52% 53% 59% 34% 34% 27% 2015 2016 2017 Very enjoyable Quite enjoyable 9/10 ATTENDEES VISITED THE WOOLWORTHS FRESH FOOD DOME THE SHOW RECEIVED $33 MILLION WORTH OF MEDIA EXPOSURE OVERALL ENJOYMENT OF THE SHOW ADVOCACY – NET PROMOTER SCORE LIKELIHOOD OF RETURN VISITATION IN 2018 AVERAGE SPEND BY ATTENDEES BREAKDOWN OF SPEND IN 2017 MOTIVATIONS FOR ATTENDANCE IN 2017 eastershow.com.au 25 MILLION PAGEVIEWS 0 = strongly disagree 5 = strongly agree $326 $327 $331 $113 $117 $112 2015 2016 2017 Spend Per Person Spend Per Group (Avg.
group 3 people) 4.1 3.3 3.6 4.4 3.8 3.2 3.6 4.5 4.5 3.4 3.8 3.5 To visit the variety of exhibits in the Pavilions To sample award-winning food and wine products To experience country life in the city It's an experience I would like to pass on to my children Primary School Families Pre-School Families Empty Nesters 65% 62% 61% 2017 2016 2015 Definitely will return Probably will return 23 21 16 2017 2016 2015 + + + Source – IER Attendees Research 2017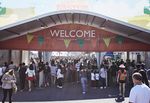 2018 COMMERCIAL EXHIBITOR PROSPECTUS "YMCA NSW had an overwhelmingly positive experience at the 2017 Sydney Royal Easter Show. As a first time exhibitor, there's a lot of trust involved and we were really happy with what the organisers delivered. We engaged with around 150,000 people over the entire show and generated over 2,000 leads. It would normally take us more than a year to generate that many leads! The service from show staff was great. It was also quite a surprise (and an honour) to win the Best in Show for the Commercial Exhibitor Awards. I can definitely recommend the Sydney Royal Easter Show for any organisation wanting to raise its profile with a specific audience." "The Sydney Royal Easter Show is the largest and most exciting Show in our calendar year.
Every year we launch a new product, and after 15 years of exhibiting it still gives us nervous butterflies on opening day.
With our biggest stand to date, greatest number of tea ladies to serve with a sparkly smile, tea pots on heads and lashes that flash, 2017 was our biggest show ever. We love the Show, we love our loyal customers and love meeting new ones every year. We are eager to surprise and delight our customers at the 2018 Show." HEAR FROM A SELECTION OF OUR EXHIBITORS YMCA TEA TONIC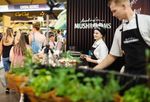 2018 COMMERCIAL EXHIBITOR PROSPECTUS "2017 for us was the most exciting year in the 11 years we have attended the Sydney Royal Easter Show. Face-to-face selling is paramount for our business and the Sydney Royal Easter Show gives us the opportunity to interact with thousands of customers every day.
2017 brought droves of customers into The Woolworths Fresh Food Dome to sample and purchase the fine products on offer. My entire team love exhibiting at the Show and it remains as the most important date on our promotional calendar every year. Bring on 2018!" WINE SELECTORS
2018 COMMERCIAL EXHIBITOR PROSPECTUS 1. WOOLWORTHS FRESH FOOD DOME With 87% of Showgoers visiting The Woolworths Fresh Food Dome every year, it is the most visited pavilion at the Show. Home to the most popular attraction, the District Exhibits is an iconic showcase of Australianmade agricultural produce. The Woolworths Fresh Food Dome includes fine food, wine, dairy products, tea, coffee, condiments, confectionary, herbs, spices, and much more. The Australian-made guidelines are in accordance with the ACCC's regulations.
Shell Scheme $850/sqm Space Only $710/sqm (Excludes main aisle stands. Enquire for rates) 2. HOME, GARDEN & LIFESTYLE 75% of attendees visit Home, Garden & Lifestyle Pavilion. This pavilion showcases an array of products such as boutique giftware and decor, gardening tools, cookware, spas, pool supplies, bedding and home appliances. This destination also offers a dedicated Government Department area. New in 2018, the Home Garden and Lifestyle stage will feature a range of demonstrations and DIY talks. Shell Scheme $800/sqm Space Only $660/sqm 3. PET PAVILION Adjacent to the Home, Garden & Lifestyle Pavilion, the Pet Pavilion offers a wide range of pet care products, insurance, food and entertainment exhibits.
Shell Scheme $420/sqm 4. FASHION & STYLE Located in the central district of Sydney Showground, the Fashion & Style Pavilion offers a stunning array of boutique clothing, homewares, jewellery, cosmetics and beauty products. Featuring the Natural Fibre Showcase, which includes a daily high-end fashion parade of Australian-grown natural fibres. Plus there is a Pamper Me area where you can receive tips, handy hints and buy the latest beauty products.
Shell Scheme $755/sqm Space Only $660/sqm 5. HERITAGE PAVILION A celebration of the rich heritage of the Easter Show and RAS since it began in 1822. Stands include displays of trophies, memorabilia, horse-drawn carriages and vintage showbags. Exhibition stands include MakeYour-Own Cupie Dolls, the Royal Australian Mint and a range of associated products and services. Shell Scheme $310/sqm 6. SPORTS & ADVENTURE Located on the concourse around Spotless Stadium, Sports & Adventure is home to sporting clubs, clothing and equipment, sporting products and the Sports & Adventure Bar.
Space Only $515/sqm 7.
SHEEP & FLEECE PAVILION Here you will find high-quality products, clothing and accessories made from wool and other natural fibres alongside the interactive exhibits and sheep-shearing demonstrations. Shell Scheme $700/sqm 8. WORLD BAZAAR World Bazaar provides a multicultural shopping bonanza, showcasing a range of exotic, unusual and intriguing products from around the globe. Shell Scheme $725/sqm Space Only $640/sqm 9. KIDS' WORLD Kids' World showcases a diverse range of products including interactive and educational games, toys and entertainment.
Shell Scheme $725/sqm Space Only $640/sqm 10. AROUND THE GROUNDS Outdoor spaces with high volume traffic provide amazing exposure and sales potential for promotional pop up stands, vans, marquees and trailers. Space Only $555/sqm (Space Only Grand Parade $600/sqm) 11. THE ZONE A tween and teen favourite, this location showcases ontrend jewellery, clothing, gadget and accessories. Shell Scheme $640/sqm Space Only $555/sqm Please note: Prices include GST. Shell scheme is a minimum of 9sqm. Space Only minimum 18sqm (excludes outdoor sites). If allocated a corner site, an additional charge of $860 for each corner will be charged.
Correct as of August 2017.
This information is subject to change. Click here for Terms and Conditions.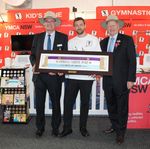 2018 COMMERCIAL EXHIBITOR PROSPECTUS WHAT'S INCLUDED IN MY STAND 1. SHELL SCHEME EXHIBITION SPACE Shell scheme exhibition space inside our pavilions includes carpeted floor space, walls, fascia board bearing your company name and two spotlights per 3m x 3m stand. The minimum size available is 9sqm. 2. SPACE ONLY EXHIBITION SPACE Space only consists of bare floor space inside one of our pavilions. This option is best suited to companies who wish to construct their own exhibition stand.
Space only exhibits must provide their own flooring, walls and lighting. The minimum size space available is 18sqm.
Woolworths Fresh Food Dome Shell Scheme A number of options are available to ensure your exhibition space meets your objectives and requirements.
2018 COMMERCIAL EXHIBITOR PROSPECTUS 3. OUTDOOR EXHIBITION SPACE ONLY Outdoor exhibition space only consists of an identified bare space that must be filled by a stand structure arranged by the Exhibitor through the RAS Operations Team. Pagoda structures can be hired through the RAS. Alternatively, if building a structure you must adhere to the SOPA guidelines, which can be provided to you by the RAS Operations Team.
Power, plumbing and other requirements can be organised through the RAS' preferred suppliers for an additional charge.
3m x 3m Pagoda Space Only Custom Built Stand Space Only Provisions The provision of approved walling is a requirement for all stands. Shell scheme from neighbouring exhibits cannot be used for display purposes or rigging. The RAS recommends the use of professional stand designers and construction specialists. We have a number of preferred suppliers to recommend upon request. Please contact the RAS Operations Team for more information, 02 9704 1368. Other Pavilion Shell Scheme
2018 COMMERCIAL EXHIBITOR PROSPECTUS APPLY FOR A STAND To start the process of applying for a stand, download the 2018 Exhibitor Application from www.eastershow.com.au/partnerwithus or contact Diana Saloum on 02 9704 1421.
HAVE YOU BEEN SUCCESSFUL? If your application has been successful, you'll receive a Show Licence and other paperwork which needs to be returned to the RAS. This will also include the Event Manual that lists key dates and requirements and is compulsory reading for exhibitors. 1. WHAT'S NEXT 2.
3. 4. SECURE YOUR STAND Successful applicants are required to pay a 35% non-refundable deposit to confirm their stand and its location. FINAL INVOICE After the deposit has been received, the final invoice will be sent to you. IT'S TIME TO GET EXCITED From 9 March you can pick up your exhibitor pack from the Exhibitor Services Centre at Sydney Showground. It's filled with everything you will require for the Show including entry tickets, staff IDs, bump in/out passes and maps. 5. 2018 COMMERCIAL EXHIBITOR PROSPECTUS
2018 COMMERCIAL EXHIBITOR PROSPECTUS SHOWTIME It's time to enjoy everything Australia's largest ticketed event has to offer! 6.
7. MAKE YOUR STAND, STAND OUT! The Commercial Exhibitor Awards acknowledge and reward exhibitors who demonstrate high standards in presentation, appeal and personnel at the Sydney Royal Easter Show. Bring your creative flair to make your stand unforgettable! KEY DATES Exhibitor Service Centre Opens: 9 march 2018 Bump-in: Space only - 13 March 2018 Shell Scheme – 20 March 2018 Sydney Royal Easter Show: 23 March – 3 April 2018 Commercial Exhibitor Awards Judging: 26-27 March 2018 Commercial Exhibitor Awards Presentations: 29 March 2018 Bump-out: 4 April 2018 2018 COMMERCIAL EXHIBITOR PROSPECTUS
MESSAGE FROM THE EXHIBITION SALES MANAGER Thank you for your interest in being part of the 2018 Sydney Royal Easter Show. If you would like to reserve exhibition space or receive more information about the largest ticketed event in Australia, please do not hesitate to make contact. We look forward to seeing you at the Show! Diana Saloum Exhibition Sales Manager Royal Agricultural Society of NSW CONTACT 02 9704 1421 dsaloum@rasnsw.com.au