2017 Suzuki Motorcycle
If your browser does not support JavaScript, please read the page content below:
2017 Suzuki Motorcycle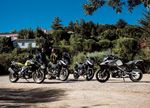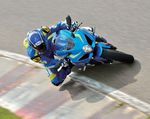 1 Water resistant test Water resistant test Dropping test Dropping test Motorcycle Technical Center Motorcycle Technical Center STRAIGHTFORWARD ENGINEERING, UNCOMPROMISING QUALITY CONTROL. Advanced technologies, skilled craftsmanship. Secret of Suzuki quality is a combination of advanced technologies and skilled craftsmanship. Suzuki motorcycles come to life through countless hours of testing, uncompromising quality control by the engineers who have unmatched enthusiasm and craftsmanship. Stone paved road test Stone paved road test Hill climb test Hill climb test Wind tunnel test Wind tunnel test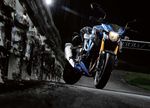 2 Engine assembly Engine assembly Welding of Frame Welding of Frame Assembly Assembly Engine inspection Engine inspection Final inspection Final inspection Final inspection Final inspection OUR MANUFACTURING SPIRIT POWERS YOUR SUZUKI. Providing 'value-packed products' In our 107 years of manufacturing history, 64 years of building motorcycles, we have always strived to provide 'value-packed products' as one of our manufacturing philosophies. We believe that our passion, enthusiasm turns into your fun and excitement, our pride of craftsmanship becomes your pride of ownership. The trademark " " is recognized by people throughout the world as brand of quality products that offer both reliability and originality.
Suzuki stands behind this global symbol with a sure determination to maintain this confidence in the future as well, never stopping in creating 'value-packed products'.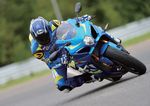 3 SUZUKI HISTORY History progressed with customers worldwide. 1909 Michio Suzuki opens the Suzuki Loom Works in the small coastal village of Hamamatsu, Shizuoka Prefecture, Japan. The new factory makes weaving looms for Japan's massive cotton industry and Michio's intention is simple: to build better, more ergonomic looms than anything that is currently available. 1952 Suzuki builds its first motorised bicycle, the 'Power Free'. Designed to be inexpensive and easy to maintain, it uses a 36cc, two-stroke engine clipped to the frame of a conventional bicycle. The Power Free's unique double sprocket gear system allows riders to pedal without engine assistance, with engine assistance, or to travel completely under the engine's own power.
1958 The now famous Suzuki 'S' makes its first appearance.
1962 Champions of the world! East German rider, Ernst Degner, takes Suzuki's first TT victory by winning the 50cc race. He goes on to win the 50cc world championship in the same year giving Suzuki its first world title. Five more 50cc titles will follow in the next six years. 1965 Hugh Anderson wins his fourth world title, this time in the 125cc class. The sensational T20 Super Six really puts Suzuki on the international map. A 250cc, two-stroke twin with six-speed gear box and a claimed top speed of 160km/h, the T20 is a huge sales success.
1996 Suzuki re-invented GSX-R750 again in 1996.
This is the turning-point model of the GSX-R750 with the newly equipped twin-spar frame instead of the double cradle frame. Faithfully tracing the GP machine RGV-Γ, the basic dimensions with shortened wheelbase generated smooth drivability with a surprising dry weight of 179kg. 1999 Suzuki breaks the mould once again with the unveiling of the GSX1300R Hayabusa. The ultimate 1298cc liquid-cooled DOHC in-line 4-cylinder engine that powered the Hayabusa represented the epitome of no-compromise engineering. The Hayabusa's most notable features were its aerodynamic design and its superb balance of the engine performance and handling in a wide speed range on the road.
2000 Kenny Roberts Jr. wins 2-year consecutive victory in the Malaysian GP, the season's 2nd round. With a total of four victories, Roberts Jr. becomes the World Champion of GP500, which for Suzuki is the sixth world title, and the first in seven years since 1993.
2001 An unforgettable year which saw the launch of the ultimate sports bike - the Suzuki GSX-R1000. The newest addition to the GSX-R family had the same impact as the original upon its release in 1985 and re-wrote the rule books on performance, weight, handling and styling. It would soon be dominating race tracks and awards ceremonies around the world. 2005 Suzuki sets new standard of sportbike once again with the introduction of the 2005 GSX-R1000. It went straight back to the top of the superbike tree. The GSX-R1000 wins number of Superbike titles including World Superbike Championship in 2005.
The reasons for the Suzuki GSX-R1000's dominance are simple. Great handling and ergonomics, radical styling and full-on usable power.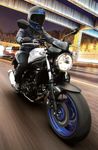 4 1971 Joel Robert retains the world 250cc motocross crown. Roger De Coster becomes the World Motocross Champion 500cc class on his Suzuki RN71. 1976 Barry Sheene wins his, and Suzuki's, first 500cc world title on the RG500. The legendary bike took the top six places in the championship. Meanwhile, the GS750 - Suzuki's first big four- cylinder bike - is released. 1981 Italy's Marco Lucchinelli wins the 500cc world championship on an RG500. Suzuki stuns the biking world with its futuristic GSX1100S Katana. The bike's aggressive styling and superb performance make it a huge sales success.
1985 The bike that is to change the face of motorcycling arrives.
Suzuki's GSX-R750 will always be remembered as the first true race replica machine. Delivering 100 horsepower and weighing in at 176kg, it created a whole new category of performance bikes. The GSX-R750 achieves a 1-2 finish in its World Endurance Championship debut race, the Le Mans 24-hours Endurance Race. 1993 Kevin Schwantz wins the 500cc world championship on the RGV-γ500 and ensures his name will always be remembered amongst the all-time greats.
2008 The Suzuki B-King, a naked muscle bike with attitude, first shown as a concept model in 2001, arrives. Suzuki launches the Worlds first production fuel injected motocross bike - the RM-Z450. In the same year, Suzuki launches the new GSX-R600 and 750 models - the thinking mans sportsbikes. Suzuki introduces 2nd generation Hayabusa 1300. 2009 The all new GSX-R1000 is launched. In the United States, Rockstar Makita Suzuki's Mat Mladin clinches his seventh AMA Superbike Championship riding GSX-R1000. 2012 GSX-R series total production reaches 1 million units. Since the introduction in 1985, the name of GSX-R became synonymous with high performance sportbike.
Suzuki launches second generation V-Strom 650ABS. V-Strom 650 has always been the best-selling model in its class since first introduced in 2004. To further improve its running performance and riding comfort, 645cc V-Twin engine has improved low-to-mid rpm performance, matched by enhanced fuel economy and environmental performance. 2013 The Suzuki Endurance Racing Team (SERT) takes its 4th consecutive Endurance World Championship and its 13th title overall. 2016 The all new GSX-R1000/R, Suzuki flagship model is finally launched.
In addition, V-Strom 1000/XT, V-Strom 650/XT, GSX-S750, BURGMAN 400 etc., the total 9 new models are introduced.
In MotoGP, Team SUZUKI ECSTAR, Maverick Viñales wins the championship at the British Grand Prix with GSX-RR in the second season after coming back.
5 SUZUKI TECHNOLOGY IS RIGHT BEHIND YOU TECHNOLOGY Suzuki motorcycle offers variety of advanced technologies - which not only deliver high performance, excitement and satisfaction, but increase your comfort and convenience in every day riding. Your riding experience will be further enhanced with these advanced technologies. SDTV - Suzuki Dual Throttle Valve system S-DMS SET S-TFI SET-A S-DSI SCEM Broad Power System Low RPM Assist Broad Power System SR-VVT Ride By Wire Suzuki Dual Throttle Valve (SDTV) digital fuel- injection system. In SDTV induction system, each throttle body barrel has two butterfly valves, a primary valve controlled by the twist grip and a secondary valve controlled by the ECM based on engine rpm, gear selection and the position of the primary valve.
The secondary butterfly valve opens and closes to maintain ideal intake air velocity, improving high combustion efficiency, thus resulting in a linear throttle response, increased low-to-mid range torque. Suzuki Drive Mode Selector (S-DMS) system allows the rider to select one of three fuel injection and ignition system maps (2maps in case of GSX-R750/600), adjusting power delivery to suit personal preference in various riding situations, such as different racetracks or tight, twisty roads. Selecting and switching between mode settings is by a switch on the handlebar; the selected mode setting is displayed on the right side of the tachometer.
The feature helps rider to enjoy the performance in a wider range of riding situations. * The technology is used in GSX-R1000, 750, 600 and Hayabusa. Suzuki Exhaust Tuning (SET) system, which uses a servo-controlled butterfly valve to modify back pressure and tune the pipe to match engine rpm. At lower rpm, the valve closes, increasing back pressure and improving low-end torque. The valve progressively opens as engine speed increases, reducing back pressure and increasing midrange and high-rpm power. Suzuki Top Feed Injector (S-TFI) ― is mounted in the top of the airbox, directly over each throttle body velocity stack, and operates at higher rpm.
The TFI showerhead injector delivers fuel in an optimized spray pattern designed to enhance combustion efficiency, throttle response and top- end power.
The SET-A (Suzuki Exhaust Tuning-Alpha) butterfly valve operated by servo motor in each header balance tube remains closed to enhance lower-rpm and mid-range power, then opens to increase volume, reduce back pressure and work with pressure waves to add significant power at higher rpm. Suzuki Dual-Stage Intake (S-DSI) system delivers the advantages of variable-length intake funnels (also known as velocity stacks) without the extra weight and complexity. Two of the four intake funnels use a new stacked, dual-stage design, with a longer funnel positioned above a short funnel, and a gap between the two parts.
Suzuki Composite Electrochemical Material (SCEM) is Suzuki's own nickel-silicon- carbide coating technique derived from racetrack experience. SCEM cylinders allow faster heat transfer and tighter piston-to- cylinder clearance, for superb durability and resistance to scuffing. The Suzuki Racing VVT (SR-VVT), Suzuki Exhaust Tuning-Alpha (SET-A), and Suzuki Top Feed Injector (S-TFI) systems combine to make the Broad Power System, increasing high-rpm performance without reducing low and mid-range performance. The result is strong, linear power and enhanced acceleration throughout the rpm range.
Suzuki Racing VVT (SR-VVT) System developed for Moto GP racing. Unlike complicated variable valve timing systems used by other manufactures, the SR-VVT is simpler, more compact, lighter and more positive. The centrifugally operated system is built into the intake cam sprocket and an adjacent guide plate, using 12 steel balls and slanted grooves to rotate the sprocket and retard the intake valve timing at a pre-set rpm, adding significantly to high-rpm power. Butterfly valves on the throttle bodies are controlled by an advanced electronic engine management system.
Low RPM Assist uses the ISC mechanism to help raise engine rpm slightly in launching and riding at low speed. This new feature helps smoother operation when pulling away and when riding at slow speeds, this means it's easier to pull away and easier to control the engine in stop-start traffic. SR-VVT SET-A S-TFI Broad Power System SR-VVT SET-A S-TFI SR-VVT SET-A S-TFI S-DSI Ride by Wire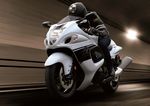 6 SAIS Antilock Brake System Motion Track Brake System Launch Control System Bi-Directional Quick Shift System EURO 3 conformed EURO 4 conformed Motion Track TCS (Traction Control System) Easy Start System SRAD – Ram Air System Traction Control System SCAS The Suzuki Advanced Immobilizer System (SAIS) uses an electronic identification system in the owner's key to prevent unauthorized people from starting the engine.
* Not available for North American spec. An electrically controlled Antilock Brake System (ABS) that produces stable braking force under various road surface conditions. The system helps avoid wheel locking when there is a sudden change in road surface during braking or when an excessive braking force is applied. The system monitors wheel speed 50 times per wheel rotation, and matches stopping power to available traction. * Depending on road surface conditions, such as wet, loose, or uneven roads, braking distance for an ABS-equipped vehicle may be longer than for a vehicle not equipped with ABS.
ABS cannot prevent wheel skidding caused by braking while cornering. Please drive carefully and do not overly rely on ABS. "Motion Track Brake System" by installing a Inertial Measurement Unit (IMU), and by combining the information of the posture of the vehicle with the front and rear wheel speeds, have made it possible for the ABS to activate not only in a straight line but also when the vehicle is leaning to either side. Launch control system makes it easier for a racer to get a good start in closed-course competition by automatically limiting engine rpm and optimizing torque delivery while the rider holds the throttle twist grip wide open and concentrates on feeding in the clutch lever.
The system automatically interrupts power delivery just long enough—between 50 and 75 milliseconds, depending upon the sensitivity adjustment—to unload the transmission gear dogs and allow a clean upshift, producing smoother, almost uninterrupted acceleration. For quicker and smoother downshifts without manually blipping the throttle twist grip or using the clutch, the system automatically opens the throttle valves just enough to increase rpm and match engine speed to the next-lower gear ratio. Only models with European specifications comply with the EURO 3 emission regulations. Only models with European specifications comply with the EURO 4 emission regulations.
Suzuki's advanced Motion Track TCS (Traction Control System) allows the rider to select different levels of traction control intervention, depending upon road or racetrack conditions as well as personal preference and experience level. The Motion Track TCS continuously monitors front and rear wheel speed, throttle position, crankshaft position, gear position and motorcycle motion, and quickly reduces engine power output when a loss of traction is detected or predicted. Power output is controlled by managing ignition timing and throttle valve position.
The Suzuki Ram Air-Direct (SRAD) air intakes are positioned close to the centerline of the fairing nose – the position offering optimum intake efficiency. This results in better intake efficiency, increase engine power in high speed. * The technology is used in GSX-R1000, 750, 600 and Hayabusa. Suzuki's traction control system continuously monitors front and rear wheel speeds, throttle position sensor, crank position sensor and gear position sensor, and quickly reduces engine output when wheel spin is detected. Engine output is controlled by managing ignition timing and air delivery to ensure smoother traction control operation.
As a results rider can enjoy long distance riding more comfortable, with less stress and fatigue. On a normal motorcycle when starting the engine, the rider needs to press and hold the starter switch until the engine fires up. With the Suzuki Easy Start, all you need to do is one quick push of the starter switch, just like starting a modern car engine. The ECM recognizes the signals and keeps the starter motor working for a specified time. Suzuki Clutch Assist System (SCAS) - a back- torque-limiting clutch helps make downshifts smoother, assists the rider in taking control in deceleration.
Ramped engagement cams built into the clutch hub decrease force on the clutch plates under deceleration by pushing up against the pressure plate, allowing the plates to slip at a controlled rate. Motion Track TCS Motion Track Brake System Launch Control System Bi-directional QuickShiftSyste m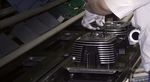 8 SUPER SPORT ULTIMATE SPORT STREET CRUISER SCOOTER OFF ROAD UTILITY ATV SPORT ATV KIDS ATV MOTOCROSS SPORT ADVENTURE TOURER GSX-R1000R / GSX-R1000 ABS (GSX-R1000A/R/RZ) Engine Type 4-stroke, 4-cylinder, liquid-cooled, DOHC Engine Displacement 999.8 cm3 (61.0 cu. in) Bore x Stroke 76.0 mm x 55.1 mm Transmission 6-speed constant mesh Engine Power 149 kW (202 PS) / 13,200 rpm Engine Torque 118 Nm / 10,800 rpm Overall Length 2,075 mm (81.7 in) Overall Width 705 mm (27.8 in) Overall Height 1,145 mm (45.1 in) Wheelbase 1,420 mm (55.9 in) Ground Clearance 130 mm (5.1 in) Seat Height 825 mm (32.5 in) Curb Mass 202 kg (445 lbs) [GSX-R1000 ABS] 203 kg (448 lbs) [GSX-R1000R/Z ABS] Suspension Front Inverted telescopic, coil spring, oil damped Rear Link type, coil spring, oil damped Brakes Front Disc, twin Rear Disc Tires Front 120/70ZR17M/C (58W), tubeless Rear 190/50ZR17M/C (75W), tubeless Fuel Tank Capacity 16.0 L Metallic Triton Blue (YSF) Photo : GSX-R1000R Own The Racetrack It is a machine designed to turn a simple expression of what really matters – Run, Turn, Stop – into the powerful combination of acceleration, cornering, and braking that makes this the most awesome GSX-R ever produced.
Offered with the certain knowledge that – if you're ready – the new GSX-R1000 will Own The Racetrack. NEW Metallic Mat Black No.2 (YKV) Photo : GSX-R1000A (GSX-R1000/A Only) Glass Sparkle Black (YVB) Photo : GSX-R1000RZ (GSX-R1000RZ Only) Pearl Mira Red (YVZ) Photo : GSX-R1000A (GSX-R1000/A Only) Compact Engine The design team quickly settled on basic engine design goals. The new engine would rev higher and make more peak horsepower, while maintaining excellent low-to-mid-range power and drive. It would be a compact and lightweight Inline Four, DOHC with chain cam drive and four titanium valves per cylinder set at narrow angles, with a more over-square bore/stroke ratio, a higher redline and a higher compression ratio.
Improved Aerodynamics The 2017 GSX-R1000 has MotoGP-inspired, sleeker and more aerodynamic bodywork designed to improve handling and top speed on the racetrack.
All-New Chassis The new GSX-R1000's chassis is more compact and narrower than the previous model's chassis. Suzuki engineers designed a new twin-spar aluminum perimeter frame that's 20 mm narrower at the widest point between the spars and weighs 10% less. IMU sensor to track motorcycle motion The new GSX-R1000's advanced electronic management system incorporates feedback from a Continental Inertial Measurement Unit (IMU) which tracks the motion and position of the motorcycle in 6-directions, along 3-axis, Pitch, Roll and Yaw. 12 titles in 15 years WORLD ENDURANCE CHAMPIONSHIP 8 wins in 15 years 24 hours of Le Mans 10 titles in 15 years AMA SUPERBIKE CHAMPIONSHIP 11 wins in 15 years Bold'or 24HOURS ENDURANCE Broad Power System SR-VVT SET-A S-TFI SR-VVT SET-A S-TFI Ride by Wire S-DSI Motion Track Brake System Motion Track TCS Launch Control System Bi-directional QuickShiftSyste m EURO4 4 *1 *1 *1 *1 *1 *1 *1 *1 *1 *1 *3 *2 *1 Only for GSX-R1000R/Z *2 Only for GSX-R1000R/Z and GSX-R1000A *3 Only for GSX-R1000/A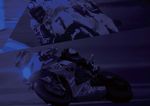 9 SUPER SPORT ULTIMATE SPORT STREET CRUISER SCOOTER OFF ROAD UTILITY ATV SPORT ATV KIDS ATV MOTOCROSS SPORT ADVENTURE TOURER GSX-R125 ABS (GSX-R125A/XA) EURO4 4 Engine Type 4-stroke, 1-cylinder, liquid-cooled, DOHC Engine Displacement 124.4 cm3 (7.6 cu. in) Bore x Stroke 62.0 mm x 41.2 mm Transmission 6-speed constant mesh Engine Power 11 kW (15 PS) Engine Torque N/A Overall Length 2,020 mm (79.5 in) Overall Width 700 mm (27.6 in) Overall Height 1,075 mm (42.3 in) Wheelbase 1,300 mm (51.2 in) Ground Clearance 160 mm (6.3 in) Seat Height 785 mm (30.9 in) Curb Mass 134 kg (295 lbs) Suspension Front Telescopic, coil spring, oil damped Rear Link type, coil spring, oil damped Brakes Front Disc (Petal) Rear Disc (Petal) Tires Front 90/80-17M/C, tubeless Rear 130/70-17M/C, tubeless Fuel Tank Capacity 11.0 L Metallic Triton Blue (YSF) (GSX-R125XA Only) A GSX-R to Revolutionize The Lightweight Class The Suzuki GSX-R line has defined sportbike performance for over 30 years, with more than a million sold worldwide.
So the dedicated Suzuki engineers who have devoted their lives to the GSX-R take their responsibilities very seriously: Every GSX-R must be very light and best performing motorcycle in its class, in an unbeatable package. Meet the revolutionary Suzuki GSX-R125, with the best power-to-weight ratio and acceleration in the 125cm3 class, plus nimble handling and great fuel economy. NEW LED headlights and LED position lights Reflecting its GSX-R heritage, the GSX-R125 features vertically stacked LED headlights, with the low beam above the high beam, and position lights on each side of the headlight.
The GSX-R125's LED headlights are bright and compact, lighter and longer lasting compared to conventional halogen-bulb headlights seen on competing machines. Dual-Exit Exhaust Muffler The high-performance exhaust system includes a dual-exit muffler. A catalytic converter helps the GSX-R125 meet the Euro4 emission standards, letting everyone breathe a little easier. Science of Engine Design There is a science to building high-performance engines, and the GSX-R125's DOHC engine could be used in a university textbook as an example of how to make a lot of power out of a very efficient and compact powerplant.
The objective is combustion efficiency, optimal balance of the sporty engine character and fuel economy. Key-Less Ignition System with Answer-Back Function The GSX-R125 features a convenient key-less ignition system, and the rider can start the engine as long as the compact key is close enough to the motorcycle. A button on the remote control activates an answer-back function, causing the turn signals to flash and making it easier to find the GSX-R125 in a crowded parking lot. Solid Black 50% Gloss (291) Brilliant White (YUH)
10 SUPER SPORT ULTIMATE SPORT STREET CRUISER SCOOTER OFF ROAD UTILITY ATV SPORT ATV KIDS ATV MOTOCROSS SPORT ADVENTURE TOURER GSX-R750 Truly A Class Of Its Own Experience a breathtaking combination of outstanding engine performance, nimble handling, compact size and light weight. Experience the GSX-R750 – the latest version of The Original GSX-R, the best choice for riders who appreciate a state-of-the-art 750cm3 engine combined with the compactness of a 600cm3 Supersport. The Top Performer In Its Class A lightweight chassis featuring a compact wheelbase and race-developed suspension. A compact, powerful 4-cylinder engine delivering a real-world demonstration of advanced race-proven technology.
The GSX-R600 – designed to be The Top Performer in its class, a total package designed to Own The Racetrack. Engine Type 4-stroke, 4-cylinder, liquid-cooled, DOHC Engine Displacement 749 cm3 (45.7 cu. in) Bore x Stroke 70.0 mm x 48.7 mm Transmission 6-speed constant mesh Engine Power 110,3 kW (150 PS) / 13,200 rpm Engine Torque 86.0 Nm / 11,200 rpm Overall Length 2,030 mm (79.9 in) Overall Width 710 mm (28.0 in) Overall Height 1,135 mm (44.7 in) Wheelbase 1,390 mm (54.7 in) Engine Type 4-stroke, 4-cylinder, liquid-cooled, DOHC Engine Displacement 599 cm3 (36.5 cu. in) Bore x Stroke 67.0 mm x 42.5 mm Transmission 6-speed constant mesh Engine Power 92 kW (125 PS) / 13,500 rpm Engine Torque 69.6 Nm / 11,500 rpm Overall Length 2,030 mm (79.9 in) Overall Width 710 mm (28.0 in) Overall Height 1,135 mm (44.7 in) Wheelbase 1,385 mm (54.5 in) Ground Clearance 130 mm (5.1 in) Seat Height 810 mm (31.9 in) Curb Mass 190 kg (419 lbs) Suspension Front Inverted telescopic, coil spring, oil damped Rear Link type, coil spring, oil damped Brakes Front Disc, twin Rear Disc Tires Front 120/70ZR17M/C (58W), tubeless Rear 180/55ZR17M/C (73W), tubeless Fuel Tank Capacity 17.0 L Ground Clearance 130 mm (5.1 in) Seat Height 810 mm (31.9 in) Curb Mass 187 kg (412 lbs) Suspension Front Inverted telescopic, coil spring, oil damped Rear Link type, coil spring, oil damped Brakes Front Disc, twin Rear Disc Tires Front 120/70ZR17M/C (58W), tubeless Rear 180/55ZR17M/C (73W), tubeless Fuel Tank Capacity 17.0 L Suzuki Drive Mode Selector (S-DMS) Functional instrument cluster 3-way adjustable footpeg Electronically controlled steering damper Front brake calipers (Brembo) Metallic Triton Blue (YSF) Metallic Triton Blue (YSF) Suzuki Drive Mode Selector (S-DMS) Front brake calipers (Brembo) 3-way adjustable footpeg GSX-R600