BEACH REPORT CARD - Heal the Bay
Page content transcription
If your browser does not render page correctly, please read the page content below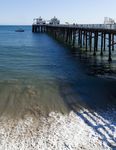 BEACH
REPORT
CARD
Heal the Bay is an environmental non-profit dedicated to making
the coastal waters and watersheds of Greater Los Angeles safe,
healthy and clean. To fulfill our mission, we use science, education,
community action and advocacy.
The Beach Report Card program is funded by grants from

©2018 Heal the Bay. All Rights Reserved. The fishbones logo is a trademark of Heal the Bay. The Beach
Report Card is a service mark of Heal the Bay.
We at Heal the Bay believe the public has the right to know the water quality at their beaches. We are proud
to provide West Coast residents and visitors with this information in an easy-to-understand format. We hope
beachgoers will use this information to make the decisions necessary to protect their health.
HEAL THE BAY                                   TABLE OF CONTENTS

         THE BEACH REPORT CARD

        SECTION I: INTRODUCTION

        EXECUTIVE SUMMARY....................................................................................4

        ABOUT THE BRC.................................................................................................5

        SECTION II: CALIFORNIA SUMMARY

        CALIFORNIA BEACH WATER QUALITY OVERVIEW................................8

        IMPACTS OF RAIN..............................................................................................11

        ANATOMY OF A BEACH: SPOTLIGHTS......................................................13

        CALIFORNIA BEACH BUMMERS................................................................ 20

        CALIFORNIA HONOR ROLL........................................................................... 22

        ANALYSIS BY BEACH TYPE.......................................................................... 24

        SECTION III: 2017-18 BEACH NEWS

        FEDERAL BUDGET CUTS............................................................................... 28

        STORMWATER MEASURE............................................................................. 29

        L.A. RIVER MONITORING AND
        PROGRESS ON PUBLIC NOTIFICATION.................................................... 29

        NOWCAST UPDATES....................................................................................... 30

        SECTION IV: WEST COAST COUNTY SUMMARIES

        COASTAL COUNTIES: CALIFORNIA............................................................ 32

        COASTAL COUNTIES: OREGON / WASHINGTON................................... 49

        SECTION V: APPENDICES

        A // HISTORY OF BEACH BUMMERS..........................................................53

        B1 // GRADES BY COUNTY: CALIFORNIA................................................. 54

        B2 // GRADES BY COUNTY: WASHINGTON............................................. 67

        C // FREQUENTLY ASKED QUESTIONS..................................................... 72

        D // METHODOLOGY........................................................................................ 74

        E // INDEX/BILLS.............................................................................................. 76

        G // ACKNOWLEDGEMENTS......................................................................... 78

HEAL THE BAY // 2017-2018 BEACH REPORT CARD                                                                                 3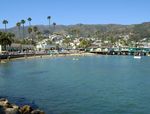 I. INTRODUCTION                         WELCOME

            executive summary

        After a remarkably wet winter in 2017, California experienced
        less than average rainfall this year, with only the northernmost
        counties receiving rain on average with historic levels. Rain-
        fall tends to impact beaches by flushing pollutants from streets
        and roadways into the ocean. Less rain meant wet weather
        beach grades saw overall improvements throughout the state.
        While summer dry weather grades were also excellent, winter             REPORT HIGHLIGHTS
        dry weather grades were worse than the five-year average.
        The Beach Bummer List holds a number of surprises this year.         Less rain led to improvements in
        Mother's Beach in Marina del Rey, which had been a Bummer                   wet weather grades
        for the past four years, fell off the List this year. San Mateo                  | Page 11 |
        County landed four Beach Bummers, including three new-to-
        the-List beaches: Linda Mar Beach, Roosevelt Beach, and Surf-
                                                                            Cowell Beach fell out of top three
        er's Beach. Cowell Beach in Santa Cruz County continues to           Beach Bummer List for the first
        show improvements, falling five spots to No. 8. Poche Beach in                 time ever
        Orange County claims the No. 1 Beach Bummer spot. This lo-                    | Page 18 |
        cation, which is situated directly in front of the Prima Deshecha
        Cañada Channel, makes its first appearance as a Beach Bum-           Poche Beach claims No 1. Beach
        mer since monitoring began in 2015 for "point zero" beach lo-       Bummer, demonstrates how storm
        cations. A record thirty-seven beaches made the Honor Roll list     drains impact beach water quality
                                                                                       | Page 20 |
        this year, more than any other year since Heal the Bay began
        tracking annual grades. Honor Roll beaches came from San
        Mateo, San Luis Obispo, Santa Barbara, Ventura, Los Angeles,        More beaches made the Honor Roll
        Orange, and San Diego Counties.                                         this year than ever before
                                                                                        | Page 22 |
        Looking to the future, Heal the Bay has partnered with Stanford
        University and UCLA on an innovative tool to predict beach
        water quality. We have designed predictive models, or beach          Federal BEACH ACT grant funds
        water quality 'NowCasting' tools, to predict daily water qual-         threatened by budget cuts
                                                                                       | Page 28 |
        ity based upon historic data and environmental information for
        a particular beach. Last summer Heal the Bay expanded the
        NowCast project from five to ten beaches and this summer
                                                                            The NowCast Predictive Modeling
        will see the launch of a new mobile app that will provide even        program continues to expand
        easier access to daily predictions of beach water quality.                    | Page 30 |

HEAL THE BAY // 2017-2018 BEACH REPORT CARD                                                                      4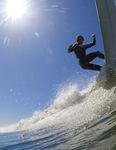 I. INTRODUCTION                         ABOUT THE BRC

THE 2017-18 BEACH REPORT CARD
Since its inception over 25 years ago, the Beach Report Card has provided
beachgoers with a reliable and easy-to-understand tool in analyzing beach
water quality. The better the grade a beach receives, the lower the risk of
illness to ocean users. The BRC is the result of an ongoing cooperation between
shoreline monitoring agencies in California, Oregon and Washington.

Beach water quality monitoring helps
protect the health of millions of beachgoers
in the U.S. each year by focusing
remediation efforts on areas of greatest
need and allowing the public to make
informed decisions about where to get
in the water. However, water quality
information must be accessible and easy
to understand for beachgoers to make
these decisions. Heal the Bay's Beach
Report CardSM Program uses an intuitive
A to F grading system to provide water
quality information to the millions of people
who use West Coast beaches. Simply put,
the better the grade, the lower the risk

HEAL THE BAY // 2017-2018 BEACH REPORT CARD                                       5

I. INTRODUCTION                            ABOUT THE BRC

Introduction (continued)

of illness to ocean users. This Annual
Report is a roundup of water quality
grades, rainfall totals, sewage spills, and
other pertinent water quality events that
occurred in the past year.

Grades in the Annual Report are
assigned for three distinct periods:
                                                          El Segundo Beach @ Grand Avenue drain
           SUMMER DRY WEATHER
           April through October 2017
          This is the most active beach
recreation season in California, and cor-
responds with sampling requirements
set by the California Beach Bathing Wa-
ter Quality Standards, Assembly Bill 411
(AB411).

           WINTER DRY WEATHER
           November 2017 through
           March 2018
Many Northern California counties do
not sample during the winter season due
to lower beach recreation. The winter
season is graded separately to account
for the lower number of counties con-                     Crystal Cove, Corona del Mar
ducting water quality sampling.

           YEAR-ROUND WET
           WEATHER CONDITIONS                   Grades are based on routine beach wa-
                                                                                                  BEACH REPORT CARD
           April 2017 through March 2018        ter quality sampling conducted by county
                                                health agencies, sanitation departments,
Wet weather is graded separately from
                                                and dischargers. Water samples are ana-      We at Heal the Bay believe the public
dry weather. Wet weather samples are
                                                lyzed for three fecal indicator bacteria     has the right to know the water quality
taken during or three days following
                                                (FIB) that indicate pollution from numer-       at their beaches. We are proud to
a rain event greater than 0.10 inches.
                                                ous sources, including human and ani-          provide West Coast residents and
Water quality typically drops dramati-
                                                mal waste. These FIB are total coliform,      visitors with this information in an
cally during or immediately following
                                                fecal coliform (Escherichia coli), and En-    easy-to-understand format. We hope
a rainstorm, but rebounds to previous
                                                terococcus spp.                               beachgoers will use this information
levels within a few days. Therefore, wet
weather grades are analyzed separately          For more information about grading            to make the decisions necessary to

in order to avoid artificially lowering a lo-   methodologies, please go to www.heal-                 protect their health.

cation's grade.                                 thebay.org, or call 1-800-HEAL BAY.

HEAL THE BAY // 2017-2018 BEACH REPORT CARD                                                                                            6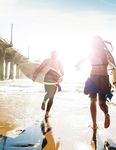 II. WEST COAST SUMMARY                             OVERVIEW

OVERVIEW OF CALIFORNIA
BEACH WATER QUALITY
California had excellent water quality during the summer dry season,
with 96% of beach locations receiving an A or B grade. Higher grades
are indicative of better water quality, and a lower health risk when
                                                                                           OVERVIEW // TABLES
recreating in the water. Winter dry grades were worse this year, with                      CALIFORNIA GRADES....................................... 10

only 77% receiving an A grade compared to the five-year average of                         NORTHERN CALIFORNIA GRADES............... 10
                                                                                           SOUTHERN CALIFORNIA GRADES............... 10
81%. California had a drier than average rainy season, with rainfall
                                                                                           2016-18 WET WEATHER GRADES................... 12
totaling 265 inches compared to a 10-year average of 319 inches
                                                                                           2016-18 COUNTY RAINFALL............................ 12
across the coastal counties. With less rainfall washing pollutants                         SANTA MONICA PIER........................................ 15
from our streets and roads into the ocean, wet weather grades                              CATALINA ISLAND.............................................. 15

improved over 10% compared to last year, with 66% A or B grades.                           MALIBU.................................................................. 15
                                                                                           ENCLOSED BEACHES ....................................... 15
Grades can be found in Appendix B.
                                                                                           2017-18 BEACH BUMMERS..............................20

NORTHERN CALIFORNIA                                                                        BEACH BUMMERS, HISTORY.......................... 21
                                                                                           BEACH BUMMERS, APPEARANCES............. 21
Northern California beach water quality was slightly worse this year, with summer and
winter dry grades below the five-year average. Eighty eight percent of beach locations     2017-18 HONOR ROLL.........................................22

had an A or B grade for the summer, while only 68% of beaches received an A or B for the   CALIFORNIA'S CLEANEST BEACHES...........23
winter dry season. Many Northern California counties only sample during the peak sum-      GRADES BY BEACH TYPE................................26

HEAL THE BAY // 2017-2018 BEACH REPORT CARD                                                                                                                        8
II. WEST COAST SUMMARY                              OVERVIEW
                                                                                                    BEACH BUMMERS

                                                                                              Four of the Top 10 Beach Bummers
                                                                                              are in San Mateo County including

West Coast Overview (continued)                                                                repeat offender Lakeshore Park
                                                SOUTHERN CALIFORNIA                             in Marina Lagoon. Three other

mer season from April through October,          Southern California beaches had a ban-          locations received poor grades,

so the sample size for winter dry grades        ner year in water quality. 95% of beach-         but did not crack the Top 10.

is not as robust. Wet weather grades            es earned A grades during the summer          Two of the Top 10 Beach Bummers

improved greatly compared to last year          dry season, 5% more than the five-year          came from Humboldt County.

and surpassed the five-year average,            average. Winter dry grades also fared               | See page 20 for details |

with only 27% of sampled locations earn-        well, with only 10% of beaches receiving
ing a C through F grade.                        a C through F grade. After an extremely
Northern California experienced nearly          wet year for Southern California in 2016-              BEACH NEWS
triple the amount of rainfall compared to       17, drought like conditions returned for
Southern California. However, the over-         this sampling year. With a reduced wet-
                                                                                              The President's budget proposed to
all amount was substantially less than          weather sampling size, 61% of sampling
                                                                                            eliminate funding for US EPA's BEACH
last year's rainfall total (approximately 182   locations received A or B grades, on par
                                                                                             Act funding. If eliminated, there is a
inches this year, 343 inches last year).        with the five-year average.
                                                                                             possibility that states may abandon
                                                                                            stronger beachgoer protections, or set
                                                                                            standards so low that public health will
                                                                                                       be put in danger.
                                                                                                    | See page 28 for details |

                                                                                                  LOS ANGELES RIVER

                                                                                                Heal the Bay is now monitoring
                                                                                            freshwater recreation areas in the L.A.
                                                                                              River and Santa Monica Mountains
                                                                                             and makes water quality information
                                                                                                   available to the public at:

          Long Beach @ 10th Street                                                           www.healthebay.org/riverreportcard
                                                                                                    | See page 29 for details |

                                                                                                  BEACH SPOTLIGHTS

                                                                                               Avalon Bay (Catalina Island) and
                                                                                             Santa Monica Pier, two locations that
                                                                                            have been featured prominently in the
                                                                                            Beach Report Card over the years, are
                                                                                                 featured in a progress report.
                                                                                                    | See page 13 for details |

HEAL THE BAY // 2017-2018 BEACH REPORT CARD                                                                                            9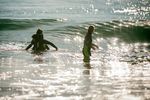 II. WEST COAST SUMMARY                                   OVERVIEW

FIGURE 2-1: CALIFORNIA GRADES (2017-2018)                              Key:
                                                                                                                                                          2% 1%1%

 Summer Dry (April - October 2017) 459 locations                                                                                       90%        6%

 Winter Dry (November 2017-March 2018) 315 locations                                                             77%             10%         6%		         6%

 Wet Weather 450 locations                                                    56%               10%        6%     6%                                    22%
                                                                                                                                                        3% 1% 2%

 Summer Dry (Five year average 2012-2017)                                                                                        89%          6%

                                                                                                                                                   2%
 Winter Dry (Five year average 2012-2017)                                                                              81%             8%    4%           5%

 Wet Weather (Five year average 2012-2017)                           50%                  12%          10%            7%                                21%

FIGURE 2-2: NORTHERN CALIFORNIA GRADES (2017-2018)
Combined grades for Santa Cruz, San Mateo, Alameda, San Francisco, Contra Costa, Marin, Sonoma, Mendocino, Humboldt, and Del Norte Counties

 Summer Dry (April - October 2017) 96 locations                                                        72%                        16%        5% 2%         5%

 Winter Dry (November 2017-March 2018) 44 locations                           55%                    14%          9% 2%                                 20%

 Wet Weather 118 locations                                                               61%               12%              9% 3%                       14%
                                                                                                                                                     1%

 Summer Dry (Five year average 2012-2017)                                                                                        86%    5%     4%         4%

 Winter Dry (Five year average 2012-2017)                                                                  74%              10%        5% 3%              8%

 Wet Weather (Five year average 2012-2017)                        48%               12%                12%                 11%                          17%

FIGURE 2-3: SOUTHERN CALIFORNIA GRADES (2017-2018)
Combined grades for Santa Barbara, Ventura, Los Angeles, Orange and San Diego Counties
                                                                                                                                                            1%1%

 Summer Dry (April - October 2017) 336 locations                                                                                              95% 3%
                                                                                                                                                     1%
 Winter Dry (November 2017-March 2018) 252 locations                                                              80%              10%        6%          4%

 Wet Weather 305 locations                                                53%            8%     4%         8%                                           27%
                                                                                                                                                          2% 1%1%

 Summer Dry (Five year average 2012-2017)                                                                                              91%        5%

 Winter Dry (Five year average 2012-2017)                                                                                  82%          8% 3% 2% 4%

 Wet Weather (Five year average 2012-2017)                           49%                 12%          9%         6%                                     24%

HEAL THE BAY // 2017-2018 BEACH REPORT CARD                                                                                                                 10
II. WEST COAST SUMMARY                                                  OVERVIEW

IMPACTS OF RAIN
Rain flushes contaminants and bacteria sources from our streets,                                                                         TAKEAWAYS
including trash, fertilizer, pet waste, metals, and automotive fluids,
into urban waterways. This untreated runoff drains directly into the                                                             Rain exacerbates pollution in our
                                                                                                                                streets and waterways and leads to:
ocean and results in elevated bacteria levels.
                                                                                                                                    • Poor water quality grades
                                                                                                                                         • Polluted runoff
The poor wet weather grades compared to dry weather grades demonstrates the impact
                                                                                                                               • Higher risk of illness to beachgoers
of stormwater runoff on beach water quality. Beachgoers who come in contact with
                                                                                                                                 • Loss of coastal tourism revenue
polluted waters have a much higher risk of contracting illnesses such as ear infections,
upper respiratory infections, skin rashes, and the stomach flu. California coastal Health
Departments and Heal the Bay recommend swimmers stay out of the water for a mini-
                                                                                                                                          HOT SPOTS
mum of three days following a rain event of at least 0.10 inches.
Beach visitors contribute to an estimated $90 billion coastal tourism economy1. There-                                          Four stretches of L.A. and Orange
fore, polluted beaches can result in significant economic losses. A study conducted in                                        Counties had excellent summer grades,
Los Angeles and Orange Counties found that the regional public health cost of gastro-                                          but "D" or "F" grades in wet weather:
intestinal illnesses caused by recreating in polluted ocean waters was between $21 and                                        HUNTINGTON / NEWPORT BEACHES
$51 million each year2.                                                                                                                   7 of 11 locations

                                                                                                                                     HUNTINGTON HARBOR
These economic and public health implications are why Heal the Bay advocates for bet-                                                     7 of 7 locations
ter stormwater capture and reuse. One inch of rainfall in Los Angeles can result in 10
                                                                                                                                         NEWPORT BAY
                                                                                                                                         22 of 23 locations
1 http://water.epa.gov/type/oceb/beaches/basicinfo.cfm                                                                                    LONG BEACH
2 Given, S. et al, Regional Public Health Cost Estimates of Contaminated Coastal Waters: A Case Study of Gastroenteritis at               14 of 15 locations
Southern California Beaches, 40 Environ. Sci. Technol. 4851 (2006)

HEAL THE BAY // 2017-2018 BEACH REPORT CARD                                                                                                                             11
II. WEST COAST SUMMARY                                            OVERVIEW

FIGURE 2-4: 2016-18 COUNTY RAINFALL AND HISTORIC LEVELS                                                                            2016-17       2017-18      Historic*
*Historic Levels reflect rainfall measured 1981-2010.                                                                             April–March   April-March

                                                                                                      Sonoma County                   57.35"       25.28"        31.49"
                                                                                                      San Francisco County            31.34"       15.80"        23.64"
60"      57.35                                                                                        Santa Cruz County               49.94"       18.33"        31.36"
                                                                                                      Monterey County                 26.10"       13.20"        21.16"
                                                49.94                                                 San Luis Obispo County          18.96"         7.61"       19.02"
50"
                                                                                                      Santa Barbara County            24.26"         9.04"       19.41"
                                                                                                      Los Angeles County              16.70"         4.27"       18.67"
40"                                                                                                   Orange County                   15.82"         1.77"       13.60"
                                                                                                      San Diego County                13.01"         6.74"       10.40"
                             31.34
30"
                  25.28                                          26.10
                                                                                                    24.26

                                                        18.33                     18.96
20"
                                     15.80                                                                            16.70            15.82
                                                                         13.20                                                                            13.01

10"                                                                                          7.61           7.59
                                                                                                                               4.27                               4.21
                                                                                                                                                 1.77
   0
           Sonoma          San Francisco       Santa Cruz         Monterey       San Luis Obispo Santa Barbara        Los Angeles        Orange           San Diego

Impacts of Rain (continued)                                 FIGURE 2-5: WET WEATHER GRADES FOR PAST TWO SEASONS
                                                                : A+B GRADES     : C+D+F GRADES
billion gallons of polluted runoff entering
the Santa Monica Bay3.                                               Open Ocean                     Storm Drain Beaches                     Enclosed Beaches
As climate change brings intensified pe-                         2016-17           2017-18           2016-17            2017-18            2016-17            2017-18

riods of drought and more extreme wet                             66%             89%                 52%                65%                28%               40%
weather events, there is great potential
for stormwater capture to alleviate some
of the stresses associated with rainfall
and ocean water quality. This fall, Los                                                                                                     72%
Angeles voters may get a chance to vote
on a funding measure to improve storm-                                                                                                                        60%
water capture across the county. Addi-
tional information on this measure can                                                                48%
be found on page 29 in the Beach News
section.                                                         34%                                                     35%

                                                                                   11%
3 http://dpw.lacounty.gov/prg/stormwater/page_30.cfm

HEAL THE BAY // 2017-2018 BEACH REPORT CARD                                                                                                                             12
II. WEST COAST SUMMARY                            OVERVIEW

                                                                                           Avalon Beach, Catalina Island

ANATOMY OF A BEACH: SPOTLIGHTS
As part of our ongoing effort in advocating for clean beach water quality, Heal the Bay
has worked with monitoring agencies, universities, and other organizations to help
counties improve the conditions of some of their chronically polluted beaches.
Avalon Beach in Catalina Island has shown vast improvements within the past few
years as a result of intensive remediation efforts, whereas Santa Monica Pier is
continuing to work towards improving the water quality at this popular beach location.

                                              Sewage-contaminated groundwater
             BEACH                            Stanford University conducted a study
             IMPROVEMENT                      on Avalon Beach during the summers of
             SPOTLIGHT                        2007 and 2008 and found human-spe-
 AVALON, CATALINA ISLAND                      cific bacteria in the water, with sewage
                                              contaminated groundwater as the major
HISTORICAL PROBLEMS OF                        source of beach pollution.
AVALON BEACH:                                 Water quality violations
Chronic Beach Bummer                          Los Angeles Regional Water Quality
Avalon's beaches have appeared on             Control Board issued the City of Avalon
Heal the Bay's Beach Bummer List 12           a Notice of Violation (NOV) for numer-
separate times, including five times in       ous Sanitary Sewer Overflows (SSO)
the No. 1 spot.                               and consistent water quality violations in

HEAL THE BAY // 2017-2018 BEACH REPORT CARD                                                                                13
II. WEST COAST SUMMARY                             OVERVIEW

Spotlights (continued)

2011, and a Draft Cease and Desist Order
(CDO) for illegally discharging polluted
water in 2012.
TMDL
Concurrently, the Board adopted a bac-
teria Total Maximum Daily Load (TMDL)
for Avalon Harbor.

STEPS TAKEN TO                                          Santa Monica Pier
IMPROVE THE BEACH:
Improvements and repairs
$5.7 million on sewer main improve-
                                              lon Beach have steadily improved, and         •   Installation of a new dry weather
ments and implementation of a GIS-
                                              currently, all five sites have A or A+ sum-       runoff diversion to replace the
based inspection and tracking system as
                                              mer dry grades.                                   previous faulty system
part of its sanitary sewer inspection and
repair program.                                                                             •   Installation of netting under the pier
                                                                                                to prevent birds from nesting
Routine inspections                                         CHRONICALLY
                                                                                            Two-year study
Private Sewer Laterals Ordinance, which                     POLLUTED BEACH
                                                                                            In 2012, Heal the Bay, UCLA, and the City
requires private laterals to be inspected                   SPOTLIGHT
                                                                                            of Santa Monica completed a two-year
and repaired routinely.
                                                  SANTA MONICA PIER                         source study and found that:
Protecting storm drains
                                                                                            •   Conditions under the pier (moisture
Water Quality Management Ordinance,
which prohibits restaurants and busi-         HISTORICAL PROBLEMS OF                            and lack of sunlight) promote

nesses along Avalon Bay from discharg-        SANTA MONICA PIER:                                bacterial persistence

ing and/or washing debris into the water,     Chronic Beach Bummer                          •   Bird-specific bacteria were detected
as well as a fats, oils and grease (FOG)      The Santa Monica Pier has been a chron-       •   Human-specific bacteria were
program to prevent FOG from restaurants       ic Beach Bummer, including the most re-           undetected
from entering and clogging the storm          cent five consecutive years.
drain system.
                                                                                            RESULTS:
Education                                     STEPS TAKEN TO                                Construction is underway on a 1.6 million
Development of a beach water pollution        IMPROVE THE BEACH:                            gallon underground stormwater storage
and prevention education program.
                                              Santa Monica Pier Improvement Project         tank which will capture wet weather run-
Bird Feces                                    With funding from Measure V and a             off that drains to the Santa Monica Pier
Implementation of bird control measures       Clean Beach Initiative (CBI) grant, the       storm drain. This water will be treated
at and around the beach.                      Santa Monica Pier Improvement project         and distributed throughout the city for
                                              was completed in 2011 and included:           non-potable reuse.
RESULTS:                                      •   Replacement of a severely degraded        When completed, the project is expect-
Since the implementation of these mea-            storm drain underneath the Santa          ed to substantially reduce the amount
sures, Avalon Beach has not appeared              Monica Pier. The new storm drain          of stormwater that enters Santa Monica
on the Bummer List since 2013.                    was designed to reduce or eliminate       Bay from city streets and therefore im-
The five sampling locations around Ava-           ponding of runoff under the pier          prove water quality at the pier.

HEAL THE BAY // 2017-2018 BEACH REPORT CARD                                                                                          14
II. WEST COAST SUMMARY                                                 OVERVIEW

TABLE 2-1: HISTORICAL GRADES OF THE SANTA MONICA MUNICIPAL PIER
                                         2017-18                      2016-17                       2015-16                           2014-15                          2013-14                          2012-13
                                Summer    Winter    Wet      Summer    Winter     Wet      Summer    Winter        Wet       Summer    Winter        Wet      Summer    Winter     Wet      Summer       Winter        Wet
 Monitoring Locations             Dry      Dry     Weather     Dry      Dry      Weather     Dry      Dry         Weather      Dry      Dry         Weather     Dry      Dry      Weather     Dry         Dry         Weather

 Santa Monica Pier                D        F         F           D      F          F         F           F          F            F      F             F         D          F          F         B         F               F

TABLE 2-2: SUMMER WATER QUALITY TRENDS IN AVALON BAY, CATALINA ISLAND

 Monitoring Locations                                     2017-18           2016-17              2015-16                2014-15             2013-14              2012-13              2011-12              2010-11

 East of Casino Arch                                          A                  A                   A                       A                  C                      F                    F                     F

 Avalon, 100 ft. west of Pier                                 A                  A                   A                       B                  B                      F                    F                     F

 Avalon, 50 ft. west of Pier                                  A+                 A                   B                       C                  B                      F                    F                     F

 Avalon, 50 ft. east of Pier                                  A+                 A                   A                       A                  C                      F                    F                     F

 Avalon, 100 ft. east of Pier                                 A                  A                   A                       A                  A                      D                    D                     D

TABLE 2-3: SUMMER WATER QUALITY TRENDS IN MALIBU
 Beach/County                                            2017-18       2016-17         2015-16        2014-15               2013-14      2012-13              2011-12      2010-11          2009-10           2008-09

Paradise Cove @ Ramirez Canyon Creek                         A              A               A                 A+                 A+             C                B               D              B                     F

Escondido State Beach @ Escondido Creek                      A+             A+              A+                A                  A              C                F               A              A                     F

Dan Blocker County Beach @ Solstice Canyon                   A+             A+              A+                A                  A              B                F               C              B                     F

Puerco Beach @ Marie Canyon                                  B              A+              A                 B                  A              B                F               D              B                     F

Surfrider Beach                                              A              A               A                 A                  B              B                F               B              C                     D

Malibu Pier, 50 yards east                                   A+          n/a               n/a                A                  C              F                F               B              B                     B

TABLE 2-4: SUMMER WATER QUALITY TRENDS AT LOS ANGELES COUNTY'S ENCLOSED BEACHES

 Beach/County                                            2017-18       2016-17         2015-16        2014-15               2013-14      2012-13              2011-12          2010-11      2009-10           2008-09

Mother's Beach – Playground Area
                                                             A              A               C                 F                  A              B                A                A                 C                 A
Marina del Rey
Mother's Beach – Lifeguard Tower
                                                             A              A               B                 F                  B              A                A                A                 A                 A
Marina del Rey
Mother's Beach – bet. Tower and Boat Dock
                                                             A              D               F                 F                  F              A                A                A                 B                 A
Marina del Rey

Cabrillo Beach – harborside @ restrooms                      D              B               A                 D                  F              F                F                F                 F                 F

HEAL THE BAY // 2017-2018 BEACH REPORT CARD                                                                                                                                                                                   15
II. WEST COAST SUMMARY                            OVERVIEW

      El Matador State Beach

                                              GRADES: THE GOOD & THE BAD
                                              Each year Heal the Bay highlights California's cleanest and dirtiest
                                              beaches. To earn a spot on the Honor Roll, a beach must be monitored
                                              year-round and have received only exceptional (A+) grades during
                                              all seasons and weather conditions. Monitoring locations with
                                              the poorest dry weather water quality during the past summer are
                                              designated as "Beach Bummers."

                                              2018 California Top 10 Beach Bummers
                                              1. Poche Beach at ocean outlet                 San Clemente    Orange County
                                              2. Lakeshore Park, Marina Lagoon               San Mateo       San Mateo County
                                              3. Linda Mar Beach at San Pedro Creek          Pacifica        San Mateo County
                                              4. Clam Beach County Park
                                                 near Strawberry Creek                       McKinleyville   Humboldt County
                                              5. Roosevelt Beach, south of the parking lot   Half Moon Bay   San Mateo County
                                              6. Luffenholtz Beach near Luffenholtz Creek    Trinidad        Humboldt County
                                              7. Santa Monica Municipal Pier                 Santa Monica    Los Angeles County
                                              8. Cowell Beach, west of the wharf             Santa Cruz      Santa Cruz County
                                              9. Cabrillo Beach, harborside                  San Pedro       Los Angeles County
                                              10. Surfer's Beach, south end of riprap        Half Moon Bay   San Mateo County

HEAL THE BAY // 2017-2018 BEACH REPORT CARD                                                                                    16
II. WEST COAST SUMMARY                                                      BEACH BUMMERS

Orange County
                                                                     tions on the beach and constructing the                                    cha Cañada channel is a "point zero"
 1    Poche Beach, channel outlet                                    Poche Clean Beach Project (Poche CBP),                                     beach site. During the summer season,
The only Orange County location to make                              a water treatment facility that uses sand                                  the Poche CBP experienced increased
the Beach Bummer List this year is Poche                             and an ultraviolet light process to reduce                                 shutdown times due to facility repairs,
Beach at the outlet of the Prima Deshecha                            bacteria concentrations prior to discharge                                 maintenance requirements, and high
Cañada channel. This location should not                             into the ocean.                                                            tide and rain events. Higher sediment
be con­fused with the other Poche Beach                              Begin­ ning in March 2015, all Califor-                                    discharges into the facility also reduced
lo­cation, which sits 100 feet north and is a                        nia agen­ cies that receive state funds                                    its treatment efficiency. These impacts
former perennial Beach Bummer that has                               for ocean water quality monitoring are                                     affected ocean water quality monitor-
shown vast water quality improve­ments                               required to sample at "point zero" lo-                                     ing results at the channel outlet. By mid-
over the last few years due to intensive                             cations, which are beach sites where a                                     summer, a majority of these issues were
efforts by the County. These improve-                                stream, creek, river, or storm drain dis-                                  resolved through a collaborative effort
ment projects include implementing a bird                            charge meets the ocean water. Poche                                        among enforcement staff and monitor-
abatement service to reduce gull popula-                             Beach at the outlet of the Prima Deshe-                                    ing, operational, and city inspections.

TABLE 2-5: POCHE BEACH GRADES, HISTORICAL
Poche Beach historical water quality before and after grading were split into two separate monitoring locations.

 Poche Beach                  2017-18                    2016-17                2015-16                       2014-15                     2013-14                    2012-13                    2011-12
 monitoring          Summer    Winter    Wet    Summer    Winter    Wet    Summer   Winter    Wet    Summer    Winter     Wet    Summer    Winter    Wet    Summer    Winter    Wet    Summer    Winter    Wet
 locations             Dry      Dry     Weather   Dry      Dry     Weather   Dry     Dry     Weather   Dry      Dry      Weather   Dry      Dry     Weather   Dry      Dry     Weather   Dry      Dry     Weather

 100 ft. north of
                       A        A        A+      A+        A+       A+      A        A         A
 creek outlet
                                                                                                       A        A          F      B         A         B       F        D         D       F        F         F
 Point Zero:
                        F       F         F      A         A         F      A        B       n/a
 Creek outlet

         PLEASE NOTE:        Starting in 2015, the SWRCB required all coastal counties receiving state funds to monitor their beaches at point zero – where the discharge meets
         the ocean. Prior to monitoring year 2015-16, only Los Angeles County (and portions of Orange, San Diego, and Humboldt Counties) sampled directly at the outfall, which
         gives the most accurate picture of water quality.

FIGURE 2-6: POCHE BEACH MONITORING LOCATIONS

     Poche Beach                               Prima Deshecha Cañada                                                    Poche Clean Beach Project                      Barrier at channel exit,
     monitoring location 100 ft.               Channel outlet at Poche Beach                                            cleans, filters and diverts                    yet still harbors some
     north of creek outlet                     (point zero)                                                             urban runoff                                   bacteria-laden water.

HEAL THE BAY // 2017-2018 BEACH REPORT CARD                                                                                                                                                                   17
II. WEST COAST SUMMARY                            BEACH BUMMERS

Beach Bummers (continued)

Los Angeles County
 7   Santa Monica Municipal Pier
 9   Cabrillo Beach
Santa Monica Pier appears on the Beach
Bummer List for the fifth consecutive
time at No. 7. A study conducted by Heal
the Bay, the City of Santa Monica, and
UCLA found that conditions under the                   Cowell Beach, Santa Cruz
Pier, including moisture and lack of sun-
light, coupled with bird-specific bacteria,
contribute to the Pier's poor water quali-
ty. The City of Santa Monica is construct-
ing an underground storage tank that
will capture wet weather runoff from the
Santa Monica Pier storm drain. This proj-
ect is expected to reduce the amount
of polluted stormwater that enters the
Santa Monica Bay near the Pier. Cabrillo
Beach in Long Beach returns to the Bum-
mer List after a two-year reprieve. This
enclosed beach has poor water circula-
tion and minimal wave action, which con-
tributes to its elevated bacteria levels.
                                                       Lakeshore Park, Marina Lagoon (see page 19)
A Microbial Source Tracking (MST) study
conducted by the County found that the
majority of the FIB was avian related.        After three years of claiming the No. 1     steel netting under the wharf to prevent
Additionally, some aging infrastructure       spot, and dropping down to No. 3 last       bird roosting, which resulted in two con-
around the beach was replaced after the       year, Cowell Beach continues to show        secutive years of approximately 50%
study also found human genetic markers.       improvements in water quality. The City     fewer exceedances since 2016.
However, additional monitoring should         of Santa Cruz has taken measures to re-     This past year, the city and the Working
be conducted to determine if this will        duce beach garbage and improve storm        Group engaged a Technical Advisory
lower bacteria concentrations at Cabrillo.    drain flows near Cowell Beach. Addi-        Committee (TAC) to ensure the best
                                              tionally, the City launched the Cowell      available science is used to locate and
                                              Working Group, including participants       eliminate bacteria sources. The Work-
Santa Cruz County
                                              from the County of Santa Cruz and local     ing Group is currently reviewing recom-
 8   Cowell Beach, west of the wharf          nonprofits and environmental organiza-      mended improvement actions from the
Cowell Beach makes its ninth consecu-         tions, to address water quality issues at   TAC for prioritization and implementa-
tive appearance on the Beach Bum-             Cowell Beach. Based on the group's          tion, including infrastructure improve-
mer List, taking the No. 8 spot this year.    recommendation, the City installed          ments and the use of MST methods.

HEAL THE BAY // 2017-2018 BEACH REPORT CARD                                                                                     18
II. WEST COAST SUMMARY                                  BEACH BUMMERS

Beach Bummers (continued)

San Mateo County
 2    Lakeshore Park, Marina Lagoon
 3    Linda Mar Beach, San Pedro Creek
 5    Roosevelt Beach
10 Surfer's Beach
Four sites from San Mateo County land-
ed on the Beach Bummer List this year.
                                                            Luffenholtz Beach
Lakeshore Park in Marina Lagoon makes
its second consecutive appearance on
the list, up two spots from last year to No.       to monitor these locations in order to de-        near Luffenholtz Creek makes its second
2. Lakeshore Park is an enclosed beach             termine whether further action is needed          appearance on the Bummer List, moving
site, where poor circulation can result            to identify the sources of contamination.         up three from last year's No. 9 spot. Beach
in higher bacteria concentrations. Dur-
                                                                                                     sites located at or near flowing freshwater
ing the summer season, there were two              Humboldt County                                   streams often have elevated bacteria lev-
major exceedances in Enterococcus lev-
                                                    4 Clam Beach County Park,                        els due to pollution sources located along
els, and eight exceedances in fecal coli-               near Strawberry Creek
                                                                                                     the stream (see page 25). Potential sourc-
form levels. Linda Mar Beach, Roosevelt             6   Luffenholtz Beach,
                                                        near Luffenholtz Creek                       es of pollution for Clam Beach include
Beach, and Surfer's Beach are new to
the Bummer List this year. All three are           This is Clam Beach's fifth consecutive            private septic systems located along its
located on the Pacific side of San Mateo           year on the Beach Bummer List, mov-               two creeks. The Humboldt County Public
County, and all are storm-drain impacted           ing down four spots from last year's No.          Health Lab is conducting ongoing Bacte-
beaches. The majority of the bacteria ex-          1 spot. Clam Beach is fed by two creeks,          roides testing to identify the sources of
ceedances at these locations correlated            Patrick Creek to the north, and Strawberry        contamination including if they originate
with high tides. The County is continuing          Creek from the south. Luffenholtz Beach           from humans or animals.

     FIGURE 2-7:
     SAN MATEO COUNTY
     Linda Mar Beach, Pacifica                 F    F       F                      PACIFICA
     Montara State Beach                       C            B
     Moss Beach, Fitzgerald Marine Res.        C    F       F
     Pillar Point, #8 Mavericks Beach          B    F       F                                                   SAN MATEO
                                                                                 MONTARA
     Pillar Point Harbor                       B    F       F
     Surfer's Beach                            D    F       C
     Roosevelt Beach                           F    F       F
     Dunes Beach                               A    D       B
                                                                                              HALF
     Venice Beach                              C    F       F                                 MOON
     Francis Beach                             B    C       A                                  BAY

     Marina Lagoon, Aquatic Park               B            F
     Marina Lagoon, Lakeshore Park             F            F

HEAL THE BAY // 2017-2018 BEACH REPORT CARD                                                                                                  19
II. WEST COAST SUMMARY                            BEACH BUMMERS

                                                                                                            FIGURE 2-8

Heal the Bay designates the
monitoring locations with the
                                                    RANK       BEACH/COUNTY
poorest dry weather water quality in
California during the past summer                             Poche Beach at channel outlet, San Clemente
                                                       1      ORANGE COUNTY
as annual "Beach Bummers."
                                                              Lakeshore Park, Marina Lagoon, San Mateo
                                                       2      SAN MATEO COUNTY
BEACH BUMMER NOTES:
                                                              Linda Mar Beach at San Pedro Creek
POCHE BEACH at the Prima Deshecha
                                                       3      SAN MATEO COUNTY
Cañada channel outlet is the No. 1 Beach
                                                              Clam Beach County Park, McKinleyville
Bummer this year. In 2015 Poche Beach was              4      HUMBOLDT COUNTY
split into two separate monitoring locations
to clarify its sampling results (see page 17).                Roosevelt Beach, Half Moon Bay
                                                       5      SAN MATEO COUNTY
SANTA MONICA PIER, CLAM BEACH and
COWELL BEACH have been on the Beach                           Luffenholtz Beach, Trinidad
                                                       6      HUMBOLDT COUNTY
Bummers Top 10 List for the past five years
(see Table 2-7 on page 21).                                   Santa Monica Pier, Santa Monica
                                                       7      LOS ANGELES COUNTY
COWELL BEACH drops to No. 8 after having
been ranked in the Top 3 since 2010.                          Cowell Beach, west of Wharf, Santa Cruz
                                                       8      SANTA CRUZ COUNTY
CABRILLO BEACH is back in the Top 10
after not being on the List for two years.                    Cabrillo Beach, harborside, San Pedro
Previously it had been a Beach Bummer                  9      LOS ANGELES COUNTY
every year from 2004–2015.
                                                              Surfer's Beach, Half Moon Bay
Four of the Top 10 Beach Bummers are in
                                                      10      SAN MATEO COUNTY
SAN MATEO COUNTY including repeat
offender Lakeshore Park in Marina Lagoon.
Three other locations received poor grades,       In 2008-09, several MALIBU beaches from
but did not crack the Top 10.                     Surfrider to Paradise Cove were Beach
                                                  Bummers. Today, those same beaches enjoy
Two of HUMBOLDT COUNTY's six monitored
                                                  excellent summer water quality
beaches have made the Beach Bummers list.
                                                  (see Table 2-3 on page 15).
One other location also received poor grades,
but did not make the Top 10.                      MOTHER'S BEACH IN MARINA DEL REY
                                                  dropped out of the Top 10 for the first time
The beaches in AVALON, CATALINA ISLAND
                                                  since 2013.
have appeared on Heal the Bay's Beach
Bummer List 12 times, including five times        Two of last year's Beach Bummers,
in the No. 1 spot. Since water improvement        SAN CLEMENTE PIER and MONARCH
measures were implemented, it has not             BEACH NORTH, received poor grades this
appeared on the List since 2013. (see page 13).   year but did not make the Top Ten.

HEAL THE BAY // 2017-2018 BEACH REPORT CARD                                                                        20
II. WEST COAST SUMMARY                                              BEACH BUMMERS

TABLE 2-6: 2017-18 BEACH BUMMERS – RECENT HISTORY

                                                         2017-18                       2016-17                      2015-16                       2014-15                       2013-14
                                                Summer    Winter    Wet      Summer     Winter    Wet      Summer    Winter     Wet      Summer     Winter    Wet      Summer       Winter     Wet
 2017-18 Beach Bummers                            Dry      Dry     Weather     Dry       Dry     Weather     Dry      Dry      Weather     Dry       Dry     Weather     Dry         Dry      Weather

     Poche Beach @ Creek, San Clemente
 1                                                F        F         F         A         A           F       A        B         n/a          A       A         F         B           A          B
     Orange County

     Lakeshore Park, Marina Lagoon
 2                                                F       n/a        F         F         B           F       C        B          F           F       C         F         F           F          F
     San Mateo County

     Linda Mar Beach, Pacifica
 3                                                F        F         F         C         A           F       A        C          F           B       C         F         A          A+          D
     San Mateo County

     Clam Beach County Park
 4                                                F       n/a        C         F        n/a          F       F       n/a         F           F      n/a       n/a        D          n/a        n/a
     Humboldt County

     Roosevelt Beach, Half Moon Bay
 5                                                F        F         F         A         A           D       A        A+         D           A+     A+         C        A+           A          A
     San Mateo County

     Luffenholtz Beach,
 6                                                F       n/a        D         D        n/a          C       C       n/a         D           A      n/a       n/a        A          n/a        n/a
     Humboldt County

     Santa Monica Pier
 7                                                D        F         F         D         F           F       F        F          F           F       F         F         D           F          F
     Los Angeles County

     Cowell Beach, Santa Cruz
 8                                                D        B         B         F         A           F       F        A+         D           F       F         C         F          n/a        A+
     Santa Cruz County

     Cabrillo Beach (@ restrooms)
 9                                                D        F         F         B         B           F       A        A          D           D       B         F         F           D          F
     Los Angeles County

     Surfer's Beach, Half Moon Bay
10                                                D        F         C         A         A           C       A       n/a        A+           A      A+         B         A          A+          B
     San Mateo County

         PLEASE NOTE:        Starting in 2015, the SWRCB required all coastal counties receiving state funds to monitor their beaches at point zero – where the discharge meets
         the ocean. Prior to monitoring year 2015-16, only Los Angeles County (and portions of Orange, San Diego, and Humboldt Counties) sampled directly at the outfall, which
         gives the most accurate picture of water quality.

TABLE 2-7: MOST BEACH BUMMER APPEARANCES DURING LAST DECADE

                                               Number of           2017-18     2016-17       2015-16       2014-15    2013-14        2012-13      2011-12     2010-11     2009-10            2008-09
 Beach/County                                 appearances           Rank        Rank          Rank          Rank       Rank           Rank         Rank        Rank        Rank               Rank

Cowell Beach, Santa Cruz                           9                  8            3             1           1             1             2           2             1            2

Cabrillo Beach at restrooms                        8                  9                                      9             4             4           6             3            3              2

Santa Monica Pier                                  7                  7            6             5           6             7                                                    5              5

Poche Beach, San Clemente                          6                  1                                                                  3           8             5            4              7

Clam Beach County Park                             5                  4            1             2           3             6

Marina Lagoon, Lakeshore Park                      5                  2            4                         4             2             6

HEAL THE BAY // 2017-2018 BEACH REPORT CARD                                                                                                                                                         21
II. WEST COAST SUMMARY                         HONOR ROLL BEACHES

                                                                                                                    FIGURE 2-9

To earn a spot on the Honor Roll,
a beach must be monitored weekly
                                                 CITY                COUNTY            MONITORING LOCATION
year-round, and have received only
exceptional (A+) grades during all               San Simeon          San Luis Obispo   Pico Avenue
                                                 Morro Bay           San Luis Obispo   Morro Bay City Beach
seasons and weather conditions.
                                                 Isla Vista          Santa Barbara     Sandes Beach @ Coal Oil Point
                                                 Oxnard              Ventura           Surfer's Knoll
HONOR ROLL NOTES:
                                                 Oxnard              Ventura           Hollywood Beach @ Los Robles St.
                                                 Oxnard              Ventura           Silver Strand @ San Nicholas Ave.
Malibu beaches have shown steady                 Oxnard              Ventura           Silver Strand @ Santa Paula Dr.
improvement in summer grades over the            Malibu              Los Angeles       El Matador State Beach
past decade (see page 15). Two of them,          Malibu              Los Angeles       Escondido State Beach
former Beach Bummers ESCONDIDO STATE             Malibu              Los Angeles       Dan Blocker County Beach
BEACH and DAN BLOCKER STATE BEACH,
                                                 Malibu              Los Angeles       Las Tunas County Beach
are on this year's Honor Roll.
                                                 El Segundo          Los Angeles       El Segundo Beach @ Grand Ave.
With wet weather grades dropping to a "B",       Palos Verdes Est.   Los Angeles       Bluff Cove
the beach at LAGUNA LIDO APTS has fallen         R. Palos Verdes     Los Angeles       Abalone Cove Shoreline Park
off the Honor Roll after a continuous run        R. Palos Verdes     Los Angeles       Portuguese Bend Cove
starting in 2009.                                Newport Beach       Orange            Balboa Beach @ 15th/16th St.
                                                 Newport Beach       Orange            Balboa Beach Pier
Two Southern California regions,
                                                 Newport Beach       Orange            Corona Del Mar (CSDOC)
PALOS VERDES PENINSULA (between Bluff
                                                 Newport Beach       Orange            Crystal Cove (CSDOC)
Cove and Portuguese Bend) and CARLSBAD
(between Cerezo Drive and Pointsettia), have
                                                 Laguna Beach        Orange            Victoria Beach
consistently appeared on the Honor Roll
                                                 Laguna Beach        Orange            North Aliso County Beach
(see page 23).                                   Dana Point          Orange            Salt Creek Beach
                                                 Dana Point          Orange            Dana Strands Beach (AWMA)
EL SEGUNDO BEACH at the Grand Avenue             Dana Point          Orange            Marine Science Inst. Beach (SERRA)
drain, adjacent to the Hyperion Water            Dana Point          Orange            S. Capistrano Bay Community Beach
Treatment Plant, is the only Los Angeles         San Clemente        Orange            Riviera Beach
County location outside of Malibu and Palos
                                                 San Clemente        Orange            Avenida Calafia
Verdes Peninsula to make the Honor Roll.
                                                 San Clemente        Orange            Avenida Las Palmeras
Despite 13 of 19 monitoring locations in San     Dana Point Harbor   Orange            Dana Point Harbor Youth Dock
Mateo County failing to get an "A" summer        Oceanside           San Diego         500'N. of Loma Alta Creek outlet
grade, BEAN HOLLOW STATE BEACH has               Carlsbad            San Diego         projection of Cerezo Drive
been excellent all year round and has landed     Carlsbad            San Diego         projection of Palomar Airport Rd.
on the Honor Roll.                               Carlsbad            San Diego         Encina Creek outlet
                                                 Carlsbad            San Diego         projection of Ponto Drive
Enclosed beaches are susceptible to high
                                                 Carlsbad            San Diego         projection of Poinsettia Lane
bacteria counts, but the YOUTH DOCK IN
DANA POINT HARBOR defies the odds and is
                                                 Encinitas           San Diego         San Elijo Park, north end of stairs
on the Honor Roll.
                                                 Encinitas           San Diego         San Elijo St. Park (proj. Liverpool Dr.)

HEAL THE BAY // 2017-2018 BEACH REPORT CARD                                                                                       22
II. WEST COAST SUMMARY                                         HONOR ROLL BEACHES

TABLE 2-8: CALIFORNIA'S CLEANEST BEACHES FOR WATER QUALITY
u = Honor Roll    = Year Round good or excellent grades      = Inconsistent or poor grades     n/a   = Partial or unavailable grades         = Beach Bummer

 County/Beach                                                                                2017-18      2016-17 2015-16 2014-15 2013-14 2012-13 2011-12 2010-11

San Mateo         Bean Hollow State Beach                                                      u                                                u       n/a   n/a   n/a
San Luis Obispo   Morro Bay City Beach, 75' north of main parking lot                          u             u                         u
Santa Barbara     Isla Vista – Sands Beach @ Coal Oil Point                                    u             n/a
Ventura           Surfer's Knoll (adjacent to parking lot)                                     u                                       u                 u
Ventura           Hollywood Beach @ Los Robles Street                                          u                         u             n/a      n/a      u
Ventura           SIlverstrand @ San Nicholas Avenue                                           u                                       n/a      n/a                 u
Ventura           Silverstrand @ Santa Paula Drive                                             u                                       n/a      n/a           u     u
Los Angeles       Malibu – El Matador State Beach @ Encinal Canyon                             u             u           u                                    u
Los Angeles       Malibu – Escondido State Beach @ Escondido Creek                             u                         u
Los Angeles       Malibu – Dan Blocker County Beach @ Solstice Canyon                          u                                                u
Los Angeles       Malibu – Las Tunas County Beach @ Pena Creek                                 u             n/a        n/a                     u        u          u
Los Angeles       Dockweiler State Beach @ Grand Avenue                                        u
Los Angeles       Palos Verdes Peninsula – Bluff Cove                                          u             u                         u                 u    u     u
Los Angeles       Palos Verdes Peninsula – Abalone Cove                                        u                         u             u        u        u    u     u
Los Angeles       Palos Verdes Peninsula – Portuguese Bend Cove                                u             u           u             u        u
Orange            Balboa Beach, projection of 15th/16th Street                                 u
Orange            Balboa Beach Pier                                                            u
Orange            Corona Del Mar (CSDOC)                                                       u
Orange            Crystal Cove (CSDOC)                                                         u
Orange            Laguna Beach – Victoria Beach                                                u                         u                                    u
Orange            Laguna Beach – North Aliso County Beach                                      u             u                                                u     u
Orange            Dana Point – Salt Creek Beach                                                u
Orange            Dana Point – Dana Strands Beach (AWMA)                                       u
Orange            Dana Point – Marine Science Institute Beach (SERRA)                          u                         u                                          u
Orange            S. Capistrano Bay Comm. Beach (10000' S of SERRA Outfall)                    u                         u
Orange            San Clemente – Riviera Beach                                                 u                        n/a            n/a      n/a     n/a   n/a   n/a
Orange            San Clemente @ Avenida Calafia                                               u                         u                      u                   u
Orange            San Clemente @ Avenida Las Palmeras                                          u             n/a         u                                          u
Orange            Dana Point Harbor – Youth Dock                                               u                         u             u        n/a     n/a   n/a   n/a
San Diego         Oceanside, 500' N. of Loma Alta Creek                                        u
San Diego         Carlsbad, projection of Cerezo Drive                                         u             u           u             n/a      u        u    u     u
San Diego         Carlsbad, projection of Palomar Airport Rd.                                  u             u           u             n/a               u    u     u
San Diego         Carlsbad, Encina Creek outlet                                                u             u           u             n/a      u        u
San Diego         Carlsbad, projection of Ponto Drive                                          u             u           u             n/a      u             u
San Diego         Carlsbad, projection of Poinsettia Lane                                      u             u           u             n/a      u             u
San Diego         Encinitas – San Elijo State Park, north end of stairs                        u             u           u             u                      u     u

HEAL THE BAY // 2017-2018 BEACH REPORT CARD                                                                                                                             23
II. WEST COAST SUMMARY                         ANALYSIS BY BEACH TYPE

       San Clemente Pier

   2017-18                                                  OPEN OCEAN VS.
                                                            STORM DRAIN VS.
   Beaches
  with Good
   (A or B)
   Grades        Open Ocean
                  Beaches
                                Storm Drain
                                 Impacted
                                               Enclosed
                                              Waterbodies   ENCLOSED BEACHES
                                                            California's beach grades were separated
                100% 93%                      98%           and compared by beach type to determine
  Summer Dry                                                if differences existed in water quality at
                                                            various beaches.

                 95%            84%           83%           Beaches were divided into three categories:
                                                            1) Open Ocean beaches
   Winter Dry
                                                            2) Storm Drain-impacted beaches
                                                            3) Enclosed Beaches
                 89%            65%           40%           Grades were separated for all three time periods:
  Wet Weather
                                                            1) Summer Dry season (April through October)
                                                            2) Winter Dry weather (November through March)
                                                            3) Year-round Wet Weather conditions

HEAL THE BAY // 2017-2018 BEACH REPORT CARD                                                                     24
II. WEST COAST SUMMARY                               ANALYSIS BY BEACH TYPE

                                                                                    LUFFENHOLTZ CREEK
                                   PATRICK CREEK

                                            STRAWBERRY CREEK

                                                                                                                    DANA'S CREEK

         Clam County Beach                                                       Luffenholtz Beach

OPEN OCEAN BEACHES                              California began to require that all moni-
Open ocean beaches with no known pol-           toring agencies in the California Beach
lution sources most often exhibit excel-        Program sample at point-zero begin-
lent summer dry weather grades.                 ning in the summer of 2015. Monitoring
2017-18 Findings                                at point-zero provides the most accurate
                                                picture of coastal water quality based                   BEACH BUMMERS
•   100% of open ocean beaches earned
                                                upon storm drain inputs. (Note: eight of
    A grades for summer dry weather.
                                                the top ten Beach Bummers in California                All ten of this year's Top Ten
•   Winter dry weather grades at open
                                                are storm drain, creek or river impacted             Beach Bummers are enclosed or
    ocean beaches were also excellent,
                                                beaches.)                                             storm drain impacted beaches.
    with 95% A or B grades.
•   Wet weather grades improved to              Heal the Bay recommends that beach
    89% A or B grades, from last year's         users never swim in coastal waters with-
                                                in 100 yards on either side of a flowing
    low of 66%.                                                                                          TYPES VS. GRADES
                                                storm drain or creek for at least three
STORM DRAIN IMPACTED                            days following a significant rain event.
                                                                                                 Beach types are a useful indicator of
BEACHES                                         2017-18 Findings                                 water quality conditions at specific
Storm drain impacted beaches are those          •   Storm drain impacted beaches had            beach locations. Open ocean beaches
adjacent to a creek, river or storm drain           great water quality in summer dry            often score higher grades due to less
(natural or concrete). Monitoring pro-              weather, with 93% A or B grades.                 urban pollution runoff and higher
grams collect samples where the storm           •   Winter dry weather grades at storm               mixing rates compared to storm
drain or waterbody meets the ocean,                 drain impacted beaches scored 6%            drain impacted beaches and enclosed
also known as "point-zero" locations.               lower than the five-year average,                            beaches.
After years of Heal the Bay's advocacy,             with 84% of beach locations

HEAL THE BAY // 2017-2018 BEACH REPORT CARD                                                                                              25
II. WEST COAST SUMMARY                                ANALYSIS BY BEACH TYPE

Beach Types (continued)                                 FIGURE 2-10: GRADES BY TIME PERIOD & BEACH TYPE
                                                         : A+B GRADES      : C+D+F GRADES

    receiving an A or B.
                                                               SUMMER DRY GRADES (APRIL - OCTOBER 2017)
•   Wet weather grades at storm drain impacted
    beaches performed on par with the five-year                     Open Ocean                        Storm Drain                  Enclosed
                                                                        (88 locations)                 (239 locations)             (90 locations)
    average, with 65% A or B grades.                        2017        5-Year Avg.          2017        5-Year Avg.      2017     5-Year Avg.

                                                          100%               99%              93%             96%         98%            90%
ENCLOSED BEACHES
Enclosed beaches are waterbodies with poor cir-
culation and flushing mechanics- typically lagoons,
marinas, "baby beaches" and harbors. Swimming
at these locations can be a cause for concern, es-
pecially for the young children that frequent them.
                                                                                               7%                                        10%
Poor circulation and high residence times means
                                                                               1%                               4%          2%
that it takes longer for polluted water to mix with
cleaner water, which allows bacteria levels to
                                                               WINTER DRY GRADES (NOVEMBER 2017 - MARCH 2018)
remain elevated for extended periods of time.
(Note: two of the top ten Beach Bummers in Cali-                    Open Ocean                        Storm Drain                  Enclosed
                                                                        (59 locations)                 (166 locations)             (54 locations)
fornia are enclosed beaches.)
                                                          2017-18       5-Year Avg.         2017-18      5-Year Avg.     2017-18   5-Year Avg.
Heal the Bay recommends avoiding enclosed
                                                            95%               96%             84%             90%         83%            83%
beaches when possible. During wet weather es-
pecially, there is no worse place to swim by beach
type than at an enclosed beach.
2017-18 Findings
• Summer dry weather at enclosed beaches
   reached another new high this year, with 98%                                               16%                          17%           17%
                                                                                                              10%
   A or B grades, which bested the five-year                  5%                 4%
   average of 90%.
•   Enclosed beaches also scored on par with
                                                               WET WEATHER GRADES (APRIL 2017 - MARCH 2018)
    the five-year winter dry weather average, with
    83% A or B grades.                                              Open Ocean                        Storm Drain                  Enclosed
                                                                        (93 locations)                 (241 locations)             (77 locations)
•   Although improved from last year's low of             2017-18       5-Year Avg.         2017-18      5-Year Avg.     2017-18   5-Year Avg.
    20% A or B grades, this year's wet weather
    grades were still poor, with only 40% of
                                                            89%               79%             65%             64%         40%            29%
    enclosed beaches earning A or B grades.
                                                                                                                                         71%
                                                                                                                           60%

                                                                              21%             35%             36%
                                                            11%

HEAL THE BAY // 2017-2018 BEACH REPORT CARD                                                                                                   26
III. BEACH NEWS

BEACH NEWS: UPDATES
The Beach News section discusses some of the major issues that
impacted beach water quality over the past year.

FEDERAL BUDGET CUTS
As has happened for the past several years, the President's Fiscal Year 2019 budget pro-
posed to eliminate funding for US EPA's Beaches Environmental Assessment and Coastal
Health (BEACH) Act grant program. Since 2012, this program's budget has been under
threat of defunding. This program funds water quality monitoring pro-
                                                                             If BEACH Act funding is eliminated, there
grams throughout the U.S. The proponents of the budget cuts believe          is a possibility that states may abandon
that after 10 years of funding, states should now have the ability to run    stronger beachgoer protections, or set
their own programs without federal support. However, more than half          standards so low that public health will
                                                                             be put in danger.
of the coastal states depend solely on the federal funding to support
their beach water quality monitoring and public health notification programs. Furthermore,
the federal funding is the only incentive for many states to meet the minimum require-
ments set by the EPA to protect public health. If BEACH Act funding is eliminated, there is
a possibility that states may abandon stronger beachgoer protections, or set standards so
low that public health will be put in danger.
The BEACH Act is a critical element of public health protection for beachgoers through-
out the US. Over 100 million people visit US beaches each year, supporting the coast-
al recreation and tourism economies worth over $100 billion annually. The potential loss
of funding for beach water quality monitoring is a direct threat to public health. The

HEAL THE BAY // 2017-2018 BEACH REPORT CARD                                                                              28
III. BEACH NEWS

Beach News (continued)

federal BEACH Act provides roughly
$500,000 annually to California, which is
important to maintain the state's current
level of coastal water quality monitoring.

STORMWATER MEASURE
When you play baseball at Los Amigos
Park in Santa Monica and need to make
                                                       Santa Monica Mountains, Malibu Creek
a pit stop in the public bathrooms you
can flush with confidence knowing that
the water in the toilet is reclaimed storm-
water. It is water that used to flow down     LOS ANGELES RIVER                                   signs posted along the L.A. River with
the street, picking up a variety of pol-                                                          information about water quality. Most
                                              MONITORING & PROGRESS ON
lutants that would end up in the ocean.                                                           recently, the L.A. City Bureau of Sanita-
                                              PUBLIC NOTIFICATION
Because of community investment in                                                                tion developed a testing and notification
stormwater funding, Los Amigos Park           Water quality and public health are top             protocol for the L.A. River, which will be
Stormwater Harvesting and Direct Use          priorities at Heal the Bay. In addition to          implemented in the summer of 2018.
project was built to divert 550,000 gal-      our work on ocean water quality, Heal               The new protocol better protects public
lons of water per year from the storm         the Bay has been monitoring bacteria at             health because it includes more frequent
drain to a treatment system; the treated      freshwater recreation areas since 2014.             monitoring (twice a week) and more
water is then used to irrigate the playing    Heal the Bay began monitoring swim-                 monitoring locations in the L.A. River rec-
fields or provide water to the restrooms      ming holes in the Santa Monica Moun-                reation zones. The protocol also requires
to flush toilets. By repurposing stormwa-     tains in 2014 and the L.A. River recre-             the City to notify the public of water qual-
ter for these non-potable uses, we can        ation zones, where people are allowed               ity results through a website: https://
save billions of gallons of drinking water    to kayak in the River, in 2015. In the sum-         www.lacitysan.org/waterquality. When
per year while keeping trash and pollut-      mer of 2016, we began making water                  bacteria levels exceed certain limits, the
ants out of our rivers and ocean.             quality information available to the pub-           City will provide additional notifications
This is why Heal the Bay helped found         lic and in 2017, we launched
                                                                                   In the summer of 2016, we began making water quality
the OurWaterLA coalition, a diverse           our River Report Card (www.
                                                                                   information available to the public and in 2017, we launched
group of community leaders and organi-        healthebay.org/riverreport-          our River Report Card (www.healthebay.org/riverreportcard),
zations from across Los Angeles County,       card), an online map with            an online map with water-quality rating.

to push for more innovative, multi-benefit    water-quality ratings (green,
projects like Los Amigos Park. OurWa-         yellow, or red) for recreation spots all            and even close the River to recreational
terLA is working with Los Angeles County      over the greater Los Angeles area. The              users.
to shape a ballot measure that will fund      ratings are based on Heal the Bay's own             Heal the Bay is pleased with the new
stormwater capture and cleanup proj-          data as well as data shared with us from            protocol; however, we still have concerns
ects like Los Amigos Park. This is how        partner agencies.                                   with it. Heal the Bay does not support
we secure clean, safe, affordable and re-     As a result of our study, we have seen              closing the River to recreational users,
liable water for all the ways we live, work   many positive changes, such as in-                  except in the cases of sewage spills, sim-
and use water now and in the future.          creased agency monitoring and new                   ilar to ocean beaches; we do not agree

HEAL THE BAY // 2017-2018 BEACH REPORT CARD                                                                                                29
III. BEACH NEWS

Beach News (continued)

with the bacteria thresholds selected by
L.A. City Sanitation; we would like addi-
tional notification in place when the bac-
teria levels exceed state thresholds; and
we would like to see geometric means
and Enterococcus levels considered in
the protocol. As this protocol is imple-
mented in the summer of 2018, Heal the
Bay will continue our monitoring, provide                                                  Arroyo Burro (Hendry's) Beach
information to the public, and assess the
efficacy of the protocol implementation.

                                              This summer, we're excited to expand
NOWCAST UPDATES                               our program to up to 20 beaches. Pre-        2017 NOWCAST LOCATIONS
For the third year in a row, beachgoers at    dictions will also be available earlier in
select California beaches received daily      the morning, so surfers and early risers         SAN DIEGO COUNTY
water quality predictions from our Now-       can benefit from the NowCast system              Moonlight Beach, Encinitas
Cast system. These predictions come           too. Finally, stay tuned for the launch of
                                                                                                ORANGE COUNTY
from machine learning models calibrated       our updated Beach Report Card website
                                                                                                 Doheny State Beach
on years of environmental and bacterial       and mobile app, where accessing Now-
                                                                                                Huntington State Beach
data, and are tuned to be more accurate       Cast predictions will be easier than ever.
than the current method of relying on                                                         LOS ANGELES COUNTY
days-old samples alone.                       NOWCAST HIGHLIGHTS                               Belmont Pier, Long Beach
                                              •   In 2017, we doubled the size of our      Long Beach City Beach at 5th Street
In 2017, we made over 1,800 predictions
                                                  program from 2016 as models were           Redondo Pier (100 yards south)
for 10 beaches, from Santa Cruz to San
                                                  created for 10 beaches, spanning                 Santa Monica Pier
Diego. Because most of these beaches
                                                  from Santa Cruz to San Diego.
are monitored once per week, beachgo-                                                       SANTA BARBARA COUNTY
ers at NowCast beaches received, on           •   1,851 total NowCast predictions were             Arroyo Burro
average, 140 more days of water quality           made last summer.                                 East Beach
information at their beach from NowCast       •   On average, beachgoers received             SANTA CRUZ COUNTY
predictions than they would have from             140 more days of water quality                  Cowell Beach
bacteria sampling results alone. Much re-         information at their beach from
search has been done - in collaboration           NowCast predictions than they
with Stanford University, UCLA, and the           would have from bacteria sampling
State Water Resources Control Board –             results alone.
to ensure that our models are robust and      •   At the beaches where exceedances
available for as many California beachgo-         were observed, 88% of our NowCast
ers as possible. Our results for 2017 are         models were able to predict those
under review and are expected to be pub-          exceedances as or more accurately
lished soon in a peer-reviewed journal.           than the current method of using the
                                                  most recent sample alone.

HEAL THE BAY // 2017-2018 BEACH REPORT CARD                                                                                      30