SKY Watch Smart Watch Phone User Guide - SKY Devices
Page content transcription
If your browser does not render page correctly, please read the page content below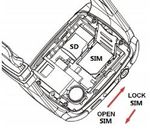 Please read the manual before use.

   ◆ The information in this document won't be
   modified or extended in accordance with any notice.
   ◆ The watch should be charged for at least 2 hours
   before use.

1. Product specs
    ◆ 2G GSM/GPRS 850/900/1800/1900 with micro
    SIM
    ◆ CPU MTK2502C ARM7 260MHz
    ◆ Memory: RAM 16MB+ ROM 8MB, support micro
    SD up to 32GB
    ◆ Capacitive touch IPS screen 1.54" 240*240 pixel
    ◆ Bluetooth® version 4.0
    ◆ Camera 0.3MP
    ◆ Function: mobile phone, SMS, anti-lost, alarm,
    music player, camera, video player, pedometer, sleep
    monitor, sedentary reminder,              Information
    notification (Gmail, Facebook, and so on)
    ◆ Battery Lithium-ion 3.7V 300mAh
2.Product details:
   2.1 Product details

    Power button: Power On/Off ; Awaken/turn off
screen;Back to main menu

    Touch screen: each function (main menu) will be
  shown and displayed on capacitive touch screen.
USB port: Charging/Data;

SD and SIM: Install micro SD card and micro SIM card
Install battery

     2.2 Products quick into
      You can enter into next page by sliding screen up,
and return to last page by sliding the screen down; enter
into the sub-menu after clicking on the selected menu,
and return to upper menu after sliding from left to right.
It is important to drag the screen enough, to differentiate
from a click function.
2.3 Clock Display

     Setting method:

     Method 1: Power on. When the phone in clock mode,

long-press middle screen and set different clock interfaces

      Method 2: Power on. Main menu:

Settings--Clock—Clock type, choose the clock mode you

prefer.
3.Product quick use
     3.1 Download and install the Sync software.
Search Fundo Wear APP in Google Play Store,

download the APP and install it on your Android phone.

     Search Fundo Wear APP in Apple Store, download

the APP and install it in your iPhone.

     This APP is only used for syncing between the watch

and phone, it will not take your data service.

     If you have already downloaded the related software,

please check the version and use the latest one in order

to ensure that all functions are available. Please update

the software when an update becomes available.

     3.2 Using the Sync software

      (Smart phone) Open Fundo Wear APP – Enable

Notification–OK–Enter into Notification access, enabled

this service. ( Please choose "sure" when shown a

warning notices)

     (Smart phone) Setting -- Accessibility—Enter into
Fundo Wear (service), enable this service.(please choose

"sure" when shown a warning notices) the application

runs in the background automatically, and synced

function will be switched on as below:

     Open Fundo Wear APP, select your Personal or

System application in Notify application.

    Telephone service includes SMS, incoming calls and

seek watch.

   Notice:

      Don't turn off the Bluetooth® service when you

      are clearing software by background or close

      background application software. It will affect the
Sync function between watch and phone if closed.

     3.3 Bluetooth® Connection and Sync function

          3.3.1 From phone to watch
   Phone setting—turn on the Bluetooth® --search for

devices,click pair device when found DW-018S (turn on

the Bluetooth® at first), and also choose ''yes" in your

mobile phone → pairing is complete.

    Please choose "sure" when you see the phonebook

request, meanwhile you'd better choose "don't remind

again".

      Notice: The Sync software can open in sync APP

already installed and Accessibility, the phone will show

Bluetooth® connected after 2-5min; the watch will inform

you the time of Sync with phone. The incoming messages

will sync to your watch when they received.

          3.3.2 From watch to phone
Settings on DW-018S—BT settings—Power on, and

then BT connection—search new device—found your

smart phone (such as SKY Devices phone) -- connect. The

processes of next are same with 3.3.1

         3.3.3 Only for iPhone, you must do more as

below

  Open Fundo Wear APP ,click + button and then click

Bluetooth® button, search for devices,please click pair

device when found DW-018S, and choose ''pair "in your

iPhone, paired done again only for iPhone.

    3.4 Base function
    3.4.1 Message

      Sync phone or watch message.
    3.4.2 Calls records
You can check your phone call records after you
connect with Bluetooth®.
   All records are show, including missed calls, dialed
   calls and receives call; you can check the date, time
   and phone number of the missed call after you
   choose it, and call this number.
    3.4.3 BT connection

    Paired devices from smart watch
    3.4.4 Remote notifier

    When there is SMS and other applications
notifications on the connected phone, SKY Watch will
alert you to read them.

    3.4.5 Remote Camera

     Use phone camera take photos. In order to take
photos with the watch, you need switch the camera on
the phone in advance.
3.4.6 Find my Device

    Watch seek phone .

      3.4.7Setting

    3.4.8 Pedometer

    A tool that helps you get an accurate count of your
physical activity by measuring calories burning based on
collected data such as number of steps, distance, speed,
time, etc., to control exercise.
     If you want return to main menu but keep
pedometer during the exercise, please press the power
button.
     3.4.9 Sleep monitor

    Show your sleep quality base on your sleep times.
3.4.10 Sedentary remind

    You can set a time to remind you to exercise.

     3.4.12 Alarm

    3.4.13Calendar

    3.4.14Calculator

    3.4.15File manager

    3.4.16Music player

    You can play music from your smartphone after you
connect with Bluetooth®.

    3.4.17Camera
3.4.18Video recorder

    3.4.19Image viewer

    3.4.20Video player

    3.4.21Sounder recorder

    3.4.22 Motion

    3.4.23 Power saving

 4. Notice
       4.1 Full-charge before use; the charge time takes
1-2 hours.
4.2 Use the cable and charger accessories, or your
Android phone accessories.
       4.3 Bluetooth® will disconnect when it exceeds
the reach distance, after you switch Find my Device on,
the smart search function can't be used before
reconnecting with Bluetooth®.
       4.4 Please reconnect with Bluetooth® if it's
disconnected(connect Manually if the Bluetooth® is
disconnected for over 5 minutes ) . Agree to the
phonebook Sync in order to have access to the
phonebook.
       4.5 When playing the music, some names will be
 shown and some won't - it is normal, because Android
 phones are difference, and some characters won't show.

5. Common trouble shooting
     Please refer below key function for any problems
with the watch, if the problem is still unresolved, please
contact SKY Squadron.
     5.1 Unable to switch on
       The time of pressing the power button is too short,
       please keep pressing for more than 3 seconds.
       If battery is low, charge the SKY Watch.
     5.2 If watch shuts down automaticlly
           Low power, charge the watch
     5.3 Using time too short.
         Battery is not full, make sure it is full charged (2
hours at least).
       During the use of SIM card, power will shut off
            quickly if the signal too poor.
     5.4 Unable to charge.
       The battery's life will be reduce after few years,
            check if the battery are work.
       Change a new charger if it is not working.
       Check if the USB slot is connected well ,if not, try
             again.
     5.5 No caller's name when incoming call
         Forgot to choose upload the phonebook when
   connected with Bluetooth® ,or unselected keep upload
   the phonebook.
          Forgot to sync the phonebook when
reconnected,please pair the device and connect
Bluetooth® again.
     5.6 Bad phone call voice.
          Watch and phone are too far from each other
please move closer ;Bad signal of Bluetooth®.

     Bad signal of your own phone call place, move to a
better location for your phone call.