MOUNTING SOLUTIONS MULTI-TOUCH INTERACTIVE BOARDS - e-Board interactive whiteboards - Legamaster
Page content transcription
If your browser does not render page correctly, please read the page content below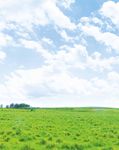 MOUNTING
SOLUTIONS
INTERACTIVE BOARDS
MULTI-TOUCH
SOFTWARE
 ACCESSORIES

Legamaster electronics / 3. edition
e-Board interactive whiteboards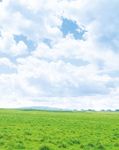 VISUALISE YOUR KNOWLEDGE

Discover the interactive possibilities available
from Legamaster.
Our extensive range of interactive products will simply make
your presentations even more impressive! By increasing the
interactive involvement of your audience, your message will
be communicated more clearly - and your presentations more
dynamic. To convey knowledge, we need to place it in a
convincing context – because seeing is believing.
Professional visualization equipment is vital for the develop-
ment and presentation of new ideas, concepts and products.
With the interactive products from Legamaster, the possibilities
are endless. For example, notes from a brainstorming session
can be displayed, printed out, edited and even sent via the
internet. Our high-precision products ensure that everything is
recorded exactly as you presented it. And it goes without saying
that they are easy to operate!

Be it in the office, at school, at a conference or training centre:
wherever knowledge and information has to be conveyed
or passed on, the added value offered by the interactive
presentations aids from Legamaster is plain to see.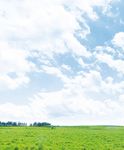 Need help in selecting the ideal interactive                               Table of contents
solution from Legamaster?
                                                                           Interactive e-Boards                                                       Page

Our sales teams will be happy to advise you about our                      Corporate social responsibility                                                 2-4
possibilities by giving you more information and answering your            About us                                                                          5
                                                                           Legamaster Professional e-Board Interactive Whiteboards                           6
questions about our interactive products.
                                                                           PROFESSIONAL e-Board                                                       7-10
                                                                             e-Board Touch                                                             7-8
                                                                             e-Board, pen-based                                                       9-10
You can also reach us 24 hours a day
                                                                           FLEX program                                                              11-12
at www.e-legamaster.com
                                                                           FLEX mounting systems                                                     13-26
                                                                             Wall mount height adjustable component                                  13-14
                                                                             Mobile stand                                                            15-16
                                                                             Mobile height adjustable stand                                          17-18
                                                                             Mobile height adjustable stand with extra lowering                      19-20
                                                                             Column system FLEX fixed height                                         21-22
                                                                             Column system FLEX height adjustable                                    23-24
                                                                             Column height adjustable system                                         25-26

                                                                           FLEX Projector Mounts                                                     27-28
                                                                           PROFESSIONAL Projection boards                                            29-30

                                                                           eBeam Edge                                                                31-32

                                                                           Accessories                                                               33-36
                                                                             eBeam Edge Stylus                                                          33
                                                                             eBeam Projection Stylus                                                    33
                                                                             LiveWire                                                                   34
                                                                             eBeam Capture pack                                                         34
                                                                             eBeam Capture markers                                                      34
                                                                             Soundbar                                                                35-36

                                                                           Software                                                                  37-40
                                                                             eBeam Software                                                             37
                                                                             Legamaster Chalkbox software                                               38
                                                                             DisplayNote                                                             39-40

Legamaster offers the right solution
for any situation
                                                                         More quality products
To be convincing, your message needs to be clear and
visible. To communicate efficiently, you need to be able
to see the bigger picture. With its vast range of highly
practical, well thought-out products, Legamaster, the name
for professional visual communication, has successfully
established itself in the market.

                                                                         n traditional catalogue       n e-Board brochure            n e-Screen brochure

The Legamaster range is continually being updated and expanded. We
expressly reserve the right to amend the range, the materials and the    order our LEGAMASTER catalogues by calling (+31) (0)573-713000
design, and to make alterations to the available colours and sizes. We
cannot be held liable for typographical errors.                          or emailing us at info@legamaster.com

                                                                                                                                                                 1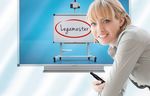 CORPORATE SOCIAL RESPONSIBILITY

    "In the interest of the environment –
     for the world of tomorrow."
      – strategy of                           –

    As part of the edding group, Legamaster shares the strategic
    significance edding attaches to Corporate Social Responsibility
    (CSR). We endorse the edding vision regarding themes as human
    rights, child labor, discrimination and environment & sustainability.
    The Legamaster CSR principles are defined in our Code of Conduct.

    The concept of CSR goes beyond the local impact of Legamaster's
    business to our extended supply chain. Legamaster recognises its
    social position by imposing requirements on business partners and
    its own organisation when it comes to the supply of Legamaster
    products and services.

    We understand CSR as a continuous process of improvement and
    adaptation in an ever-changing environment. Our goal is to further
    develop CSR as a systematic and continuous process, to ensure
    meaningful changes in the key CSR areas: People, Planet & Profit.

    Legamaster has started its CSR journey and will continue to
    implement initiatives to put its CSR commitment into action.

                                                    People
                                                            Guarantee health and safety at work
                                                            ■ Health and safety at work are key aspects of the
                                                               Legamaster social policy.

                                                    Non-discrimination policy
                                                    ■ We reject any form of discrimination.

                                                  Respect human rights
                                                  ■ Legamaster respects human rights and expects business
                                                     partners to share this vision.

                                                          Cooperation with partners that share the Legamaster
                                                          values towards CSR
                                                          ■ We aim to do business with partners and suppliers
                                                              that share our vision towards CSR related themes,
                                                              we intend to bind them into our CSR processes and
                                                              have them sign up to common values and
                                                              sustainable business practices.

2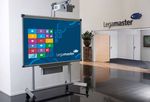 Profit
   Taking care of our business
   and the environment
   ■ Economics and efficiency
   ■ Balancing economical targets with
			 social & environmental targets

        Consistent application of

                                                                Planet
        quality management system
        ■ Legamaster is ISO 9001 certified.

                                                        Environmental management system
                                                        ■ Legamaster is ISO 14001 certified

                                 Environment: key aspect in product development process
                                 ■ Enamel steel boards are provided with environmentally friendly certified ceramic steel.
                                 ■ Board frames are of 100% recyclable aluminium. All plastic board parts are 100%
                                    recyclable.
                                 ■ Flipchart paper pads carry the Paper by Nature certificate.
                                 ■ Magic-Chart is made out of environmentally friendly material and fully recyclable.
                                 ■ Board- and presentation markers can be recycled, simply by using the refill ink!

                      Video-conferencing: in aid of the environment
                      ■ Our video-conferencing system makes numerous journeys between the Legamaster and edding
                         head quarter unnecessary. In practice this leads to savings with regard to fuel consumption (car,
                         airplane), reduced CO2 emissions, less employee stress, time saving and reduced travel expenses.

                        Responsible printing-and copying policy
                        ■ We use 100% recycled paper bearing the Blue Angel environmental label. A double sided
                           output policy and the use of digital technology has allowed us to reduce on paper usage. Digital
                           copies are made instead of physical copies whenever possible. The replacement of outmoded
                           individual printers with centralized multifunction units has improved power consumption. Ink
                           cartridges are recycled.

                                    Catalogue: naturally printed FSC certified paper
                                    ■ This Legamaster catalogue is printed on FSC certified paper. A digital version of
                                       the catalogue can be consulted online, which can be considered a user- and
                                       environmentally friendly device.

                                                         Respect environmental regulations
                                                         ■ WEEE, REACH, RoHs and DMF.

                                                                                                                              3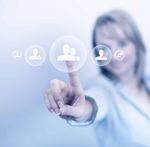 "With respect for the environment: Environmental
       management according to DIN ISO 14001"
     Protecting the environment is a corporate goal of the Legamaster                We strive to inspire our people and establish a culture where the
     organisation. We are committed to a continuous improvement and                  principles of our environmental commitment are understood and
     advancement of our environmental initiatives.                                   applied by all employees.

     Through the implementation of an ISO 14001 certified EMS we                     We aim to work with business partners that share our commitment
     strive to efficient management of energy, raw materials and waste               to environmental responsibility and encourage our partners in this
     by measuring and monitoring our environmental progress as a                     matter.
     continuous process.

     Legamaster considers its environmental responsibility as a corporate
     value and aims to share this responsibility with employees and
     suppliers.

                                                         Waste management:
                                                         n M
                                                            anagement of economical and
                                                           environmentally responsible waste
                                                           disposal system
                                                         n P
                                                            rocedures defined in waste
                                                           management handbook

    Product development:                                                                                     Energy saving policy:

    n Integration environmental aspects in                                                                  n Energy saving measurements
       product development process                                                                             (energy-efficient heaters, optimizing
    n E
       nvironmental product performance                                                                       thermostat settings, movement sensors,
      during the whole lifecycle (lifespan,                                                                    light sensors etc.)
      recycling)                                         n ISO 9001 certified                               n Definition of environmental house rules
    n E
       nvironmental friendly product features           n ISO 14001 certified                               n Responsible printing- and copying policy
      (use of environmentally friendly certified                                                             n Use of video-conferencing system
      ceramic steel, flipchart pads with Paper by                                                              (less traveling by car and airplane,
      Nature certificate, refillable markers etc.)                                                             reduced CO2 emissions)

                                                         Logistics:
                                                         n Transport meets the Euro 5 standard
                                                         n Transport by eco-combi trucks
                                                           whenever possible
                                                         n R
                                                            eduction of forklift operations
                                                           (driving/lifting) by introduction
                                                           product scanning system
                                                         n L oading of trucks in a non-heated
                                                            expedition space

4

ABOUT US

Quality                                                                                                   Legamaster –
                                                                                                          Masters in Visualisation
Legamaster is a worldwide, high value premium brand in the field of visual
communication. In order to meet the high standards required for both products and services, we            The   Legamaster   label   is   part   of   the
have documented our practice and our quality objectives within a Quality Management System                internationally      renowned      edding
in accordance with ISO 9001:2000.                                                                         group, practising and maintaining the
                                                                                                          philosophy of its parent company. It is a
                                                                                                          philosophy which ensures the high
We have a standardised quality control system in place to keep a constant check on the entire             quality of all its products on the
Legamaster production processes.                                                                          international stage, backed by local
                                                                                                          distribution and customer support.

Legamaster's quality control follows internationally accepted standards and ensures                       The success of this approach is clearly
the products work properly, are user friendly and meet safety requirements if required.                   visible: the Legamaster name stands for an
A Production control and a Final Random Inspection covering visual and functional                         even wider selection of products and better
inspections are also carried out to ensure the constant high quality of Legamaster                        service. All under the same roof.
products. These quality controls use approved methods and tools for quality checks as well as
procedures that are individually designed for certain products or product ranges.
                                                                                                          We can meet your
                                                                                                          personal request!
In certain cases Legamaster's quality control uses internationally accepted technical institutes or       Production
experts for special tests and approval i.e. our PROFESSIONAL e-Screen series which carries the
                                                                                                          We have our own production sites in Europe
safety label TÜV.
                                                                                                          and South-America.

                                                                                                          n Production is semi automatic
Our raw materials are tested to the agreed specification and abilities before they leave our suppliers.
                                                                                                          n Standardised production processes
They pass an additional inspection in our own quality control procedure before entering into
                                                                                                            ensure a consistent high quality
further processes. Where we use component parts from other manufacturers, we commit them
to providing us with the appropriate certificates concerning product safety and conformity with
safety regulations if existing.
                                                                                                          Customised solutions

                                                                                                          Our Made-to-Measure production expertise
                                                                                                          means we can meet your
                                                                                                          own personal requests.

                                                                                                          n Can't find what you are looking for
                                                                                                            in our catalogue? Talk to us!

                                                                 DIN EN ISO 9001:2000                     Logistics

                                                                                                          We ensure speedy deliveries within Europe.

                                                                                                          n We are constantly optimising our
Guarantee                                                                                                   supply chain

All Legamaster products are designed and manufactured to the highest quality                              n Thanks to our modern warehouses
standards. Legamaster products give a high performance level when used for the intended                     complete with high stack shelving,
purpose, in accordance with operating instructions and in conjunction with original accessories             we can ensure an organised, speedy
or other products from the Legamaster range.                                                                turnaround: from the raw material
                                                                                                            through to the finished product

                                                                                                                                                            5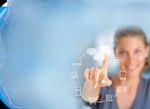 e-Board

    Legamaster Professional e-Board
    Interactive Whiteboards
    We think from our customers' perspective:                                      The following elements can be combined:
    Every situation is unique
                                                                                      PROFESSIONAL e-Board Touch or e-Board
    Every boardroom and classroom is unique, and every user has a                     4:3 or 16:10 and 16:9 widescreen formats
    different purpose for their interactive solutions. To cater for these             Board size
    different situation and preferences, Legamaster offers its PROFESSIONAL           Several options for the surface of the board (e-Board)
    e-Board interactive whiteboard systems.                                           Side panels
                                                                                      Several options for the surface of the side panels
    Legamaster's multi-touch based e-Board Touch and the pen based
                                                                                      Short or long marker tray
    e-Board can easily be combined into a versatile and flexible solution
                                                                                      A Legamaster FLEX mounting solution
    together with an element from our FLEX assortment.

    Create the board that suits you best!

    The Legamaster FLEX assortment gives you the opportunity to create
    your ideal interactive solution. No more standardized interactive boards,
    but a solution that can be adjusted to suit your own situation.

    Legamaster PROFESSIONAL e-Board Touch
       77"                     87"                         93"

    Available in 3 different sizes                     Plug and play                                     Maximum durability
    ■	77", 87" & 93"                                  ■ No driver installation required                ■ Lifetime guarantee on surface

    Fastest touch system                               Familiar writing style                             -Board touch comes with
                                                                                                         e
    ■ Reacts quickly to your touch                    ■ Enamel steel surface, can also be used         Easiteach software
                                                          with whiteboard markers                        ■ 5 user license
    Multi users
    ■ Up to 10 point multi touch operation

    Legamaster PROFESSIONAL e-Board Pen based
                                                          99"                       112"
      77"                     88"

    Available in 4 different sizes                     Familiar writing style
    ■	77", 88", 99", 112"                             ■ Enamel steel surface, can also be used
                                                          with whiteboard markers
    Write with the eBeam interactive stylus
    ■	for natural writing feeling                     Maximum durability
                                                       ■ Lifetime guarantee on surface
    Operating System
    ■ Fully compatible with Windows                    e-Board comes with eBeam software
       and OS X                                        ■ eBeam education suite
    ■ Limited support for Linux versions               ■ eBeam workspace software

6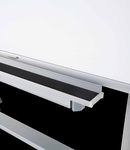 Touch interactive board system with
                                                                                             ■	
                                                                                               multi-touch functionality
                                                                                               Four-camera active optical touch
                                                                                             ■	
                                                                                               technology
                                                                                               Touch recognition: use a stylus, your
                                                                                             ■	
                                                                                               fingers or palm to operate e-Board
                                                                                               Touch
                                                                                               77" (4:3), 87" (16:10) and 93" (16:9)
                                                                                             ■	
                                                                                               formats available
                                                                                               Hybrid board surface supports normal
                                                                                             ■	
                                                                                               writing with markers (dry-wipe)
                                                                                               High-quality aluminium frame with
                                                                                             ■	
                                                                                               dark grey corners
                                                                                               USB interface
                                                                                             ■	
                                                                                               25 year warranty for board surface,
                                                                                             ■	
                                                                                               2 year warranty for touch system
                                                                                               Enamel steel board surface
                                                                                             ■	

                                                                                                             YEARS

                                                                                                                      SUPERIOR
                                                                                             MULTITOUCH   GUARANTEE   QUALITY    MAGNETIC   USB

PROFESSIONAL e-Board Touch                                                                   CUSTOMISE YOUR OWN
with the most advanced touch technology                                                      LEGAMASTER SYSTEM

  Very fast touch surface (high response
■	                                                 Interactive board software with handy
                                                  ■	                                        ■ Mounting system FLEX
  rate of up to 125 frames per second)              features like gestures that can be       	You can choose between a
  Writing on Legamaster's HYBRID enamel
■	                                                 defined individually for each board.       wall mount height adjustable
  steel board surface has a smooth and              These improve functionality and            component, mobile stand,
  natural feel, like writing on real paper          enhance user experience                    mobile height adjustable
  True multi-touch system: can recognise
■	                                                 Use multi-touch gestures on non
                                                  ■	                                          stand and column height
  up to 10 simultaneous touches                     multi-touch supporting operating           adjustable system
  (Windows 7 and 8)                                 systems like Windows XP, Mac OS X
  Plug and play supports for Windows,
■	                                                 and Linux                                ■ L ong marker tray
  Mac OS X and Linux                                Can be combined with Legamaster's
                                                  ■	                                           Extra long marker tray, 1 metre,
  Android support (driver required)
■	                                                 FLEX ergonomic mounting systems              ref.no. 7-195511
  Full HD projector ready with 93",
■	                                                 to form complete (mobile) solution
  16:9 aspect ratio version                         that is perfect for use in any meeting     Projector mounts FLEX
                                                                                             ■	
  Comes complete with Legamaster
■	                                                 or class room                            	Legamaster offers a variety
  Chalkbox basic annotation software                Board with high stability
                                                  ■	                                          of Projector arms for short throw
                                                    Pen tray can be fixed at any position
                                                  ■	                                          and ultra short throw projectors.
                                                    Easy-to-mount system
                                                  ■	                                          See "Projector mounts"
                                                                                               datasheet for more information

                     Including
                     Easiteach software,
                                                                                             Easiteach software is perfect for
                     5 user license
                                                                                             use with e-Board Touch because of
                                                                                             dual-touch/multi-user support.
Side panels for                                                                              See Easiteach datasheet
e-Board Touch 77" and 88"
You can choose between durable enamel steel
whiteboard, green board or grid board surface.
All side panels have a whiteboard enamel steel
backside. Legamaster offers a 25 year guarantee
on all side panels when used in combination
with Legamaster accessories

                                                                                                                                                  7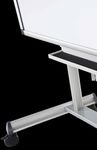 e-Board

    e-Board Touch         Size      Projection Diagonal      Internal board size         External board size

                                                             Height x Width              Height x Width

    e-Board Touch 77"     4:3       1940 mm                  1165 x 1550 mm              1294 x 1632 mm

    e-Board Touch 87"     16:10     2193 mm                  1165 x 1859 mm              1294 x 1940 mm

    e-Board Touch 93"     16:9      2370 mm                  1165 x 2064 mm              1294 x 2145 mm

    SPECIFICATIONS                                                                                             Minimum system
    Touch system                  Four-camera active optical touch
                                                                                                               requirements:
    Touch operation               Finger, stylus or any other pen/finger shaped object
    Number of touches             6-10                                                                         ■ All operating systems
    Touch accuracy                Approx. 4 mm                                                                   - At least a Pentium Celeron
    Touch resolution              32767 x 32767                                                                        333MHz processor
    Touch response time           7-13 ms (9 ms typical)                                                           - At least 1024 x 768
    Response rate                 125 frames/sec
    PC interface                  USB 2.0                                                                      ■	Comes complete with:
                                  Windows 2000, XP, Vista, Windows 7, Windows 8 - plug-and-play                   - USB cable, 3m
    Operating systems
                                  Mac OSX - plug-and-play, Android - driver required, Linux - plug and play
    Power supply                  100-240V AC - 5V DC power adapter
                                                                                                                   - Power supply unit
    Projection surface            Hybrid enamel steel (dry wipeable)                                             - Power cord
    Writeable surface             Yes, with Legamaster boardmarkers                                              - Pen tray
    Ergonomics                    Legamaster e-Board FLEX system compatible                                         - Wall-fixed mounting kit
    Warranty                      Touch system: 2 years / Board surface: 25 years                                - Installation CD
                                                                                                                 - Easiteach software, 5-user license
                                                                                                                 - 1 touch stylus
    PROFESSIONAL e-Board Touch
    with the most advanced touch technology

                                                                                    Ref.no.

    e-Board Touch 77" Hybrid                                                        7-196011

    e-Board Touch 87" Hybrid                                                        7-196012

    e-Board Touch 93" Hybrid                                                        7-196013

                                         Whiteboard surface      Green board surface Grid board surface
                                         ref.no.                 ref.no.             ref.no.
    Side panel set
                                       7-196313                  7-196323                  7-196333
    for PROFESSIONAL e-Board Touch 77"
    Side panel set
                                       7-196314                  7-196324                  7-196334
    for PROFESSIONAL e-Board Touch 87"

8
Pen-based interactive board with
                                                                                          ■	
                                                                                            short marker tray
                                                                                            Can be mounted to the wall, on
                                                                                          ■	
                                                                                            a wall height adjustable system,
                                                                                            on a mobile stand, mobile height
                                                                                            adjustable stand or column
                                                                                            height adjustable system
                                                                                            Enamel steel projection surface
                                                                                          ■	
                                                                                            Frame in natural anodised
                                                                                          ■	
                                                                                            aluminum
                                                                                            With integrated receiver
                                                                                          ■	
                                                                                            To be used in combination with
                                                                                          ■	
                                                                                            short throw projectors
                                                                                            Also available with hybrid board
                                                                                          ■	
                                                                                            surface
                                                                                            Marker tray (20 cm) included
                                                                                          ■	
                                                                                            Wall fixed mounting material
                                                                                          ■	
                                                                                            included

                                                                                             YEARS

                                                                                                      SUPERIOR
                                                                                          GUARANTEE   QUALITY    MAGNETIC   USB

PROFESSIONAL e-Board                                                                      CUSTOMISE YOUR OWN
Interactive board, pen-based                                                              LEGAMASTER SYSTEM

                                                                                          ■ Mounting system FLEX
  Very accurate pen-based interactive
■	                                             Comes complete with strong and
                                              ■	
                                                                                          	You can choose between a
  system                                        powerful user-friendly eBeam software
                                                                                            wall mount height adjustable
  The projection board is without
■	                                             available in the languages: English,
                                                                                            component, mobile stand,
  "hot spots"                                   French, German, Dutch, Italian,
                                                                                            mobile height adjustable stand
  Writeable with any board marker
■	                                             Spanish, Japanese, Arabic, Swedish,
                                                                                            and column height adjustable
  World's hardest surface material
■	                                             Danish, Hungarian and Portugese
                                                                                            system
  The e-Board can be used as a normal,
■	                                             Legamaster offers a 25 year guarantee
                                              ■	
  interactive or projection board               on the board surface when used in
                                                                                          ■ L ong marker tray
  Hot keys on receiver: new page,
■	                                             combination with Legamaster accessories
                                                                                             Extra long marker tray, 1 meter,
  duplicate page, print page, send,             Subtle integrated interactive solution,
                                              ■	
                                                                                              ref.no. 7-195511
  record and calibrate                          only one sensor on the left hand side
  Handwriting recognition software
■	                                             You can choose between a projection
                                              ■	
                                                                                            Projector mounts FLEX
                                                                                          ■	
                                                or a hybrid board surface
                                                                                          	Legamaster offers a variety of
                                                                                            Projector arms for short throw
                                                                                            projectors. See datasheet
                                                                                            "Projector mounts" for more
Side panels for e-Board 77" and 88"
                                                                                            information
You can choose between durable enamel
steel whiteboard, green board or grid board
surface. All side panels have a whiteboard
                                                                                          For more information, please
enamel steel backside. Legamaster offers a
                                                                                          contact your Legamaster dealer
25 year guarantee on all side panels when
used in combination with Legamaster
accessories

                                                                                                                                  9
e-Board
                                                              B

                                                    C

                                     D

        A

                            E

     e-Board size                   Projection format Projection diagonal Projection size              External board size

                                                        (C)                  Height (E) x Width (D)    Height (A) x Width (B)

     e-Board 77"                    77" / 4:3           1960 mm / 77"        1180 x 1570 mm            1220 x 1680 mm

     e-Board 99"                    99" / 4:3           2510 mm / 99"        1510 x 2010 mm            1550 x 2120 mm

     e-Board 88"                    88" / 16:10         2220 mm / 88"        1180 x 1890 mm            1220 x 2000 mm

     e-Board 112"                   112" / 16:10        2840 mm / 112"       1510 x 2420 mm            1550 x 2530 mm

                                                                                                                 Minimum system
     PROFESSIONAL e-Board                                                                                        requirements:
     Interactive board, pen-based
                                                                                                                   Available USB port
                                                                                                                 ■	
                                                                                                                   200 MB available hard drive space
                                                                                                                 ■	
                                                  Projection board surface   Hybrid board surface
                                                  ref.no.                    ref.no.
                                                                                                                 ■ Windows®
     PROFESSIONAL e-Board 77"                     7-195123                   7-195133
                                                                                                                   - At least a Pentium IV processor
     PROFESSIONAL e-Board 99"                     7-195125                   7-195135                                    1.4GHz, with 512 MB RAM
                                                                                                                     - Windows XP/ Windows Vista/
     PROFESSIONAL e-Board 88"                     7-195124                   7-195134
                                                                                                                         Windows 7
     PROFESSIONAL e-Board 112"                    7-195126                   7-195136
                                                                                                                 ■ M AC
                                                                                                                   - Macintosh® PowerPC™/
                                         Whiteboard surface   Green board surface Grid board surface
                                                                                                                      Intel™/400MHz+
                                         ref.no.              ref.no.             ref.no.
                                                                                                                   - Mac OS X 10.4 and above
     Side panel set
                                         7-195313             7-195323             7-195333
     for PROFESSIONAL e-Board 77"
     Side panel set                                                                                              ■	Comes complete with:
                                         7-195314             7-195324             7-195334
     for PROFESSIONAL e-Board 88"
                                                                                                                    - Digital ready upgrade module
                                                                                                                     - Stylus (AAA battery included)
                                                                                                                   - Software
                                                                                                                      - Cover plate removal tool
                                                                                                                   - USB cable

10
Sidepanels
for PROFESSIONAL e-Board & e-Board Touch

High quality, scratch resistant enamel board surface.
Available in Green, white and grid.

                                                                                             YEARS

                                                                                                      SUPERIOR
                                                                                          GUARANTEE   QUALITY    MAGNETIC

Way of mounting
for PROFESSIONAL e-Board & e-Board Touch

The PROFESSIONAL e-Boards/e-Boards Touch can be mounted to the wall, on a mobile stand or on columns

                           Column system                           Wall mount
                               ■ height adjustable                  ■ height adjustable
                                 ■ fixed height                       ■ fixed height

        Mobile stand                                          Mobile stand
        fixed height                                        height adjustable

                                                                                                                            11
FLEX PROGRAM

     Projector mounts
     Legamaster offers a variety of projector arms for short throw and ultra short throw projectors.

     Projector
     The short throw and ultra short throw projectors completes the high quality perception of working
     with the Legamaster e-Boards & e-Boards Touch. The projectors minimise the shadow whilst working
     on the board surface.

     Please order your projector separately.

12
Height adjustable within
                                                                                        ■	
                                                                                          a 60 cm range
                                                                                          Comes with long marker tray
                                                                                        ■	

Wall mount height adjustable                                                            Legamaster FLEX system
component                                                                               A PROFESSIONAL e-Board/e-Board
for PROFESSIONAL e-Board & e-Board Touch                                                Touch FLEX system can be composed
                                                                                        of a PROFESSIONAL e-Board/e-Board
  Easy to mount
■	                                            The board has got a very quiet
                                             ■	                                        Touch, a wall mount height
  Optimal use of space
■	                                            operation. The e-Board can be raised     adjustable component and a
  Designed for safe use
■	                                            and lowered easily and silently due to   projector arm
  User friendly
■	                                            the robust and stable spring mechanism
  Low-to-no vibration which is perfect for
■	
  a steady interactive working environment

                                                                                                                            13
FLEX PROGRAM

     Dimensions                                               Width        Max. Height Depth

     Wall mount height adjustable component                   1000 mm      1300 mm       186 mm

     Wall mount height adjustable
     component
     for PROFESSIONAL e-Board & e-Board Touch

                                                                                        Ref.no.

     Wall height adjustable component for PROFESSIONAL e-Board & e-Board Touch set 1    7-195212-01

     Wall height adjustable component for PROFESSIONAL e-Board & e-Board Touch set 2    7-195212-02

     Wall height adjustable component for PROFESSIONAL e-Board & e-Board Touch set 3    7-195212-04

     Wall height adjustable component for PROFESSIONAL e-Board & e-Board Touch set 4    7-195212-05

     Wall height adjustable component for PROFESSIONAL e-Board & e-Board Touch set 5    7-195212-06

     Wall height adjustable component for PROFESSIONAL e-Board & e-Board Touch set 6    7-195212-07

     Set depends on configuration weight. See FLEX system matrix for more information

14
Mobile stand for all
                                                                                    ■	
                                                                                      PROFESSIONAL e-Boards/
                                                                                      e-Boards Touch
                                                                                      Base with 4 castors, including
                                                                                    ■	
                                                                                      2 lockable castors

                                                                                      Weight: 42.10 kg
                                                                                    ■	
                                                                                      Floor space:
                                                                                    ■	
                                                                                      W: 1847 mm x D: 798 mm

Mobile stand                                                                        Legamaster FLEX system
for PROFESSIONAL e-Board & e-Board Touch
                                                                                    A PROFESSIONAL e-Board/e-Board
                                                                                    Touch FLEX system can be composed
  Perfect mobility due to the specially
■	                                         Designed for safe use
                                          ■	
                                                                                    of a PROFESSIONAL e-Board/
  designed mobile stand                     Laptop shelf can be set at any height
                                          ■	
                                                                                    e-Board Touch, a mobile stand
  Solid and robust construction
■	                                         below the board
                                                                                    and a projector arm
  Mobile stand with high stability
■	                                         Legamaster e-Board & e-Board Touch
                                          ■	
  Attractive design
■	                                         mount ready
  Very easy to move by one person
■	                                         Legamaster projector mount ready
                                          ■	
  User friendly
■	                                         Modern triangle design
                                          ■	
                                            Light-weight
                                          ■	

                                                                                                                        15
FLEX PROGRAM

     Dimensions                                               Width     Height     Depth

     Mobile stand                                             1847 mm   1793 mm    798 mm

     Mobile stand
     for PROFESSIONAL e-Board & e-Board Touch

                                                                             Ref.no.

     Mobile stand for PROFESSIONAL e-Board & e-Board Touch all sizes         7-195221

     Mobile stand for PROFESSIONAL e-Board Touch 87" with side panels        7-195222

16
Mobile height adjustable
                                                                                    ■	
                                                                                      stand for all PROFESSIONAL
                                                                                      e-Boards/e-Boards Touch
                                                                                      Base with 4 castors,
                                                                                    ■	
                                                                                      2 of which are lockable

                                                                                      Weight: 83.80 kg
                                                                                    ■	
                                                                                      Floor space:
                                                                                    ■	
                                                                                      W: 1847 mm x D: 798 mm

Mobile height adjustable stand                                                      Legamaster FLEX system
for PROFESSIONAL e-Board & e-Board Touch
                                                                                    A PROFESSIONAL e-Board/e-Board
                                                                                    Touch FLEX system can be composed
  Perfect mobility due to the specially
■	                                         Designed for safe use
                                          ■	
                                                                                    of a PROFESSIONAL e-Board/e-Board
  designed mobile stand                     Laptop shelf can be set at any height
                                          ■	
                                                                                    Touch, a mobile height adjustable
  Solid and robust construction
■	                                         below the board
                                                                                    stand and a projector arm
  Mobile stand with high stability
■	                                         Legamaster e-Board & e-Board Touch
                                          ■	
  Attractive design
■	                                         mount-ready
  Easy to move by one person
■	                                         Legamaster projector mount-ready
                                          ■	
  Designed for ergonomic use of
■	                                         Modern triangle design
                                          ■	
  Legamaster e-Board Interactive            Light-weight
                                          ■	
  Whiteboards                               Set the board height with minimal
                                          ■	
                                            physical effort

                                                                                                                        17
FLEX PROGRAM

     Dimensions                                  Width        Max. Height Min. Height Depth

     Mobile height adjustable stand              1847 mm      1893 mm       1893 mm      798 mm

     Mobile height adjustable stand
     for PROFESSIONAL e-Board & e-Board Touch

                                                                                        Ref.no.

     Mobile height adjustable stand for PROFESSIONAL e-Board & e-Board Touch set 1      7-195230

     Mobile height adjustable stand for PROFESSIONAL e-Board & e-Board Touch set 2      7-195231

     Mobile height adjustable stand for PROFESSIONAL e-Board & e-Board Touch set 3      7-195233

     Mobile height adjustable stand for PROFESSIONAL e-Board & e-Board Touch set 4      7-195234

     Mobile height adjustable stand for PROFESSIONAL e-Board & e-Board Touch set 5      7-195235

     Mobile height adjustable stand for PROFESSIONAL e-Board & e-Board Touch set 6      7-195236

     Set depends on configuration weight. See FLEX system matrix for more information

18
Mobile height adjustable
                                                                                    ■	
                                                                                      stand for all PROFESSIONAL
                                                                                      e-Boards/e-Boards Touch
                                                                                      Base with 4 castors,
                                                                                    ■	
                                                                                      2 of which are lockable

                                                                                      Weight: 83.80 kg
                                                                                    ■	
                                                                                      Floor space:
                                                                                    ■	
                                                                                      W: 1847 mm x D: 798 mm

Mobile height adjustable stand with                                                 Legamaster FLEX system
additional lowering mechanism                                                       A PROFESSIONAL e-Board/e-Board
for PROFESSIONAL e-Board & e-Board Touch                                            Touch FLEX system can be composed
                                                                                    of a PROFESSIONAL e-Board/e-Board
  Perfect mobility due to the specially
■	                                            Mobile stand with high stability
                                             ■	                                    Touch, a mobile height adjustable
  designed mobile stand                        Attractive design
                                             ■	                                    stand with additional lowering and
  Additional lowering mechanism allows
■	                                            Very easy to move by one person
                                             ■	                                    a projector arm
  mobile stand with 77" or 87/88"              User-friendly
                                             ■	
  e-Board and projector arm to pass            Designed for safe use
                                             ■	
  through doors with a height of less than     Legamaster e-Board & e-Board Touch
                                             ■	
  2 metres                                     mount ready
  Solid and robust construction
■	                                            Legamaster projector mount ready
                                             ■	
  Designed for ergonomic use of
■	                                            Modern triangle design
                                             ■	
  Legamaster e-Board Interactive               Light-weight
                                             ■	
  Whiteboards                                  Set the board height with minimal
                                             ■	
                                               physical effort

                                                                                                                         19
FLEX PROGRAM

     Dimensions                                      Width       Max. height Min. height Depth
     Mobile height adjustable stand with
                                                     1847 mm     1808 mm     1590 mm      798 mm
     additional lowering mechanism

     Mobile height adjustable stand with
     additional lowering mechanism
     for PROFESSIONAL e-Board & e-Board Touch

                                                                                        Ref.no.
     Mobile height adjustable stand with extra lowering for PROFESSIONAL e-Board &
                                                                                        7-195240
     e-Board Touch set 1
     Mobile height adjustable stand with extra lowering for PROFESSIONAL e-Board &
                                                                                        7-195241
     e-Board Touch set 2
     Mobile height adjustable stand with extra lowering for PROFESSIONAL e-Board &
                                                                                        7-195243
     e-Board Touch set 3
     Mobile height adjustable stand with extra lowering for PROFESSIONAL e-Board &
                                                                                        7-195244
     e-Board Touch set 4
     Mobile height adjustable stand with extra lowering for PROFESSIONAL e-Board &
                                                                                        7-195245
     e-Board Touch set 5
     Mobile height adjustable stand with extra lowering for PROFESSIONAL e-Board &
                                                                                        7-195246
     e-Board Touch set 6
     Set depends on configuration weight. See FLEX system matrix for more information

20
Column system for
                                                                                   ■	
                                                                                     PROFESSIONAL e-Boards/
                                                                                     e-Boards Touch
                                                                                     Includes long marker tray
                                                                                   ■	
                                                                                     Up-&-down movement of
                                                                                   ■	
                                                                                     PROFESSIONAL e-Board/
                                                                                     e-Board Touch
                                                                                     Column size:
                                                                                   ■	
                                                                                     Max. height 260 cm

Column system FLEX fixed height                                                    Legamaster FLEX system
for PROFESSIONAL e-Board & e-Board Touch
                                                                                   A PROFESSIONAL e-Board/e-Board
                                                                                   Touch FLEX system can be composed
  Specially designed for rooms with
■	                                        Optimal use of space
                                         ■	
                                                                                   of a PROFESSIONAL e-Board/e-Board
  non-rigid walls                          User-friendly
                                         ■	
                                                                                   Touch, a column system FLEX fixed
  The weight of the construction rests
■	                                        The sliding mechanism is concealed
                                         ■	
                                                                                   height and a projector arm
  on the floor                             inside the columns, which provides
  The PROFESSIONAL e-Board/e-Board
■	                                        a safe working environment
  Touch slides vertically                  Legamaster PROFESSIONAL
                                         ■	
  Low-to-no vibration which is perfect
■	                                        e-Board/e-Board Touch mount ready
  for a steady interactive working         Legamaster projector mount FLEX ready
                                         ■	
  environment
  The columns have got the modern
■	
  triangle design
  Four wall-mount brackets
■	

                                                                                                                       21
FLEX PROGRAM
                                                                            143

                                                     2600

                               1000                                        277
                               1150

     Dimensions                                             Width     Max. Height Depth

     Column system FLEX fixed height                        1150 mm   2600 mm      277 mm

     Column system FLEX fixed height
     for PROFESSIONAL e-Board & e-Board Touch

                                                                       Ref.no.

     Column system FLEX for PROFESSIONAL e-Board & e-Board Touch Fixed
                                                                       7-195271
     Height all sizes (incl.long marker tray & laptop shelf).

     Column system FLEX Fixed Heigh for PROFESSIONAL e-Board & e-Board
                                                                        7-195272
     Touch 87" with side panels (incl.long marker tray & laptop shelf).

22
Column system for
                                                                                    ■	
                                                                                      PROFESSIONAL e-Boards/
                                                                                      e-Boards Touch
                                                                                      Board can be lowered to
                                                                                    ■	
                                                                                      60 cm from the floor
                                                                                      Includes long marker tray
                                                                                    ■	
                                                                                      Up-&-down movement of
                                                                                    ■	
                                                                                      PROFESSIONAL e-Board/
                                                                                      e-Board Touch
                                                                                      Column size:
                                                                                    ■	
                                                                                      Max. height 260 cm

Column system FLEX                                                                  Legamaster FLEX system
height adjustable                                                                   A PROFESSIONAL e-Board/e-Board
for PROFESSIONAL e-Board & e-Board Touch                                            Touch FLEX system can be composed
                                                                                    of a PROFESSIONAL e-Board,
  Specially designed for rooms with
■	                                         The columns have got the modern
                                          ■	                                       a column system FLEX height
  non-rigid walls                           triangle design                         adjustable and a projector arm
  The weight of the construction rests
■	                                         Four wall-mount brackets
                                          ■	
  on the floor                              Optimal use of space
                                          ■	
  The PROFESSIONAL e-Board/e-Board
■	                                         User-friendly
                                          ■	
  Touch slides vertically                   The sliding mechanism is concealed
                                          ■	
  Low-to-no vibration which is perfect
■	                                         inside the columns, which provides
  for a steady interactive working          a safe working environment
  environment                               Legamaster PROFESSIONAL
                                          ■	
  The e-Board operates very quietly and
■	                                         e-Board/e-Board Touch mount ready
  can be raised and lowered easily and      Legamaster projector mount FLEX ready
                                          ■	
  silently due to the robust and stable
  columns

                                                                                                                        23
FLEX PROGRAM
               347

                                        889                             44
               2600

                                        700

                                       1000

     Dimensions                                               Width          Max. Height Depth

     Column system FLEX height adjustable                     888 mm         260 mm      164 mm

     Column system FLEX height adjustable
     for PROFESSIONAL e-Board & e-Board Touch

                                                                              Ref.no.

     Column system FLEX height adjustable set 1                               7-195260

     Column system FLEX height adjustable set 2                               7-195261

     Column system FLEX height adjustable set 3                               7-195262

     Column system FLEX height adjustable set 4                               7-195263

     Column system FLEX height adjustable set 5                               7-195264

     Set depends on configuration weight. See FLEX system matrix for more information

24
Column system for
                                                                                         ■	
                                                                                           PROFESSIONAL e-Boards/
                                                                                           e-Boards Touch
                                                                                           Board can be lowered to 60 cm
                                                                                         ■	
                                                                                           from the floor
                                                                                           Includes 139 cm long marker tray
                                                                                         ■	
                                                                                           Up & down movement of
                                                                                         ■	
                                                                                           PROFESSIONAL e-Board/
                                                                                           e-Board Touch
                                                                                           Column size: Max. 260 cm
                                                                                         ■	
                                                                                           height

Column height adjustable system                                                          Legamaster FLEX system
for PROFESSIONAL e-Board & e-Board Touch
                                                                                         A PROFESSIONAL e-Board/e-Board
                                                                                         Touch FLEX system can be composed
  The PROFESSIONAL e-Board/
■	                                              Optimal use of space
                                               ■	
                                                                                         of a PROFESSIONAL e-Board/e-Board
  e-Board Touch slides vertically                User friendly
                                               ■	
                                                                                         Touch, a column height adjustable
  Low-to-no vibration which is perfect for a
■	                                              The sliding mechanism is concealed
                                               ■	
                                                                                         system and a projector arm
  steady interactive working environment         inside the columns, which provides a
  The e-Board has got a very quiet
■	                                              safe working environment
  operation and it can be raised and             Legamaster PROFESSIONAL e-Board/
                                               ■	
  lowered easily and silently due to the         e-Board Touch mount ready
  robust and stable columns                      Legamaster projector mount FLEX ready
                                               ■	

                                                                                                                              25
FLEX PROGRAM

                                                                                                                 Dimensions     Width    Height   Depth
                                                                                                                                                  (from wall)
                                                                                                                 Column height
                                                                                                                                   1995 mm 2600 mm 250 mm
                                                                                                                 adjustable system

     Column System Height Adjustable for systems without side panels

                           e-Board type        projector arm type       projector type             KEA

     Column System
                           e-Board 77"         Projector Mount FLEX NEC UM330X(i) / UM280X(i)      7-195253-02
     Height Adjustable
     Column System
                           e-Board Touch 77" Projector Mount FLEX NEC UM330X(i) / UM280X(i)        7-195251-02
     Height Adjustable
     Column System
                           e-Board 88"         Projector Mount FLEX NEC UM330W(i) / UM280W(i) 7-195253-04
     Height Adjustable
     Column System
                           e-Board Touch 87" Projector Mount FLEX NEC UM330W(i) / UM280W(i) 7-195252-06
     Height Adjustable

     Column System Height Adjustable for systems with side panels

                           e-Board type        projector arm type       projector type             KEA

     Column System
                           e-Board 77"         Projector Mount FLEX NEC UM330X(i) / UM280X(i)      7-195253-08
     Height Adjustable
     Column System
                           e-Board Touch 77" Projector Mount FLEX NEC UM330X(i) / UM280X(i)        7-195251-09
     Height Adjustable
     Column System
                           e-Board 88"         Projector Mount FLEX NEC UM330W(i) / UM280W(i) 7-195253-11
     Height Adjustable
     Column System
                           e-Board Touch 87" Projector Mount FLEX NEC UM330W(i) / UM280W(i) 7-195252-14
     Height Adjustable

     KEA's mentioned in the tables are available from stock.
     All other configurations will have a two week lead time.
     Please refer to the FLEX System Matrix for article information for all other configurations

26
3 mounting systems:
                                                                                      ■	
                                                                                        - Wall mount projector arm for
                                                   1.                                     wall fixed boards
                                                                                        - Projector mount for mobile
                                                                                          and height adjustable
                                                                                          interactive systems
                                                                                        - Projector mount to fit third
                                                                                          party projector wall mounts
                                                                                          to a Legamaster FLEX
                                                                                          interactive system
                                                                                        Fits all PROFESSIONAL e-Board/
                                                                                      ■	
                                                                                        e-Board Touch FLEX systems
                                                                                        Can be used in combination
                                                                                      ■	
                                                                                        with PROFESSIONAL Projection
                                                                                        board FLEX
                                                                                        Comes as a complete set with
                                                                                      ■	
                                                                                        assembly materials and clear
                            2.                                3.
                                                                                        mounting instructions

Projector mounts                                                                      System 1:
                                                                                      Wall mount FLEX
for PROFESSIONAL e-Board & e-Board Touch
                                                                                      This system is ideal for use in
and PROFESSIONAL Projection board FLEX                                                combination with wall mounted
                                                                                      boards at fixed height.
  A solution for short throw projectors
■	                                          Minimalist design with triangle shaped
                                           ■	
  because of the modular build               elements                                 System 2:
  High precision fine tuning so even the
■	                                          In distinguished grey metallic color
                                           ■	                                        Projector mount FLEX
  most sensitive projectors can be tuned     combination                              This system is the replacement
  Pipe opening is large enough for cable
■	                                                                                   for the current projector arms that
  management of the projector                                                         fit to all height adjustable, stand
                                                                                      and column systems of Legamaster.

                                                                                      System 3:
                                                                                      Projector mount FLEX for
                                                                                      Third Party Wall mounts
                                                                                      A number of well-known projector
                                                                                      manufacturers have developed wall
                                                                                      mounts for their devices. In order to
                                                                                      mount these devices onto Legamaster
                                                                                      FLEX systems, we have developed
                                                                                      a specific projector mount for these
                                                                                      Third Party Wall Mounts (TPWM).
                                                                                      This system fits on all Legamaster
                                                                                      (height adjustable) stands and
                                                                                      column systems.

                                                                                                                              27
FLEX PROGRAM

     Projector arms (e-Boards only)                                                                      Ref.no.

     Projector wall mount FLEX 470                                                        867033000      7-195412

     Projector wall mount FLEX 590                                                        867034000      7-195413

     Projector wall mount FLEX 710                                                        867035000      7-195414

     Projector wall mount FLEX 1200                                                       867036000      7-195417

     Projector wall mount FLEX 1460                                                       867037000      7-195418
                   new table
     Projector mount FLEX 320-1200                                                        867042000      7-195431-7

     Projector mount FLEX 320-1460                                                        867043000      7-195431-8

     Projector mount FLEX 470-470                                                         867044000      7-195432-2

     Projector mount FLEX 470-590                                                         867145000      7-195432-3

     Projector mount FLEX 470-710                                                         866292000      7-195432-4

     Projector mount FLEX 470-770                                                         866306000      7-195432-5

     Projector mount FLEX 470-1460                                                        866611000      7-195432-8

     Projector mount FLEX 590-710                                                         866612000      7-195433-4

     Projector mount FLEX 590-770                                                         866614000      7-195433-5

     Projector mount FLEX 590-1010                                                        866616000      7-195433-6

     Projector mount FLEX 590-1460                                                        866617000      7-195433-8

     Projector mount FLEX for Third Party Wall mounts 470                                 867038000      7-195422

     Projector mount FLEX for Third Party Wall mounts 590                                 867039000      7-195423

     Projector mount FLEX for Third Party Wall mounts 710                                 867040000      7-195424

     Projector mount FLEX for Third Party Wall mounts 770                                 867041000      7-195425

     Please refer to the FLEX system matrix to find the correct projector configuration for your setup

28
High quality, scratch resistant
                                                                                             ■	
                                                                                               enamel projection surface
                                                                                               4:3 or 16:10 widescreen format
                                                                                             ■	
                                                                                               77", 88" and 99" board sizes
                                                                                             ■	
                                                                                               available

                                                                                                YEARS

                                                                                                         SUPERIOR   LIGHT-
                                                                                             GUARANTEE   QUALITY    WEIGHT

PROFESSIONAL projection                                                                      CUSTOMISE YOUR OWN

board FLEX                                                                                   LEGAMASTER SYSTEM

                                                                                             ■ Mounting system FLEX
  Perfect for projection with a/v projector
■	                                             Easy wall mounting with concealed slot
                                              ■	                                            	You can choose between a
  Good image and contrast quality:
■	                                             system                                         wall mount height adjustable
  No "hotspot" visible when projecting          Particularly well suited for long term use
                                              ■	                                              component, mobile stand,
  with average a/v projector                    Long or short marker tray optional
                                              ■	                                              mobile height adjustable stand
  Aluminum frame with light grey plastic
■	                                                                                            and column height adjustable
  corner caps                                                                                  system
  Baked enamel finish (fired at 800°C),
■	
  which results in a very durable surface                                                    ■ S
                                                                                                ide panels
                                                                                               You can choose between durable
                                                                                                enamel steel whiteboard, green
                                                                                                board or grid board surface. All
                                                                                                side panels have a whiteboard
                                                                                                enamel steel backside. Legamaster
                                                                                                offers a 25 year guarantee on
                                                                                                all side panels when used in
Optionally:
                                                                                                combination with Legamaster
PROFESSIONAL Hybrid Board
                                                                                                accessories
The Hybrid version of the PROFESSIONAL
Board FLEX is an optimal multi-functional
                                                                                               Marker tray
                                                                                             ■	
solution in environments where whiteboards    Suitable for use in combination with
                                                                                               Long or short marker tray
and projectors both are frequently used.      eBeam Edge and the electronic pen (stylus)
                                                                                                Long marker tray, 1 meter,
                                                                                                ref.no. 7-195511
For more information about this board,        See page "eBeam Edge" for more
please contact your Legamaster dealer.        information

                                                                                             For more information, please
                                                                                             contact your Legamaster dealer

                                                                                                                                    29
FLEX PROGRAM
                                                            A

                                       C

          B

                                 D

     Dimensions                      Projection format   External dimensions   Internal dimensions
                                                         (AxB)                 (CxD)

     Projection board FLEX 77"       77" / 4:3           1220 x 1680 mm        1180 x 1640 mm

     Projection board FLEX 99"       99" / 4:3           1550 x 2120 mm        1510 x 2080 mm

     Projection board FLEX 88"       88" / 16:10         1220 x 2000 mm        1180 x 1960 mm

     PROFESSIONAL projection board FLEX
                                                                    Ref.no.
     PROFESSIONAL Whiteboard FLEX 77"                               7-190002
     PROFESSIONAL Whiteboard FLEX 99"                               7-190003
     PROFESSIONAL Whiteboard FLEX 88"                               7-190004

     PROFESSIONAL Projection board FLEX 77"                         7-190012
     PROFESSIONAL Projection board FLEX 99"                         7-190013
     PROFESSIONAL Projection board FLEX 88"                         7-190014

     PROFESSIONAL Hybrid board FLEX 77"                             7-190022
     PROFESSIONAL Hybrid board FLEX 99"                             7-190023
     PROFESSIONAL Hybrid board FLEX 88"                             7-190024

30
10 good reasons for eBeam®
                                                                                          1.	Secure and reliable hardware
                                                                                          2.	Durable, wear-resistant
                                                                                          3.	Sophisticated technology
                                                                                          4.	Hardware easy to intergrate
                                                                                          5.	A range of possibilities
                                                                                          6.	Licence-free software
                                                                                          7.	Free update service
                                                                                              (no hidden extras)
                                                                                          8.	Distribution worldwide
                                                                                          9.	Easy-to-learn software
                                                                                         10.	Easy to use, ergonomic design

                                                                                         USB

eBeam Edge                                                                               ■ Comes complete with:
                                                                                         	- eBeam Edge USB receiver
  The world's smallest mobile interactive
■	                                           The eBeam Edge works with standard
                                            ■	                                          	- eBeam Edge Stylus
  whiteboard system                           projectors and both Windows® and           	- AAA battery
                                                                                         	- 2 mounting plates
  Transforms any existing (classroom)
■	                                           Macintosh® computers
                                                                                         	- CD with eBeam Workspace and
  whiteboard into an interactive              Integrated receiver magnets make
                                            ■	
                                                                                             Education Suite software
  workspace                                   attaching it to a steel surface quick
                                                                                         	- USB cable (5m)
  Place the eBeam Edge on your board,
■	                                           and easy                                   	- Wrist-cord
  install the software and control your       Comes complete with stainless steel
                                            ■	
  computer from the whiteboard area           mounting plates for non-magnetic surfa-    ■ Only for Wireless version:
  using the eBeam Edge stylus, an             ces and allows the receiver to be placed   	- USB wireless adapter
  interactive pen with built-in mouse         in exactly the same location which         	- USB power adapter
  functions                                   reduces the need for calibration           	- eBeam battery pack
  Grab the attention of your audience
■	                                           One button calibration
                                            ■	
  with dynamic and media-rich                 Three-button stylus with left and
                                            ■	
  presentations and lessons and engage        right click and instant access to eBeam
  them with hands-on interaction at           software tools
  the board                                   Wireless version comes with a battery
                                            ■	
  eBeam Edge is the most fully-featured
■	                                           pack that allows up to 12 hours fully
  and smallest mobile interactive             wireless operation
  whiteboard system on the market
  This small, light weight and well
■	
  designed system fits comfortably in any                                                Optionally:
  laptop case                                                                            Complete your eBeam Edge with a
                                                                                         Capture Pack

                                                                                                                              31
eBeam

                                                                 eBeam Stylus

                                                                                      Projector

                               Computer

     SPECIFICATIONS
     User benefit                     Smallest mobile interactive whiteboard system in the world
                                                                                                                     System requirements:
     Operating systems                Windows XP SP3/ Vista SP2/7 SP1 | Mac OSX 10.5.8 - 10.7 | Linux Ubuntu 10.04
     Software version                 2.4 for Windows | 2.3 for Mac | 0.8.0 (Beta) for Linux
                                                                                                                       - CD-ROM drive or Internet
                                    English, Arabic, Chinese (Simplified and Traditional), Czech, Danish, Dutch
                                    (Netherlands), French, German, Hebrew, Hungarian, Italian, Japanese, Korean,           connection (for software
     Software languages for Windows
                                    Norwegian, Polish, Portuguese (Brazil), Russian, Spanish (Latin American),             installation)
                                    Swedish, Thai, Turkish, and Vietnamese.
     Software user licenses           Unlimited                                                                         - Internet connection (for
     NetMeeting compatible            Yes                                                                                  participating in shared meetings
     Mouse mode                       Yes                                                                                  or extended clip art gallery)
     eBeam mouse stylus               eBeam Edge stylus with built-in mouse functions                                    - One available USB port
     Battery type                     1 AAA battery                                                                      - Digital projector attached to
     Battery life                     40 hours of writing time                                                       		computer
     Low battery monitor              Yes                                                                                - At least a Intel Pentium
     Power supply                     Yes, via USB                                                                   		 Dual-Core, 2,1GHz
     Cable to computer                4.5 meter                                                                      		 with 2GB RAM
     Max. active board area           274 x 152 cm
                                                                                                                         - Windows® 2000/XP,
     Min. active board area           43 cm x 28 cm
                                                                                                                     		 Vista, Windows® 7
     Supported file formats           JPEG, TIFF, HTML, PDF, Vector PDF, EPS, BMP, WBD, swf
                                                                                                                         - 250 MB available hard drive
     Calibration                      9 point calibration
                                                                                                                     		space
     Computer connection              USB 2.0
                                                                                                                         - Available USB 2.0
     Meeting notes import             Yes
                                                                                                                         - Mac OSX 10.6 or higher
     Internet meeting server          Yes
                                                                                                                         - Intel Core Duo 1,5GHz
     Internet protocol                default via port 80- can be customized
                                                                                                                         - 2GB RAM
     Max. users for LAN/internet      10/25 (more if used by Netmeeting)
                                                                                                                         - 250MB harddisk space
     Hardware guarantee               3 years warranty
     SPECIFICATIONS WIRELESS VERSION
     Battery life                     Up to 12 hours
     Charging time                    3 hours
     Wireless range                   Up to 50 m

                                                                                               Ref.no.

     eBeam Edge Education USB                                                                  7-164700

     eBeam Edge Business USB                                                                   7-164600

     eBeam Edge Wireless with battery pack                                                     7-164530

32
Spare pen for the eBeam Edge,
                                                                             ■	
                                                                               e-Board interactive as of 2010
                                                                               Ergonomic eBeam Edge Stylus
                                                                             ■	
                                                                               Length 14.5 cm
                                                                             ■	

eBeam Edge stylus
The interactive stylus sends an ultrasonic
(does not affect peripheral apparatus) to
the sensor in the board. The sensor scans
the board surface continuously, enabling it
to determine the precise position of the pen

                                                                  Ref.no.

eBeam Edge Stylus                                                 7-164200

eBeam Projection stylus
Spare pen for the eBeam Projection and the e-Board interactive 2004-2009

                                                                  Ref.no.

eBeam Edge Stylus                                                 7-166000

                                                                                                                33
ACCESSORIES

                                                                                                    Minimum system
                                                                                                    requirements:

                                                                                                    ■ W
                                                                                                       indows
                                                                                                      - Windows XP, 7 & 8

     LiveWire                                                                                         - Intel Pentium Dual-Core, 2.1GHz
                                                                                                      - 2 GB RAM
     eBeam LiveWire eliminates the need to             Five applications on one device!
                                                     ■	                                              - 250 MB of available disk space
     download or install eBeam software making         LiveWire provides access to eBeam                 recommended
     sharing within your organization simple.          Workspace (Windows) eBeam Educa-               - CD/DVD ROM drive or Internet
     Connect LiveWire to an available USB port         tion Suite and eBeam Capture (Mac                 connection
     and plug your eBeam USB cable or eBeam            and Windows)                                   - a vailable USB 2.0 or 3.0 port
     Wireless USB Adapter into the Livewire. The       'Plug and Play' functionality - no drivers
                                                     ■	
     software launches for immediate interacti-        required                                     ■ Mac OS X
     vity in a meeting or classroom. No administ-      Friendly user interface, easy to navigate
                                                     ■	                                              -O  S 10.6 -10.9
     rative access to the computer is required so      Mobile and accessible - eBeam LiveWire
                                                     ■	                                              - Intel Core Duo 1.5Ghz
     you can be up and running in an instant.          doesn't require privileged user/access         - 2 GB RAM
                                                       accounts to operate                            - 250 MB of available disk space
                                                                                                         recommended
                                                                                                      - CD/DVD ROM drive or Internet
                                                                                                         connection
                                                                          Ref.no.                     - available USB 2.0 or 3.0 port
     LiveWire                                                             7-166400

     eBeam Capture pack
       Accessory kit to make from your eBeam
     ■	                                               Capture your notes digitally
                                                     ■	
       Projection an eBeam Capture                     No projector needed
                                                     ■	
       Write with whiteboard markers in electronic
     ■	
       sleeves

                                                                          Ref.no.
     eBeam Capture pack                                                   7-166300

                                                                                                      For use with eBeam Capture
                                                                                                    ■	

     eBeam Capture markers                                                                          Tip:

       Set of markers in 4 colours: black, red,
     ■	                                                                                               Stroke width:
       blue and green                                                                                  approx.
                                                                                                       1.5 – 3.0 mm
                                                                          Ref.no.
     eBeam Capture markers                                                7-166094

34
Great sound quality
                                                                                        ■	
                                                                                          Excellent speech intelligibility
                                                                                        ■	
                                                                                          Designed for rooms
                                                                                        ■	
                                                                                          up to 120 m2

SP3700 Active Sound System
High quality sound system

  The SP3700 Active Sound System is a
■	                                           designed for rooms up to 120 m2, like
                                            ■	
  powered, two way solution with              classrooms and larger meeting rooms
  integrated subwoofer for powerful           SP3700 can be controlled with a remote
                                            ■	
  and clear audio                             control or via the control panel on the
  SP3700 can easily be mounted to the
■	                                           system
  wall
  Special brackets for mounting to a FLEX
■	
  solution are available

                                                                                                                             35
ACCESSORIES

                                                                                                       95

                                              942

     SPECIFICATIONS

     Dimensions (W x H x D)             942 x 95 x 59 mm

     Power                              2 x 15 W + 30 W

     Contrast ratio                     Line-in 3,5 mm jack

                                        Aux-in stereo RCA

     SPL 1W/1m                          82 dB

     Frequency response                 45 Hz - 20 kHz

     Mains voltage                      100-230V AC

     Power consumption                  60 W max

     Auto stand-by                      60 minutes

                                                        Professional EMD       standard grade models

                                                46"           55"      65"     55"       65"    84"
     7-198310                                       x
     Soundbar mounting bracket e-Screen S
     7-198320                                                  x           x    x
     Soundbar mounting bracket e-Screen M
     7-198330                                                                             x      x
     Soundbar mounting bracket e-Screen L

     SP3700 Active Sound System
     High quality sound system

                                                                               Ref.no.

     Soundbar SP 3700 black                                                    7-198112

     Soundbar SP 3700 grey                                                     7-198111

     Soundbar mounting bracket e-Board FLEX                                    7-198210

     Soundbar mounting bracket for Column System Height Adjustable             7-198220

     Soundbar mounting bracket e-Screen S                                      7-198310

     Soundbar mounting bracket e-Screen M                                      7-198320

     Soundbar mounting bracket e-Screen L                                      7-198330

36
Pen tool

         Highlighter                                               Text and shape tool

                                                                              Screen
      Zoom
                                                                              keyboard

        Screenshot/
        New page                                                    Eraser
        Recorder

                               Selection and pointer tool

eBeam-Software
One for all

You can use eBeam software with all             ■	Easy-to-learn functions
interactive Legamaster products. Thanks to          The numerous multivalent solutions are
its intelligent toolbox, you can control your        easy to learn and intuitive to operate. The
PC with complete ease from the projection            start page, in the style of a mobile phone
surface, without the need for a keyboard             display, has freely configurable shortcut
or mouse.                                            keys for speedy access to applications,
                                                     websites and frequently used tools.
■	Highly efficient                             ■	Perfect control via the eBeam ePen
   In combination with eBeam hardware               The interactive eBeam ePen, sits nicely in
    products, eBeam software is licence-free          your hand and has built-in mouse
    and can therefore be used by any                  functionality. The three-button pen,
    number of users without additional cost.          complete with left-click and right-click
    A licence for eBeam software can be               functions, allows direct access to the
    obtained for use with e-Board Touch               software tools. Of course, the eBeam
    and e-Screen. It also includes a free           software can also be used with
    update service.                                 touch-operated Legamaster products
                                                    by using your finger or the ergonomic
                                                    Legamaster stylus.

                                                                                Ref.no.

 eBeam software license (CD)                                                    7-193100

 eBeam software license (download)                                              7-193200

                                                                                                   37
SOFTWARE

              Switch between PC and                                      Select pen
                    annotation mode

                    Select highlighter                                   Select brush

                         Select eraser                                   Insert shape

                                                                         Select colour (right-click
                                                                         for colour palette)

                       Set font width

                       Forward / back                                    Open new page /
                                                                         Access pages

     Open transparent/non-transparent                                    Access to Save, Print, Spotlight,
                    annotation screen                                    Magnifying Glass and Virtual Keyboard
                         Mask content
                (as in "conceal/hide")

               Legamaster Chalkbox software
               Legamaster Chalkbox software: equipped         Intuitive operation
                                                            ■	
               with countless options, easy to understand   ■	Control panel available on the board
               and so simple to use.                            surface at all times
                                                            ■	Intelligent tools for highlighting in colour,
               Legamaster Chalkbox software allows you          erasing and making notes in different
               to insert, save and edit your own digital        formats. With magnifying glass and
               notes, sketches or comments at any point         brush function
               while working interactively on external      ■	Included with the Professional e-Board
               documents.                                       Touch. As easy as ABC.

38
Connect your DisplayNote
                                                                       computer to a Legamaster
                                                                       e-Screen or e-Board for the
                                                                       most effective collaboration.

                                                                                                         Capture
                                                                                                       ■	
                                                                                                         Annotate
                                                                                                       ■	
                                                            Start a session on your computer.            Collaborate
                                                                                                       ■	
Allow 40+ devices* to connect to your                                                                    Take notes
                                                                                                       ■	
session on a range of platforms.
*Depending on network conditions                                                                         Control
                                                                                                       ■	
                                                                                                         Save your work
                                                                                                       ■	
                                                                                                         Send private messages
                                                                                                       ■	
                                                                                                         Work cross-platform
                                                                                                       ■	

          DISPLAYNOTE                                                                                  With DisplayNote
          ■ Present ■ Share ■ Collaborate                                                           you can:
                                                                                                       ■ Capture the presenters notes,
            DisplayNote lets presenters and
          ■	                                             DisplayNote is comprised of two
                                                        ■	
                                                                                                          slides and images on your
            audiences connect and collaborate             components, the DisplayNote desktop
                                                                                                          own device.
            across a range of tablets, Android and        software running on a computer and
                                                                                                       ■ Annotate what is important to
            desktop devices. It is the perfect tool       the DisplayNote app running on
                                                                                                          you for later review, and send
            for 1-to-1 and BYOD (Bring Your Own           tablet/phone devices. The DisplayNote
                                                                                                          annotations to other connected
            Device) initiatives. Presenters can           desktop software currently is available
                                                                                                          devices
            instantly share their content with            on Windows (XP and newer) and
                                                                                                       ■ Work together in groups of any
            their participants and allow them to          Mac OS X (10.7 and newer).
                                                                                                          size and on any device
            capture and take their own notes and          Currently iPad (iPad2 and newer)
                                                                                                       ■ Add written notes, post-its and
            annotations. The group can collaborate        is fully supported and Android
                                                                                                          references to any slide, image
            in real time and the presenter can view       development is continuing to bring
                                                                                                          and video
            and share the screen of any device.           DisplayNote compatibility to as wide
                                                                                                       ■ In presenter mode, use your
            DisplayNote is versatile, multi-platform,
          ■	                                             a range of devices as possible
                                                                                                          tablet device to present from
            collaboration and annotation software,
                                                                                                          anywhere in the room. Access
            combining both the presentation
                                                                                                          and control your desktop, create
            aspects of e-Boards or e-Screens and
                                                                                                          collaborative groups, pass control
            the diverse functionality of current
                                                                                                          to other participant's devices and
            tablet and handheld devices
                                                                                                          even view the screen of another
                                                                                                          connected device
                                                                                                       ■ Save out presentations, images,
                                                                                                          files and all your notes to review
                                                                                                          anywhere, anytime
                                                                                                       ■ Send and receive private messages
                                                                                                          with the presenter and other
                                                                                                          connected devices while you work
                                                                                                          across all the major platforms
                                                                                                          including iOS, Android, Windows,
                                                                                                          Mac OS and Linux

                                                                                                                                               39
SOFTWARE

     DisplayNote                                                                               DisplayNote is innovative software,
                                                                                               which continuously develops.
     User benefit                 Collaboration software
                                                                                               For the latest information, please have
     Supported operating systems Windows 7/8, Mac OSX 10.7-10.9, iOS 6/7, Android              a look at www.displaynote.com
     Product type                 Download

     Package contents             Digital license

     Supported languages          Multi lingual (22 languages)

                                  Windows 7/8: Core2Duo, 1GB RAM (2GB RAM recommended)
                                  Mac OSX 10.7-10.9: Core2Duo, 1GB RAM (2GB RAM recommended)
     System requirements
                                  iOS6-7: iPad2 - iPad Air
                                  Android 2.3: Android Passmark score >2000

     DISPLAYNOTE
                                                                           Ref.no.

     Displaynote Presenter                                                 1970 01-02

     Displaynote 10 (until 10 participants)                                1970 01-10

     Displaynote 20 (until 20 participants)                                1970 01-20

     Displaynote 40 (until 40 participants)                                1970 01-40

     Displaynote Open                                                      1970 01-99

40
Legamaster

     IN TOUCH!
LET'S GET

            www.e-legamaster.com
One-stop shop for performance
                               and know-how.
                               As a powerful brand within the edding Group, LEGAMASTER is the No.1 choice when
                               it comes to modern, eye-catching visualisation and presentation. Be it in lessons, at
                               seminars, at conferences or in meetings: with a large range of interactive media, flip-
                               charts, whiteboards, pinboards, moderation equipment, planning aids, presentation
                               and display systems and accessories for bold writing and drawing, LEGAMASTER offers
                               all manner of possibilities.

                                  Legamaster International B.V.
                        Kwinkweerd 62 · Postbus 111 · 7240 AC Lochem
                      tel.: (+31) (0)573-713000 · fax: (+31) (0)573-713001
                email: info@legamaster.com · internet: www.e-legamaster.com

We m ake c om m unica t ion v i s i bl e
                                                                                                                         985045000

                                                                         Legamaster, brand of the edding group