Buffalo Games & Puzzles - 2017 Product Catalog
Page content transcription
If your browser does not render page correctly, please read the page content below
PG 2

BRAIN GAMES (#134)
Based on the Emmy-nominated National Geographic Channel TV series Brain Games, Brain Games the Game
will take you through a series of challenges that will put both your mind and body to the test!
Ages 14+

BRAIN GAMES KIDS (#132)
Play as teams and work together to answer mind-bending challenges in this CEREBELLUM SHOWDOWN!
PLAY fun games designed to MESS WITH YOUR MIND! EXPLORE the limits of the HUMAN BRAIN and how it
works! DISCOVER fascinating facts and brainy news nuggets! Ages 8+
PG 3

    Silly Street is a line of pre-school games and puzzles that
    teaches character-building skills through thoughtful play!

SILLY STREET - THE GAME             (#39501)              SILLY STREET - ANIMAL ACT                (#39505)
Get smart and get heart with Silly Street, a game         Animal Act is a fun way for your kiddos to explore
packed with good times & contagious laughter!             their creativity and non-verbal communication
Teaches confidence, empathy, creative problem             skills, flexing their brains to try new ways of
solving & more! Ages 4+                                   expression and movement. Ages 4+

SILLY STREET 48 PIECE PUZZLE ASSORTMENT (#39600)
48 LARGE Piece Puzzles – perfect for kiddos 4+ years old
Six Great Themes: Fun Flight, Happy Birthday, Silly City, Portraits, Jungled, Treasure Map
PDQ merchandising available!
PG 4

SCOOBY-DOO FRIGHT AT THE FUN PARK (#136)
Jinkies!! Can you help the Mystery Inc. gang save the fun park from a spooky ghoul? Whoever figures
out where the ghoul is hiding, wins! Every game is a new mystery!
Includes: 1 mystery decoder, 1 die, 1 game board, 4 mini erasable maps, 4 wipe on/wipe off markers,
5 character movers, 25 mystery cards, 36 ticket cards. Ages 4+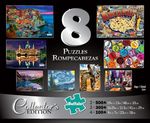 To Be
SKRIBBLE HEAD               (#135)     Discontinued
                                        in Fall 2017    PG 5

The Fast Guessing. Draw on your own head game!

                                 Family Friendly Game
                                    Age Graded 8+
                                      2+ Players
PG 6

WATCH YA MOUTH (#141)                                        WATCH YA MOUTH THROWDOWN (#198)
The Authentic, Hilarious, Mouthguard Game.                   A Head-to-Head competition of skill and audacity!
A TRUE FAMILY GAME Good for Ages 8+                          Same hilarious mouthpieces plus new challenge
All new multicolored mouthpieces are FDA and CE              props including straws, noise makers, ping pong
certified. Learn it in seconds, play it for hours! Ages 8+   balls and more! Ages 8+

                                WATCH YA MOUTH MOUTHPIECE 10PK (#196)
                                More mouthpieces means more laughter!
                                You asked for it, you got it… 10 multi-colored
                                mouthpieces in both large and small sizes.
FLIP TRICKS
          BOTTLE FLIP CHALLENGE                                                                         PG 7

FLIP TRICKS (#194)
For those who feel the world has gone flippin' crazy, this is the game for you!
Custom-designed battle tested bottle, made to withstand the wear and tear of repeated bottle flips.
Includes a card pack with head to head challenges, solo challenges and tricks, like "High Drop", "The
Rainmaker" and "The Wall Stand."
PG 8

                                                    "If you've ever wondered what your
                                                      friends think about you, Hot Seat
                                                       gives you the answer. Just make
                                                     sure you have some beer handy…"
                                                             -Beer and Board Games

HOT SEAT (#145)
Find out who your friends are - Hear the stories they were hoping everyone forgot
Discover who knows you best - All players answer pretending to be you when you're in the Hot Seat
Play again and again - Answers change depending on the friends you're playing with
200 Questions | 4 - 10+ Players | Ages 17+
THE CENSORED GAME
                                                                                                     PG 9

THE CENSORED GAME (#146)
The Censored Game is an adult party game that "censors" how teams of players act, draw and speak clues.
It combines elements of Charades, Pictionary and Taboo but takes things a staircase of steps further by
adding layers of difficulty and nonsense. Ages 17+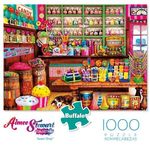 20th Anniversary Edition
                                                                                                   PG 10

CHRONOLOGY (#159)
THE GAME OF ALL TIME!
Think you know which came first – the invention of mayonnaise or decaffeinated coffee? Lincoln's
Gettysburg address or John Deere's first plow? Test your knowledge with Chronology!
2 to 8 players, ages 14+
PG 11

THE METAGAME (#167)
Everyone has an opinion. The Metagame is a fun party game about sharing opinions on the most
important debates of our time, like "which feels more like first love: The Mona Lisa or the Big Mac?" The
Metagame includes culture cards that feature media, art, fashion and entertainment, and opinion cards
that prompt lively chatter and lots of laughter. Ages 17+
PG 12

                    FIND OUT WHO YOUR FRIENDS ARE

THE VOTING GAME (#169)
The Voting Game is a party game that uncovers the hilarious truth behind your friendships.
Vote anonymously for the player that is described by the question in each round. Tally the votes and laugh
as the personalities of your friends are revealed!
Ages: 17+ | Players: 5 - 10 | 200 Question Cards
PG 13

                                 TETHERED BALL                    NO SPILLS!
                                                                100% THRILLS!
                                                                                    FITS ON
                                                                                   TABLE TOP

                                                                                         POINT-N-SHOOT

 25 REUSABLE
     CUPS                          PREMIUM
                                  WOOD BOARD                                                     SWIVEL
                                                                                               LAUNCHERS

                                                                 RECESSED CUP
                                                                  RACK KEEPS
                                                                 CUPS SECURE

MINI PONG (#172)
Mini-pong is an action-packed, convenient tabletop version of a popular social game where players launch
a ball into their opponents' cups in an attempt to clear the board.
No more hassle, chasing or spilling with this mini version! players use catapults for finger flick in' fun and a
tethered ball that helps keep all of the parts and pieces on the table. Ages 21+
PG 14

MONIKERS (#174)
Monikers is a dumb party game that respects your intelligence. Get your friends to guess the name on
your card. Each team has 60 seconds to get through as many weird, inappropriate names as they can. In
the first round, you can say anything you want. In the second, you can only use one word. And in the third,
you can't say anything at all — just charades. The same cards are used in each round, so by the end of the
game, you've made up a bunch of hilarious jokes together. Ages 17+
"The most you will ever laugh playing a game." – Shut Up & Sit Down
PG 15

URBAN DICTIONARY GAME (#176)
Experience Urban Dictionary in real life! A game based on the popular website where people like you
define millions of slang words. Players compete to impress the judge by playing Urban Dictionary words in
response to hashtags, phrases, and pictures. Players can also act out or illustrate words to win the round.
3-8 players; 18+
PG 16

LAST WORD (#180)
Last Word is a race to have the final say! Each round, blurt out answers while racing a timer and the other
players. For example, Subject: "Snack Foods," Letter: "P." Players yell out, "Potato Chips!" Peanuts!"
"Popcorn!" The player with the Last Word before the timer sounds advances toward the finish.
2 to 8 players, ages 14+
PG 17

PUCKET (#188)
Engage in a little tabletop competition with this fast paced game that sends the pucks flying.
Two players, each with eight pucks, frantically flick their pieces through the opening at the board's center.
Send your pieces skidding through the gate as quickly as you can and act fast to bounce any of your
opponent's pieces that slip through to your side back to theirs. Ages 12+
PG 18

                                                                                #2628

 #2620                                                                          #2629

#2630                           #2627                                           #2626

CHARLES WYSOCKI 300 LARGE PIECE ASSORTMENT
  (Asrt # 2600A – UPC: 0-79346-02600-5)
                        * Display on page represents a sampling of assortment
PG 19

#2483                            #2488                                         #2535

#2475                            #2533                                          #2498

#2534                            #2485                                         #2474

FAMILY 300 LARGE PIECE ASSORTMENT
  (Asrt #2500A – UPC: 0-79346-62500-0)
                       * Display on page represents a sampling of assortment
PG 20

#2704

#2701                                                 #2702

ADORABLE ANIMALS 300 LARGE PIECE ASSORTMENT
  (Asrt # 2700A – UPC: 0-79346-02700-2)

                        * Display on page represents a sampling of assortment
PG 21

        #2721                                       #2729

          #2726                                            #2728

#2722                         #2723                                         #2727

VIVID 300 LARGE PIECE ASSORTMENT (Asrt # 92720A – UPC: 0-79346-92720-3)
                    * Display on page represents a sampling of assortment
PG 22

                                            Great puzzle art with an added twist!

HIDDEN OBJETCS 500 PIECE ASSORTMENT
 (Asrt # 3400A – UPC: 0-79346-03400-0)
                       * Display on page represents a sampling of assortment
PG 23

                                                                             #3718

#3714
                                                                             #3717

#3715                        #3712                                           #3716

 AMERICANA 500 PIECE ASSORTMENT (Asrt # 93710A – UPC: 0-79346-93710-3)
                     * Display on page represents a sampling of assortment
PG 24

#3741

                                                  #3744

NOSTALGIA 500 PIECE ASSORTMENT (Asrt # 3740A – UPC: 0-79346-03740-7)
                    * Display on page represents a sampling of assortment
PG 25

                                                                                 #3690

#3886
                                                                                 #3685

#3694                           #3695                                            #3692

DAYS TO REMEMBER 500 PIECE ASSORTMENT
   (Asrt # 3680A – UPC: 0-79346-03680-6)
                         * Display on page represents a sampling of assortment
PG 26

#3774

   #3772                                                  #3771

AMAZING NATURE 500 PIECE ASSORTMENT
   (Asrt # 93770A – UPC: 0-79346-93770-7)
                         * Display on page represents a sampling of assortment
PG 27

                       Featuring the art of Johanna Basford

                                                                                 #3845

#3842
                                                                                 #3847

                                                                                     Includes black & white
#3843                            #3846
                                                                                     poster for coloring!
 COLOR YOUR WORLD 500 PIECE ASSORTMENT
   (Asrt # 3840A – UPC: 0-79346-03840-4)
                         * Display on page represents a sampling of assortment
PG 28

           #14058

#14055                                               #14052

                    #14043

PANORAMIC 750 PIECE ASSORTMENT (Asrt # 94000A – UPC: 0-79346-94000-4)
                      * Display on page represents a sampling of assortment
PG 29

                   Featuring the art of Charles Wysocki

                                                                              #17077

#17076
                                                                              #17072

#17078                       #17081                                           #17082

 CATS 750 PIECE ASSORTMENT (Asrt # 17070A – UPC: 0-79346-17070-8)
                      * Display on page represents a sampling of assortment
PG 30

                                                                         #17114

#17111
                                                                         #17113

CITIES IN COLOR 750 PIECE ASSORTMENT
  (Asrt # 17110A – UPC: 0-79346-17110-1)
                        * Display on page represents a sampling of assortment
PG 31

#17058                                                 #17055

#17057                                                 #17056

MAJESTIC CASTLES 750 PIECE ASSORTMENT
  (Asrt # 17050A – UPC: 0-79346-17050-0)
                        * Display on page represents a sampling of assortment
PG 32

                                                                                 #11242

#11239
                                                                                 #11228

#11230                          #11229                                           #11236

DARRELL BUSH 1000 PIECE ASSORTMENT
   (Asrt # 1210A – UPC: 0-79346-01210-7)
                         * Display on page represents a sampling of assortment
PG 33

     #11741                                                 #11742

#11743                            #11744                                   #11745

AIMEE STEWART 1000 PIECE ASSORTMENT
  (Asrt # 11740 – UPC: 0-79346-11740-6)

                        * Display on page represents a sampling of assortment
PG 34

#1418                                                  #1428

#1426                                                  #1425

SIGNATURE SERIES 1000 PIECE ASSORTMENT
  (Asrt # 1410A – UPC: 0-79346-01410-1)
                        * Display on page represents a sampling of assortment
PG 35

                                                                      #11155

   #11165

                                                                     #11180

   #11166                                                             #11168

HAUTMAN BROTHERS 1000 PIECE ASSORTMENT
 (Asrt # 1130A – UPC: 0-79346-01130-8)
                       * Display on page represents a sampling of assortment
PG 36

                                                                             #11276

#11267
                                                                             #11271

#11272                       #11268                                          #11265

 COCA-COLA 1000 PIECE ASSORTMENT (Asrt # 1250A – UPC: 0-79346-01250-3)
                     * Display on page represents a sampling of assortment
PG 37

                   Featuring the art of Chuck Pinson

#11396                                               #11395

#11387                                               #11388

ESCAPES 1000 PIECE ASSORTMENT (Asrt # 11380A – UPC: 0-79346-11380-4)
                    * Display on page represents a sampling of assortment
PG 38

                                                                                 #11437

#11438
                                                                                 #11446

#11445                           #11443                                          #11425

 CHARLES WYSOCKI 1000 PIECE ASSORTMENT
   (Asrt # 11400A – UPC: 0-79346-11400-9)
                         * Display on page represents a sampling of assortment
PG 39

                        #11527

                        #11525

CARTOON WORLD 1000 PIECE ASSORTMENT
 (Asrt # 11520A – UPC: 0-79346-11520-4)
                      * Display on page represents a sampling of assortment
PG 40

#11615                                                  #11614

#11613                                                  #11612

KIM NORLIEN 1000 PIECE ASSORTMENT
  (Asrt # 11600A – UPC: 0-79346-11600-3)
                        * Display on page represents a sampling of assortment
PG 41

#11664

#11663                                                  #11661

COLLAGE CRAZY 1000 PIECE ASSORTMENT
   (Asrt # 11660A – UPC: 0-79346-91660-3)
                         * Display on page represents a sampling of assortment
PG 42

         #11702                                                     #11709

                  #11708                                      #11707

#11704                             #11705                                          #11706

VIVID 1000 PIECE ASSORTMENT (Asrt # 11700A – UPC: 0-79346-91700-6)
                           * Display on page represents a sampling of assortment
PG 43

#11721                                                #11726

#11728                                                #11734

JOSEPHINE WALL 1000 PIECE ASSORTMENT
  (Asrt # 11720A – UPC: 0-79346-91720-4)
                        * Display on page represents a sampling of assortment
PG 44

   #11761                                                    #11762

BATMAN VS SUPERMAN 1000 PIECE GLOW ASSORTMENT
 (Asrt # 11760A – UPC: 0-79346-11760-4)
                       * Display on page represents a sampling of assortment
PG 45

#11542

#11546                                             #11545

1000 LARGE PIECE ASSORTMENT (Asrt # 11540A – UPC: 0-79346-91540-8)
                    * Display on page represents a sampling of assortment
PG 46

   #2034                                              #2043

   #2068                                              #2049

   #2037                                              #2066

2000 PIECE ASSORTMENT (Asrt # 2000A – UPC: 0-79346-62000-5)
                     * Display on page represents a sampling of assortment
PG 47

                                                                      #2201

                                                                      #2202

CHARLES WYSOCKI 2000 PIECE ASSORTMENT
 (Asrt # 2200A – UPC: 0-79346-02200-7)
                       * Display on page represents a sampling of assortment
PG 48

8-IN-1 COLLECTORS EDITION PUZZLE MULTIPACK (Item # 9301)
                   * Display on page represents a sampling of assortment
PG 49

 The BEST way to save a puzzle!
                                                     "NEVER buy puzzle glue again."

                                                     "Perfect solution for holding your
                                                     completed puzzle together!"

                                                     "This is a simple but effective way
                                                     to get your puzzle ready for
                                                     framing"
                                                     "This is a wonderful product it beats
                                                     the messy puzzle glue!!!!!!!! "

PUZZLE PRESTO PEEL & STICK PUZZLE PRESERVER (Item # 9202)
                   * Display on page represents a sampling of assortment