Advice and support if you lose your hair
If your browser does not support JavaScript, please read the page content below:
Advice and support if you lose your hair
Advice and support if you lose your hair In association with: Endorsed by: Registered Charity Number 1130815
Acknowledgements We wish to thank all of our specialist contributors to this My New Hair publication and gratefully acknowledge the project support from the Department of Health. Copyright and credit for use of images © My New Hair 2011. Copyright, design, photography and booklet content is intended for authorised My New Hair use only. No unauthorised reproduction of any part of this booklet without the prior permission of My New Hair. This booklet has been produced by My New Hair specialist advisers and has been reviewed by The Institute of Trichologists, healthcare professionals and people affected by medical hair loss.
This booklet is endorsed by the Department of Health.
My New Hair images kindly supplied by Catherine Harbour Photography. A selection of other images kindly supplied by Christine Headwear, Herb UK, Sleek, Look Good ... Feel Better and Trendco Wig Suppliers. Project and Print Sponsors With kind thanks to the Department of Health, Trendco Wig Suppliers and Herb UK Limited. Education Sponsors We gratefully acknowledge L'Oreal Professional and Trendco Wig Suppliers as our original and ongoing valuable education sponsors. Printed by Foundry Press Ltd Horsham who are proud to support My New Hair. Paper Supplied by Antalis/ McNaughtons.
Graphic design by Debbie Beaney My New Hair is a national independent charity providing information, advice and support for people experiencing medical hair loss.
They provide access to a responsibly trained national network of hairdressers. Registered Charity Number 1130815. For further information please visit www.mynewhair.org You can contact our helpdesk on info@mynewhair.org or call us on 01798 812547
"I feel my incredible career to date has led me to this moment and this opportunity to help people. I am so grateful that I have the skills to do this. My New Hair isn't just about hair, it's psychological medicine for people suffering from hair loss through illness and for many of the people I have seen, it's the missing link in their treatment. Giving people back their hair, hair that looks natural, attractive and feminine gives them back a little of their confidence to face the world in what could be their darkest hour. It was my personal experience of helping a family member during cancer treatment that inspired the idea of My New Hair.
I support both short term and long term hair loss sufferers and it affects men, women and children of all ages. If this is as a result of treatment for cancer, the outward effects of this can often remain invisible until you start losing your hair. What we can do is give people a chance to feel confident and normal. When people are fit and well, we look after them, so when they are ill it is even more important as a hairdresser, to be sensitive and make them feel special.
Many people suffering from hair loss don't want to feel different, they often want to be able to go out and feel normal with hair that looks real and natural." Using his skills and his personal insight, Trevor recognised the need for the hair industry to support people suffering from medical hair loss. An accomplished hairdresser for over 40 years, Trevor Sorbie MBE has created and committed himself to an entirely not for profit initiative "My New Hair". Trevor sought to gain the support of his industry peers in creating a network of "salons that care". In July 2009, this was awarded national registered charity status by the Charity Commission.
Trevor Sorbie, MBE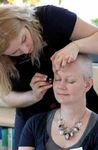 Contents Introduction . . 5 What My New Hair can do to help you . . 5 Hair Loss . . . 6 Your feelings . . 6 Preventing hair loss . . 6 How you may lose your hair . . 6 Hair loss through Chemotherapy. . . 7 Hair loss through Radiotherapy . . 7 Hair Loss from Hormone Treatments . . 7 Wig Provision . . . 8 Choosing a Wig . . 8 Comfort and considerations . . 9 Different types of Wig - The Options . . 10 Synthetic Fibre and Human Hair Wigs . . 10 Options for Men . . 11 Options for Children and Young Adults . . 11 Options for different ethnic groups .
. 11 Wig Bases .
. . 12 Individual/Custom made wigs . . 13 Thinning Options . . 14 Wig Size/Securing . . 14 Caring for your Wig . . 14 Fitting and Wearing a Wig . . 15 Alternative Head Wear . . 16 Masking Solutions for Patchy Hair Loss . . 17 Hair after Cancer Treatment . . 19 Basic Facts about Hair . . 19 When new hair grows back . . 19 Hair and Cancer . . 20 If you do not lose your hair during treatment . . 21 Caring for Hair . . 21 Thinning Hair . . 21 The Scalp and Hair Re-Growth. . . 22 Colouring Hair Post-Cancer Treatment. . . 23 Relaxing / Straightening Hair Post-Cancer Treatment . . 25 Benefits and Side Effects of Hair Extensions and Weaving .
. 26 Other Useful Information .
. . 27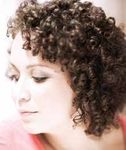 5 Introduction Introduction My New Hair is a national, independent charity providing information, advice and support for people experiencing medical hair loss. We work with medical advisors, the wig industry, specialists in aftercare and experienced independent hair professionals to give you the very best support. My New Hair has developed this resource in partnership with the Department of Health to help you through your journey from hair loss through to aftercare if your hair grows back. It is recognised that there can be differences, within healthcare, in the provision of service and unbiased information regarding the supply and cutting of wigs.
The impact of losing your hair can be profound. Some people choose to wear hats or scarves. Some people choose to wear nothing. For people who choose to wear a wig, some worry that this may look unnatural. The difference that a professionally cut wig can make should not be underestimated. Whilst many wigs now look much more realistic, it is possible to transform an "obvious wig" into an individual's "new hair". Many people are unaware that this is possible and assume that a wig cannot be cut and styled further. We would always advise that this service be carried out by a trained hairdresser.
What My New Hair can do to help you • We provide unbiased public information, support and advice around losing your hair and considerations when choosing a wig.
This information is professionally endorsed. We also provide guidance on cutting and styling of wigs and advice when your hair begins to grow back. We provide this via our helpline or you can visit our website www.mynewhair.org • We provide access to a responsibly trained national network of hairdressers through our network of Salons that Care. All our hairdressers cut and style wigs. Some also stock a range of wigs and many have trained with us to advanced level which includes advice on when your hair begins to grow back. You can access the locations of our trained hairdressers plus details of wig suppliers who are members of the UK Wigmakers Association via the salon information on our website.
• The My New Hair charity founded the UK's first national hairdressers training programme to support people with medical hair loss. Our programme is nurse-led, providing specialist expertise across all areas of advice, wig cutting and aftercare. We believe in supporting hairdressers to deliver a responsible service with respect and discretion for all clients.
6 Hair Loss Hair Loss Your feelings Many, but not all, people face the prospect of losing their hair as part of their treatment for cancer. Hair loss can be one of the most distressing side effects of cancer treatment. Hair can also have particular significance across different cultures. For short term, or longer term, hair loss sufferers, this distress is understandable as the way we feel about ourselves and how we look, is closely linked to our feelings of self esteem and self confidence. It can also be a constant "reminder" of your treatment for cancer.
Whether hair loss be as a result of treatment or diagnosed as longer term alopecia this may make you feel vulnerable.
For additional support that you may find helpful please see our "Other Useful Information" at the back of this booklet. Preventing hair loss Whilst little can be done to prevent hair loss to the local area during radiotherapy, if you are having chemotherapy, you may ask your specialist nurse about the possibility of scalp cooling with your particular cancer and type of drug treatment. They will advise you if this may be suitable for you.
How you may lose your hair Often people ask how they may lose their hair and when it might happen. Always check with your medical team as this may vary according to your treatment. Some people may experience scalp sensitivity prior to and during hair loss and also through the course of their treatment. You may experience hair loss during the night and may wish to wear a soft cotton cap.
7 Hair Loss Hair loss through Chemotherapy Chemotherapy uses anti cancer drugs, which travel around the body and reach the cancer cells wherever they are. Damage to healthy cells also occurs during this process – especially to cells that are always growing and dividing like the ones that make your hair grow.
Not all chemotherapy treatment causes hair loss. Your medical team and specialist nurse will talk to you about your treatment and will discuss with you how you are likely to lose your hair. You may also have thinning or loss of eyelashes, eyebrows and other body hair. Healthy cells normally repair themselves quite quickly so your hair may grow back once treatment is finished or sometimes even before you finish your full course of treatment. This may take several months but it will probably grow at the same rate as it grew before. There is more information about this in our "Hair After Cancer Treatment" section.
Hair loss through Radiotherapy Radiotherapy uses high energy x-rays to treat cancer and is used to treat a specific part of the body. Like chemotherapy, radiotherapy affects healthy cells and can cause hair loss. Your radiographer, consultant or nurse will talk to you about the likelihood of losing your hair during treatment. Unlike chemotherapy, hair loss only applies to areas which receive radiotherapy. If, for example, you are receiving radiotherapy to a specific part of your head, the hair will fall out in that area. In this instance, you may also lose hair from the other side of your head where radiotherapy beams pass through.
Hair may take six months or more to grow back following radiotherapy. It may also be patchy when it grows back. Although hair usually grows back over time it is possible that it may not grow back at all. This depends upon the dose of radiotherapy and the number of treatments. Hair Loss from Hormone Treatments Some hormone treatments can result in hair thinning due to the lowering of levels of oestrogen. This is a similar effect to that which may occur during the menopause when periods stop. Once you stop taking the drug, your hair will probably grow back. It is important to recognise that hair thinning can also be distressing and you may wish to contact a professional wig supplier who will also be able to advise you on appropriate hair pieces should you require this.
Most wig suppliers can also provide ready to wear or custom made hair pieces.
8 Wig Provision Wig Provision The National Health Service (NHS) makes provision for the supply of wigs to people who need them in order to help with medical hair loss. To obtain a wig you will need to have a referral from a specialist eg: oncology or dermatology department. The process of wig provision varies around the country. It is expected that wig suppliers under contract to the NHS must supply a good standard of wig, offer choice and provide a confidential and quality service. The majority of suppliers are members of the Hairdressing and Beauty Suppliers Association and have subscribed to a code of conduct and practices which comply with British Standard ISO 9001.
Such wig fitters are checked by the Criminal Records Bureau to be "fit to deal with children and vulnerable adults".
The Department of Health leaflet HC11 "Are you Entitled to Help with Health Costs ?" can tell you whether you can get a free wig from the NHS. If you are not entitled to a free wig you can still get one from the hospital at a subsidised price. Currently, the level of subsidy varies depending on the hospital so you will need to check this with your specialist nurse. You will need to apply for help with the costs on an HC1 form which the Hospital can provide you with. Choosing a Wig Choosing a wig for the first time can be bewildering. If you need to choose a wig for the first time, some of the following considerations may be useful :- • Sometimes people wish to choose their wig prior to losing their hair and you may wish to familiarise yourself with headwear options before your treatment begins.
Your wig may need some slight adjustment once you lose your hair. This is usually easy to do yourself using the adjustable straps or your wig supplier will also be able to help you with this.
• If you are losing your hair as a result of cancer treatment, it can be helpful to start by considering whether you want to recreate a style as close to what you have with your own hair or whether you wish to choose a different
9 Wig Provision style or colour. Some people chose to have their hair cut short before their treatment and also choose to wear a shorter wig. Others wear a longer wig and have the wig cut much shorter in preparation for when their own hair begins to grow back. You should check that this is possible with the supplier when choosing the wig.
Each person is individual and there is no right or wrong way to approach this. • When choosing a wig, you may wish to take someone you trust along with you if you feel you may want a second opinion or additional support. Discussing your thoughts and ideas together before choosing the wig may be helpful too. If you have already lost some or all of your hair, taking some pictures from magazines or photographs can help guide a professional wig supplier to what you are looking to achieve.
• It can be helpful to contact the wig supplier in advance to make an appointment and also to establish that they have a discreet, private environment in which you can try on a range of wigs. Wearing a wig is likely to feel quite different at first and it is perfectly normal to feel unsure about this. It is important that any wig is fitted well and does not move around on your head. A professional supplier will be able to do this and alter the wig if necessary. If you are bewildered by the choice of styles and colours, ask a professional for help. Generally, if the colour is right and the style is close to what you are looking for, the wig can be customised by a trained hair professional and any excess "bulk" in the wig, can be thinned out and the wig shaped to give a more natural appearance.
Comfort and considerations Comfort and fit for a wig are important considerations. If a wig fits snugly to your head all over, it is likely to look more natural and be more secure. However, wearing a wig can be hot particularly in warm weather. Some people find that a cushion band which runs around the perimeter of a wig and "lifts" it, can be slightly cooling to the head, making it more comfortable in warm weather.
Some wig bases are more "breathable" but these tend to be used in wigs made for the more long term client and can be more expensive. Wig cap
10 Wig Provision Different types of Wig - The Options It can be helpful to understand the main choice of wigs available. There are two main wig options: synthetic fibre and human hair. Each type has advantages and disadvantages. There are no set rules regarding selection however, the following information should be considered to support the selection process:- Synthetic Fibre Wigs Synthetic fibre wigs have the advantage of being pre-styled and come in a large range of colours.
They also provide wash and wear convenience as, when washed correctly, they revert back to their original style. If you are being treated for cancer, this is a key consideration for you as you may not be well enough or have the energy to style a wig on a regular basis. These wigs are less prone to colour fade than human hair but generally cannot be heat styled. They can develop "friction frizz" after a period of time, especially when in constant contact with clothing, particularly at the nape of the neck. However, the aftercare instructions detailed later can help you minimise this.
Synthetic wigs usually last for 9-12 months depending upon how well they are cared for and how often they are worn. A longer wig will have a shorter life span as it is more prone to develop friction frizz by rubbing against clothing. Human Hair Wigs Human hair wigs can be heat styled to suit: blowdried, straightened or curled and can be treated like growing hair. This does however mean that they require regular attention and can be more prone to colour fade. Using the very best products can help prolong the life of the wig.
Synthetic Wigs Advantages Disadvantages No colour fading Friction Frizz Permanent wave Unable to tint or colour No styling No heat application Easy to maintain May be seen as inferior Vast colour selection Price Human Hair Wigs Advantages Disadvantages No frizzing Colour fades Can apply heat Porous Can be coloured Can be more costly Soft to touch May be difficult to manage Style can be changed Not available in grey
11 Wig Provision Options for Men Hair loss for men can be just as traumatic as it is for women. Men may be reluctant to seek help or enquire about their options. However, rest assured that these feelings and concerns are perfectly natural, and that the services exist just as much for men as for women. There is a more limited selection of ready to wear and custom- made full hair wigs and toupees specifically designed for men. These are available at some reputable wig suppliers. These are also likely to require customisation and can be styled for a very natural look. Options for Children and Young Adults The range of children's wigs can be limited but are available from several reputable UK wig suppliers.
Older children requiring an adult styled wig can have it adapted to make it smaller or try a petite style adult wig. The manufacturer's advice should be sought for this service.
You may wish to contact the Hair and Beauty Suppliers Association or My New Hair for a list of suppliers who stock a range of children's and petite range wigs. Alternatively, many children are happy to wear a cap or bandana. These are also available with hair/ fringe attached and look attractive as well as being practical. Options for different ethnic groups There is a fairly good selection of wigs for most hair types available from wig fitters and manufacturers. However, there are also specialist wig suppliers available in the High Street and on-line that provide a huge array of wigs/pieces in Afro Caribbean, Indian, Asian and other styles.
High Street stores tend to be for "off the peg" purchases and, often lack facilities to select and try on wigs discreetly in-store. Therefore, if you decide to purchase a wig from a High Street store without an opportunity to have the wig fitted, we would advise that you check the Store's sale or return policy before you make a purchase.
12 Wig Provision Wig Bases In addition to the choice of wearing a synthetic or a human hair wig, there are also many more choices of wig base which can be confusing. Machine Wefted Most synthetic wigs are produced on a machine made weft.
This is then sewn onto a stretch foundation. The machine wefting and stretch foundation allows for breathe-ability and comfort of fit. Hand Knotted Foundations Hand knotted wigs are constructed on a stretch net, lace or full monofilament foundation. This type of foundation is very lightweight and extremely comfortable to wear. Each strand of hair/fibre is individually knotted into the foundation for a natural life like look.
Monofilament Both human hair and synthetic wigs can be manufactured with a transparent monofilament top. This gives a smoother, softer feel to the scalp at the top and the crown. The hair/fibre are hand knotted into the monofilament base to give the appearance of growing hair. Monofilament top wigs have the added advantage of allowing the hair to be brushed in any direction, making it easier to change the parting for a style. A double layer of monofilament is also available which can increase comfort for the wearer.
Hand knotted wig foundation Machine wefted monofilament top wig foundation Machine wefted lace top wig foundation