Wedding Collections - Modern Destination Weddings
Page content transcription ( If your browser does not render page correctly, please read the page content below )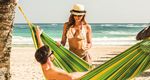 COLINWedding
      COWIE  Collections
 Ignite your love story at the all-inclusive Hard Rock Hotels of Mexico and the Dominican Republic




                                             For more information, contact us:
                            Call: 866.369.1882 or visit http://ModernDestinationWeddings.com
                                      or email: info@moderndestinationweddings.com
                                                                                               As of March 2017.
                                                                                                          Page 1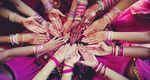 TABLE OF CONTENTS


Page 3:			         Colin Cowie


Pages 4 - 38:		    Wedding Collections


Page 39: 		        Additional Chairs & Caps


Page 40:		         Ishq Rocks


Page 41:		         Ceremony Locations


Page 42: 		        Private Function Locations


Page 43:		         Wedding Group Benefits


Pages 44 - 45:     Wedding Information - Punta Cana


Pages 46 - 47:		   Wedding Information - Mexico


Page 48: 		        Photo & AV Packages


Page 49:		         Private Functions


Page 50: 		        Sound Check


Page 51: 		        Honeymoon Packages


Pages 52:          $1,800 Limitless Resort Credit


Page 53: 		        Fees & Policies




                                                      Page 2
COLIN COWIE




Colin Cowie is the premiere event designer for the rich, famous, and you. Born in Zambia and raised in South Africa, Colin has

made a career of creating jaw-dropping, eye-popping events, weddings, parties, and soirees. He is a frequent contributor to

NBC's The Today Show, a popular personality on HSN with home and lifestyle collections, the published author of nine books

on entertaining and events, and the host of Get Married on Lifetime TV.



Colin teamed up with the all-inclusive Hard Rock Hotels in Mexico and the Dominican Republic after being inspired by the

opulence of our all-inclusive destinations. Drawn to the stunning waters and vibrant culture of the Caribbean and the Pacific,

he's using our idyllic locations as the backdrop for your sun-soaked destination wedding.



He may be the party planner of choice for celebrities like Jennifer Aniston, Tom Cruise, Jennifer Lopez, Oprah Winfrey, and Kim

Kardashian, but he knows no couple that rocks as hard as you do. And when A-list style and Hard Rock come together, you get

a wedding for the stars at a price that's down to earth.



So join a world-renowned arbiter of taste where hardcore style meets luxurious Rock & Roll. Destination weddings designed

by Colin Cowie exclusively for the all-inclusive Hard Rock Hotels in Mexico and the Dominican Republic at the front row

of paradise.



                                                                                                                            Page 3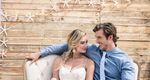 COMPLIMENTARY




          •     White pergola arbor with golden spun fabric and white floral appliqué as backdrop

          •     White ceremony podium with a golden Manzanita branch and a gold mirrored vase filled with white Roses

          •     32 White Avant Garde chairs

          •     Bridal Bouquet of Roses

          •     Rose Boutonniere

          •     Themed 1 tier wedding cake for up to 32 persons

          •    Non Denominational Minister to perform symbolic or vow renewal ceremonies

          •    Sparkling wine for 32 persons during the ceremony

          •    Honeymoon Wishes Wedding Website and Bridal Registry

          •    CD system available for ceremony

          •    Event Consultant and Onsite Wedding Coordinator

          •    Witnesses if required

          •    Complimentary Honeymoon Package




                                                                                                                               2017 /2018 Collection Cost: COMPLIMENTARY

Restrictions apply. A fee of $1,000 will be incurred if Complimentary Collection is chosen 30 days prior to the ceremony. Prices and packages are subject to change without notice. *An additional fee applies to all civil ceremonies.   Page 4
Floral choices may vary once on property. If this package is requested within 30 days of wedding, a $1,000 fee will apply.
DRIFTWOOD ROMANCE – CREAM CEREMONY




          •    Wedding ceremony location

          •    Wooden tree shaped ceremony structure with ivory and nude chiffon draping, and garland consisting of pine, evergreen, eucalyptus, baby's

                breath, ruscus, ivory, cream and nude colored roses

          •    32 White chiavari chairs with white cushions in a variation of themed drapery

          •    Wooden ceremony table with glass top

          •    As centerpieces is a silver vase with ivory, white and cream colored roses, white stock, eucalyptus and baby's breath

          •    6 hanging lanterns lining the aisle, each adored with white and cream colored roses, ruscus and eucalyptus

          •    Themed bridal bouquet with white hydrangea, seeded eucalyptus, white stock, white and cream colored roses

          •    White colored rose and seeded eucalyptus boutonniere

          •    Themed 2 tier wedding cake for up to 32 persons

          •    Non Denominational Minister to perform symbolic or vow renewal ceremonies

          •    Soloist for wedding ceremony (Riviera Maya: Violin & Saxophone / Cancun: Violin, Harp, Saxophone & Guitar / Punta Cana: Violin, Saxophone,

                Guitar / Vallarta: Violin, Saxophone & Guitar)

          •    Ground fireworks display after ceremony at Cancun & Riviera Maya, dove release after ceremony at Vallarta, choice of ground fireworks or

                bubble display after ceremony at Punta Cana

          •    Sparkling wine for 32 persons following ceremony

          •    Honeymoon Wishes Website and Bridal Registry

          •    CD system available for ceremony

          •    Event Consultant and Onsite Wedding Coordinator

          •    Witnesses if required

          •    Complimentary Honeymoon Package                                                          2017 /2018 Collection Cost: $4,000 USD*

*Additional fee applies to civil ceremonies. ** This collection is not applicable with Resort Credit.                                                       Page 5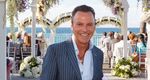 DRIFTWOOD ROMANCE – WHITE CEREMONY




          •    Wedding ceremony location

          •    Wooden tree shaped ceremony structure with ivory and white chiffon draping

          •    32 White chiavari chairs with white cushions in a variation of themed drapery

          •    Wooden ceremony table with glass top

          •    As centerpieces is a silver vase with ivory and white colored roses, white stock, eucalyptus and baby's breath

          •    6 hanging lanterns lining the aisle, each adored with ivory and white roses, ruscus and eucalyptus

          •    Themed bridal bouquet with white hydrangea, seeded eucalyptus, white stock, ivory and white colored roses

          •    White colored rose and seeded eucalyptus boutonniere

          •    Themed 2 tier wedding cake for up to 32 persons

          •    Non Denominational Minister to perform symbolic or vow renewal ceremonies

          •    Soloist for wedding ceremony (Riviera Maya: Violin & Saxophone / Cancun: Violin, Harp, Saxophone & Guitar / Punta Cana: Violin, Saxophone,

               Guitar / Vallarta: Violin, Saxophone & Guitar)

          •    Ground fireworks display after ceremony at Cancun & Riviera Maya, dove release after ceremony at Vallarta, choice of ground fireworks or

               bubble display after ceremony at Punta Cana

          •    Sparkling wine for 32 persons following ceremony

          •    Honeymoon Wishes Website and Bridal Registry

          •    CD system available for ceremony

          •    Event Consultant and Onsite Wedding Coordinator

          •    Witnesses if required

          •    Complimentary Honeymoon Package
                                                                                                                                                  2017 /2018 Collection Cost: $4,000 USD*

*Additional fee applies to civil ceremonies. ** This collection is not applicable with Resort Credit. *** Themed garland included in package cost, not pictured.
                                                                                                                                                                                      Page 6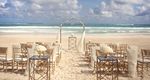 DRIFTWOOD ROMANCE – PINK CEREMONY




          •    Wedding ceremony location

          •    Wooden tree shaped ceremony structure with pink chiffon draping

          •    32 White chiavari chairs with white cushions in a variation of themed drapery

          •    Wooden ceremony table with glass top

          •    As centerpieces is a silver vase with pink and cream colored roses, white stock, eucalyptus and baby's breath

          •    6 hanging lanterns lining the aisle, each adored with cream, pink and white colored roses, ruscus and eucalyptus

          •    Themed bridal bouquet with white hydrangea, seeded eucalyptus, white stock, pink and cream colored roses

          •    Pink colored rose boutonniere

          •    Themed 2 tier wedding cake for up to 32 persons

          •    Non Denominational Minister to perform symbolic or vow renewal ceremonies

          •    Soloist for wedding ceremony (Riviera Maya: Violin & Saxophone / Cancun: Violin, Harp, Saxophone & Guitar / Punta Cana: Violin, Saxophone,

               Guitar / Vallarta: Violin, Saxophone & Guitar)

          •    Ground fireworks display after ceremony at Cancun & Riviera Maya, dove release after ceremony at Vallarta, choice of ground fireworks or

               bubble display after ceremony at Punta Cana

          •    Sparkling wine for 32 persons following ceremony

          •    Honeymoon Wishes Website and Bridal Registry

          •    CD system available for ceremony

          •    Event Consultant and Onsite Wedding Coordinator

          •    Witnesses if required

          •    Complimentary Honeymoon Package
                                                                                                                                                  2017 /2018 Collection Cost: $4,000 USD*

*Additional fee applies to civil ceremonies. ** This collection is not applicable with Resort Credit. *** Themed garland included in package cost, not pictured.
                                                                                                                                                                                      Page 7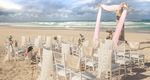 DRIFTWOOD ROMANCE RECEPTION - TABLE STYLES
                                                                                                                                                            CREAM SWEETHEART TABLE
                                                                                                                                           •   Round 36" table

                                                                                                                                           •   Accommodates 2 persons

                                                                                                                                           •   2 white chiavari chairs with white cushions with

                                                                                                                                               themed drapery

                                                                                                                                           •   Themed tablecloth

                                                                                                                                           •   As centerpieces are silver vases with cream and white

                                                                                                                                               colored roses, silver glass votive holders and candles

                                                                                                                                           •   Stone colored napkins with themed napkin holder

                                                                                                                                           •   Charger plates

                                                                                                                                           •   Glassware

                                                                                                                                           •   Silverware




                                                                                                                                                            WHITE SWEETHEART TABLE
                                                                                                                                           •   Round 36" table

                                                                                                                                           •   Accommodates 2 persons

                                                                                                                                           •   2 white chiavari chairs with white cushions with

                                                                                                                                               themed drapery

                                                                                                                                           •   Themed tablecloth

                                                                                                                                           •   As centerpieces are silver vases with white and ivory

                                                                                                                                               colored roses, silver votive holders and candles

                                                                                                                                           •   Stone colored napkins with themed napkin holder

                                                                                                                                           •   Charger plates

                                                                                                                                           •   Glassware

                                                                                                                                           •   Silverware




                                                                                                                                               2017/2018 Cost: $350 USD* per table

*Resort Credit cannot be applied to reception tables. ** These tables cannot be combined with non Colin Cowie designed reception tables.
                                                                                                                                                                                                        Page 8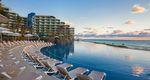 DRIFTWOOD ROMANCE RECEPTION - TABLE STYLES
                                                                                                                                                            PINK SWEETHEART TABLE
                                                                                                                                           •   Round 36" table

                                                                                                                                           • Accommodates 2 persons

                                                                                                                                           • 2 white chiavari chairs with white cushions with

                                                                                                                                               themed drapery

                                                                                                                                           • Themed tablecloth

                                                                                                                                           • As centerpieces are silver vases with pink and cream

                                                                                                                                               colored roses, silver votive holders and candles

                                                                                                                                           • Stone colored napkins with themed napkin holder

                                                                                                                                           • Charger plates

                                                                                                                                           • Glassware

                                                                                                                                           • Silverware




                                                                                                                                                2017/2018 Cost: $350 USD* per table

                                                                                                                                                                 CREAM VASE TABLE
                                                                                                                                           •   Square 65" table

                                                                                                                                           •   Accommodates 8 persons

                                                                                                                                           •   8 white chiavari chairs with white cushions with

                                                                                                                                               themed drapery

                                                                                                                                           •   Themed tablecloth

                                                                                                                                           •   As centerpiece are silver vases with cream and white

                                                                                                                                               colored roses, silver votive holders and candles

                                                                                                                                           •   Stone colored napkins with themed napkin holder

                                                                                                                                           •   Charger plates

                                                                                                                                           •   Glassware

                                                                                                                                           •   Silverware




                                                                                                                                                2017/2018 Cost: $400 USD* per table

*Resort Credit cannot be applied to reception tables. ** These tables cannot be combined with non Colin Cowie designed reception tables.
                                                                                                                                                                                                      Page 9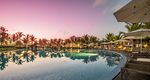 DRIFTWOOD ROMANCE RECEPTION - TABLE STYLES
                                                                                                                                                                WHITE VASE TABLE
                                                                                                                                           •   Round 66" table

                                                                                                                                           •   Accommodates 8 persons

                                                                                                                                           •   8 white chiavari chairs with white cushions with

                                                                                                                                               themed drapery

                                                                                                                                           •   Themed tablecloth

                                                                                                                                           •   As centerpiece are silver vases with white and ivory

                                                                                                                                               colored roses, silver votive holders and candles

                                                                                                                                           •   Stone colored napkins with themed napkin holder

                                                                                                                                           •   Charger plates

                                                                                                                                           •   Glassware

                                                                                                                                           •   Silverware




                                                                                                                                                                 PINK VASE TABLE
                                                                                                                                           •   Round 66" table

                                                                                                                                           •   Accommodates 8 persons

                                                                                                                                           •   8 white chiavari chairs with white cushions with

                                                                                                                                               themed drapery

                                                                                                                                           •   Themed tablecloth

                                                                                                                                           •   As centerpiece are silver vases with pink and cream

                                                                                                                                               colored roses, silver glass votive holders and candles

                                                                                                                                           •   Stone colored napkins with themed napkin holder

                                                                                                                                           •   Charger plates

                                                                                                                                           •   Glassware

                                                                                                                                           •   Silverware




                                                                                                                                               2017/2018 Cost: $400 USD* per table

*Resort Credit cannot be applied to reception tables. ** These tables cannot be combined with non Colin Cowie designed reception tables.
                                                                                                                                                                                                        Page 10
DRIFTWOOD ROMANCE RECEPTION - TABLE STYLES
                                                                                                                                                             CREAM LANTERN TABLE
                                                                                                                                           • Round 66" table

                                                                                                                                           • Accommodates 8 persons

                                                                                                                                           • 8 white chiavari chairs with white cushions with

                                                                                                                                               themed drapery

                                                                                                                                           • Themed tablecloth

                                                                                                                                           • As centerpieces are lanterns with cream and white

                                                                                                                                               colored roses, silver votive holders with candles

                                                                                                                                           • Stone colored napkins with themed napkin holder

                                                                                                                                           • Charger plates

                                                                                                                                           • Glassware

                                                                                                                                           • Silverware




                                                                                                                                                              WHITE LANTERN TABLE
                                                                                                                                           •   Square 65" table

                                                                                                                                           •   Accommodates 8 persons

                                                                                                                                           •   8 white chiavari chairs with white cushions with

                                                                                                                                               themed drapery

                                                                                                                                           •   Themed tablecloth

                                                                                                                                           •   As centerpieces are lanterns with white and ivory

                                                                                                                                               colored roses, silver votive holders with candles

                                                                                                                                           •   Stone colored napkins with themed napkin holder

                                                                                                                                           •   Charger plates

                                                                                                                                           •   Glassware

                                                                                                                                           •   Silverware




                                                                                                                                                2017/2018 Cost: $400 USD* per table

*Resort Credit cannot be applied to reception tables. ** These tables cannot be combined with non Colin Cowie designed reception tables.
                                                                                                                                                                                                   Page 11
DRIFTWOOD ROMANCE RECEPTION - TABLE STYLES
                                                                                                                                                              PINK LANTERN TABLE
                                                                                                                                           • Square 65" table

                                                                                                                                           • Accommodates 8 persons

                                                                                                                                           • 8 white chiavari chairs with white cushions with

                                                                                                                                             themed drapery

                                                                                                                                           • Themed tablecloth

                                                                                                                                           • As centerpieces are lanterns with pink and cream colored

                                                                                                                                             roses, silver votive holders with candles

                                                                                                                                           • Stone colored napkins with themed napkin holder

                                                                                                                                           • Charger plates

                                                                                                                                           • Glassware

                                                                                                                                           • Silverware




                                                                                                                                               2017/2018 Cost: $400 USD* per table




*Resort Credit cannot be applied to reception tables. ** These tables cannot be combined with non Colin Cowie designed reception tables.
                                                                                                                                                                                                        Page 12
GOLDEN RADIANCE – WHITE CEREMONY




          •    Wedding ceremony location
          •    Gold ceremony structure with hanging chandelier & ivory chiffon draping
          •    32 Gold chiavari chairs with ivory cushions in a variation of themed drapery
          •    Gold ceremony podium
          •    As centerpieces is gold urn with white roses
          •    2 gold columns lining the back of the aisle with a gold urn with white roses
          •    2 gold columns lining the front of the aisle with a small gold vase with white roses
          •    Themed bridal bouquet with white roses and cymbidium orchids
          •    White phalaenopsis orchid with seeded eucalyptus boutonniere
          •    Themed 2 tier wedding cake for up to 32 persons
          •    Non Denominational Minister to perform symbolic or vow renewal ceremonies
          •    Non Denominational Minister to perform symbolic or vow renewal ceremonies
          •    Soloist for wedding ceremony (Riviera Maya: Violin & Saxophone / Cancun: Violin, Harp, Saxophone & Guitar / Punta Cana: Violin, Saxophone,
                Guitar / Vallarta: Violin, Saxophone & Guitar)
          •    Ground fireworks display after ceremony at Cancun & Riviera Maya, dove release after ceremony at Vallarta, choice of ground fireworks or
                bubble display after ceremony at Punta Cana
          •    Sparkling wine for 32 persons following ceremony
          •    Honeymoon Wishes Website and Bridal Registry
          •    CD system available for ceremony
          •    Event Consultant and Onsite Wedding Coordinator
          •    Witnesses if required
          •    Complimentary Honeymoon Package                                                          2017 /2018 Collection Cost: $4,000 USD*

*Additional fee applies to civil ceremonies. ** This collection is not applicable with Resort Credit.                                                       Page 13
GOLDEN RADIANCE – RED CEREMONY




          •    Wedding ceremony location
          •     Gold ceremony structure with hanging chandelier
          •     32 Gold chiavari chairs with ivory cushions in a variation of themed drapery
          •     Gold ceremony podium
          •     As centerpieces is gold urn with red roses
          •     2 gold columns lining the back of the aisle with a gold urn with red roses
          •     2 gold columns lining the front of the aisle with a small gold vase with red roses
          •     Themed bridal bouquet with red roses and hypercium
          •     Red rose and seeded eucalyptus boutonniere
          •     Themed 2 tier wedding cake for up to 32 persons
          •     Non Denominational Minister to perform symbolic or vow renewal ceremonies
          •     Non Denominational Minister to perform symbolic or vow renewal ceremonies
          •     Soloist for wedding ceremony (Riviera Maya: Violin & Saxophone / Cancun: Violin, Harp, Saxophone & Guitar / Punta Cana: Violin, Saxophone,
                Guitar / Vallarta: Violin, Saxophone & Guitar)
          •     Ground fireworks display after ceremony at Cancun & Riviera Maya, dove release after ceremony at Vallarta, choice of ground fireworks or
                bubble display after ceremony at Punta Cana
          •     Sparkling wine for 32 persons following ceremony
          •     Honeymoon Wishes Website and Bridal Registry
          •     CD system available for ceremony
          •     Event Consultant and Onsite Wedding Coordinator
          •    Witnesses if required

          •     Complimentary Honeymoon Package                                                         2017 /2018 Collection Cost: $4,000 USD*

*Additional fee applies to civil ceremonies. ** This collection is not applicable with Resort Credit.                                                        Page 14
GOLDEN RADIANCE – TABLE STYLES
                                                                                                                                                      WHITE ROSE SWEETHEART TABLE
                                                                                                                                           •   Round table

                                                                                                                                           •   Accommodates 2 persons

                                                                                                                                           •   2 gold chiavari chairs with ivory cushions with

                                                                                                                                               themed drapery

                                                                                                                                           •   Themed tablecloth

                                                                                                                                           •   As centerpieces is a crystal beaded candelabra with white

                                                                                                                                               roses, white Phalaenopsis stems, gold votive holders with

                                                                                                                                               candles

                                                                                                                                           •   Ivory colored napkins with themed napkin holder

                                                                                                                                           •   Gold charger plates

                                                                                                                                           •   White dinner plates

                                                                                                                                           •   Glassware

                                                                                                                                           •   Silverware




                                                                                                                                                         RED ROSE SWEETHEART TABLE
                                                                                                                                           •   Round table

                                                                                                                                           •   Accommodates 2 persons

                                                                                                                                           •   2 gold chiavari chairs with ivory cushions with

                                                                                                                                               themed drapery

                                                                                                                                           •   Themed tablecloth

                                                                                                                                           •   As centerpieces is a crystal beaded candelabra with red

                                                                                                                                               roses, hypercium, gold votive holders with candles

                                                                                                                                           •   Ivory colored napkins with themed napkin holder

                                                                                                                                           •   Gold charger plates

                                                                                                                                           •   White dinner plates

                                                                                                                                           •   Glassware

                                                                                                                                           •   Silverware




                                                                                                                                               2017/2018 Cost: $350 USD* per table

*Resort Credit cannot be applied to reception tables. ** These tables cannot be combined with non Colin Cowie designed reception tables.                                                                 Page 15
GOLDEN RADIANCE – TABLE STYES
                                                                                                                                                            ROUND WHITE ROSE TABLE
                                                                                                                                           •   Round table

                                                                                                                                           •   Accommodates 8 persons

                                                                                                                                           •   8 gold chiavari chairs with ivory cushions with

                                                                                                                                               themed drapery

                                                                                                                                           •   Themed tablecloth

                                                                                                                                           •   As centerpiece are gold vases with white roses and

                                                                                                                                               gold votive holders with candles

                                                                                                                                           •   Ivory colored napkins with themed napkin holder

                                                                                                                                           •   Gold charger plates

                                                                                                                                           •   Glassware

                                                                                                                                           •   Silverware




                                                                                                                                                             ROUND RED ROSE TABLE
                                                                                                                                           •   Round table

                                                                                                                                           •   Accommodates 8 persons

                                                                                                                                           •   8 gold chiavari chairs with ivory cushions with

                                                                                                                                               themed drapery

                                                                                                                                           •   Themed tablecloth

                                                                                                                                           •   As centerpiece gold vases with red roses and gold

                                                                                                                                               votive holders with candles

                                                                                                                                           •   Ivory colored napkins with themed napkin holder

                                                                                                                                           •   Gold charger plates

                                                                                                                                           •   Glassware

                                                                                                                                           •   Silverware




                                                                                                                                               2017/2018 Cost: $400 USD* per table

*Resort Credit cannot be applied to reception tables. ** These tables cannot be combined with non Colin Cowie designed reception tables.
                                                                                                                                                                                                    Page 16
GOLDEN RADIANCE – TABLE STYLES
                                                                                                                                                  LONG WHITE ROSE CANDELABRA TABLE
                                                                                                                                           •   Long table

                                                                                                                                           •   Accommodates 10 persons

                                                                                                                                           •   10 gold chiavari chairs with ivory cushions with

                                                                                                                                               themed drapery

                                                                                                                                           •   Themed tablecloth

                                                                                                                                           •   As centerpiece are candelabras , gold vases with white

                                                                                                                                               roses and gold votive holders with candles

                                                                                                                                           •   Ivory colored napkins with themed napkin holder

                                                                                                                                           •   Gold charger plates

                                                                                                                                           •   Glassware

                                                                                                                                           •   Silverware




                                                                                                                                                    LONG RED ROSE CANDELABRA TABLE
                                                                                                                                           •   Long table

                                                                                                                                           •   Accommodates 10 persons

                                                                                                                                           •   10 gold chiavari chairs with ivory cushions with

                                                                                                                                               themed drapery

                                                                                                                                           •   Themed tablecloth

                                                                                                                                           •   As centerpiece are candelabras , gold vases with red

                                                                                                                                               roses and gold votive holders with candles

                                                                                                                                           •   Ivory colored napkins with themed napkin holder

                                                                                                                                           •   Gold charger plates

                                                                                                                                           •   Glassware

                                                                                                                                           •   Silverware




                                                                                                                                               2017/2018 Cost: $500 USD* per table

*Resort Credit cannot be applied to reception tables. ** These tables cannot be combined with non Colin Cowie designed reception tables.
                                                                                                                                                                                                        Page 17
SEASIDE SHIMMER – WHITE CEREMONY




          •    Wedding ceremony location
          •    White ceremony structure with curtains of sparkling tear drops hanging
          •     32 clear chiavari chairs with white cushions in a variation of themed drapery
          •    White crystal ceremony podium
          •     As centerpieces is a clear bowl with submerged crystals filled with white casablanca Lilies
          •     2 white crystal columns lining the back of the aisle with a clear bowl with submerged crystals filled with white casablanca Lilies
          •     2 white crystal columns lining the front of the aisle with a clear vase with submerged crystals filled with white casablanca Lilies
          •     Themed bridal bouquet with cymbidium orchids and crystal garland
          •     Cymbidium orchid groom's boutonniere
          •     Themed 2 tier wedding cake for up to 32 persons
          •     Non Denominational Minister to perform symbolic or vow renewal ceremonies
          •     Non Denominational Minister to perform symbolic or vow renewal ceremonies
          •     Soloist for wedding ceremony (Riviera Maya: Violin & Saxophone / Cancun: Violin, Harp, Saxophone & Guitar / Punta Cana: Violin, Saxophone,
                Guitar / Vallarta: Violin, Saxophone & Guitar)
          •     Ground fireworks display after ceremony at Cancun & Riviera Maya, dove release after ceremony at Vallarta, choice of ground fireworks or
                bubble display after ceremony at Punta Cana
          •     Sparkling wine for 32 persons following ceremony
          •     Honeymoon Wishes Website and Bridal Registry
          •     CD system available for ceremony
          •     Event Consultant and Onsite Wedding Coordinator
          •    Witnesses if required
          •     Complimentary Honeymoon Package                                                          2017 /2018 Collection Cost: $4,000 USD*

*Additional fee applies to civil ceremonies. ** This collection is not applicable with Resort Credit.                                                        Page 18
SEASIDE SHIMMER – PINK CEREMONY




          •    Wedding ceremony location

          •    White ceremony structure with curtains of sparkling tear drops hanging

          •    32 clear chiavari chairs with white cushions in a variation of themed drapery

          •    White crystal ceremony podium

          •    As centerpieces is a clear bowl with submerged crystals filled with white pink casablanca Lilies

          •    2 white crystal columns lining the back of the aisle with a clear bowl with submerged crystals filled with pink casablanca Lilies

          •    2 white crystal columns lining the front of the aisle with a clear vase with submerged crystals filled with pink casablanca Lilies

          •    Themed bridal bouquet with cymbidium orchids and crystal garland

          •    Cymbidium orchid groom's boutonniere

          •    Themed 2 tier wedding cake for up to 32 persons

          •    Non Denominational Minister to perform symbolic or vow renewal ceremonies

          •    Soloist for wedding ceremony (Riviera Maya: Violin & Saxophone / Cancun: Violin, Harp, Saxophone & Guitar / Punta Cana: Violin, Saxophone,

                Guitar / Vallarta: Violin, Saxophone & Guitar)

          •    Ground fireworks display after ceremony at Cancun & Riviera Maya, dove release after ceremony at Vallarta, choice of ground fireworks or

                bubble display after ceremony at Punta Cana

          •    Sparkling wine for 32 persons following ceremony

          •    Honeymoon Wishes Website and Bridal Registry

          •    CD system available for ceremony

          •    Event Consultant and Onsite Wedding Coordinator

          •    Witnesses if required

          •    Complimentary Honeymoon Package                                                          2017 /2018 Collection Cost: $4,000 USD*

*Additional fee applies to civil ceremonies. ** This collection is not applicable with Resort Credit.                                                       Page 19
SEASIDE SHIMMER – TABLE STYLES
                                                                                                                                                            WHITE SWEETHEART TABLE
                                                                                                                                           •   Round 36" table

                                                                                                                                           •   Accommodates 2 persons

                                                                                                                                           •   2 clear chiavari chairs with white cushions with

                                                                                                                                               themed drapery

                                                                                                                                           •   Themed tablecloth

                                                                                                                                           •   As centerpieces are crystal vases with white casablanca

                                                                                                                                               lilies and cymbidium orchids, crystal votive holders

                                                                                                                                               and candles

                                                                                                                                           •   White colored napkins with themed napkin holder

                                                                                                                                           •   Silver charger plates

                                                                                                                                           •   Glassware

                                                                                                                                           •   Silverware




                                                                                                                                                             PINK SWEETHEART TABLE
                                                                                                                                           •   Round 36" table

                                                                                                                                           •   Accommodates 2 persons

                                                                                                                                           •   2 clear chiavari chairs with white cushions with

                                                                                                                                               themed drapery

                                                                                                                                           •   Themed tablecloth

                                                                                                                                           •   As centerpieces are crystal vases with pink casablanca

                                                                                                                                               lilies and astromeria, crystal votive holders and candles

                                                                                                                                           •   White colored napkins with themed napkin holder

                                                                                                                                           •   Silver charger plates

                                                                                                                                           •   Glassware

                                                                                                                                           •   Silverware




                                                                                                                                               2017/2018 Cost: $350 USD* per table

*Resort Credit cannot be applied to reception tables. ** These tables cannot be combined with non Colin Cowie designed reception tables.
                                                                                                                                                                                                           Page 20
SEASIDE SHIMMER – TABLE STYLES
                                                                                                                                                            WHITE ROUND LEAF TABLE
                                                                                                                                           •   Round 66" table

                                                                                                                                           •   Accommodates 8 persons

                                                                                                                                           •   8 clear chiavari chairs with white cushions with

                                                                                                                                               themed drapery

                                                                                                                                           •   Themed tablecloth

                                                                                                                                           •   As centerpiece are crystal vases with cymbidium orchids,

                                                                                                                                               crystal votive holders and candles

                                                                                                                                           •   White colored napkins with themed napkin holder

                                                                                                                                           •   Silver charger plates

                                                                                                                                           •   Glassware

                                                                                                                                           •   Silverware




                                                                                                                                                             PINK ROUND LEAF TABLE
                                                                                                                                           •   Round 66" table

                                                                                                                                           •   Accommodates 8 persons

                                                                                                                                           •   8 clear chiavari chairs with white cushions with

                                                                                                                                               themed drapery

                                                                                                                                           •   Themed tablecloth

                                                                                                                                           •   As centerpiece are crystal vases with astromeria, crystal

                                                                                                                                               votive holders and candles

                                                                                                                                           •   White colored napkins with themed napkin holder

                                                                                                                                           •   Silver charger plates

                                                                                                                                           •   Glassware

                                                                                                                                           •   Silverware




                                                                                                                                               2017/2018 Cost: $400 USD* per table

*Resort Credit cannot be applied to reception tables. ** These tables cannot be combined with non Colin Cowie designed reception tables.
                                                                                                                                                                                                           Page 21
SEASIDE SHIMMER – TABLE STYLES
                                                                                                                                                        WHITE ROUND SEQUIN TABLE
                                                                                                                                           •   Round 66" table

                                                                                                                                           •   Accommodates 8 persons

                                                                                                                                           •   8 clear chiavari chairs with white cushions with

                                                                                                                                               themed drapery

                                                                                                                                           •   Themed tablecloth

                                                                                                                                           •   As centerpiece are glass vases with white casablanca lilies,

                                                                                                                                               crystal votive holders and candles

                                                                                                                                           •   White colored napkins with themed napkin holder

                                                                                                                                           •   Silver charger plates

                                                                                                                                           •   Glassware

                                                                                                                                           •   Silverware




                                                                                                                                                            PINK ROUND SEQUIN TABLE
                                                                                                                                           •   Round 66" table

                                                                                                                                           •   Accommodates 8 persons

                                                                                                                                           •   8 clear chiavari chairs with white cushions with

                                                                                                                                               themed drapery

                                                                                                                                           •   Themed tablecloth

                                                                                                                                           •   As centerpiece are glass vases with pink casablanca lilies,

                                                                                                                                               crystal votive holders and candles

                                                                                                                                           •   White colored napkins with themed napkin holder

                                                                                                                                           •   Silver charger plates

                                                                                                                                           •   Glassware

                                                                                                                                           •   Silverware




                                                                                                                                               2017/2018 Cost: $400 USD* per table

*Resort Credit cannot be applied to reception tables. ** These tables cannot be combined with non Colin Cowie designed reception tables.
                                                                                                                                                                                                             Page 22
INSIGNIA COLLECTION




          •    Wedding ceremony location

          •    White pergola structure with pavéd white silk Carnations at the top of each column

          •     32 White Chiavari chairs with cushions in a variation of themed drapery

          •    White hanging ceremony podium with a white Manzanita branch sitting on a base of white Carnations in a white square vase

          •     Navy blue and white aisle runner

          •     Bridal bouquet of Calla Lilies

          •     Calla Lily Boutonniere

          •    Themed 2 tier wedding cake for 32 persons

          •     Non Denominational Minister to perform symbolic or vow renewal ceremonies

          •     Sparkling wine for 32 persons during the ceremony

          •     Honeymoon Wishes Wedding Website and Bridal Registry

          •     CD system available for ceremony

          •     Event Consultant and Onsite Wedding Coordinator

          •    Witnesses if required

          •     Complimentary Honeymoon Package




                                                                                                                                                     2017 Collection Cost: $1,500 USD*

*Additional fee applies to civil ceremonies. **This collection is not applicable with Resort Credit. ***Not available at Hard Rock Hotel Vallarta.
                                                                                                                                                                                   Page 23
INSIGNIA RECEPTION
                                                                                                                                                                                  ROUND TABLE
                                                                                                                                                 •    Round table

                                                                                                                                                 •    Accommodates up to 8 persons

                                                                                                                                                 •    8 White Chiavari chairs with cushions in a variety of

                                                                                                                                                      themed drapery

                                                                                                                                                 •    Themed tablecloth

                                                                                                                                                 •    3 piece floral centerpiece which includes 1 white vase filled

                                                                                                                                                      with Mums, 1 white vase filled with Carnations and 1 white

                                                                                                                                                      vase filled with Hydrangeas

                                                                                                                                                 •    Clear glass tumblers

                                                                                                                                                 •    Wine glasses

                                                                                                                                                 •    White napkins with silver napkin rings

                                                                                                                                                 •    Silver colored charger plates

                                                                                                                                                 •    White dinner plates

                                                                                                                                                 •    Silverware

                                                                                                                                                 •    Votive candles




                                                                                                                                                                                  SQUARE TABLE
                                                                                                                                                 •    Square table

                                                                                                                                                 •    Accommodates up to 8 persons

                                                                                                                                                 •    8 White Chiavari chairs with cushions in a variety of

                                                                                                                                                      themed drapery

                                                                                                                                                 •    Themed tablecloth

                                                                                                                                                 •    3-piece floral centerpiece which includes 1 large mirrored

                                                                                                                                                      vase filled with 20 Carnations, 1 large mirrored vase filled

                                                                                                                                                      with a mixture of 9 Roses, 10 Carnations and 3 mini

                                                                                                                                                      Dendrodium Orchids and 1 white vase filled with 5 Roses

                                                                                                                                                 •    Clear glass tumblers

                                                                                                                                                 •    Wine glasses

                                                                                                                                                 •    White napkins with silver napkin rings

                                                                                                                                                 •    Silver colored charger plates

                                                                                                                                                 •    White dinner plates

                                                                                                                                                 •    Silverware

                                                                                                                                                 •    Votive candles




                                                                                                                                                             2017 Cost: $300.00 USD* per table

*Resort Credit cannot be applied to reception tables. ** These tables cannot be combined with non Colin Cowie designed reception tables. *** Not available at Hard Rock Hotel Vallarta.
                                                                                                                                                                                                                     Page 24
ROCKER CHIC COLLECTION




          •     Wedding ceremony location

          •     White 3 fold ceremony structure with curtains of sparkling tear drops hanging from each panel

          •     32 White Chiavari chairs with cushions in a variety of themed drapery

          •     White ceremony podium wrapped in a black and white zig zag pattern fabric with a black trumpet vase with a sphere of Roses

          •     4 White pergola Shepherd's hooks lining the aisle each with a hanging glass globe and a floating silk Rose

          •     Themed Bridal Bouquet of Roses

          •     Rose Boutonniere

          •     Themed 2 tier wedding cake for up to 32 persons

          •     Non Denominational Minister to perform symbolic or vow renewal ceremonies

          •     Sparkling wine for 32 persons during the ceremony

          •     Honeymoon Wishes Wedding Website and Bridal Registry

          •     CD system available for ceremony

          •     Event Consultant and Onsite Wedding Coordinator

          •     Witnesses if required

          •     Complimentary Honeymoon Package




                                                                                                                2017 Collection Cost: $2,000 USD*

*Additional fee applies to civil ceremonies. ** This collection is not applicable with Resort Credit.
                                                                                                                                              Page 25
ROCKER CHIC RECEPTION
                                                                                                                                                                    ROUND TABLE
                                                                                                                                           •   Round table

                                                                                                                                           •   Accommodates up to 8 persons

                                                                                                                                           •   8 White Chiavari chairs with cushions in a variety of

                                                                                                                                               themed drapery

                                                                                                                                           •   Themed tablecloth

                                                                                                                                           •   Large Rose sphere as centerpiece

                                                                                                                                           •   Black colored tumblers

                                                                                                                                           •   Wine glasses

                                                                                                                                           •   Napkins with beaded napkin rings

                                                                                                                                           •   Black colored charger plates

                                                                                                                                           •   White dinner plates

                                                                                                                                           •   Silverware

                                                                                                                                           •   Votive Candles




                                                                                                                                                                    SQUARE TABLE
                                                                                                                                           •   Square table

                                                                                                                                           •   Accommodates up to 8 persons

                                                                                                                                           •   8 White Chiavari chairs with cushions in a variety of

                                                                                                                                               themed drapery

                                                                                                                                           •   Themed tablecloth

                                                                                                                                           •   3 piece floral centerpiece which includes 2 small black

                                                                                                                                               vases filled with a single Rose and 1 square black vase filled

                                                                                                                                               with 75 Carnations

                                                                                                                                           •   Black colored tumblers

                                                                                                                                           •   Wine glasses

                                                                                                                                           •   Napkins with beaded napkin rings

                                                                                                                                           •   Black colored charger plates

                                                                                                                                           •   White dinner plates

                                                                                                                                           •   Silverware

                                                                                                                                           •   Votive Candles




                                                                                                                                                   2017 Cost: $300.00 USD* per table

*Resort Credit cannot be applied to reception tables. ** These tables cannot be combined with non Colin Cowie designed reception tables.
                                                                                                                                                                                                           Page 26
METALLIC DUNES COLLECTION




           •    Wedding ceremony location

           •    Shell arbor for ceremony structure

           •    32 White Chiavari chairs with cushions in a variation of themed drapery

           •    Sand colored ceremony podium with a gold Manzanita branch decorated with 15 Cymbidium White Orchids in a sand filled cylinder glass vase

           •    2 White columns with a gold sphere sitting on a Carnation pavéd base

           •    Curly willow branches with seashells line the aisle

           •    Themed Bridal Bouquet of white Cymbidium Orchid blooms

           •    Cymbidium Orchid Boutonniere

           •    Themed 2 tier wedding cake for up to 32 persons

           •    Non Denominational Minister to perform symbolic or vow renewal ceremonies

           •    Soft Cover Album (20 pages / 36 images)

           •    Ground fireworks display after ceremony at Cancun & Riviera Maya, dove release after ceremony at Vallarta, choice of ground fireworks or bubble

                display after ceremony at Punta Cana

           •    Sparkling wine for 32 persons during the ceremony

           •    Dinner reservation at select restaurants for up to 32 persons

           •    Honeymoon Wishes Wedding Website and Bridal Registry

           •    CD system available for ceremony

           •    Event Consultant and Onsite Wedding Coordinator

           •    Witnesses if required

           •    Complimentary Honeymoon Package
                                                                                                               2017 Collection Cost: $2,500 USD*

*Additional fee applies to civil ceremonies. ** This collection is not applicable with Resort Credit.
                                                                                                                                                                  Page 27
METALLIC DUNES RECEPTION
                                                                                                                                                                   ROUND TABLE
                                                                                                                                           •   Round table

                                                                                                                                           •   Accommodates up to 8 persons

                                                                                                                                           •   8 White Chiavari chairs with cushions in a variety of

                                                                                                                                               themed drapery

                                                                                                                                           •   Themed tablecloth

                                                                                                                                           •   3-piece floral centerpiece which includes 1 large cham

                                                                                                                                               pagne colored square vase with 15 Roses and 2 cham

                                                                                                                                               pagne colored square vases with 1 floating Rose

                                                                                                                                           •   Clear glass tumblers

                                                                                                                                           •   Wine glasses

                                                                                                                                           •   White napkins with a brown beaded napkin rings

                                                                                                                                           •   Pewter colored charger plates

                                                                                                                                           •   White dinner plates

                                                                                                                                           •   Silverware

                                                                                                                                           •   Votive candles




                                                                                                                                                                   SQUARE TABLE
                                                                                                                                           •   Square table

                                                                                                                                           •   Accommodates up to 8 persons

                                                                                                                                           •   8 White Chiavari chairs with cushions in a variety of

                                                                                                                                               themed drapery

                                                                                                                                           •   Themed tablecloth

                                                                                                                                           •   Gold Manzanita branch with 15 white Cymbidium

                                                                                                                                               Orchids as a centerpiece

                                                                                                                                           •   Clear glass tumblers

                                                                                                                                           •   Wine glasses

                                                                                                                                           •   White napkins with gold beaded napkin rings

                                                                                                                                           •   Pewter colored charger plates

                                                                                                                                           •   White dinner plates

                                                                                                                                           •   Silverware

                                                                                                                                           •   Votive candles




                                                                                                                                                   2017 Cost: $300.00 USD* per table

*Resort Credit cannot be applied to reception tables. ** These tables cannot be combined with non Colin Cowie designed reception tables.
                                                                                                                                                                                                        Page 28
SEAGLASS COLLECTION




          •    Wedding ceremony location

          •    White pergola structure

          •     32 seating pods in a variation of themed drapery

          •     Aqua seaglass gems line the aisle

          •    White hanging ceremony table with a tall white ceramic vase filled with Bells of Ireland stems and a wide ceramic vase filled with green Anthurium stems

          •     4 White colored Shepherd's hooks at the front and end of the aisle each with a hanging globe and a floating green silk Cymbidium Orchid

          •     Themed Bridal Bouquet with green Hydrangeas, white Calla

          •     Lilies and stems of green Dendrodium Orchids

          •     Calla Lily Boutonniere

          •     Themed 2 tier wedding cake for up to 32 persons

          •     Non Denominational Minister to perform symbolic or vow renewal ceremonies

          •     Soft Cover Album (20 pages / 36 images)

          •     Ground fireworks display after ceremony at Cancun & Riviera Maya, dove release after ceremony at Vallarta, choice of ground fireworks or bubble display

                after ceremony at Punta Cana

          •     Honeymoon Wishes Wedding Website and Bridal Registry

          •     CD system available for ceremony

          •     Event Consultant and Onsite Wedding Coordinator

          •    Witnesses if required

          •     Complimentary Honeymoon Package


                                                                                                                                                     2017 Collection Cost: $3,000 USD*

*Additional fee applies to civil ceremonies. **This collection is not applicable with Resort Credit. ***Not available at Hard Rock Hotel Vallarta.
                                                                                                                                                                                   Page 29
SEAGLASS RECEPTION
                                                                                                                                                                                    ROUND TABLE
                                                                                                                                                 •    Round table

                                                                                                                                                 •    Accommodates up to 8 persons

                                                                                                                                                 •    8 White Chiavari chairs with cushions in a variety of

                                                                                                                                                      themed drapery

                                                                                                                                                 •    Themed tablecloth

                                                                                                                                                 •    3-piece centerpiece which includes 1 tall white vase

                                                                                                                                                      filled with green Button Mums, 1 white square vase filled

                                                                                                                                                      with 5 stems of small green Hydrangeas and 1 tall ceramic

                                                                                                                                                      vase filled with 10 stems of green Dendrodium Orchids

                                                                                                                                                 •    Aqua colored tumblers

                                                                                                                                                 •    Wine glasses

                                                                                                                                                 • White napkins with aqua napkin rings

                                                                                                                                                 •    Aqua colored charger plates

                                                                                                                                                 •    White dinner plates

                                                                                                                                                 •    Votive candles




                                                                                                                                                                                  SQUARE TABLE
                                                                                                                                                 •    Square table

                                                                                                                                                 •    Accommodates up to 8 persons

                                                                                                                                                 •    8 White Chiavari chairs with cushions in a variety of

                                                                                                                                                      themed drapery

                                                                                                                                                 •    Themed tablecloth

                                                                                                                                                 •    3-piece floral centerpiece which includes 1 white tall

                                                                                                                                                      ceramic vase filled with green Button Mums, 1 white

                                                                                                                                                      square vase filled with 5 stems of small green Hydrangeas

                                                                                                                                                      and 1 tall white vase filled with green Cymbidium Orchids

                                                                                                                                                 •    Aqua colored tumblers

                                                                                                                                                 •    Wine glasses

                                                                                                                                                 •    White napkins with aqua napkin rings

                                                                                                                                                 •    Aqua colored charger plates

                                                                                                                                                 •    White dinner plates

                                                                                                                                                 •    Silverware

                                                                                                                                                 •    Votive candles




                                                                                                                                                            2017 Cost: $300.00 USD* per table

*Resort Credit cannot be applied to reception tables. ** These tables cannot be combined with non Colin Cowie designed reception tables. *** Not available at Hard Rock Hotel Vallarta.
                                                                                                                                                                                                                 Page 30
ELEGANT IVORY COLLECTION




          •     Wedding ceremony location
          •     White 3 fold ceremony structure with curtains of sparkling tear drops hanging from each panel
          •     32 White Chiavari chairs with cushions in a variation of themed drapery
          •     White colored ceremony podium
          •     As centerpiece is a champagne colored cylinder vase filled with Calla Lilies and a smaller champagne colored square vase filled with Football Mums
          •     4 White columns lining the aisle with a floral sphere of Football Mums
          •     Ivory colored aisle runner
          •     Themed Bridal Bouquet with white Roses and Cymbidium Orchid blooms
          •     White Cymbidium Orchid Groom's Boutonniere
          •     Themed 2 tier wedding cake for up to 32 persons

          •     Non Denominational Minister to perform symbolic or vow renewal ceremonies
          •     Soft Cover Album (20 pages / 36 images)

          •     Soloist for wedding ceremony (Riviera Maya: Violin & Saxophone / Cancun: Violin, Harp, Saxophone & Guitar / Punta Cana: Violin, Saxophone,

                Guitar / Vallarta: Violin, Saxophone & Guitar)

          •     Ground fireworks display after ceremony at Cancun & Riviera Maya, dove release after ceremony at Vallarta, choice of ground fireworks or bubble display

                after ceremony at Punta Cana
          •     Honeymoon Wishes Wedding Website and Bridal Registry
          •     CD system available for ceremony

          •     Event Consultant and Onsite Wedding Coordinator
          •     Witnesses if required
          •     Complimentary Honeymoon Package

                                                                                                                2017 Collection Cost: $3,500 USD*

*Additional fee applies to civil ceremonies. ** This collection is not applicable with Resort Credit.
                                                                                                                                                                     Page 31
ELEGANT IVORY RECEPTION
                                                                                                                                                                    ROUND TABLE 1
                                                                                                                                           •   Round table

                                                                                                                                           •   Accommodates up to 8 persons

                                                                                                                                           •   8 White Chiavari chairs with cushions in a variety of themed

                                                                                                                                               drapery

                                                                                                                                           •   Themed tablecloth

                                                                                                                                           •   Football Mum sphere as centerpiece (Flowers are available in

                                                                                                                                               ivory, soft pink or soft purple)

                                                                                                                                           •   Clear glass tumblers

                                                                                                                                           •   Wine glasses

                                                                                                                                           •   White napkins with an ivory colored flower placed on top

                                                                                                                                           •   Pewter colored charger plates

                                                                                                                                           •   White dinner plates

                                                                                                                                           •   Silverware

                                                                                                                                           •   Votive candles




                                                                                                                                                                   ROUND TABLE 2
                                                                                                                                           •   Round table

                                                                                                                                           •   Accommodates up to 8 persons

                                                                                                                                           •   8 White Chiavari chairs with cushions in a variety of

                                                                                                                                               themed drapery

                                                                                                                                           •   Themed tablecloth

                                                                                                                                           •   2-piece centerpiece with 1 gold mirrored vase filled with 12

                                                                                                                                           •   Roses and a sphere of Football Mum sphere as centerpiece

                                                                                                                                               (Flowers are available in ivory, soft pink or soft purple)

                                                                                                                                           •   Clear glass tumblers

                                                                                                                                           •   Wine glasses

                                                                                                                                           •   White napkins with gold beaded napkin rings

                                                                                                                                           •   Pewter colored charger plates

                                                                                                                                           •   White dinner plates

                                                                                                                                           •   Silverware

                                                                                                                                           •   Votive candles




                                                                                                                                                    2017 Cost: $300.00 USD* per table

*Resort Credit cannot be applied to reception tables. ** These tables cannot be combined with non Colin Cowie designed reception tables.
                                                                                                                                                                                                            Page 32
PURPLE SHIMMER COLLECTION




          •     Wedding ceremony location
          •     White 3 fold ceremony structure with curtains of lavender iridescent beads hanging from each panel
          •     32 Silver Chiavari chairs with cushions in a variety of themed drapery
          •     Lavender colored aisle runner
          •     White ceremony podium wrapped in a lavender colored fabric with a silver beaded edge on the top and bottom of the podium
          •     As centerpiece is 1 large circular vase filled with 8 pink Calla
          •     Lilies and 1 pink Cymbidium Orchid and 2 medium silver circular vases filled with 8 pink Calla Lilies and 1 pink Cymbidium Orchid
          •     4 Silver Shepherd's hooks lining the aisle each with a hanging glass globe and floating pink Roses
          •     Themed Bridal Bouquet of Roses and Cymbidium Orchid blooms in purple, white or pink
          •     Calla Lily Boutonniere
          •     Themed 2 tier wedding cake for up to 32 persons

          •     Non Denominational Minister to perform symbolic or vow renewal ceremonies
          •     Soft Cover Album (20 pages / 36 images)

          •     Soloist for wedding ceremony (Riviera Maya: Violin & Saxophone / Cancun: Violin, Harp, Saxophone & Guitar / Punta Cana: Violin, Saxophone,

                Guitar / Vallarta: Violin, Saxophone & Guitar)

          •     Ground fireworks display after ceremony at Cancun & Riviera Maya, dove release after ceremony at Vallarta, choice of ground fireworks or bubble display

                after ceremony at Punta Cana
          •     Honeymoon Wishes Wedding Website and Bridal Registry
          •     CD system available for ceremony

          •     Event Consultant and Onsite Wedding Coordinator
          •     Witnesses if required
          •     Complimentary Honeymoon Package
                                                                                                                 2017 Collection Cost: $3,900 USD*

*Additional fee applies to civil ceremonies. ** This collection is not applicable with Resort Credit.
                                                                                                                                                                   Page 33
PURPLE SHIMMER RECEPTION
                                                                                                                                                                      ROUND TABLE
                                                                                                                                           •   Round table

                                                                                                                                           •   Accommodates up to 8 persons

                                                                                                                                           •   8 Silver Chiavari chairs with cushions in a variety of themed

                                                                                                                                               drapery

                                                                                                                                           •   Themed tablecloth

                                                                                                                                           •   3-piece centerpiece which includes 1 small dark clear square

                                                                                                                                               vase filled with 3 purple Hydrangeas, 1 small dark clear

                                                                                                                                               square vase filled with 8 pink Roses and 1 large dark clear

                                                                                                                                               vase with 3 ivory battery operated candles

                                                                                                                                           •   Clear glass tumblers

                                                                                                                                           •   Wine glasses

                                                                                                                                           •   Lavender colored napkins

                                                                                                                                           •   Silver colored charger plates

                                                                                                                                           •   White dinner plates

                                                                                                                                           •   Silverware

                                                                                                                                           •   Votive candles




                                                                                                                                                                   SQUARE TABLE
                                                                                                                                           •   Square table

                                                                                                                                           •   Accommodates up to 8 persons

                                                                                                                                           •   8 Silver Chiavari chairs with cushions in a variety of

                                                                                                                                               themed drapery

                                                                                                                                           •   Themed tablecloth

                                                                                                                                           •   2-piece centerpiece that includes 2 silver circular vases

                                                                                                                                               each with 8 pink Calla Lilies and 1 pink Cymbidium Orchid

                                                                                                                                           •   Clear glass tumblers

                                                                                                                                           •   Wine glasses

                                                                                                                                           •   Lavender colored napkins

                                                                                                                                           •   Silver colored charger plates

                                                                                                                                           •   White dinner plates

                                                                                                                                           •   Silverware

                                                                                                                                           •   Votive candles




                                                                                                                                                   2017 Cost: $300.00 USD* per table

*Resort Credit cannot be applied to reception tables. ** These tables cannot be combined with non Colin Cowie designed reception tables.
                                                                                                                                                                                                             Page 34
EL SOL COLLECTION




          •    Wedding ceremony location
          •     Chocolate colored ceremony structure
          •     Chocolate colored ceremony podium
          •     As centerpiece is a large glass globe filled with a bouquet of coral colored Roses, a small globe filled with a medium size bouquet of coral colored Roses
                and 2 gold sand dollars
          •     Orange interlocking fabric for the top of the ceremony structure
          •     Brown curly willows placed in front of the front legs of the ceremony structure
          •     32 Chocolate Chiavari chairs with cushions in a variety of themed drapery
          •     2 Chocolate colored columns at top of aisle with a coral colored Carnations sphere
          •     6 Chocolate colored troughs lining the aisle walkway filled with water, floating orange, yellow or hot pink petals and hot pink candles
          •     6 Chocolate colored bamboo tiki torches at the front of the ceremony
          •     Themed Bridal Bouquet of pink Roses, orange Roses and stems of Gladiolas
          •     Grooms Boutonniere
          •     Themed 2 tier wedding cake for up to 32 persons
          •     Non Denominational Minister to perform symbolic or vow renewal ceremonies
          •     Soft Cover Album (20 pages / 36 images)
          •     Soloist for wedding ceremony (Riviera Maya: Violin & Saxophone / Cancun: Violin, Harp, Saxophone & Guitar / Punta Cana: Violin, Saxophone,
                Guitar / Vallarta: Violin, Saxophone & Guitar)
          •     Ground fireworks display after ceremony at Cancun & Riviera Maya, dove release after ceremony at Vallarta, choice of ground fireworks or bubble display
                after ceremony at Punta Cana
          •     Honeymoon Wishes Wedding Website and Bridal Registry
          •     CD system available for ceremony
          •     Event Consultant and Onsite Wedding Coordinator
          •    Witnesses if required
          •     Complimentary Honeymoon Package
                                                                                                                                                     2017 Collection Cost: $4,200 USD*

*Additional fee applies to civil ceremonies. **This collection is not applicable with Resort Credit. ***Not available at Hard Rock Hotel Vallarta.
                                                                                                                                                                                   Page 35
EL SOL RECEPTION
                                                                                                                                                                                    ROUND TABLE
                                                                                                                                                 •    Round table

                                                                                                                                                 •    Accommodates up to 8 persons

                                                                                                                                                 •    8 Chocolate Chiavari chairs with cushions in a variety of

                                                                                                                                                      themed drapery

                                                                                                                                                 •    Themed tablecloth

                                                                                                                                                 •    3-piece centerpiece that includes 1 champagne colored

                                                                                                                                                      cylinder vase filled with 30 Carnations and 5 Cymbidium

                                                                                                                                                      blooms, 1 champagne colored cylinder vase filled with 12

                                                                                                                                                      Roses and 1 gold sphere (Flowers are available in coral, hot

                                                                                                                                                      pink or orange)

                                                                                                                                                 •    Clear glass tumblers

                                                                                                                                                 •    Wine glasses

                                                                                                                                                 •    Hot pink napkins with gold napkin rings

                                                                                                                                                 •    Gold colored charger plates

                                                                                                                                                 •    White dinner plates

                                                                                                                                                 •    Silverware

                                                                                                                                                 •    Votive candles




                                                                                                                                                                                  SQUARE TABLE
                                                                                                                                                 •    Square table

                                                                                                                                                 •    Accommodates up to 8 persons

                                                                                                                                                 •    8 Chocolate Chiavari chairs with cushions in a variety of

                                                                                                                                                      themed drapery

                                                                                                                                                 •    Themed tablecloth

                                                                                                                                                 •    3-piece centerpiece that includes 1 gold trumpet vase filled

                                                                                                                                                      with 5 stems of green Button Mums, 1 champagne colored

                                                                                                                                                      cylinder vase filled with 25 pink Carnations and 5 stems of

                                                                                                                                                      green Button Mums and 1 champagne colored cylinder

                                                                                                                                                      vase filled with 12 pink Roses, 25 pink Carnations, 5 stems of

                                                                                                                                                      green Button Mums and 5 pink Cymbidium blooms

                                                                                                                                                 •    Clear glass tumblers

                                                                                                                                                 •    Wine glasses

                                                                                                                                                 •    Hot pink napkins with gold napkin rings

                                                                                                                                                 •    Gold colored charger plates

                                                                                                                                                 •    White dinner plates

                                                                                                                                                 •    Silverware

                                                                                                                                                 •    Votive candles



                                                                                                                                                            2017 Cost: $300.00 USD* per table

*Resort Credit cannot be applied to reception tables. ** These tables cannot be combined with non Colin Cowie designed reception tables. *** Not available at Hard Rock Hotel Vallarta.
                                                                                                                                                                                                                  Page 36
WHITE ROSETTE COLLECTION




          •    Wedding ceremony location

          •    White 3 fold ceremony structure with curtains of sparkling tear drops hanging from each panel

          •     32 White Chiavari chairs with cushions in a variety of themed drapery

          •    White ceremony podium wrapped with white rosette fabric with 2 glass cylinder vases filled with water and a floating silk Cymbidium Orchid stem

          •     4 White columns wrapped in a white rosette fabric each with a glass cylinder vase filled with water and a floating silk Cymbidium Orchid stem

          •     Bridal Bouquet of Roses, Cymbidium Orchids and Lisianthus flowers White colored aisle runner

          •     Cymbidium Orchid Boutonniere

          •     Themed 3 tier wedding cake for up to 32 persons

          •     Soft Cover Album (20 pages / 36 images)

          •     Non Denominational Minister to perform symbolic or vow renewal ceremonies

          •     Soloist for wedding ceremony (Riviera Maya: Violin & Saxophone / Cancun: Violin, Harp, Saxophone & Guitar / Punta Cana: Violin, Saxophone,

                Guitar / Vallarta: Violin, Saxophone & Guitar)

          •     Ground fireworks display after ceremony at Cancun & Riviera Maya, dove release after ceremony at Vallarta, choice of ground fireworks or bubble display

                after ceremony at Punta Cana

          •     Honeymoon Wishes Wedding Website and Bridal Registry

          •     CD system available for ceremony

          •     Event Consultant and Onsite Wedding Coordinator

          •    Witnesses if required

          •     Complimentary Honeymoon Package

          •     3 Themed reception décor tables included
                                                                                                                                                     2017 Collection Cost: $4,500 USD*

*Additional fee applies to civil ceremonies. **This collection is not applicable with Resort Credit. ***Not available at Hard Rock Hotel Vallarta.                                 Page 37
WHITE ROSETTE RECEPTION
                                                                                                                                                                                    ROUND TABLE
                                                                                                                                                 •    Round table

                                                                                                                                                 •    Accommodates up to 8 persons

                                                                                                                                                 •    8 White Chiavari chairs with cushions in a variety of themed

                                                                                                                                                      drapery

                                                                                                                                                 •    Themed tablecloth

                                                                                                                                                 •    3-piece centerpiece that includes 1 silver trumpet vase filled

                                                                                                                                                      with 7 Roses, 1 silver trumpet vase filled with 5 Lisianthus'

                                                                                                                                                      and 1 silver cylinder vase filled with 12 Roses (Flowers are

                                                                                                                                                      available in white, pastel purple or soft pink)

                                                                                                                                                 •    Pink colored tumblers

                                                                                                                                                 •    Wine glasses

                                                                                                                                                 •    White napkins with silver beaded napkin rings

                                                                                                                                                 •    Silver colored charger plates

                                                                                                                                                 •    White dinner plates

                                                                                                                                                 •    Silverware

                                                                                                                                                 •    Votive candles



                               •


                                                                                                                                                                                     SQUARE TABLE

                                                                                                                                                 •    Square table

                                                                                                                                                 •    Accommodates up to 8 persons

                                                                                                                                                 •    8 White Chiavari chairs with cushions in a variety of

                                                                                                                                                      themed drapery

                                                                                                                                                 •    Themed tablecloth

                                                                                                                                                 •    3-piece floral centerpiece that includes 1 silver trumpet

                                                                                                                                                      vase filled with Dendrodium Orchids, 1 silver cylinder vase

                                                                                                                                                      filled with white Mums and 1 silver trumpet vase filled

                                                                                                                                                      with white Roses (Flowers are available in white, pastel

                                                                                                                                                      purple or soft pink)

                                                                                                                                                 •    Clear glass tumblers

                                                                                                                                                 •    Wine glasses

                                                                                                                                                 •    White napkins with silver beaded napkin rings

                                                                                                                                                 •    Silver colored charger plates

                                                                                                                                                 •    White dinner plates

                                                                                                                                                 •    Silverware

                                                                                                                                                 •    Votive candles




                                                                                                                                                             2017 Cost: $300.00 USD* per table

*Resort Credit cannot be applied to reception tables. ** These tables cannot be combined with non Colin Cowie designed reception tables. *** Not available at Hard Rock Hotel Vallarta.
                                                                                                                                                                                                                      Page 38
ADDITIONAL CHAIRS & CAPS




       •      COMPLIMENTARY COLLECTION                                         •   INSIGNIA COLLECTION*        •   ELEGANT IVORY COLLECTION

                       $6 per chair                                                    $8 per chair                    $8 per chair
                                                                                       $5 per cap                      $9 per cap

       •      DRIFTWOOD ROMANCE
                                                                               •   ROCKER CHIC COLLECTION      •   PURPLE SHIMMER COLLECTION
                       $8 per chair
                                                                                       $8 per chair                    $8 per chair
                       $10 per cap
                                                                                       $6 per cap                      $10 per cap

       •      GOLDEN RADIANCE
                                                                               •   METALLIC DUNES COLLECTION   •   EL SOL COLLECTION*
                       $8 per chair
                                                                                       $8 per chair                    $8 per chair
                       $10 per cap
                                                                                       $7 per cap                      $11 per cap

       •      SEASIDE SHIMMER
                                                                               •   SEAGLASS COLLECTION**       •   WHITE ROSETTE COLLECTION*
                       $8 per chair
                                                                                       $8 per pod                      $8 per chair
                       $10 per cap
                                                                                       $8 per cap                      $12 per cap
                                                                                       $8 per chair
                                                                                       $8 per cap




*Not available at Hard Rock Hotel Vallarta. **Pod or chair may be purchased.                                                                  Page 39
INDIAN WEDDINGS




                         R O  C  K  S
                   SI HQ NG EXPERIENCES
                     INDIAN W E D D I
Fan the flames of tradition with the excitement of a Hard Rock Hotel Wedding. Inspire our Wedding Specialists with personal selections

to create a custom wedding collection. Celebrate into the night with popular Indian music and live entertainment. Delight guests with

intricate Mehndi designs hand-drawn by skilled artists and enjoy traditional cuisine crafted by our master chefs.



'Ishq' means love - and Ishq truly rocks at the all-inclusive Hard Rock Hotel & Casino Punta Cana, Hard Rock Hotel Vallarta, Hard Rock

Hotel Cancun, and Hard Rock Hotel Riviera Maya.




                         Refer to our Wedding Group Benefits for information on our Indian Cuisine options.




                                                                                                                                Page 40
CEREMONY LOCATIONS




        HARD ROCK HOTEL & CASINO PUNTA CANA

                        Beach
                        Wedding Gazebos


        HARD ROCK HOTEL VALLARTA

                        Beach
                        Wedding Gazebo


        HARD ROCK HOTEL CANCUN

                        Beach


        HARD ROCK HOTEL RIVIERA MAYA - HACIENDA SECTION

                        Ocean side venues
                        Wedding Gazebos


        HARD ROCK HOTEL RIVIERA MAYA - HEAVEN SECTION**              **Hard Rock Hotel Riviera Maya - Heaven Section is exclusively

                                                                     for guests 18 years of age or older. Guests under 18 years of
                        Ocean side venues
                                                                     age will not be permitted to attend any wedding events in
                        Wedding Gazebos
                                                                     this section.




Areas are available on a first come, first serve basis.                                                                               Page 41
PRIVATE FUNCTION LOCATIONS




        HARD ROCK HOTEL & CASINO PUNTA CANA                                               HARD ROCK HOTEL RIVIERA MAYA - HACIENDA SECTION
              Beach*                                                                            Beach Inlet*
              Multiple Terraces                                                                 Solarium*
              Multiple Ballrooms                                                                Pool
              Multiple Pools                                                                    Multiple Terraces
                       *Additional setup fee applies.                                           Multiple Ballrooms
                                                                                                 *Additional setup fee applies.
        HARD ROCK HOTEL CANCUN
                                                                                          HARD ROCK HOTEL RIVIERA MAYA - HEAVEN SECTION**
                       Beach*
                                                                                                Beach Inlet*
                       Pool
                                                                                                Pool
                       Terrace
                                                                                                Multiple Terraces
                       Multiple Ballrooms
                                                                                                Multiple Ballrooms
                       *Additional setup fee applies. From May 1st through
                       November 30th, all events on the beach must end by                        *Additional setup fee applies.
                                 8:30 PM by law due to turtle nesting season.                    **Hard Rock Hotel Riviera Maya - Heaven Section is exclusively for

                                                                                                 guests 18 years of age or older. Guests under 18 years of age will
        HARD ROCK HOTEL VALLARTA
                                                                                                 not be permitted to attend any wedding events in this section.
              Beach*
              Pool
              Multiple Terraces
              Garden
              Multiple Ballrooms
                       *Additional setup fee applies.


*Certain locations are subject to an additional set up surcharge for private functions.                                                                               Page 42
WEDDING GROUPS BENEFITS
   COMPLIMENTARY NIGHTS OR PASSENGERS*
   US: The couple will receive one (1) complimentary room night for every ten (10) room nights paid up to a maximum of seven (7)
   complimentary room nights. Groups of 225+ room nights will receive 14 complimentary nights. (If couple is staying less than 14 nights, they are able to pass the
   Complimentary Nights to other guests within their group.
   CA: The couple will receive one (1) complimentary passenger for every ten (10) passengers paid up to a maximum of three (3)
   complimentary passengers per group. (The 11th passenger is free.) Groups of 225+ room nights will receive 6 complimentary passengers.

   ROOM UPGRADES**
   The couple will receive one (1) complimentary room upgrade to the next available room category (up to Caribbean Diamond/Deluxe
   Diamond) when booking 25 rooms or 75 + room nights.

   PRIVATE FUNCTIONS***

   •    5 - 9 rooms for a minimum of 3 nights or 15 - 29 room nights = One (1) cocktail reception for one (1) hour.

   •    10 - 19 rooms for a minimum of 3 nights or 30 - 59 room nights = One (1) private function for two (2) hours. (may be a cocktail
        reception or dinner).

   •    20 - 24 rooms for a minimum of 3 nights or 60 - 74 room nights = One (1) private function for three (3) hours (may be a cocktail reception and dinner).

   •    25-74 rooms for a minimum of 3 nights or 75-224 room nights = Punta Cana: Two (2) private functions for three (3) hours each (may be a cocktail reception,
        dinner or both with a maximum of three (3) hours per day). Mexico: Unlimited private events for up to three (3) hours each day.
   •    75-99 rooms for a minimum of 3 nights or 225-299 room nights = Punta Cana: Two (2) private functions for four (4) hours (may be a cocktail reception, din
        ner or both with a maximum of four (4) hours per day). Mexico: Unlimited private events for up to four (4) hours each day.

   •    100+ rooms for a minimum of 3 nights or 300+ room nights = Punta Cana: Two (2) private functions for five (5) hours each (may be a cocktail reception,
        dinner or both with a maximum of five (5) hours per day). Mexico: Unlimited private functions for up to five (5) hours each day.

   CUISINES AVAILABLE****

   •    International, American, Caribbean, Mexican, Mediterranean, Asian, Barbecue, Italian, Seafood and Dominican cuisine options are available to all wedding
        parties and groups Hard Rock Hotel Punta Cana and Hard Rock Hotel Vallarta. Indian cuisine is available upon request and eligibility based on group bookings.

   •    Hard Rock Hotel Cancun, Hard Rock Hotel Riviera Maya and Hard Rock Hotel & Casino Punta Cana:

                  • Wedding groups with 75-99 room for a minimum of 3 nights or 225-299 room nights receive one (1) dinner menu included from a local caterer. The
                  couple can choose any dinner menu up to $35 per person + tax. Couple is responisble for paying for delivery, service fee and any difference above $35 per
                  person + tax.

                  • Wedding groups with 100+ rooms for a minimum of 3 nights or 300+ room nights receive one (1) breakfast or lunch menu and one
                  (1) dinner menu included from a local caterer. The couple can choose any breakfast or lunch menu up to $25 per person + tax. The couple can choose any
                  dinner menu up to $35 per person + tax. Couple is responsible for paying for delivery, service fee and any difference in pricing above $25 per person + tax
                  for breakfast/lunch or $35 per person + tax for dinner.

   *US: A surcharge of $10 USD per person, per night will apply for complimentary stays for taxes and gratuities. Complimentary nights are awarded on room category
   booked up to Caribbean Diamond/Deluxe Diamond and double occupancy only. Complimentary nights will be refunded by the couple's booking source. A 3-night
   minimum stay is required per reservation in order to apply towards benefits. Benefits do not apply if couple's reservation is made through an online travel agency.
   CA: A surcharge of $10 per passenger, per night will apply for complimentary stays for taxes and gratuities. Complimentary passengers are awarded on room category
   booked up to Caribbean Diamond/Deluxe Diamond and double occupancy only. Note: Complimentary passengers will be awarded by the couple's booking source. A
   3-night stay is required per reservation in order to apply toward benefits.

   **Subject to space and availability of the resort. If the couple has already booked a Caribbean Diamond/Deluxe Diamond room or higher, then they will have the
   option to pass the "upgrade" to a family member for the same number of nights booked. A 3-night minimum stay is required per reservation in order to apply t
   owards benefits.

   ***Locations for private functions will be assigned at the resort at time of arrival and will be subject to availability. A 2-hour private function will only be honored
   as 1 event.

   ****Cancun, Riviera Maya & Punta Cana: Indian dishes are prepared by a local restaurant. Indian restaurant menu is available to smaller wedding groups at an
   additional cost. Cuisine options available vary per property. Vallarta: Indian dishes are not available.

   In order for Wedding Group Benefits to apply, all reservations must be booked through the same Tour Operator and Travel Agency (if applicable) with or without
   a group contract. Couple's reservation must be part of the group booking for benefits to apply.



*Private Functions included with the group benefits are only for events related to the wedding.                                                                        Page 43