SCHRANKSYSTEME | WARDROBE SYSTEMS - HOME Schlafen & Wohnen
Page content transcription
If your browser does not render page correctly, please read the page content below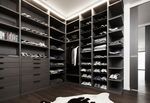 Vorwort                                             Preface

                                                    We invite you with this brochure to discover some
Wir laden Sie ein in diesem Prospekt einige Pro-    projects realized with furniture from Schmalen-
jekte mit Möbeln von Schmalenbach design zu         bach design. Custom-built furniture, which also
entdecken. Möbel, die es auch Ihnen ermöglichen,    allow you to arrange your living, working and pu-
Wohn-, Arbeits- und öffentliche Räume individuell   blic space according to your individual wants and
zu gestalten und optimal zu nutzen, da sie nach     needs. This hand-made furniture is manufactured
Ihren Maß-, Material- und Oberflächenvorgaben in    according to your dimension, material and surface
unserer Manufaktur im Oberbergischen Land vor       requirements in our factory, which is located just
den Toren Kölns gefertigt werden.                   outside of Cologne, in Oberbergischen Land.

Willkommen in der Welt von Schmalenbach Design.     Welcome to the world of Schmalenbach design.
Inhalt
                                                                   Content

Begehbare Ankleide S 28 in Kunstleder              Seite 6 - 7
Walk in wardrobe S 28 in eco leather               Page 6 - 7

Begehbare Ankleide S 28 in furnierter Pappel       Seite 8 - 9
Walk in wardrobe S 28 in grey fineline veneer      Page 8 - 9      Hauswirtschaftsschrank S 28   Seite 30 - 31
                                                                   Utility room S 28             Page 30 - 31
Begehbare Ankleide S 28 in weissem Melamin         Seite 10 - 13
Walk in wardrobe S 28 in white melamine            Page 10 - 13    Begehbare Ankleide S 35       Seite 32 - 33
                                                                   Walk in wardrobe S 35         Page 32 - 33
Komplettes Schlafzimmer: Einbauschrank,            Seite 14 - 15
Kommode und Bettsystem                                             Begehbare Ankleide S 28       Seite 34 - 35
Master bedroom: built in cabinet, sideboard, bed   Page 14 - 15    Walk in wardrobe S 28         Page 34 - 35

Einbauschrank S 28                                 Seite 16 - 17   Rahmenlose Schiebetüren       Seite 36 - 37
Built in cabinet S 28                              Page 16 - 17    Frameless sliding doors       Page 36 - 37

Schiebetürenschrank S 28                           Seite 18 - 19   S 11 Stangensystem            Seite 38 - 39
Sliding door cabinet S 28                          Page 18 - 19    S 11 wardrobe system          Page 38 - 39

Einbauschränke und Schuhraum S 28                  Seite 20 - 23   Schmalenbach Design           Seite 40
Built in cabinetry and shoe storage S 28           Page 20 - 23    Schmalenbach design           Page 40

Schiebetüren                                       Seite 24 - 25   Ausstattungsmöglichkeiten     Seite 41
Sliding doors                                      Page 24 - 25    Wardrobe accessories          Page 41

Ankleide mit Schiebetüren                          Seite 26 - 27   Produktübersicht              Seite 42 - 43
Wardrobe with sliding doors                        Page 26 - 27    Product overview              Page 42 - 43

Griffloser Einbauschrank S 28                      Seite 28 - 29   Oberflächen                   Seite 45
Built in cabinet with recessed grips S 28          Page 28 - 29    Surfaces                      Page 45

                                                                                                                 5
Begehbare Ankleide S 28
    mit kunstlederummantelten Seiten

    Walk in wardrobe S 28
    eco leather covered side panels

    Ankleide- System S 28 in grau eingefärbter Pappel
    furniert, Seiten, Rückwande, Griffe und Kleider-
    stangen in Kunstleder ummantelt.

    Wardrobe system S 28 in grey fineline veneer, side
    panels, back panels, handles and clothing rods co-
    vered with eco leather.

6
Begehbare Ankleide S 28
    in grau eingefärbter Pappel furniert

    Walk in wardrobe S 28
    grey fineline veneer

    Ankleidesystem S 28 in grau eingefärbter Pappel
    furniert.

    Wardrobe system S 28 in grey fineline veneer.

8
Begehbare Ankleide S 28
     mit Kommodensystem Slide

     Walk in wardrobe S 28
     with sideboard system

     Kommoden und Ankleide in Melamin icy white,
     Abdeckplatte Marmor offenporig.

     Wardrobe and sideboard in melamine icy white,
     counter top marble.

10
Komplettes Schlafzimmer
     mit Einbauschrank, Bett und TV-Kommode

     Master bedroom
     built in cabinet, bed and tv sideboard

     Einbauschrank mit edelstahl-eloxierten Profilen.
     Schrankinnenleben und Bett in grau eingefärbter
     Pappel furniert, Kommode mit TV-Lift in Melamin
     icy white.

     Built in cabinet with stainless steel sliding door
     profiles, bed in grey fineline veneer, sideboard with
     tv lift mechanism, finish melamine icy white.

14
Wandbündiger
     Einbauschrank S 28
     mit Quick-out

     Built in cabinet S 28
     handle touch latch

     Einbauschränke mit Schattenfugen, Melamin icy
     white und hinterlackiertes Glas auf Aluminiumträ-
     gerrahmen.

     Built in cabinet with shadow lines, doors with back-
     lacquered glass on alumnium frame.

16
Einbauschrank S 28
     mit Schiebetüren

     Built in cabinet S 28
     with sliding doors

     Maßgefertigter Einbauschrank in Laminat weiss,
     Schiebtürenprofile Aluminium in silber eloxiert.

     Custom made cabinet in melamine white, sliding
     door profiles alumnium silver andonized.

18
Einbauschrank S 28
     mit Schiebetüren und Regalelement

     Built in cabinet S 28
     with sliding doors and shelving element

     Einbauschrank S 28, Schiebetüren und Regalele-
     ment in Melamin Icy white. Profile Aluminium silber
     eloxiert.

     Built in cabinet S28, sliding doors and shelving ele-
     ment in melamine icy white, sliding door profiles
     alumnium silver andonized.

20
Begehbarer Schuhschrank,
System S 28
Walk in shoe storage S 28

Seiten und Konstruktionsböden in Melamin weiss,
Schuhböden in Weissglas, Stiefelstangen aus elo-
xiertem Aluminium.

Carcass in melamine white, shoe shelves in low
iron glass, rods in silver andonized alumnium, LED
lightning.

                                                     23
Schiebetüren
     Sliding doors

     Schiebetüren als Raumteiler und Vorwandsystem
     aus lackierten Aluminium. Türfüllungen matt Lack
     weiss, Spiegel und Weissglas.

     Room dividing sliding door and sliding doors in
     front of built in cabinet, infill matte lacquer, mirror
     and low iron backlaquered glass.

24
Begehbare Ankleide
     mit Schiebetüren und Kommoden als Insel mit
     integrierter Sitzbank

     walk in wardrobe
     with sliding doors, island with drawers and
     Integrated seating

     Kommode in Eukalyptus furniert, Bank und Ab-
     deckplatte in weissem Leder. Schiebetürenprofile
     Aluminium lackiert, Türfüllungen hinterlackiertes
     Glas.

     Sideboard in veneer eucalyptus smoked, bench
     and counter in eco-leather, sliding door profiles
     lacquered, infill backlacquered glass.

26
Einbauschrank S 28
     Built in cabinet S 28

     Griffloser Einbauschrank S 28 in weiss matt lackiert.

     Built in cabinet S28 with recessed handle channel,
     finish matte white lacquer.

28
Einbauschrank S 28
als Hauswirtschaftsschrank

Built in cabinet S 28
utility room

Türen mit Quickout, Ausführung Melamin weiß.

Doors with touch latch handle, finish melamine white.

                                                        31
Rahmenlose Schiebetüren
     Frameless sliding doors

     Furnierte Pappel anthrazit gebeizt mit hängendem
     Schiebetürbeschlag.

     Suspended sliding doors in fineline veneer anthrazite.

36
S 11 Stauraumsystem
     S 11 wardrobe system

     Aluminiumstangen in silber eloxiert, Böden und
     Schubkästen melamin weiss.

     Alumnium posts silver andonized, shelves and dra-
     wers melamine white.

38
Schmalenbach Design

     Hand Made in Oberberg: Ankleiden, Betten,
     Schränke, Regale, Kommoden, Büromöbel ... Was
     die rund 35 Mitarbeiter unserer Manufaktur in
     Gummersbach fertigen, hat in kurzer Zeit weltweit   Hand made in Oberberg: wardrobes, built in cabi-
     für Aufsehen gesorgt: von Los Angeles über Lon-     nets, shelving systems, sideboards, office furni-
     don und Amsterdam bis hin nach St. Petersburg       ture. What the 35 employees of our manufacturing
     und Moskau.                                         in Gummersbach produce has been well recogni-
                                                         zed worldwide within a very short time, from Los
     Immer mehr Menschen verlieben sich in die Idee,     Angles to London and Amsterdam, up to St. Pe-
     Kastenmöbel frei planen und in hoher Qualität       tersburg and Moscow.
     individuell anfertigen lassen zu können. Interes-
     sante Details inklusive: zum Beispiel ausziehbare   More and more people love the idea of creating
     Krawattenschränke und Spiegel oder Schubladen       their cabinetry individually and having it pro-
     mit integrierten Schmuckkästen.                     duced in high quality. Interesting details inclusive:
                                                         e.g. tie and belt pull out, mirror pull out or drawers
     Ebenso verlockend ist der Gedanke, mit einem        with integrated jewelry inserts.
     jungen, kompetenten Team von Planern und Be-
     ratern zu arbeiten, das die Realisierung von ex-    Additionally it is an interesting experience to work
     klusiven Designmöbeln zu einem Erlebnis macht.      with a young and engaged team of designers and
     Probieren Sie es aus! Möbel mit System. In Ihrem    architects, who make the realisation of exclusive
     Format.                                             design furniture a real event. Make your try!

40
Ausstattungsmöglichkeiten |
Wardrobe accessories
1.   Krawatten und Gürtelschwenkauszug |
     Pull out for ties and belts                                                 4    5

2.   Brillenvitrine | Chest for glasses

3.   Uhrenbeweger | Chest with watchwinders

4.   Schubkasteneinteilung | Divider for drawer interior

5.   Uhrenbeweger | watchwinder

6.   Schubkastenunterteilung | Divider for drawer interior
                                                               1    2   3        6    7
7.   Schiebetüren mit Furnier ummantelt | Sliding door frame
     covered with wood veneer

8.   Stiefelauszug | Pull out for boots

9.   Schmuckeinteilung | Jewelry inserts

10. Lederummantelte Kleiderstange | Hanging rod covered
     with artifical leather

11. Schrankseite mit Kunstleder bezogen, Lochreihe in          8            9    10   11
     Furnier | Side panel covered with artifical leather and
     wood strip for drilling row

12. Schubkastenunterteilung mit Glas |
     Glass inserts for drawer

13. Kunstlederbezogener Griff S 38 | Eco-leather covered
     handle S 38

14. Safe hinter elektrisch verstellbarer Rückwand |
                                                               12           13   14   15
     Built in safe behind moveable back panel

15. Abgesteppte Polsterbank | Stitched bench seat

16. Schuhböden | Shoe shelves

17. Brillenhalter | Special fitting to display glasses /
     sunglasses

18. Bündig eingebaute Schrankbeleuchtung |
     Integrated lighting                                       16           17   18        41
Produktübersicht | Product overview
     Kleiderschränke & Schiebetüren | Wardrobes & Sliding Doors                                      Ankleiden | Wardrobes

                                            Kleiderschrank- und Ankleidesystem S 28 als                                      Begehbares Ankleidesystem S 28 | Walk in closet
                                            Baukasten mit Seiten und Böden | Wardrobe and                                    system S 28
                                            walk-in cloet system S 28 custom made in every
                                                                                                                             Mittige Schubladeninsel mit Lederpolsterbank.
                                            size and surface
                                                                                                                             Speziell als Ankleidezimmer.
                                            Planbar in jeder Größe und Oberfläche. Mit zahlrei-
                                                                                                                             Island with bench seat. Especially as dressing room.
                                            chen innovativen Zusatzausstattungen: Brillen- und
                                            Uhrenvitrine, Gürtel-, Krawatten- oder Spiegel-
                                            schwenkauszug, Safe, sowie Leder bespannte
                                            Elemente.

                                            Offering a lot of innovative accessories: chest for
                                            glasses or watch winders, pull out for belts and ties,
                                            pull out mirror, hidden safe solution or eco-leather
                                            covered elements.

                                            Kleiderschrank- und Ankleidesystem S 35 als                                      Schlafzimmer mit Ankleide | Bedroom with
                                            Wandpanel mit frei schwebenden Böden | War-                                      wardrobe
                                            drobe and walk in closet system S 35 wall panels
                                                                                                                             Raumteilung durch Schiebetüren. Ankleidesystem S
                                            with floating shelves
                                                                                                                             35 mit Polsterbett.
                                            Planbar in jeder Größe und Oberfläche: Laminat,
                                                                                                                             Room division with sliding doors. Wardrobe system
                                            Lack, Furnier, Glas oder Lederbezug. Mit vielen
                                                                                                                             S 35 with up-holstered bed.
                                            sinnvollen Zusatzausstattungen.

                                            Custom made in every size and surface: laminate,
                                            lacquer, veneer, glass or covered with eco-leather.
                                            Offering a lot of practical accessories.

                                            Schiebetüren | Sliding doors                                                     Schlafzimmer mit offener Ankleide | Bedroom
                                                                                                                             with open wardrobe
                                            Stehendes oder hängendes Schiebetürensystem.
                                            Türen aus eloxierten, lackierten oder furnierum-                                 System S 28 mit Schubkasteninsel und Wangenbett.
                                            mantelten Aluminiumrahmen. Planbar als Raumtei-
                                                                                                                             System S 28 with island and cheeks bed.
                                            ler oder Vorwandsystem.

                                            Floor mounted or suspended sliding door system
                                            aluminium frame with andonized, lacquered or
                                            veneer wrapped surface.

42
Betten | Beds                                                          Kommoden und Solitäre | Sideboards and individual cabinets
                Wangenbett | Cheeks bed                                                                      Kommoden als Sideboard | Dresser as sideboard

                Filigraner Bettrahmen mit Kopfteil, bündig oder                                              Einzelne Elemente frei planbar. Immer mit Schat-
                überstehend. Wahlweise mit oder ohne Nachtti-                                                tenfuge und Griffleiste. Oberflächen in Laminat,
                schen. Oberflächen: Laminat, Lack oder Furnier.                                              Lack oder Furnier.

                Minimal bed frame with head piece, every width                                               Custom made. With shadow gap and recessed
                possible. With or without side tables. Surface:                                              handle grip. Surfaces laminate, lacquer or veneer.
                laminat, lacquer or veneer.

                Polsterbett | Upholstered bed                                                                Kommode als Lowboard | Dresser as lowboard

                Kopfteil aus einzelnen Polsterplatten, welche in der                                         Einzelne Elemente frei planbar. Immer mit Schat-
                Proportion und Optik individuell gestaltet werden                                            tenfuge und Griffleiste. Oberflächen in Laminat,
                können. Polsterbett mit durchgängiger Husse.                                                 Lack oder Furnier.

                Head piece made out of single upholstered ele-                                               Custom made. With shadow gap and recessed
                ments, which can be individualized in surface and                                            handle grip. Surfaces laminate, lacquer or veneer.
                size. Upholstered bed with slip cover.

                Design Bett | Design bed                                                                     Kommode als Solitärschrank mit Stahlsockel |
                                                                                                             Individual cabinet with metal leg frame
                Kopfteil aus bauseitigem Trockenbau, integriertes
                Bücherregal, Bettumrandung aus lackiertem MDF.                                               Einzelne Elemente frei planbar. Immer mit Schat-
                                                                                                             tenfuge und Griffleiste. Oberflächen in Laminat,
                Head piece made out of plaster, integrated book
                                                                                                             Lack oder Furnier.
                case, bed frame quered.
                                                                                                             Custom made. With shadow gap and recessed
                                                                                                             handle grip. Surfaces laminate, lacquer or veneer.

                                                                                                                                                                  43
Oberflächen | Surfaces

     KF-Platten (Melamin) | KF-Surfaces (Melamine)

                      Weiß          Weiß rustikal         Icy White      Toffee     Sandgrau     Dunkel Braun         Basalt   Eiche Milano
                      White          White rustic          Icy White     Toffee     Sand gray      Dark brown         Basalt     Oak milano

             Kirsch Havanna                 Noce     Lindberg Eiche    Schwarz    Eiche dunkel
              Cherry havanna                Noce        Lindberg oak      Black       Oak dark

     Furniere | Veneer

                   Zebrano             Markassa           Red Gum        Eiche          Buche          Ahorn         Kirsche     Nußbaum
                 Zebra wood            Marcassar          Red Gum          Oak          Beech          Maple          Cherry       Walnut

     Fineline | Fineline

                  Anthrazit        Ebano Argento          Eiche hell      Teak         Griggio      Markassa    Eiche Schoko      Zebrano
                  Anthracite        Ebano Argento          Light oak      Teak         Griggio      Marcassar      Oak choko    Zebra wood

44
RAL + Sikkens + NCS Farben | RAL + Sikkens + NCS Colours

                                                           RAL-Farbkarten sind erhältlich bei: RAL Deutsches   RAL colors are available from: RAL German Institu-
                                                           Institut für Gütesicherung und Kennzeichnung e.V.   te for securing goods and labeling (www.ral-
                                                           (www.ral-colours.de)                                colours.de)

                                                           Weitere Melamine, Furniere und Schichtstoffe auf    Further melamin, veneer and laminate surfaces on
                                                           Anfrage.                                            request.

                                                                                                                                                                    45
© schmalenbach design gmbh   Bunsenstraße 6      Telefon: (0 22 61) 8 15 86-0    www.schmalenbach-design.de    Showroom
                             51647 Gummersbach   Telefax: (0 22 61) 8 15 68-10   info@schmalenbach-design.de   Bunsenstraße 6