Collingwood Youth Space Spicy Cooking Program
Page content transcription ( If your browser does not render page correctly, please read the page content below )
Acknowledgements
North Yarra Community Health would like to thank the organisations that have contributed to the
Spicy Cooking Program:

       City of Yarra, Yarra Youth Services
       RE Ross Trust
       Newsboys Foundation

We have been fortunate to have skilled workers supporting the young people's participation in the
program and we thank them for their commitment. Also, the many people who have visited Spicy
Cooking to add their experience, skills and knowledge to our discussions and cooking.

We thank the young people who have worked together to produce some fantastic meals and
especially those who have shared their recipes with us —some of which are in this book.

We also thank the young people for their ideas and feedback about this book. On behalf of the
Spicy Cooking participants, we hope that you enjoy cooking our favourite recipes and know that
you will enjoy eating the Spicy Cooking meals.




       Thanks to all the young
  people of the Spicy Cooking
                                       Crew!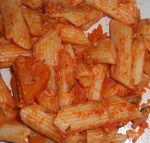 Our Favourite Recipes




Recipes
SOUPS.......................................................... 2
    C h i c k e n N o o d l e S o u p .................................................................................... 2
    P u m p k i n S o u p ................................................................................................... 3

SNACKS, LIGHT MEALS .................................... 4
    Z u c c h i n i a n d C o r n F r i t t e r s ........................................................................ 4
    T a c o s .................................................................................................................. 5
    G o u r m e t S a n d w i c h e s ...................................................................................... 6
    N o r i S u s h i R o l l s .............................................................................................. 7
    F r i e d R i c e .......................................................................................................... 8

SALADS........................................................ 9
    P o t a t o S a l a d ..................................................................................................... 9
    C a e s a r S a l a d w i t h C h i c k e n ....................................................................... 10
    R a i n b o w S a l a d ................................................................................................ 11

PASTA, RISOTTO, PIZZA ................................. 12
    C h i c k e n P e s t o P a s t a ................................................................................... 12
    L a s a g n e ............................................................................................................ 13
    B o l o g n a i s e P a s t a B a k e ................................................................................ 14
    S p a g h e t t i w i t h N a p o l i a n d V e g e t a b l e s .................................................. 15
    C h i c k e n a n d C o r n R i s o t t o ......................................................................... 16
    P i z z a .................................................................................................................. 17

MEAT DISHES ............................................... 18
    C h i c k e n C u r r y w i t h R i c e a n d P e a s ......................................................... 18
    M o r o c c a n S t e w .............................................................................................. 19
    B e e f B u r g e r s ................................................................................................... 20
    S h e p h e r d ' s P i e ............................................................................................... 21
    B e e f S t i r - f r y w i t h N o o d l e s ....................................................................... 22

DESSERTS, SWEET THINGS ............................... 23
    A p p l e S t r u d e l ................................................................................................. 23
    C h o c o l a t e Z u c c h i n i C a k e .......................................................................... 24
    S t r a w b e r r y F r o z e n Y o g h u r t ....................................................................... 25
    C h o c - o r a n g e M u f f i n s .................................................................................. 26
    M u e s l i B a r s ..................................................................................................... 27




                                                                                                                               1
                                                         Recipes
Our Favourite Recipes


SOUPS
Chicken Noodle Soup
Serves              8 to 10 people
Preparation time    15 minutes
Cooking time        30 minutes


Ingredients                                         Equipment
1 kg chicken breasts (or 1 barbequed chicken)       Knife
1.5 litre chicken stock                             Red chopping board (for chicken)
1.5 litre water                                     White chopping board (for vegetables)
2 x 440 g packet Singapore noodles                  Large pot with lid
½ spring onion, chopped                             Measuring spoons
1 tablespoon soy sauce                              Wooden spoon
2 x 420 g tins corn                                 Measuring jug
                                                    Ladle for serving


Method
Heat stock. Place stock and water in large pot. Cover with lid and place on high heat on stove to
bring to a rolling boil.
Cook chicken. Carefully add whole chicken breasts to boiling stock. Lightly boil for 10 minutes. Use
tongs to remove chicken from pot and set aside in a bowl to cool for 5 to 10 minutes.
Add noodles. Rinse noodles in colander under hot water. Break up noodles and add to stock.
Add chicken back to stock. After chicken has cooled slightly, break into shreds with clean hands. If
still too hot, you can just slice chicken with a knife.
Stir through soy sauce and vegetables. Rinse and finely slice spring onion and drain tinned corn.
Measure 1 tablespoon soy sauce into soup, and then add corn and spring onion.
Serve. Remove soup from heat and serve into bowls using soup ladle.



Tip    If there is leftover soup, cool as quickly as possible by sitting the pot in some cold water.
The soup will be cool enough to put in the fridge when there is no steam coming from it.




              "It means I come together
               communicating, sharing
           thoughts, ideas and having fun."



2
                                                Soups
Our Favourite Recipes


Pumpkin Soup
Serves              4 people
Preparation time    10 minutes
Cooking time        40 minutes


Ingredients                                        Equipment
1 tablespoon vegetable oil                         Sharp knife
1 kg pumpkin                                       Cutting board
1 onion                                            Large pot with lid
2 garlic cloves                                    Measuring spoons
1 carrot                                           Wooden spoon
1 litre chicken flavoured stock                    Measuring jug
Pinch pepper                                       Stab mixer or blender (can use masher instead)
½ teaspoon rosemary                                Ladle for serving


Method
Prepare vegetables. Remove skin from onion and garlic and finely chop. Peel and chop pumpkin
and carrot into large chunks.
Sauté onion and garlic. Place oil in large pot over medium heat and add onion and garlic. Lightly fry
until clear.
Add vegetables and stock. Add pumpkin, carrot, rosemary, pepper and stock and turn to full heat
until boiling.
Simmer. Reduce heat and simmer for 20 to 25 minutes until vegetables are very tender. Remove
from heat, and cool slightly for about 10 minutes.
Puree soup. Starting with just the cooked vegetables, mix/blend soup with blender or masher until
smooth. Slowly add in the liquid soup and blend well. Reheat before serving.




                                                                                                    3
                                               Soups
Our Favourite Recipes


SNACKS, LIGHT MEALS
Zucchini and Corn Fritters
Serves               4 to 6 people
Preparation time     10 minutes
Cooking time         20 minutes


Ingredients                                             Equipment
¼ cup vegetable oil                                          Sharp knife
1 egg                                                        Cutting board
½ cup milk                                                   Measuring cup and spoons
2 cups self-raising flour                                    Mixing bowl
1 teaspoon baking powder                                     Wooden spoon
1 zucchini                                                   Can opener
270 g tin creamed corn                                       Grater
270 g tin corn kernels                                       Large frying pan
½ cup chopped fresh coriander or parsley                     Spatula/egg-flip
¼ teaspoon paprika                                           Baking tray to keep fritters warm
Pinch each salt and pepper
½ cup Greek yoghurt
1 cucumber
1 small clove garlic, crushed
1 tablespoon fresh mint


Method
Prepare vegetables. Wash and grate zucchini.
Wash and finely chop coriander or parsley. Open
creamed corn and corn kernels. Drain corn
kernels.
Make batter. Beat egg in mixing bowl, and then
stir in milk and oil. Sprinkle flour and baking
powder over liquid and stir until smooth. Stir
through corn kernels, creamed corn, coriander,
parsley, paprika and salt and pepper.
Cook fritters. Place large frying pan over medium
heat and let heat up for 2 minutes. Add a few
drops of oil and then pour ¼ cup portions of
batter into pan. When fritters start to set, and
bubbles appear, flip fritters with spatula and cook
for a further 2 minutes. Stack cooked fritters on a
baking tray and cover with a tea towel, or place in
oven to keep hot.
Make the tzatziki. Place yoghurt in a bowl and
mixing in the crushed garlic, a small pinch of salt
and pepper, finely chopped mint, and ½ the
grated cucumber. Or use Greek yoghurt and fresh
chopped tomato and cucumber.


Tip     If batter is too thick, add water. If it is too runny, add a sprinkle of flour.


              " It's fun learning to cook new things
              that I wouldn't have otherwise. Like
              making things from scratch, knowing
                       what goes into food. "
4
                                           Snacks, Light Meal
Our Favourite Recipes


Tacos
Serves              6 people
Preparation time    20 minutes
Cooking time        20 minutes

Ingredients
Filling
1 packet Taco shells
500 grams grated cheese (low fat)
250 grams sour cream (low fat)
Lettuce
1 tablespoon vegetable oil
2 cloves garlic
1 small onion
1 zucchini
1 carrot
1 x 410 g tin red kidney beans
1 x 800 g tin crushed tomatoes
½ teaspoon dried herbs/oregano
¼ teaspoon salt
¼ teaspoon pepper
½ teaspoon ground cumin
¼ tsp paprika
¼ tsp cayenne pepper (optional)

Guacamole
2 avocados                                                Equipment
1 clove garlic                                            Chopping board
Pinch of salt and pepper                                  Sharp knife
1 lemon                                                   Can opener
                                                          Measuring spoons
Corn salsa                                                Measuring cups
1 tin corn                                                2 large mixing bowls
1 small cucumber                                          Serving spoons
1 red capsicum                                            Large saucepan with lid
2 tomatoes                                                Wooden spoon
2 spring onions                                           Baking trays
Salt and pepper                                           Tongs
Paprika                                                   Tea towels

Method
Prepare vegetables. Wash vegies. Peel and dice onion and garlic and set aside. Grate carrot and
zucchini, set aside in separate bowl. Rinse and drain red kidney beans and put into another bowl.
Open tinned tomatoes. Into a small bowl, measure dried herbs, salt, pepper, cumin, paprika and
cayenne pepper. Place saucepan over medium heat, add vegetable oil and chopped onion and
garlic. Lightly fry for 5 minutes, stirring with wooden spoon. Add carrot and zucchini, cover and
simmer on medium heat for 5 minutes. Remove lid, stir and add tinned tomatoes. Bring to full heat
until boiling, then reduce to low. Add red kidney beans, herbs and spices, simmer for further 10
minutes on low heat (add water if becoming too dry). Remove from heat.
Make salsa and guacamole dip. Guacamole. Mix together, 1 avocado, mashed well, 1 clove garlic
(finely chopped), 150 ml lite sour cream, a pinch each salt and pepper, and 1 tablespoon lemon
juice. Salsa. Mix together 1 x 270 g (about 1 cup) tinned corn, 1 small cucumber (diced),1 small
red capsicum (diced), 2 tomatoes (diced), 2 stalks spring onion (or some red onion), sliced into
rings, 2 tablespoons lemon juice, and a pinch salt, pepper and paprika.
Cook tacos. Turn oven on to 180°C. Place tacos in baking tray and cook for 10 minutes or follow
the directions on the box. Remove tacos from oven.
Serve. Fill tacos and serve with sour cream, guacamole, corn salsa and fresh lettuce.




                                                                                                   5
                                       Snacks, Light Meals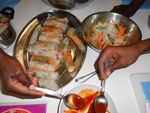 Our Favourite Recipes


Gourmet Sandwiches
The 3 recipes are just suggestions. Other              Equipment
vegetables, cheeses, dips and meats can be
used                                                   Sharp knife
                                                       Cutting boards (separate one for the cooked
Bread                                                  meat)
Pita bread, Turkish rolls or good sandwich bread.      Baking trays
                                                       Bowls and plates for preparing fillings and
                                                       for serving
Sandwich 1 — Chickpea and roast vegetables             Sandwich 2 — Mediterranean
Ingredients                                            Ingredients
1 tin chickpeas                                        1 cucumber
2 carrots                                              2 tomatoes
1 small piece (300 g) pumpkin                          ½ red capsicum
1 zucchini                                             ½ red onion (or brown or spring onion)
½ red onion or brown or spring onion                   ¼ cup fetta cheese, cubed
1 tablespoon oil                                       Handful lettuce or baby spinach leaves
2 tablespoons chopped fresh herbs, like basil, mint    Fresh basil
    and parsley
Pinch each salt and pepper

Method                                                 Method
Roast vegies. Preheat oven to 160°C. Chop carrot,      Wash all the vegetables.
pumpkin and zucchini into 2 cm chunks. Mix with 1      Slice the cucumber, olives, tomatoes and
tablespoon of oil in a baking tray and put in oven     onions, cube the fetta, and rip or chop up
for 30 minutes or until soft. Remove from oven and     the basil.
let cool to room temperature.                          Assemble in bread of choice.
Prepare salad. Finely chop onion and fresh herbs
and stir through the roasted vegetables. Drain and
rinse the chickpeas and add to the roasted
vegetables, add a pinch of salt and pepper.
Assemble salad in bread of your choice.

Sandwich 3 — Lamb and tzatziki
Ingredients
500 g lamb
3 tomatoes
1 onion
1 teaspoon dried herbs
½ cup Greek yoghurt
1 cucumber
1 small clove garlic, crushed
1 tablespoon fresh mint
2 cups chopped lettuce


Method
Wash all the vegetables.
Bake lamb. Preheat oven to 180°C. In a bowl, grate 1 tomato and ½ an onion, and mix together
with 1 teaspoon of dried herbs and a pinch of salt and pepper. Chop lamb into small chunks,
cutting off any fat, and place in baking tray, then cover with the tomato and onion mix. Bake in the
oven for 20 minutes, or until the lamb is cooked through.
Make the tzatziki. Place yoghurt in a bowl and mixing in the crushed garlic, a small pinch of salt
and pepper, finely chopped mint, and ½ the grated cucumber.
Assemble. Slice the remaining 2 tomatoes and ½ an onion, chop or rip up the lettuce and put the
lamb, tzatziki and salad together in bread.


             "First day I thought 'Free Food!' and then …
6
                                          Snacks, Light Meal
Our Favourite Recipes


Nori Sushi Rolls
Serves               6 to 8 people
Preparation time     40 minutes


Ingredients                                          Equipment
1 kg sushi rice                                      Sharp knife
1-2 packets nori seaweed                             Cutting board
Mirin (or white vinegar)                             Extra clean and dry board for making the nori
2 carrots                                                rolls on
1 large cucumber                                     Peeler
1 avocado                                            Large pot for boiling rice
1 small tin tuna in spring water                     A bowl of warm water for sealing nori rolls
100 ml whole egg mayonnaise                          Sushi rolling mats — only if you have them as
1 teaspoon sesame oil                                    you can easily make rolls without them
Soy sauce (or tamari) to serve
Sweet chilli sauce to serve




Method
Cook rice. Boil the rice, following the directions
on the packet. After you remove from the heat,
sprinkle over ¼ cup rice wine vinegar (mirin),
or some white vinegar, leave to cool down so it
is cool enough to handle.
Clean and chop vegies, drain tuna. Wash carrot,
capsicum and cucumber. Slice into very thin
matchstick-sized pieces. Open and drain tuna
and mix with a tablespoon of mayonnaise. Mix
the remaining mayonnaise in a dish with the
sesame oil.
Make nori rolls. Following the directions on the
nori packet, place the nori sheet on a clean, dry
board; spread about half a cup of rice over the
sheet (leaving some space at the top to seal it).
Place some vegetables or tuna with mayonnaise
on the rice lengthways, then carefully roll as
per directions on packet. Seal the roll with
some warm water sprinkled along the edge of
the nori before you finish rolling it.
Cut rolls and serve. Slice the rolls into two or
three smaller rolls and serve with soy and/or
chilli sauce.




… I realised we could learn to cook food too."
                                                                                                     7
                                          Snacks, Light Meals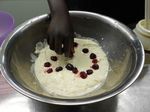 Our Favourite Recipes


Fried Rice
Serves               4 people
Preparation time     20 minutes
Cooking time         30 minutes


Ingredients                                          Equipment
1 cup white rice                                     Sharp knives
1 tablespoon oil                                     Grater (for ginger and garlic)
1 teaspoon sesame oil                                Bowl and whisk
1 egg                                                Spatula/egg flip
1 tablespoon soy sauce                               Measuring spoons
½ cup peas                                           Measuring cup
1 small tin baby corn                                Wooden spoons
50 g (a handful) mushrooms                           Large serving spoons
1 red capsicum                                       Frying pans
½ cup bean shoots                                    Medium saucepan with lid
1 clove garlic                                       Large pot with lid
½ cup spring onion                                   Large serving bowl or platter


Method
Cook rice. Place medium saucepan over high heat. Add 1 tablespoon oil, and then add rice. Stir for
30 seconds, then pour in 1 ¾ cups of cold water — but be careful when you add water to the rice
as it will sputter at first. Bring rice to boiling, then cover with lid and turn to the lowest possible
heat. Steam rice for exactly ten minutes, then remove from heat but keep the lid on..
Prepare vegetables. Rinse vegetables and wipe mushrooms with a clean cloth. Chop capsicum and
mushrooms into ½ cm cubes and place in a bowl with finely grated garlic. Chop spring onion into ½
cm rings and set aside in a bowl with bean shoots and drained baby corn.
Cook eggs. Beat 2 eggs with 2 tablespoons water and a pinch of salt. Place frying pan on high heat
and add ½ teaspoon sesame oil. Add egg and immediately turn burner to low heat. When firm, flip
egg with spatula and remove from heat. Chop into 2 cm squares and set aside.
Cook fried rice. Heat 1 tablespoon of vegetable oil in fry pan and add capsicum, mushroom and
garlic. Fry at medium heat for 3 to 5 minutes then add to pot with rice. Place pot with rice over low
heat and stir through spring onion, bean shoots and egg. Add remaining ½ teaspoon of sesame oil
and 1 tablespoon of soy sauce.
Serve.
Variations      You can add many more ingredients to fried rice, including nuts, prawns, chicken,
                tofu, sweet corn, carrots, green capsicum, tomato, green beans or asparagus.




             "It gives you a lot of
         experience. When you grow up
          you can cook for yourself."
8
                                         Snacks, Light Meal
Our Favourite Recipes


SALADS
Potato Salad
Serves              8 people as a side dish
Preparation time    20 minutes
Cooking time        15 minutes


Ingredients
6 potatoes
2 spring onion stalks
2 boiled eggs
1 tablespoon chopped mint
1 tablespoon chopped rosemary
1 tablespoon chopped thyme
½ brown onion, finely chopped
1 cup Greek-style yoghurt
½ cup lite sour cream
Pinch each salt and pepper
Tablespoon seeded mustard (optional)


Equipment
Large pot for boiling potatoes
Small pot for boiling eggs
Colander/strainer
Chopping board and knife
Peeler
Measuring cups and spoons
Large mixing bowl
Wooden spoon
Large bowl and spoon for serving


Method
Boil potatoes and eggs. Put both the large and small pots on the stove ½ full with water. Place the
eggs in the small pot. Put both pots on high heat and bring to the boil. While you are waiting for
the water to boil, wash, peel and chop the potatoes into 3 cm x 3 cm chunks. When the eggs start
boiling, check the time and let them boil for 5 minutes before removing from heat and placing in
some cold water. Boil the potatoes for 10 to 15 minutes, or until soft but not falling apart. Drain
and set aside to cool slightly.
Chop onions and herbs. Wash and finely chop the mint, rosemary, thyme and onion. Slice the
spring onion into rings.
Measure and mix in yoghurt and sour cream. In the mixing bowl, measure the yoghurt, sour
cream, salt, pepper and mustard. Add the chopped herbs and onion and mix well.
Add eggs and potato. Peel the eggs and rinse so there are no bits of shell left on them. Slice the
eggs and add to the mixing bowl. Add the drained potato and mix all the ingredients together well.
Serve straight away or cover and refrigerate.



Tip    This is a good side dish for a lunch or BBQ.




            "A fun cooking program.
              My friends told me to
            come and I'm glad I did."
                                                                                                      9
                                              Salads
Our Favourite Recipes


Caesar Salad with Chicken
Serves              4 to 6 people
Preparation time    15 minutes
Cooking time        30 minutes


Ingredients                                                          Equipment
1 cos lettuce (or iceberg)                                           Sharp knife
2 tomatoes                                                           Cutting board
2-3 chicken breast fillets                                           Medium saucepan
1-2 slices of bread for croutons                                     Slotted spoon
½ cup shaved parmesan cheese                                         Frying pan
4 eggs (soft boiled)                                                 Large serving bowl
4-6 bacon rashers                                                    Tongs
2 tablespoons vegetable oil                                          Paper towel
Low fat salad dressing or lite mayonnaise
Anchovies (optional)
Salt and pepper


Method
Prepare salad vegetables. Wash lettuce and tomatoes. Cut lettuce into about 3 cm strips and cut
the tomato into wedges. Put into large serving bowl, cover and put into fridge.
Make croutons. Cut crust from bread and slice into 1 cm cubes. Place on a baking tray and lightly
sprinkle with 1 teaspoon of vegetable oil, salt and pepper. (You can add a little finely grated
parmesan and garlic for extra tasty croutons). Place under grill for 5 minutes or cook in a hot oven
for 10 minutes. Remove and cool.
Boil eggs. Place eggs in cold water in saucepan. Cover and bring to boil. Boil uncovered for 5
minutes. Take pot from heat; remove eggs with a slotted spoon and place in cold water. When
cool, remove eggshells and slice eggs in half.
Cook bacon. Using separate, clean cutting board, trim fat from bacon and cut into 1 cm strips.
Place frying pan on stovetop at medium heat and leave for 2 minutes to warm up. Drop bacon into
pan and fry for 10 minutes, and turn with a wooden spoon. Place bacon on paper towel to drain off
excess fat and oil. Clean cutting board with hot soapy water.
Cook chicken. Carefully wipe frying pan with paper towel and place back onto the stove at medium
heat. Add 1 teaspoon of oil and drop in chicken pieces. Cook for 5 minutes, and then use tongs to
turn pieces over. Cook for another 5 minutes, then remove from heat and drain on paper towel. On
a clean cutting board, cut chicken into 1 to 2 cm thick strips.
Assemble salad. Sprinkle croutons and shaved parmesan over lettuce and tomato. Add chicken and
bacon, and then arrange egg on top.

Tip     Parmesan cheese can be thinly sliced from a block using a vegetable peeler. It can also be
replaced with tasty cheese, or another hard cheese like Romano.




10
                                               Salads
Our Favourite Recipes


Rainbow Salad
Serves              10 people as a side dish
Preparation time    10 minutes


Ingredients                                         Equipment
1 or 2 grated fresh beetroots, grated               Sharp knife
4 carrots, grated                                   Cutting board
1 cucumber chopped into small cubes                 Grater
200 g tin corn, drained                             Peeler
Fancy lettuce                                       Can opener
1 red onion                                         Large serving bowl
1 head broccoli                                     Tongs for serving
Lemon juice, honey, salt and pepper for
   dressing


Method
Clean vegetables. Drain and rinse corn. Wash
beetroot, carrot, cucumber, lettuce, and
broccoli.
Chop and grate vegetables. Peel and grate
carrot and beetroot and place in serving bowl.
Add tinned corn. Dice cucumber, chop lettuce
and add to bowl. Chop broccoli into small
flowerets and cook for 2 minutes with a little
water in a microwave or on the stovetop. Let
broccoli cool, then mix in with the salad.




Tip    Other ingredients that go well in this salad are grated cheese, fresh basil, baby spinach,
steamed green beans, fetta, avocado and snow peas.




                                                          "I think it's
                                                           fantastic.
                                                           It's like a
                                                          community
                                                               get
                                                           together."


                                                                                                    11
                                                 Salads
Our Favourite Recipes


PASTA, RISOTTO, PIZZA
Chicken Pesto Pasta
Serves               4 to 6 people
Preparation time     15 minutes
Cooking time         25 minutes


Ingredients                                       Equipment
1 kg chicken breast                               Sharp knives
500 g linguini, penne (or any) pasta              Cutting boards (separate ones for meat and
Water for boiling pasta                               vegetables)
                                                  Large pot (for boiling pasta)
Pesto                                             Frying pan and tongs
2 cloves garlic                                   Strainer (colander)
2 bunches basil                                   Measuring cups and spoons
½ bunch parsley                                   Tongs
1 cup grated parmesan cheese                      Wooden spoons
¼ cup vegetable oil (or olive oil)                Citrus juicer
¼ teaspoon salt                                   Large bowl for mixing pesto
¼ teaspoon pepper                                 Blender for mixing pesto. If you don't have a
Juice from half a lemon                               blender you can chop all ingredients finely or
                                                      grind them in a mortar and pestle.


Method
Basil, parsley and garlic. Wash basil and
parsley and chop as finely as possible. Also
chop garlic as finely as possible.
Mix pesto. In a container suitable for
blending, add basil, parsley and garlic. Blend.
Then add oil, parmesan, salt and pepper. Mix
in the lemon juice.
Boil pasta. Place the large pot ½ to ¾ full of
water on high heat and bring to a boil. Add
the pasta and cook for about 15 to 20
minutes, stirring occasionally so the pasta
does not stick together. Drain pasta into
colander and let cool for 5 to 10 minutes
while cooking chicken.
Cook chicken. Chop chicken into thin slices.
Place frying pan over medium heat and add 1
tablespoon of olive oil, then add chicken.
Cook chicken until it is a light golden brown
and there is no pink left when you cut open
the meat.
Serve. In the empty large pot, mix the pasta,
pesto and chicken and serve while still warm.




Tip     This recipe can easily be made vegetarian by replacing the chicken with baby spinach,
cherry tomatoes, or any other of your favourite vegetables.




12
                                         Pasta, Risotto, Pizza
Our Favourite Recipes


Lasagne
Serves              8 people
Preparation time    30 minutes
Cooking time        60 minutes

Ingredients                                        Equipment
1 x 250 g packet instant lasagne sheets            Chopping board
500 g lean beef mince                              Sharp knife
1 x 810 g tin crushed tomatoes                     Peeler
2 tablespoon tomato paste                          Grater
1 onion                                            Can opener
2 garlic cloves                                    Measuring spoons
2 large carrots                                    Large cooking pot with lid
1 zucchini                                         Medium saucepan
1 tablespoon vegetable oil                         Wooden spoon
2 tablespoons chopped fresh oregano                Large baking tray
    and basil (or 2 teaspoons dried herbs)         Spatula for serving
¼ teaspoon each salt and pepper                    Tea towels
                                                   Plates, knives and forks for serving
Béchamel sauce
1 tablespoons plain flour
1 tablespoons oil
1½ cups milk (preferably low fat)
¼ cup parmesan cheese
Nutmeg, salt and pepper to taste
1 cup grated low fat tasty cheese
Method
Prepare vegetables. Rinse carrot and zucchini,
then grate them. Remove skin from garlic and
onion. Chop onion and finely chop garlic. If
using fresh herbs, finely chop and set aside for
later. Open tinned tomatoes and measure
tomato paste.

Cook beef, vegetables and tomatoes. Place
medium saucepan on stove at half heat. Add oil
to saucepan, followed by onion and garlic. Stir
with wooden spoon and lightly fry (sauté) the
onion and garlic for 5 minutes.

Add beef mince and cook until brown, stirring with wooden spoon, then add grated carrot and
zucchini and cook for a further 5 minutes. Add tomatoes, tomato paste, a cup of water, herbs and
cook at low-medium heat until bubbling. Turn heat down to low and simmer for 20 minutes,
stirring occasionally.
Make béchamel sauce. Place 1 tablespoon of oil in medium saucepan and put on stove at medium
heat for 1 minute. Remove from heat and carefully stir in 1 tablespoon of flour. Gradually add 1 ½
cups of milk, a tablespoon at a time, mixing until smooth. Return saucepan to the stovetop at
medium heat and stir slowly and constantly until sauce thickens and begins to bubble around the
edges (5 to 10 minutes). Add parmesan cheese, stir through and remove saucepan from heat.
Preheat oven to 180ºC.
Assemble and bake lasagne. Place a layer of lasagne sheets in baking tray and cover with one third
of the beef mince. Repeat so that all of the mince is used and there is a layer of lasagne sheets on
top. Carefully pour béchamel sauce evenly over top — spread with a knife if needed. Sprinkle the
grated cheese on top. Put lasagne in middle of oven and bake for 30 to 40 mins.
Serve. Allow to cool for 10 to 15 minutes before cutting into squares and serving with spatula.

Variation       This meal can be made vegetarian by replacing the meat with extra vegetables
such as pumpkin, spinach and lentils. Lasagne can be made simpler by skipping the béchamel
sauce layer, and topping the mince with some cheese, like ricotta.


                                                                                                  13
                                        Pasta, Risotto, Pizza
Our Favourite Recipes


Bolognaise Pasta Bake
Serves              4 people
Preparation time    10 minutes
Cooking time        40 minutes


Ingredients                                                       Equipment
2 cups penne pasta                                                Sharp knife
1 tablespoon oil                                                  Cutting board
1 brown onion                                                     Medium saucepan
2 garlic cloves, crushed                                          Large saucepan
1 head broccoli                                                   Colander (strainer)
1 zucchini                                                        Measuring cups and spoons
1 carrot                                                          Grater
1 small piece (300 g) pumpkin                                     Wooden spoon
2 cups (1 large jar) tomato passata or bolognaise sauce           Large baking dish
½ cup fresh parsley, chopped                                      Spatula or spoons for serving
1½ cups low fat cheese, grated


Method
Prepare vegetables. Wash vegetables. Chop onion and crush or finely chop garlic. Cut broccoli into
small flowerets and peel and chop up the stalk. Cut the zucchini and carrot into 1 cm chunks. Cut
the pumpkin into 2 cm chunks. Put medium saucepan over half heat, add oil and onion and lightly
fry for 5 minutes, then add zucchini, carrot and pumpkin and cook for a further 5 minutes. Add
passata or pasta sauce, with ½ cup water and bring the vegetables to a simmer. Simmer for 10
minutes, then add the broccoli and simmer for another 5 minutes. Remove from heat.
Boil pasta. Place large saucepan on the stove half full of water. Bring to a boil, then add the penne
pasta and boil for 15 minutes. Drain the pasta and place it in the large baking dish.
Preheat oven to 180°C
Cook pasta bake. Pour the tomato and vegetable mix over the pasta into the baking dish and
sprinkle with grated cheese. Cook the pasta bake for 20 to 30 minutes, or until it is lightly
browned. Let the bake cool for about 10 to 15 minutes before serving.


Tip     This recipe is vegetarian but can be cooked with 500 g beef mince.




                                                                 " I've learnt about
                                                                cooking and how to
                                                                 communicate with
                                                                   others. I didn't
                                                                usually do it before
                                                                but I have since I've
                                                                  come here. I also
                                                                hardly have fun and
                                                                      I do here. "

14
                                        Pasta, Risotto, Pizza
Our Favourite Recipes


Spaghetti with Napoli and Vegetables
Serves              4 people
Preparation time    10 minutes
Cooking time        30 minutes


Ingredients                                              Equipment
½ packet spaghetti (250 g)                               Chopping board
1 x 400 g can diced tomatoes                             Sharp knife
2 garlic cloves                                          Peeler
1 onion                                                  Can opener
1 large carrot                                           Measuring spoons
5 mushrooms                                              Large cooking pot with lid
1 tablespoon vegetable oil                               Medium saucepan
2 tablespoons chopped fresh oregano and basil            Wooden spoon
    (or 1 teaspoon dried herbs/oregano)                  Tongs or pasta scoop
¼ teaspoon salt                                          Large serving spoon
¼ teaspoon pepper                                        Colander/strainer
Parmesan cheese to taste                                 Tea towels
Method
Prepare vegetables. Rinse and peel carrot and wipe mushrooms. Remove skin from garlic and
onion. Chop onion and finely chop garlic. Cut carrot into small pieces. Slice mushrooms. If using
fresh herbs, finely chop and set aside for later. Open can of tomatoes.
Cook Napoli sauce with vegetables. Place medium saucepan on stove at half heat. Add oil to
saucepan, followed by onion and garlic. Stir with wooden spoon and lightly fry (sauté) the onion
and garlic until they become clear (this will take about 3 minutes). Add carrot.
Fry for a further 3 minutes, stirring a few times. Add mushrooms and cook for another 2 minutes.
Stir in can diced tomatoes and add the salt and pepper. Turn the saucepan to full heat, stirring. Add
up to ½ cup water if you want a thinner sauce. Once sauce is bubbling, turn heat to low and add
herbs. Simmer for 10 minutes, stirring a few times. Turn off heat.
Cook and drain spaghetti. Place 1½ litres water in large pot, cover with lid and place on full heat.
When boiling add spaghetti and check time. From when it boils, the pasta should take 15 to 20
minutes to cook. If water is not boiling, replace lid and check again in a few minutes. Check to see
if the pasta is ready, use tongs to lift out a piece of pasta, rinse it under cold water, and break it
apart or bite into it. The spaghetti should be cooked all the way through, but still firm. When pasta
is cooked, turn off heat and use tea towel to carefully pick up pot and pour pasta into colander,
then sit colander on top of pot to drain further.
Serve. Use the pasta scoop/tongs to place about 1 cup of spaghetti onto plates. Spoon vegetable
napoli onto pasta. Serve with parmesan cheese sprinkled on top.




                                                                                                    15
                                        Pasta, Risotto, Pizza
Our Favourite Recipes


Chicken and Corn Risotto
Serves              4 people
Preparation time    20 minutes
Cooking time        35 minutes

Ingredients
500 g chicken breasts
1 cob or 200 g tin corn
1 cup arborio rice
2 tablespoons vegetable oil
1 clove garlic
1 small onion
3 cups chicken stock
1 tablespoon chopped fresh oregano or basil
¼ teaspoon salt
¼ teaspoon pepper
1 tablespoon parmesan cheese
2-3 tablespoons toasted pine nuts
Equipment
Chopping board
Sharp knife
Measuring spoons and cups
Large cooking pot with lid
Medium saucepan
Wooden spoon
Ladle
Tongs
Tea towels


Method
Heat stock, cook chicken. Put stock in a covered medium saucepan on stovetop and bring to boil.
Drop in chicken breasts and boil lightly for 15 minutes. Remove chicken with tongs and set aside to
cool for 5 to 10 minutes.
Prepare vegetables. Dice onion and finely chop garlic. Strain and rinse corn. Set aside. Rinse and
finely chop fresh herbs and set aside.
Sauté onion and garlic. Place large cooking pot on stove on low heat. Measure 2 tablespoons of oil
into pot and add onion and garlic. Cook onion and garlic over low heat for 5 minutes, until it starts
to turn clear.
Add rice, break up chicken. Add rice to the large pot with the onion and garlic and stir. Pull apart
(or chop) chicken into small pieces and cover.
Add ½ the stock and simmer. Ladle in around half the boiling hot stock, stir with wooden spoon
and simmer for 20 minutes. Add chicken pieces.
Add corn and more stock and cook further. Ladle in most (but not all) of remaining stock, increase
heat to medium and cook for a further 5 to 10 minutes, stirring regularly. Add corn and stir. Add
the last of the stock and stir.
Add the remaining ingredients. Stir through parmesan cheese, pine nuts and fresh herbs. Remove
from heat and serve into pasta bowls.

Tip             At the end of cooking, the risotto should still contain liquid.
Variations      This recipe can be adapted to a tomato flavour by replacing some of the stock with
tinned diced tomatoes. Cooked mushroom, bacon or seafood may be added at the last cooking
stage. Carrot, celery, capsicum and fresh chilli all go well in risotto. Add softer vegetables such as
asparagus, zucchini, squash and snow peas 10 minutes before the end of cooking.


          "It's pretty fun but at
          the same time we learn
                  stuff."
16
                                        Pasta, Risotto, Pizza
Our Favourite Recipes


Pizza

Serves                   6 people
Preparation time         20 minutes
Cooking time             10 to 15 minutes




Ingredients for the base                                   Equipment
3 Large pizza bases                                             Chopping boards
                                                                Sharp knives
Pizza can be made with bread rolls, Turkish bread, pita         Peeler
breads, or on homemade pizza dough or scone base.               Grater
They usually have tomato sauce on the base and                  Can opener
cheese on top, but you can really put whatever you              Measuring spoons
like on them.                                                   Small bowls for toppings
                                                                Large metal spoon
                                                                Flat baking trays
                                                                Spatula or pie lifter for serving
                                                                Tea towels
Ingredients for the topping
250 g grated low-fat cheese (cheddar or mozzarella)
   tomato sauce. 400 g tin crushed tomatoes (or jar tomato based pasta sauce), 3
   tablespoons tomato paste, 2 tablespoons tomato sauce (ketchup), 1 clove garlic, and
   ½ teaspoon fresh or dried oregano.
   Hawaiian pizza: Chopped ham, small tin pineapple pieces (drained)
   Margherita pizza: 1 fresh tomato, fresh basil
   Gourmet vegetarian pizza: Roasted pumpkin slices, capsicum, fetta, olives, zucchini.


Method
Prepare tomato sauce for base. Finely chop garlic and oregano (if fresh). Put tinned tomatoes (or
pasta sauce), tomato paste, and tomato sauce in a small bowl.
Preheat oven to 210ºC.
Prepare topping ingredients. Use a separate cutting board for meats. Chop chosen ingredients from
the list above and put in separate bowls.
Assemble pizzas. Put the pizza base (pita bread or Turkish bread or pizza dough) on baking trays.
Use the large metal serving spoon to scoop tomato sauce onto bread and spread evenly with back
of spoon. Put on chosen topping ingredients with a handful grated of cheese on top.
Bake pizzas in oven for 10 to 15 minutes. Use a tea towel to get trays from the oven.
Serve. Slice pizzas with a clean sharp knife and serve onto plates with spatula or pie lifter.


Nutrition      Pizza is nutritious if you use the right ingredients. Use lots of vegies — the more
colourful you make it, the better it is for you.
Variations     Other pizza topping ingredients — sliced salami or pepperoni, cooked chicken and
barbeque sauce, onion, capsicum, olives, anchovies, egg, bacon, mushrooms.


       "It's like school but more fun.
     Cooking became a hobby and I try
                stuff at home."
                                                                                                     17
                                        Pasta, Risotto, Pizza
Our Favourite Recipes


MEAT DISHES
Chicken Curry with Rice and Peas
Serves              4 to 6 people
Preparation time    15 minutes
Cooking time        25 minutes


Ingredients
Chicken curry
1 tablespoon vegetable oil
500 g to 1 kg chicken
1 potato
1 cup green beans
1 carrot
1 small onion
1 clove garlic
2 tablespoons curry powder
420 g tinned tomatoes
Rice and peas
1 cup basmati rice (or long grain white rice)
2½ cups chicken stock
2 tablespoons coconut
1 onion                                           Equipment
2 cloves garlic
3-4 tablespoons fresh thyme                       Sharp knife
420 g tin red kidney beans (or ½ cup dried        Cutting board
   beans soaked overnight and boiled for          Peeler
   40mins)                                        Can opener
                                                  Measuring spoons
                                                  Medium saucepan with lid
                                                  Large saucepan with lid
                                                  Tongs
                                                  Wooden spoons
                                                  2 large serving spoons


Method
Prepare vegetables. Wash beans and peel carrot and potato. Chop potato and carrot into 2 cm
cubes. Rinse thyme (if fresh), and chop finely. Remove skin from onion and garlic and chop roughly
(keep separate amounts for curry and rice). Cut beans into 3 cm lengths and set aside in a small
bowl.
Cook rice and peas. Measure 2 ½ cups chicken stock into medium saucepan and put on stovetop at
high heat. Bring to boil. Add rice, coconut, onion and garlic and stir with wooden spoon. Cover and
simmer on lowest heat for 10 minutes. (Use this time to cook chicken and curry.) Add drained red
kidney beans and thyme and stir. Cover and simmer on lowest heat for another 10 minutes.
Remove from heat and keep covered.
Slice and cook chicken. Cut chicken into thick strips ½ cm thick and 5 cm long. Place large pot over
medium heat and leave for 1 minute to heat up. Add 1 tablespoon oil and place in chicken strips.
Cook chicken for 5 to 10 minutes until chicken is white and juices in the pan are clear, turning with
tongs. Remove from heat and put cooked chicken into a clean bowl.
Cook curry. Put the same large pot back onto stovetop at medium heat. Add ½ tablespoon oil and
onion and garlic. Cook for 5 minutes, stirring with wooden spoon. Add potato, carrot and curry
powder and stir until vegetables are well covered in curry. Add tinned tomatoes and 1½ cups
water. Turn heat up and bring to a boil, stirring with wooden spoon. Boil for 5 minutes, then turn
heat down to low.
Add chicken to curry. Put chicken pieces into curry, cover and simmer for 15 minutes. Stir curry a
few times to makes sure that it does not burn on the bottom. Add beans and cook for 5 more
minutes.
Serve about ½ cup rice and peas onto plates using large serving spoon, then spoon about 1 cup
chicken curry on top.

18
                                            Meat Dishes
Our Favourite Recipes


Moroccan Stew
Serves              4 to 6 people
Preparation time    30 minutes
Cooking time        30 minutes


Ingredients                                           Equipment
1 tin green lentils, drained                               Sharp knife
2 garlic cloves, chopped                                   Chopping board
2 tablespoons (60 ml) olive oil                            Large pot
1 teaspoon thyme leaves                                    Wooden spoon
1 teaspoon hot chilli flakes                               Small bowls
½ teaspoon cinnamon                                        Serving spoon
1 teaspoon ground cumin
½ teaspoon ground coriander
1 onion, chopped
1 cup chopped celery
1 cup chopped zucchini
½ a red capsicum, diced
1 small piece pumpkin, cut into 2 cm cubes
1 x 800 g tin crushed tomatoes
1 x 400 g tin chickpeas, drained
4 cups (1.5-2 litres) vegetable stock
1 cup chopped fresh flat-leaf parsley

Yoghurt dip — mix together
Mix 1 cup plain yoghurt, 1 tablespoon chopped
fresh mint, and a pinch cayenne pepper.


Method
Chop vegies and measure spices. Clean and chop
the garlic, onion, celery, zucchini, capsicum,
pumpkin and parsley. Drain and rinse the lentils
and chickpeas. Measure the chilli, cinnamon, cumin
and coriander into a small bowl.
Heat spices. Heat the olive oil in a large pot over
medium heat. Stir in the small bowl of spices and
stir for 1 minute. Add garlic, onion, celery,
zucchini, red capsicum and pumpkin. Cook for 3 or
4 minutes.
Cook stew. Mix in the thyme, lentils, tomatoes,
chickpeas and vegetable stock. Raise heat to
medium-high until stew just begins to boil; reduce
heat to low and cover. Simmer until pumpkin is
tender, about 20 minutes, stirring once or twice.
Add the chopped parsley.
Serve. Ladle into serving bowls and garnish with a
dollop of yoghurt dip, some chopped mint and a
pinch cayenne pepper.
Serve with sliced cucumber, rice or couscous, and
flat bread.




              "Show everyone new food s from
         different cultures. Also to make new
                                        friends."
                                                                            19
                                             Meat Dishes
Our Favourite Recipes


Beef Burgers
Serves              4 to 6 people
Preparation time    15 minutes
Cooking time        25 minutes


Ingredients                                              Equipment
500 g lean beef mince                                    Chopping board
1 clove garlic                                           Sharp knife
1 small onion                                            Grater
1 zucchini                                               Measuring spoons
1 red capsicum                                           Measuring cups
1 egg                                                    Large mixing bowl
½ teaspoon dried herbs or oregano                        Large frying pan
¼ teaspoon salt                                          Wooden spoon
¼ teaspoon pepper                                        Large metal spoon
1 tablespoon parmesan cheese                             Spatula
½ cup bread crumbs                                       Tea towels
¼ cup plain flour                                        Plates for serving
2 tablespoons oil for frying
Salad and bread rolls

Method
Prepare vegetables. Remove skin from onion and garlic and wash capsicum and zucchini. Grate
zucchini, capsicum, onion and garlic. Place in large mixing bowl.
Mix in mince and egg. Add to vegetables, lean mince and egg and stir with a wooden spoon.
Add dry ingredients. Put dried herbs, salt, pepper, parmesan cheese and breadcrumbs in with
mince and vegetables and mix well.
Make patties. Pour ¼ cup flour onto a plate or a flat bowl. Use large metal spoon to scoop out
enough mixture to fit inside your hand. With clean hands, lightly squeeze mixture into discs. Pat
both sides in flour and pile burger patties onto a plate.
If you are not going to cook straight away, cover patties and put them in the fridge.
Pan fry burgers. Place pan over medium heat, allowing a minute or two for it to heat. Add to pan a
small amount of oil, and then place patties into pan. You can cook around 4 or 5 burgers at a time,
depending on size of pan. Cook for around 5 minutes and turn with a spatula/egg flip. Cook
another 5 minutes. Thicker patties will take longer to cook.
Drain and serve. Place burgers onto a plate covered with some absorbent paper to drain off any
excess fat and oil. If you need to keep the burgers warm, place them in a tray in the oven on low
heat (around 150ºC). Put burgers on slices of bread or bread rolls with cheese, salad and sauce.

Tip      The burgers are cooked when they are no longer pink and when you can squeeze them and
clear juice comes out.
Variation        You can make these patties vegetarian by leaving out the mince, and adding
cooked lentils instead. They can be made spicy by adding some dried chilli or cayenne pepper. This
recipe can also be used with other kinds of mince like lamb.




                                                               "Come
                                                            together as
                                                           one; cook and
                                                                eat."
20
                                           Meat Dishes
Our Favourite Recipes


Shepherd's Pie
Serves              4 people
Preparation time    20 minutes
Cooking time        20 minutes


Ingredients                            Equipment
1 tablespoon olive oil                 Cutting board
1 brown onion, finely chopped          Knife
1 carrot, finely chopped               Measuring cups and spoons
2 celery sticks, finely chopped        Fork or potato masher
1 cup frozen peas                      2 large saucepans
500 g lamb mince                       Colander
2 tablespoons plain flour              Large oven dish
500 ml (2 cups) beef stock             Knife and spatula or spoon for serving.
1 tablespoon Worcestershire sauce
2 tablespoons tomato paste
Pinch each salt and pepper
4 potatoes, peeled, chopped
1 teaspoon butter
½ cup low-fat milk
½ cup grated low fat cheese




Method
Wash and chop vegies. Wash carrot, celery and potatoes. Peel and finely chop onion and carrot.
Finely chop celery. Peel and chop potatoes into 3 cm chunks.
Boil and mash potatoes. Place a large saucepan, half full of water, on high heat. When water is
boiling, carefully add chopped potato and boil for around 20 minutes or until potatoes are well-
cooked. Drain potatoes, place back in the saucepan and mash with a fork or potato masher. When
smooth, stir in milk, butter, and a pinch salt and pepper.
Cook mince. Place the other large saucepan over medium heat and add oil. Add onion, carrot and
celery and cook for 5 minutes. Add lamb mince and cook, stirring to break up lumps, until lamb
turns brown. Mix in the flour, then add stock, Worcestershire sauce and tomato paste. Bring to a
simmer and cook for about 20 minutes, stirring to make sure nothing burns or sticks. Add the
frozen peas right at the end, just before you turn it off. Add pinches of salt and pepper to taste.
Preheat oven to 200°C.
Assemble and bake the pie. Spoon the cooked lamb mince into the large oven dish, then carefully
spoon the mashed potato over the lamb. Smooth the potato over so that the lamb mince is totally
covered. Lightly sprinkle with the grated cheese. Bake the pie for 20 minutes or until cheese starts
to turn light brown. After removing from the oven, let pie sit for 10 to 15 minutes to cool a bit
before serving.



Tip     Although traditionally made with lamb, some people prefer shepherd's pie made with beef.
You can also make a vegetarian shepherd's pie by replacing the mince with green or brown lentils.
Try adding a tablespoon curry powder if you want a more intense flavour.


            "It means a free meal!"
                                                                                                      21
                                            Meat Dishes
Our Favourite Recipes


Beef Stir-fry with Noodles
Serves              4 to 6 people
Preparation time    15 to 20 minutes
Cooking time        20 minutes


Ingredients                                                     Equipment
200-300 g beef                                                  Chopping boards (including a red
200-300 g Singapore noodles (or other soft egg noodles)            one for meat)
1 onion                                                         Sharp knives
1 clove garlic                                                  Grater (for ginger and garlic)
½ teaspoon ginger                                               Citrus juicer
1 carrot                                                        Bowl and whisk
1 capsicum                                                      Spatula (egg flip)
1 head broccoli                                                 Measuring spoons
1 bunch bok choy                                                Measuring cup
½ cup snow peas                                                 Wooden spoons
½ cup bean shoots                                               Tongs and serving spoons
1 tablespoon vegetable oil                                      Colander (strainer)
½ tablespoon sesame oil                                         Large frying pans
1 tablespoon lemon juice                                        Saucepan with lid
3 tablespoons oyster sauce mixed into ¼ cup water               Large pot with lid
                                                                Large serving bowl

Method
Slice beef. Cut beef steak into ½ cm thick strips about 5 cm long. Put in a clean, sealed container
in the fridge until time to cook.
Heat water for noodles. Place ½ litre water in a large pot with lid and put over full heat on
stovetop.
Wash and chop vegetables and set aside. Wash carrots, capsicum, broccoli, bok choy, snow peas
and bean shoots. Peel carrots and slice on an angle. Remove seeds from capsicum and cut into
diagonal strips. Cut broccoli on an angle, include the stalks cut into strips. Remove string from
snow peas and cut into diagonal strips. Halve onions and cut into slices. Finely grate garlic and
ginger. Juice lemon.
Cook noodles. When water in large pot is boiling, drop noodles in and boil for 2 to 5 minutes
(according to instructions on packet). Carefully remove pot from heat and tip noodles into colander
over the sink or another large pot. Cover and set aside.
Cook beef. Heat oil in fry pan. Add beef and cook, stirring until brown. Remove meat and place in
oven at 150ºC to keep warm.
Cook stir-fry. Add sesame oil, carrot and onion to pan (or a wok) and stir-fry for 5 minutes. Add
broccoli and cook for further 2 minutes. Add garlic, capsicum and snow peas and stir-fry for 2
minutes more. Stir through oyster sauce and half water and bring to a simmer, stirring. Simmer
rapidly for 5 minutes, adding in the beef towards the end. Remove from heat and stir through bean
shoots and lemon juice.
Serve. Add beef and noodles to pan (or wok), stir well and serve in bowls with chopsticks or forks.

Tip     This recipe can be made with chicken, lamb, pork or fish, or can be made vegetarian by
skipping the meat and adding some fried tofu, etc. Use whatever vegetables you like. Good stir fry
vegies include beans, tomato, sweet corn or baby corn, cabbage, cauliflower and eggplant.




22
                                            Meat Dishes
Our Favourite Recipes


DESSERTS, SWEET THINGS
Apple Strudel
Serves              4 people
Preparation time    10 minutes
Cooking time        40 minutes


Ingredients                                             Equipment
½ packet filo pastry                                    Sharp knife
1 tablespoon butter                                     Peeler
1 tablespoon honey                                      Cutting board
1 teaspoon lemon zest                                   Measuring cups and spoons
1 teaspoon cinnamon                                     Medium saucepan
1 teaspoon sugar                                        Small-medium baking tray
5 large green apples (or any colour apples)             Knife, spatula or spoon for serving
Greek yoghurt for serving


Method
Preheat oven to 160°C.
Cook apples. Wash and peel apples. Cut apples in half, cut the seedy core from centre, then slice
the apples. Finely chop or grate lemon rind. Place the apples in the saucepan with ½ cup water, 1
tablespoon honey, 1 teaspoon lemon zest, 1 teaspoon cinnamon and a teaspoon sugar. Cook the
apples on medium heat until the apples are soft (5 to 10 minutes). Set the apples aside to cool
slightly.
Assemble strudel. Grease the baking tray with a small amount of butter. Open up the filo pastry
and place on the baking tray, letting the pastry overlap over the edges. Put the apple in the middle
of the pastry and roll into a big sausage-like roll. Melt the last tablespoon butter and brush over the
top of the pastry.
Bake strudel for 15 to 20 minutes, or until the pastry begins to turn brown on top. Remove from
oven and let cool for 10 minutes before serving. You may like to sprinkle to top lightly with icing
sugar.
Serve with Greek yoghurt.




                "A good learning habit."
                                                                                                      23
                                       Desserts, Sweet Things
Our Favourite Recipes


Chocolate Zucchini Cake
Serves              10 people
Preparation time    15 minutes
Cooking time        50 minutes


Ingredients                                          Equipment
2 cups self-raising flour                            Measuring cups and spoons
2 cups grated zucchini                               Wooden spoon
½ cup cocoa powder                                   Large mixing bowl
½ cup white sugar                                    Grater
1 teaspoon ground cinnamon                           Bowl and fork for mixing egg
2 eggs                                               Baking pan or cake tin
½ cup vegetable oil
½ cup milk


Method
Preheat oven to 170°C. Grease and flour a large baking pan.
Measure and mix ingredients. Grate and measure 2 cups zucchini. In a medium bowl, stir together
the flour, sugar, cocoa, and cinnamon. Add the eggs, milk and oil, mix well. Stir through the
zucchini. Pour into the prepared baking pan.
Bake cake. Put cake in the oven for 50 minutes or until you can stick a fork in the middle and
comes out clean without any wet batter on it. Cool cake completely before dusting lightly with icing
sugar and serving.




           "The program is fun and ...
24
                                      Desserts, Sweet Things
Our Favourite Recipes


Strawberry Frozen Yoghurt
Serves               6 to 8 people
Preparation time     10 minutes
Freezing time        3 to 4 hours


Ingredients                                    Equipment
1 kg low fat plain yoghurt                     Cutting board
¼ cup sugar                                    Sharp knife
1 punnet strawberries (or other type of        Blunt (butter) knife
   berry like raspberries, blueberries, or     Food processor. A milkshake mixer, like a bar mix, can
   2 mangoes)                                      also be used. A whisk is enough to beat yoghurt
                                                   until fluffy


Method
Prepare fruit. Wash and remove stalks from strawberries. Chop into quarters.
Beat yoghurt and sugar. Using a whisk or food processor, beat 1 kg yoghurt and ¼ cup sugar for 5
to 10 minutes (until light and fluffy).
Add fruit. Add strawberries to yoghurt mixture and stir.
Freeze. Pour mixture into a clean, empty icecream container or back into the yoghurt container and
freeze for 2 hours.
Beat frozen yoghurt. After at least 2 hours, remove yoghurt from freezer and break apart with
blunt knife. Put back in food processor (or use whisk) to mix yoghurt until smooth. Repeat once or
twice if you have the time (the more the mixture is mixed, the smoother the frozen yoghurt will
be).
Serve. Serve scoops of frozen yoghurt with fresh berries or other chopped fresh fruit.



Tip      If the yoghurt ends up too hard, serve it into bowls and refrigerate for an hour or so to let
it soften up before serving.
Variation         Frozen yoghurt can also be made with other berries, or plain without fruit. Add ¼
teaspoon vanilla essence for a creamy vanilla flavour.




                                             Raspberry yoghurt




... you learn how to cook."
                                                                                                     25
                                        Desserts, Sweet Things
Our Favourite Recipes


Choc-orange Muffins
Makes                24 small muffins
Preparation time     20 minutes
Cooking time         25 minutes


Ingredients                                   Equipment
2 large oranges (scrubbed clean)              Chopping board
100 g dark or milk chocolate drops            Sharp knife
½ cup sugar                                   Grater
½ cup vegetable oil                           Citrus juicer & small bowl
2 eggs                                        Measuring cups and spoons
½ cup milk or plain yoghurt                   Mixing bowl
¼ teaspoon bicarbonate of soda                Wooden spoon
2 cups wholemeal flour                        Muffin pans
                                              Tea towels


Method
Pre heat oven to 190oC. Make sure that rack is in centre of oven before it gets hot.
Grease muffin pans. With butter, vegetable oil or margarine.
Prepare oranges. Carefully wash and dry oranges and grate off the rind using the smallest holes on
grater. Cut oranges in half and juice into small bowl.
Beat sugar and oil. In mixing bowl, measure sugar and oil and beat with wooden spoon until pale
and frothy.
Add eggs one at a time. Break each egg into a separate cup to check that it is fresh, and then
transfer to mixing bowl. Beat well after adding each egg.
Mix in yoghurt, orange and bicarbonate of soda. Add the orange rind, ½ cup orange juice, ½ cup
yoghurt (or milk) and ¼ teaspoon bicarbonate of soda. Stir until well mixed.
Add flour and chocolate. Sprinkle in flour and gently fold the batter until just mixed. Gently fold
through chocolate.
Bake muffins. Spoon the mixture into muffin pan, to just below the edges. Place pan in middle of
oven and bake for 10 to 15 minutes. Check after 10 minutes. Muffins should spring back when
lightly touched and be slightly golden on top. Let cool for at least 5 minutes before trying to
remove from pan.



Variations      Try replacing orange and chocolate with lemon and poppy seeds, or add your
favourite nuts or seeds, muesli, sultanas, raisins or chopped dates. Berries, coconut or white
chocolate also make tasty muffins, and so do mashed ripe banana or apple and cinnamon.




26
                                        Desserts, Sweet Things
Our Favourite Recipes


Muesli Bars
Serves              4 people
Preparation time    10 minutes
Cooking time        40 minutes


Ingredients                                                Equipment
4 cups muesli (or rolled oats mixed with favourite nuts,   Large bowl
   seeds and dried fruits)                                 Wooden spoon
5 tablespoons vegetable oil                                Measuring cups
5 tablespoons honey                                        Measuring spoons
1 egg                                                      Large baking tray
¼ teaspoon cinnamon (optional)                             Tea towels
                                                           Sharp knife


Method
Preheat oven to 160°C.
Mix ingredients. Measure muesli, oil and honey into large bowl. Add cinnamon. Mix well with
wooden spoon.
Press muesli into baking tray. Lightly grease tray with a very small amount of oil (½ teaspoon), or
line tray with baking paper. Pour muesli mixture into tray and press firmly with clean hands. Use
knife to lightly mark out bars.
Bake muesli bars. Put tray in centre of oven and bake (at 160ºC) for 30 to 35 minutes, or until
golden brown. (Check after about 20 minutes to make sure muesli is not getting too brown.)
Remove from oven and cool completely before trying to get bars out of tray.
Serve. Cut along the lines already marked out and remove muesli bars from tray. Can be eaten
straight away or stored in an airtight container for about a week.




          "I come here to learn how to cook
          and to have fun. I also come here
                to meet new friends."

                                                                                                  27
                                      Desserts, Sweet Things
26              300+                5000+
       favourite         participants       servings
         recipes

             0               250                 0
     cases of food      meals cooked      food fights
        poisoning




             3                2             12,000+
      packets of       food processors   dishes washed
        bandaids           worn out

participated at
     harvest
                            600+                 21
    festival             interesting       outings to
                          discussions      restaurants
        7   times


                             225
                 participants tried new foods




28