Creative Destruction: Barriers to Urban Growth and the Great Boston Fire of 1872
If your browser does not support JavaScript, please read the page content below:
Creative Destruction: Barriers to Urban Growth and the Great Boston Fire of 1872
Creative Destruction: Barriers to Urban Growth and the Great Boston Fire of 1872∗ Richard Hornbeck Harvard University and NBER Daniel Keniston Yale University and NBER December 2014 Abstract Historical city growth, in the United States and worldwide, has required remark- able transformation of outdated durable buildings. Individual reconstruction decisions may be inefficient and restrict growth, however, due to externalities and transaction costs. This paper analyzes new plot-level data in the aftermath of the Great Boston Fire of 1872, estimating substantial economic gains from the created opportunity for widespread reconstruction.
An important mechanism appears to be positive exter- nalities from neighbors' reconstruction. Strikingly, impacts from this opportunity for widespread reconstruction were sufficiently large that increases in land values were comparable to the previous value of all buildings burned.
∗ For comments and suggestions, we thank Nava Ashraf, Leah Boustan, Bill Collins, Brad DeLong, Bob Ellickson, Don Fullerton, Matt Gentzkow, Ed Glaeser, Claudia Goldin, Tim Guinnane, Hugo Hopenhayn, Matt Kahn, Emir Kamenica, Larry Katz, Michael Kremer, Naomi Lamoreaux, Gary Libecap, Neale Ma- honey, Sendhil Mullainathan, Derek Neal, Trevor O'Grady, Chris Udry, John Wallis, Bill Wheaton, and seminar participants at Berkeley, Chicago Booth, EIEF, George Washington, Harvard, Illinois, MIT, NBER, Northwestern, Pittsburgh, UCLA, and Yale. For financial support, we thank Harvard's Taubman Center for State and Local Government and Harvard's Warburg Fund.
For excellent research assistance, we thank Louis Amira, James Feigenbaum, Jan Kozak, Michael Olijnyk, Joseph Root, Sophie Wang, Alex Weckenman, and Kevin Wu, in addition to many others for their data entry work.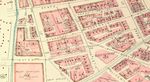 The historical development of the United States has seen a remarkable transformation as modern metropolises have grown from small cities. Economic growth may strain the capac- ity of cities to evolve, however, restricting further growth. For example, when landowners' reconstruction choices do not internalize impacts on neighbors, private replacement of build- ings diverges from the social optimum. While policy interventions in poor neighborhoods are widely studied and controversial (Jacobs, 1961; Wilson, 1966; Collins and Shester, 2013), even wealthy urban areas may not reach their economic potential in the presence of externalities.
Indeed, in the aftermath of the Great Boston Fire of 1872, contemporaries speculated that this initially calamitous event would generate benefits through the opportunity for major re- construction (Rosen, 1986), which suggests that substantial frictions in urban growth might be significantly eased through the opportunity for simultaneous large-scale reconstruction.1 This paper analyzes the Great Boston Fire of 1872, examining whether the Fire created real benefits and, if so, through what channels. This historical setting provides an opportu- nity to observe private landowners' responses to the opportunity for reconstruction during a period of urban growth, and avoids challenges of the modern period in which tighter land- use regulations and government reconstruction efforts often obscure market incentives.
The government had little role in the reconstruction of 1873 Boston, prior to zoning regulations or stronger building codes in Boston (Rosen, 1986; Fischel, 2004). We establish our null hypothesis based upon on a dynamic model of urban growth in which widespread urban destruction impacts land-use but generates no economic benefits. In this benchmark case, with no cross-plot externalities from reconstruction, the Fire might appear partly beneficial because destroyed buildings are replaced with new more valuable buildings, but the destruction generates no real economic benefits. In the presence of neigh- borhood externalities, however, reconstruction after the Fire does generate economic gains: the Fire temporarily improves the equilibrium outcome by forcing simultaneous widespread reconstruction, which temporarily mitigates the consequences of cross-plot externalities.
This extended model provides a number of testable predictions that we take to the data: increases in land values in the burned area and nearby unburned areas; increases in building values in the burned area for even the most high-end buildings, and increases over time in nearby unburned areas; greater increases in building values following the Great Fire than following individual building fires; and no increase in land value following individual building fires. The empirical analysis uses a new detailed plot-level dataset, covering all plots in the burned area and surrounding areas in 1867, 1872, 1873, 1882, and 1894.
Our digitization 1 Throughout the paper we refer to economic inefficiency relative to the efficient economic outcome in the absence of transaction costs; that is, externalities create an "inefficiency" when transaction costs are prohibitive for external spillover effects to be internalized.
1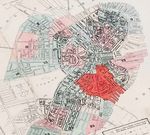 of city tax assessment records provides data on each plot's value of land, value of building, size, owner name, and occupant characteristics. Tax assessment data provide characteristics for all plots, though a potential concern is whether assessed values accurately reflect market conditions. We collected supplemental data from Boston's Registry of Deeds on plot sales, and show that assessed values align closely with the available sales data in the burned and unburned areas both before and after the Great Fire.
We begin by estimating impacts on plots in the burned area, relative to plots in the unburned area, and then allow the impacts to vary by distance to the burned area.
The identification assumption, that areas would have changed similarly in the absence of the Fire, is more plausible over shorter periods of time and so we emphasize results in 1873 (and 1882) relative to 1894 (or later periods). While there are differences between the burned and unburned areas prior to the Fire, contributing to concerns that these areas might have otherwise changed differently over time, we present empirical specifications that control for differential levels and trends in pre-Fire plot-level characteristics. We mainly consider impacts of the Fire on average plot outcomes, supplementing these with quantile regressions to examine changes in the distribution of outcomes predicted by the model.
Using data on individual building fires that occurred around this period, drawn from Boston fire department records, we also compare the impacts of individual building fires to the Great Fire. The striking initial result is that land values increased substantially from 1872 to 1873 in the burned area, relative to the unburned area. These estimates imply economically sub- stantial gains from the opportunity for widespread reconstruction, as individual landowners previously had the opportunity to replace their own building. Land values continued to be higher through 1882 and, consistent with the model, had reversed by 1894 although the identification assumption becomes more demanding in later periods.
By focusing on plot- level data within Boston, we analyze the more short-run and medium-run dynamics and the mechanisms generating economic gains from reconstruction. Initial increases in land value reflect the creation of economic value, despite subsequent convergence through the gradual development of other neighborhoods.
Land values also increased immediately in nearby unburned areas, relative to further unburned areas. The nearest unburned areas received an increase in land value similar to the burned area, and the estimated impact declines until leveling at around 1400 feet (approximately 5-6 blocks or 25-35 buildings away). Given that buildings in the burned area had hundreds of other buildings within 1400 feet, it is unsurprising that transaction costs were prohibitive for landowners to internalize spillover impacts. Assuming no impact of the Fire beyond 1400 feet, the implied total impact on land values is comparable to the total value of buildings burned in the Fire.
Any increase in land value is consistent with economic gains 2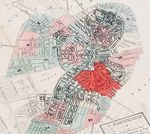 from the Fire, regardless of whether those gains exceed the direct losses from the Fire, but the value of burned buildings provides a natural benchmark for the economically substantial magnitude of the impacts. We cannot quantify all spillover effects at the city level, which might have positive and negative components, but increased land values imply at least large local gains from the opportunity for urban redevelopment. These relative effects of the Fire, and in particular the substantial cross-plot spillovers, continue to identify rigidities in urban growth. Given our estimation of spatial spillover effects, we also note that the statistical inference is robust to correcting for spatial correlation across plots.
Building values also increased substantially in the burned area, following reconstruction, and converged over time. These impacts were greatest at the lowest quantiles of building values, reflecting replacement of the worst building stock, but building values increased even at the highest quantiles. Seen through the lens of the model, these results suggest that even the most recently constructed (and, therefore, the highest value) buildings were replaced with substantially better buildings, consistent with neighborhood externalities. Likewise, in nearby unburned areas, estimated increases over time in building values are consistent with neighborhood spillover effects moving forward the time of optimal building replacement.
The great extent of the Fire appears central to its impacts, and perhaps the starkest indication of this phenomenon is seen in the comparison between the Great Fire's impacts and the impacts of individual building fires around this period. Building values increased following single building fires, but building values increased by more following the Great Fire. Further, while land values increased following the Great Fire, burned plots' land values were unchanged following an individual building fire. These estimates are again consistent with the Great Fire generating some multiplier effect, whether due to neighborhood externalities or some other mechanism.
The Fire might also generate economic gains through plot assembly, by discouraging hold-up and reducing transaction costs. We estimate only small immediate increases in plot size, however, and these increases are only robust when excluding declines in plot size from road widening. These changes accompanied a small decline in the number of unique landowners in the burned area, implying that large landowners did not buy up plots to coordinate reconstruction on a larger scale. Our interpretation is that the Fire did little to reduce transaction costs among landowners within a 1400 foot radius, either in coordinating land assembly or in coordinating building reconstruction, but instead the Fire temporarily reduced the negative consequences of uncoordinated reconstruction by forcing simultaneous widespread reconstruction.2 The Appendix reviews these estimates, in addition to exploring 2 The continuation of transaction costs, even after the destruction of durable buildings, is consistent with substantial land rigidities in rural areas (Libecap and Lueck, 2011) and following other urban disasters 3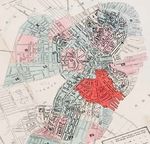 several additional mechanisms through which the Fire might generate economic gains.3 The Fire itself is not a policy proposal, but the Fire's impacts are indicative of underlying economic forces that restrict urban growth.4 Our main interpretation, emphasizing neigh- borhood externalities, is consistent with research on neighborhood spillovers from urban revi- talization (Rossi-Hansberg, Sarte and Owen, 2010), rent control (Autor, Palmer and Pathak, 2014), home foreclosures (Campbell, Giglio and Pathak, 2011; Mian, Sufi and Trebbi, 2014), and gentrification (Guerrieri, Hartley and Hurst, 2013).
Policies might correct these exter- nalities by encouraging large-scale coordinated redevelopment, removing regulatory impedi- ments to redevelopment, subsidizing individual investments with positive spillovers, and/or taxing individual investments with negative spillovers. While various policies have been developed to address similar frictions, including eminent domain, building codes, and zon- ing regulations, these policies' application may be ineffective or counterproductive (Munch, 1976; Chen and Yeh, 2013; Turner, Haughwout and van der Klaauw, 2014). Widespread destruction in the modern era would not generate economic gains if these spillover effects have been internalized, through regulation or otherwise, but our purpose is to use the Fire to examine these underlying dynamics in urban growth rather than to estimate the general impact of destruction itself.
This historical episode highlights the challenges of maintaining economic growth with increasingly heterogeneous vintages of capital stock, to such a degree that the destruction of durable capital generated substantial economic gains. Positive externalities from capital replacement may be lower in other contexts, due to differences in the economic or policy environment, but these impacts will be salient in contexts with a return to coordinated investment. Our focus on a wealthy and growing urban area extends a literature that has focused largely on the economic impacts of large-scale urban renewal in poor or declining areas.5 The historical transformation of American cities appears to have occurred despite (Ellickson, 2013).
3 For example, the Fire may have caused changes in the composition of residential and commercial oc- cupants, which generate spillover effects along with changes in building quality. Similarly, the Fire might provide an opportunity for industrial firms to change locations and improve the efficiency of their agglom- eration, though we do not find systematic increases in industrial agglomeration. The Fire also created an opportunity to improve public infrastructure in the burned area, though there were only moderate changes in the road network and water pipes.
4 Indeed, the implied magnitude of economic loss is larger because even widespread reconstruction after the Fire is not predicted to obtain first-best land-use in the presence of neighborhood externalities.
The Fire did not decrease cross-building externalities or transaction costs, but temporarily lessened their economic consequences by spurring widespread reconstruction. 5 In our context, it is the growth process itself, combined with the fixed costs of building replacement, that generates the inefficiencies that are partially alleviated by the opportunity for simultaneous recon- struction. In our model, areas with declining real estate demand would decline further after widespread destruction. Particular functional forms for neighborhood externalities could generate multiple equilibria, however, whereby widespread destruction could generate gains in both declining and growing areas.
4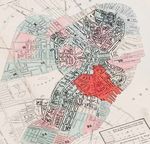 the potential for substantially better economic outcomes, to the point that burning a large section of Boston generated substantial economic gains in the 19th century. I Historical Background I.A Great Fires in the United States Urban fires were a more common occurrence in the 19th and early 20th century United States than in more recent periods. Dangerous heating and lighting methods led to frequent small fires amongst densely-located fire-prone buildings (Wermiel, 2000). Individual building fires exacted a substantial toll and, constrained only by primitive firefighting technologies, sometimes spread through central business districts completely destroying all buildings in a wide area.
Historians and contemporaries generally describe rapid recovery after major city fires, and even the potential for short-run losses to generate long-run gains (Rosen, 1986). Recon- struction was primarily managed by the private sector, though governments of burned cities considered improvements to public infrastructure. Political obstacles largely prevented the implementation of more ambitious proposals, however, as Rosen (1986) highlights follow- ing Great Fires in Boston, Chicago, and Baltimore. Following the San Francisco Fire (and Earthquake), estimates around the burned boundary find increases in residential density (Siodla, 2013) and firm relocation (Siodla, 2014).
I.B The 1872 Great Fire of Boston In November 1872, a small fire spread through a large section of Boston's business district, eventually destroying 776 buildings over 65 acres of the downtown Boston area (Figure 1).6 Boston firefighters were unable to stop the fire before it spread, due partly to sickness amongst the fire department's horses that prevented the rapid deployment of equipment to the burning area (Fire Commission, 1873). The Fire burned for 22 hours, eventually stopping with the arrival of massive firefighting resources from surrounding areas. The Fire killed 20 people and caused approximately $75 million in damages, or 11% of the total assessed value of all Boston real estate and personal property (Frothingham, 1873).
In anticipation of the empirical analysis, a natural question concerns the endogeneity of which plots burned. The Fire began in the south-central part of the burned region and spread out and to the North, toward somewhat more valuable parts of the downtown area. Extensive investigations and hearings following the Fire provide no accounts of the fire department protecting areas differentially, which were all fairly high value at the time (Fire Commission, 1873; Fowler, 1873). Wide roads provided a natural barrier to the fire spreading, though the 6 Figure 1 also shows the location of individual land plots in our main sample, which we discuss below.
5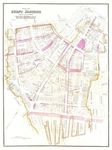 Fire sometimes crossed wide roads and sometimes ended within a block.7 In practice, the empirical analysis will include controls for pre-Fire plot outcomes that allow for differential changes over subsequent periods. In anticipation of the theoretical framework, we note that the Fire occurred following a period of growth in Boston real estate values (Appendix Figure 1). Boston real estate values declined in real terms later in the 1870's, during the national "Long Depression," but subsequently resumed their upward growth.8 The Fire prompted substantial inflows of private sector capital to fund reconstruction, given the strong demand for real estate investment in Boston.
Boston capital markets were well-integrated at this time, both domestically and internationally, so we assume perfect capital markets in the model. Insurance payouts also partly funded reconstruction.9 Insur- ance payouts should not impact optimal land-use in the presence of perfect capital markets, though we do explore in the empirical analysis whether landowners disproportionately exited the burned area.10 Individual landowners retained their land rights after the Fire, and reconstruction was largely managed privately. Although the weeks immediately after the Fire saw calls for government action to coordinate reconstruction, the ultimate role of the city government in post-fire reconstruction was limited.
The city purchased some land to widen and extend downtown roads, though landowners' opposition stopped more-ambitious proposals to modify the road network. Similarly, calls for a strong building code were undermined, and the ultimate legislation was weak and substantially rescinded in 1873 (Rosen, 1986). Newspapers and other contemporaries noted that buildings in the burned area were often better after reconstruction. On the one year anniversary of the Fire, the Evening Transcript concluded that the "improved aspect of the entire district shows that occurrences calamitous in their first effects sometimes result in important material good" (Rosen, 1986).
Technological constraints precluded the reconstruction of taller buildings, and there had been no substantial recent changes in construction technologies, but buildings could be improved along more subtle dimensions (Rosen, 1986).11 7 We do not observe systematic differences in 1872 in land value and building value across the Fire boundary, using our data and restricting the sample to plots within 100 feet of the Fire boundary. 8 We convert valuations to constant 1872 dollars using the David-Solar CPI (Lindert and Sutch, 2006). 9 Insurance covered three-fourths of total fire damages, though many insurance companies were bankrupted by the Fire and payouts were roughly half of total damages (Fowler, 1873).
10 In practice, some landowners may have been liquidity-constrained after the fire destroyed their property and the collateral needed to raise more capital. We would have been interested in testing this hypothesis more fully, though we have been unable to link particular plots to their insurance underwriter and the fraction paid out on the insurance policies.
11 Qualitative accounts also include descriptions of the Fire encouraging the assembly of land into larger plots (Rosen, 1986). 6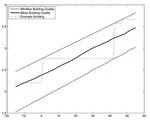 Even substantial upgrading of buildings need not imply any economic gains from the Fire, however, and we formalize this intuition below in our benchmark model. We then present an extended model with neighborhood externalities, which highlights how the Fire might indeed result in important material good. II Dynamic Model of Urban Growth II.A Benchmark Model with Durable Buildings Our benchmark model clarifies conditions under which the Fire may only appear to generate economic benefits.
We consider the decisions of landowners choosing when to replace their building, but who experience no spillover impacts from nearby plots. This benchmark model formalizes our null hypothesis, in which the Fire does not generate any economic benefits. The benchmark model and the extended model yield dynamics similar to one-sided s-S models of price-setting and vintage capital replacement, and generate a number of testable predictions that we take to the data.
We assume that each landowner owns one plot, and that all landowners and plots are homogeneous. Landowners construct a sequence of durable buildings to maximize the net present value of rents from their plot, which are assumed to depend solely on the quality of their building (q) and the city's overall productivity (ωt). In each period, a building of physical quality q generates rent of r (q, ωt). In particular, we assume that the marginal return to building quality is increasing in city productivity: ∂2 r (q, ωt) /∂q∂ωt > 0. We adopt a broad view of city productivity, which simply reflects aggregate market conditions that influence building rents.
We focus on the case in which city productivity is growing over time, which increases the return to building quality and encourages landowners to construct higher quality buildings. The predicted impacts of a Great Fire would differ in a city with declining productivity.12 For clarity, we assume that landowners may only completely replace their old building with a new building of quality q by paying a convex cost c q 0 .13 In particular, we as- sume that buildings cannot be renovated and that buildings do not depreciate. These two assumptions make the model's predictions more apparent, but do not qualitatively change the predictions.14 As a matter of notation, we assume that building construction is instan- 12 Notably, the failure of declining cities to recover after disasters is not inconsistent with our predictions; indeed, we would predict that widespread destruction would hasten the decline of cities otherwise declining.
Only in cities in which developers believe that returns to real estate investment will rise in the future would we predict that destruction generates increased building quality.
13 The assumption of convex costs guarantees an interior solution. 14 The model's qualitative predictions are robust to the introduction of building depreciation or partial renovation, as long as the cost of renovating to the optimal quality ultimately becomes greater than the costs of constructing a new building of the desired quality. 7
taneous.15 We also assume there are no demolition costs.16 Building construction is a forward-looking dynamic optimization problem, in which each landowner considers the optimal time to replace a building. Landowners do not replace a building when it would generate higher static rents; rather, landowners solve for the optimal replacement policy incorporating the option value of retaining antiquated but still profitable buildings.
This intuition is captured by the following Bellman equation, which reflects the landowner's value of owning a building of quality q when the city has productivity ωt (and includes the option to rebuild): V (q, ω) = max ( r (q, ω) + δE [V (q, ω0 )] r (q∗ , ω) + δE [V (q∗ , ω0 )] − c (q∗ ) where q∗ maximizes r (q, ωt) + δE [V (q, ω0 )] − c (q). That is, q∗ represents the optimal qual- ity building to construct if the landowner chooses to construct a new building. Buildings face a probability d of experiencing an idiosyncratic fire that forces their owners to rebuild completely in the next period.
Owners' expectations of future valuations are thus E [V (q, ω0 ( 1 − d) V (q, ω0 ) + d · V (0, ω0 ) with q = q∗ if the building has been reconstructed that period. The landowner faces a tradeoff between two choices: (1) receiving rent r (q, ωt) and continuing with the old building of quality q; and (2) paying a lump sum cost c (q∗ ) to construct a higher-quality building, receiving higher rents, and continuing with the new building of quality q∗ . The random destruction of buildings, with some probability d, provides a mechanism to consider the impacts of an individual building fire. Notably, in this case of exogenous building destruction between periods, the landowner will choose to rebuild in the next period at quality q∗ .
Landowners' optimal construction decisions involve periods of no activity and occasional quality upgrades, consistent with the equilibrium in one-sided s-S models. Given that city productivity is increasing, landowners over-build for contemporaneous conditions and then wait for city productivity to increase before replacing their then-obsolete building. To illus- trate the equilibrium building growth paths, we assume r (q, ω) takes the Cobb-Douglas form qα ωβ (α ≥ 0, β ≥ 0, α + β ≤ 1), with c (q) = cqγ (c > 0, γ > 1).17 We generate a sample 15 Equivalently, foregone rents could be included in the cost of construction.
16 Demolition costs could be included in the cost of construction, as a fixed cost component. Fire might reduce some portion of demolition costs, but these costs then become sunk and do not influence subsequent construction decisions or become capitalized into building value or land value. 17 In our quantitative simulations we set δ = 0.9, α = β = .5, γ = 2, and c = 5. The probability of 8